I used to be the only baker at work. A few months ago, a new manager was hired and I could finally take a break! Not that I didn't love baking for the office just about every week. It was nice to have someone there who shared my hobby. Amy started off with a bang when she brought in chocolate chip cookies and snickerdoodles on her first full day and she stayed on everyone's good side with her amazing banana chocolate chip bread (so good that we kept requesting she make it over and over again). After we had our fill of bananas, she made a red velvet cake for Tyler's birthday — with cream cheese frosting of course. We've been switching off every week, each of us bringing in a new baked good on Monday mornings. Our co-workers are seriously spoiled… Even Amy's 9-year-old daughter Emma joined in on the fun and baked us brownies one day. She made them all by herself and they were really good. I love to see kids getting on the baking bandwagon at an early age. I wish I had!
Anyway, with the holidays approaching, Amy and I decided to combine our baking skills and make a whole bunch of holiday-themed treats to bring in for everyone. We made a list of all the things we wanted to make. Peppermint bark, chocolate covered pretzels, hot cocoa cookies from the holiday issue of The Food Network for inspiration and our favorite: Funfetti cake batter cookies from Sally's Baking Addiction. Emma loves anything with Funfetti, so when I saw this recipe I told Amy about it and suggested we make them. She couldn't get over the fact that we'd be using cake batter to make cookies. What would the consistency of the batter be like? How would we form cookies? I promised her that I trust my fellow blogger's recipes, and the pictures from Sally's post looked like the cookies came out just fine — fluffy and light and very pretty!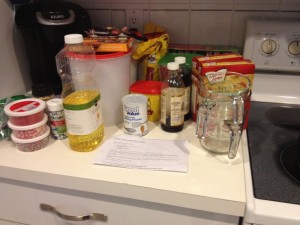 So Amy and I, with the help of Emma and her friend Bella, spent all day baking up a storm. The girls made the cake batter cookies with my supervision — they were very good little helpers. Amy and I had to help a little with the mixing. Since the batter was really thick and creamy, it picked a fight with the hand mixer — and almost won. After that, we put Emma and Bella to work with the pretzel decorating. The table was filled with plates of all kinds of sprinkles — red and green, candy canes, rainbow, blue and white, and a caramel crunch topping too. I melted a ton of chocolate. Pretty soon, Emma and Bella got restless and left to go play Barbie's (girls of my own heart!) so we were left to finish off the pretzels. We made lots and lots of pretzels; we pretty much just kept going until every last topping was gone.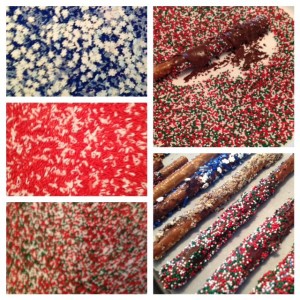 But no, that is not all; we weren't finished yet! Amy got started on the batter for the hot cocoa cookies and I made the peppermint bark. I melted Ghirardelli bittersweet chocolate chips, mixed with a few drops of peppermint extract, for the first layer and froze it for about 10 minutes. Then I melted Ghirardelli white chocolate chips and spread it on top of the dark chocolate. Amy crushed up candy canes (we don't play around — she used a hammer) for the final layer of the bark. I sprinkled them all on top and put it back into the freezer to harden. Once the hot cocoa batter was done, it had to be refrigerated for a little bit before it could be rolled out. This is where fun holiday cookie cutters came into play. By this time, Emma and Bella were ready to get back in the kitchen. I rolled out the dough and let them go to town. There were little chocolate Santas, candy canes, Jewish stars, reindeer, Menorahs, snowmen, dreidels, Christmas trees, gingerbread men, stockings, and ornaments. Eventually the girls got tired of doing that too, so I ended up being the one to finish the cookie cutouts while Amy cleaned up her kitchen. I swear that dough felt never-ending. After what felt like forever, I finally finished using every last bit of it.
Everything was packed into tins and bags and we were ready to surprise all of our co-workers with a slew of holiday goodies. They seemed to love everything we made. I know Amy and I really enjoy treating everyone to something special — that's why we love to bake. It's a good feeling to make something yourself and have people appreciate it. Personally, I think the cake-batter cookies were the best. Amy and I both thought the hot cocoa cookies were a little bland, but no one else thought so — in fact, most people liked those the best! I'm pretty sure every single cookie that we put in the downstairs kitchen was devoured even before lunch. Our office upstairs has a lot less people, so we didn't finish our share as quickly, but believe me when I say I'm sure everything will be gone by the end of the week.
I think our boss said it best when he commented, "You ladies really outdid yourselves this time."