Never miss a bite! Sign up here to receive new recipes and reviews straight to your inbox.
Disclosure: This is a sponsored post by Reclaim Wellness Acupuncture and Functional Medicine. All service and health claims have been provided by the sponsor. All opinions stated in this blog are 100% my own, and based on my personal experience.
Holiday Shopping at Reclaim Wellness Acupuncture and Functional Medicine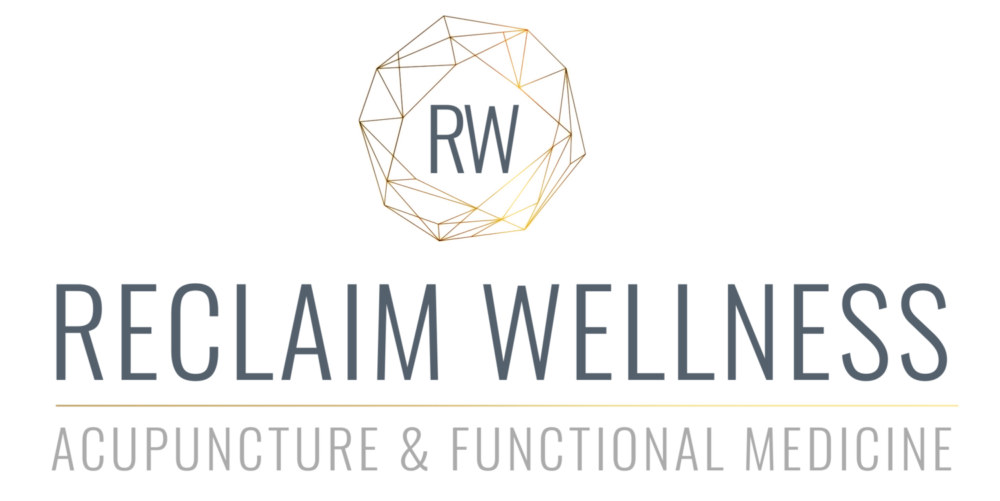 Shopping for clean and natural products that fit into your holistic health journey is not always easy to do, and it can sometimes become overwhelming if you aren't knowledgeable about the products themselves.
At Reclaim Wellness Acupuncture & Functional Medicine, you don't have to second guess yourself. There is an abundance of products at your fingertips, and holistic health experts in the office to make sure you are getting exactly what you need. At this East Boynton Beach wellness center, you can find a variety of vitamins and supplements, clean beauty products, essential oils, bath bombs and soaks, energy and healing crystals, rose quartz Gua Sha tools, medicinal mushroom chocolates, wildcrafted immune tonics, intention journals, and many other items related to self-care that are perfect for gifting during the holidays and beyond!
Holistic Health Products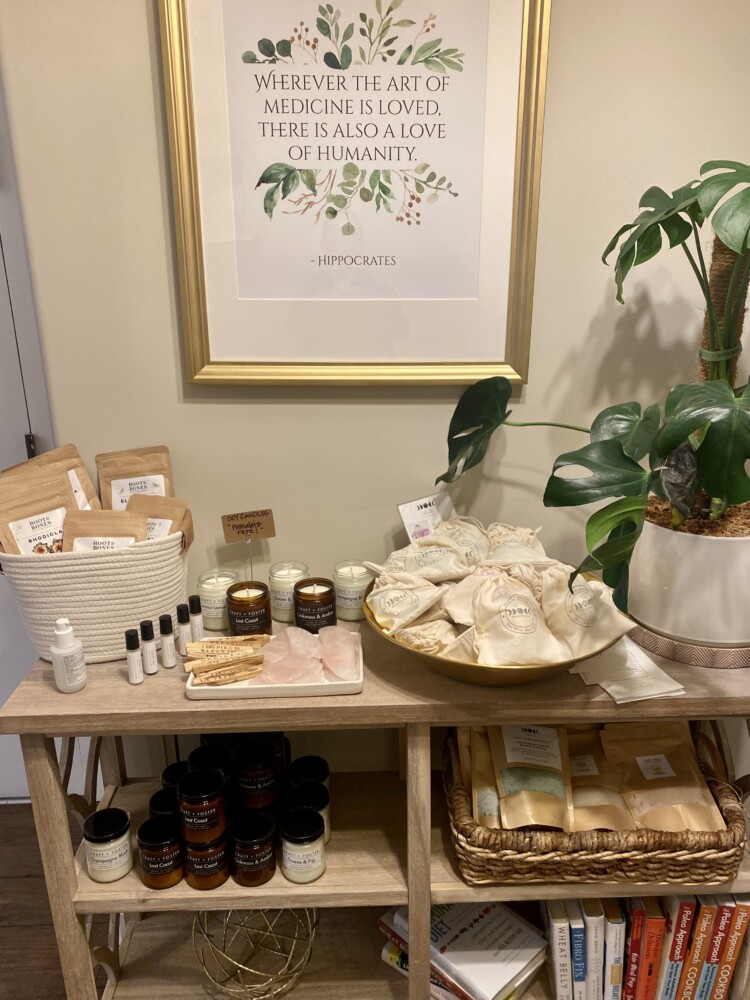 Reclaim Wellness carries pharmaceutical grade nutraceuticals, both in-house and through their online store at Fullscript. It's super easy to create a free account online and browse through over 15,000 products. Fullscript is a safe and convenient way to purchase professional-grade products, right from the comfort of your own home. So if Reclaim Wellness is out of stock in the office, or you aren't able to travel to get there, you can simply order online.
There are a lot benefits to becoming a Fullscript customer. A big draw? All of the products are discounted! Another awesome feature is that the team at Reclaim Wellness can actually recommend products and post the exact brand in a folder on your account, so it's even easier for you to find what you need and buy it. They can post health protocols on your account as well.
Reclaim Wellness is all about tailoring a health and wellness regimen that is specific to each and every one of their patients. Functional medicine is personalized. Even if two people have the same exact disease or are dealing with the same condition or symptoms, their health history is not the same, and that means they each require their own individual plan. Reclaim Wellness not only creates these personalized, individual treatment plans, but also makes it very easy to access everything you need in order to execute them.
To create an account and purchase nutraceuticals through Reclaim Wellness, visit the Fullscript website.
Clean Beauty and Skincare
It's not secret that there are a lot of beauty and skincare brands out there, but many of them are loaded with chemicals and other ingredients that have no business being on your skin. Harmony teaches her patients that "it only takes 26 seconds for a topical applied to the skin to enter the blood stream." This is why it is so important to pay attention to what you are putting on the largest organ of our bodies: the skin. She emphasizes, "what goes on, goes in!"
Reclaim Wellness has carefully curated a variety of high performing, safe, non-toxic and environmentally conscious products to display in the office. The main brand available is Beautycounter, but there are others offered as well. You can find makeup products like foundations, lip glosses and mascara, as well as cleansers, creams and serums. If you have questions about these beauty products, Harmony is happy to guide you through each and every one of them to find exactly what suits you.
Shop the Holiday Pop-Up At Reclaim Wellness This Saturday, December 12th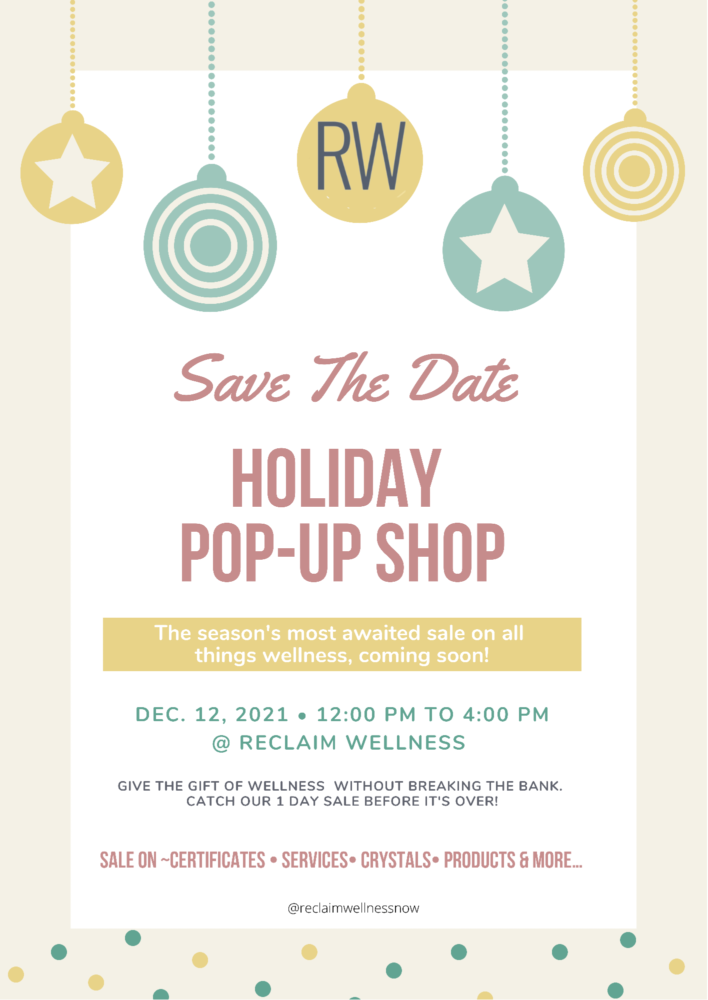 Reclaim Wellness Acupuncture and Functional Medicine is hosting its first ever Holiday Pop-Up Shop for one day only, this Sunday, December 12th from 12-4pm. It will be a day filled with special offerings and all things wellness! Give the gift of health to your loved one this year, while also shopping local and supporting this small, woman-owned business.
Discounted gift cards will be available, and can be purchased to provide someone with one of the many healthful experiences that Reclaim Wellness has to offer. This includes admission to wellness and meditation events and workshops, initial consultations, acupuncture treatments, facial acupuncture, cupping and gua sha sessions, hypnotherapy, functional medication consultation, reiki sessions, or a general gift card to purchase any product or service available.
In addition to discounted gift cards, many of the items mentioned earlier will have special deals and discounts. Reclaim Wellness gift cards and self-care products make the perfect stocking stuffers and host and hostess gifts — or you could even put together a healthy holiday care package for someone who is in need of a little extra love and care this holiday season!
Reclaim Wellness Acupuncture and Functional Medicine is located at 1501 Corporate Drive, Suite 270, in Boynton Beach. Appointments can be made by calling 561-336-3144 or requesting online. Virtual consultation appointments are available for those who are not comfortable coming into the office or do not live in the area. Don't forget to mention Take A Bite Out of Boca when booking a consultation to receive special pricing.