Never miss a bite! Sign up here to receive new recipes and reviews straight to your inbox.
Disclosure: I was invited to stay and dine as a guest of Palm Beach Marriott Singer Island in exchange for this post. As always, all opinions are 100% my own.
Holiday Staycation at Palm Beach Marriott Singer Island
Whether you're from out of town and planning a trip or an extended stay in Palm Beach, or you're a local looking for an easy weekend getaway, Palm Beach Marriott Singer Island caters to all!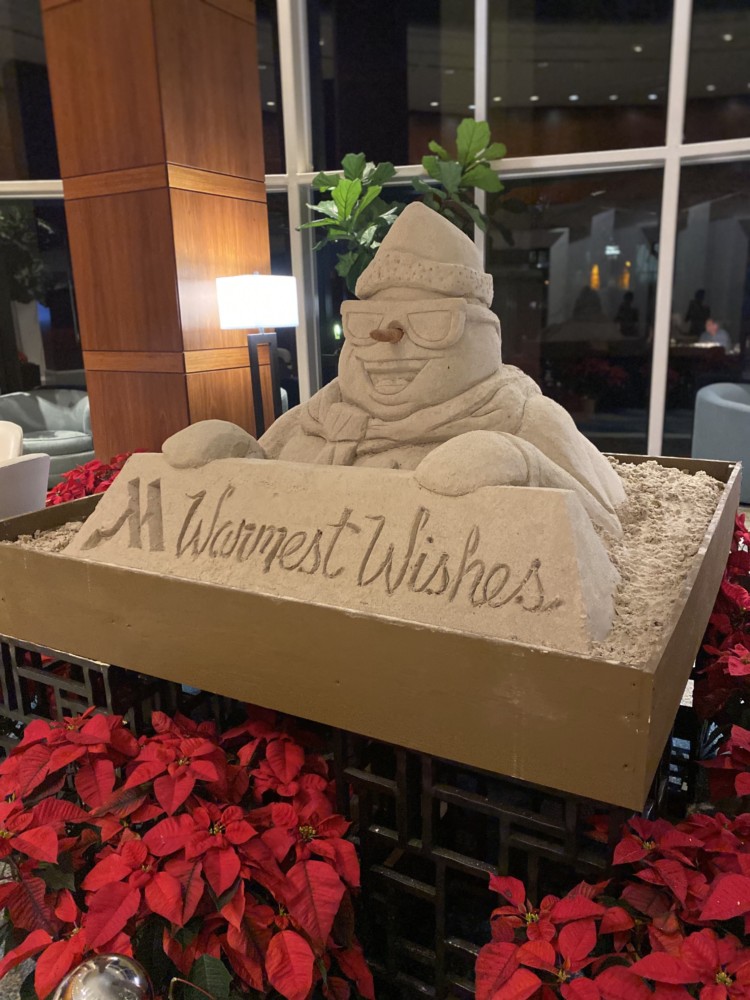 There are a lot of great hotels and resorts in South Florida, and I feel as though it's my duty to give you guys the low-down on as many of them as I can! Even if you're a local, Staycations are a fun way to feel like you're on vacation without actually having to go very far or deal with travel-related worries, e.g. COVID. It's also a great way to support your local tourism!
For those of you who may be out-of-towners with plans to come to South Florida at some point, I love being able to help provide travel tips and recommendations for the best places to stay, eat, and drink!
Amenities at Palm Beach Marriott Singer Island
At the Palm Beach Marriott Singer Island, extended stay guests are welcome too. Every room in the entire resort is a suite, and these suites have all the amenities that you'd find in a legit apartment! We walked into ours to find a full kitchen and living room, walk-in closet with lots of drawers and room for hangers, a spacious bathroom with a separate shower and huge tub, and even a washer and dryer! From our balcony, we could see both the Intracoastal and the ocean, and had a beautiful city view too.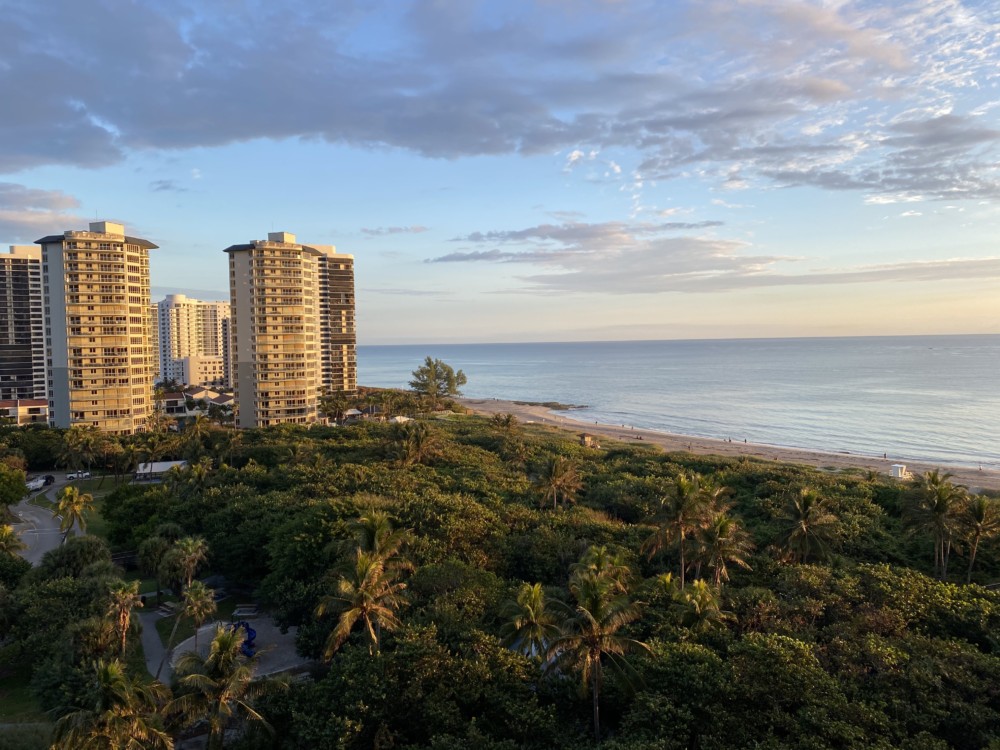 The resort itself was beautifully decorated for the holidays, with a big Christmas tree in the lobby and a life-size gingerbread house created by the on-site restaurant's culinary team out of which the super friendly staff serves complimentary cocktails to guests every day from 4-5pm. Talk about a warm welcome!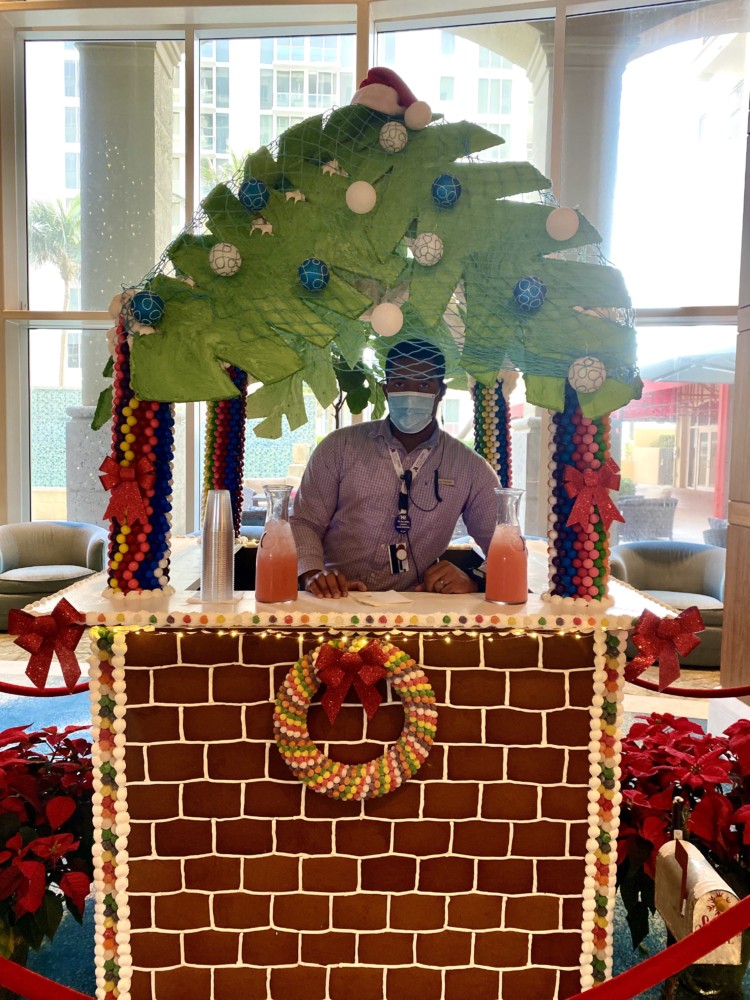 The resort has a private beach where guests can engage in various water activities or just chill out on the complimentary lounge chairs, and two pool areas: an adults-only infinity pool where you can rent a private cabana and enjoy cocktails at the tiki bar, and a family-friendly lagoon pool with a waterslide. There is a full-service salon and spa, a fitness center, morning yoga classes offered on the beach, and gift shop inside that also sells Starbucks coffee, baked goods, and various other convenience-store items.
Guests are charged a daily resort fee of $35, which includes those complimentary signature drinks in the lobby, WiFi, two beach chairs, on-property games and activities, bottled water in the room, and more.
Palm Beach Marriott Singer Island really has everything you need under one roof. You won't even need to leave when it comes time for dinner!
Dining at Palm Beach Marriott Singer Island
The resort's signature restaurant, 3800 Ocean, is well known among Palm Beach County locals. The restaurant just launched a brand new craft-bourbon program with Maker's Mark, so before Roger and I sat down for dinner, we had a chance to do a little tasting of the exclusive batch, alongside two different kinds of Maker's Mark.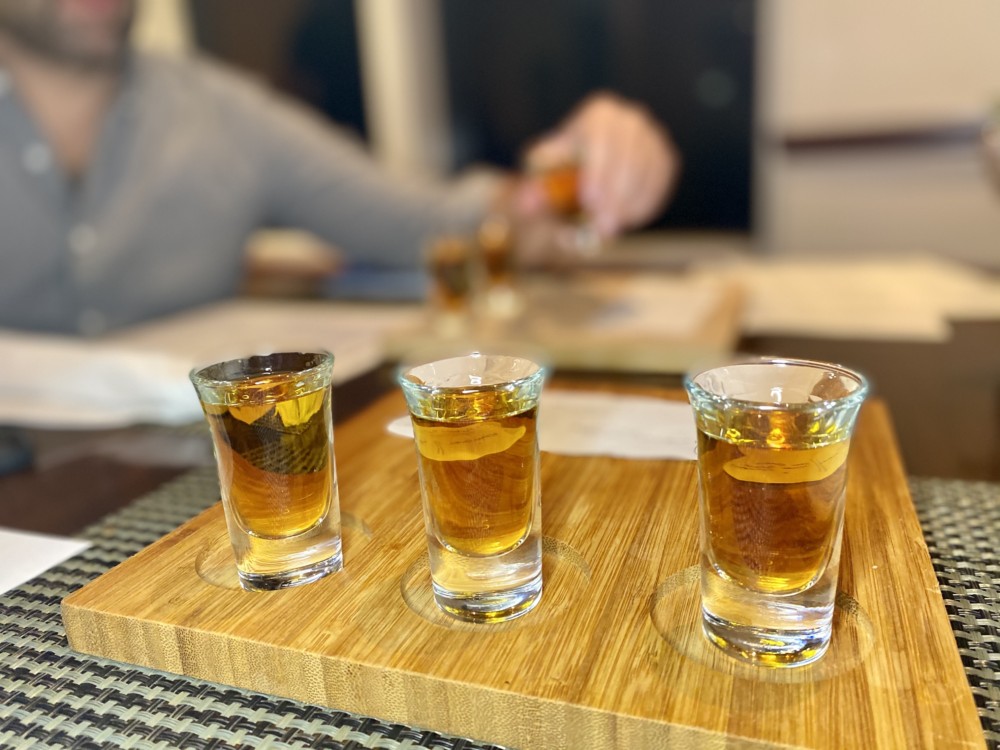 I'm not much of a bourbon person (Roger is though), but if you are, head over to the bar at 3800 Ocean and ask about it! The newly released Batch 3800 Bourbon can be served neat, on the rocks, or in five classic cocktails selected by 3800 Ocean that best showcase the bourbon's distinct flavor: Old Fashioned, Bourbon Sour, Sazerac, Manhattan, and Kentucky Mule.
I traded my shots of bourbon for a glass of champagne, and was ready for dinner! I started with shrimp cocktail, and Roger had the beef Wellington tips — a sort of 'deconstructed' version of the traditional dish, with the puff pastry resting over top of the cooked beef instead of the beef being wrapped in the pastry. It looked REALLY good, and smelled even better. You can't go wrong with shrimp cocktail, but in terms of presentation and creativity, Roger's appetizer choice was a clear winner.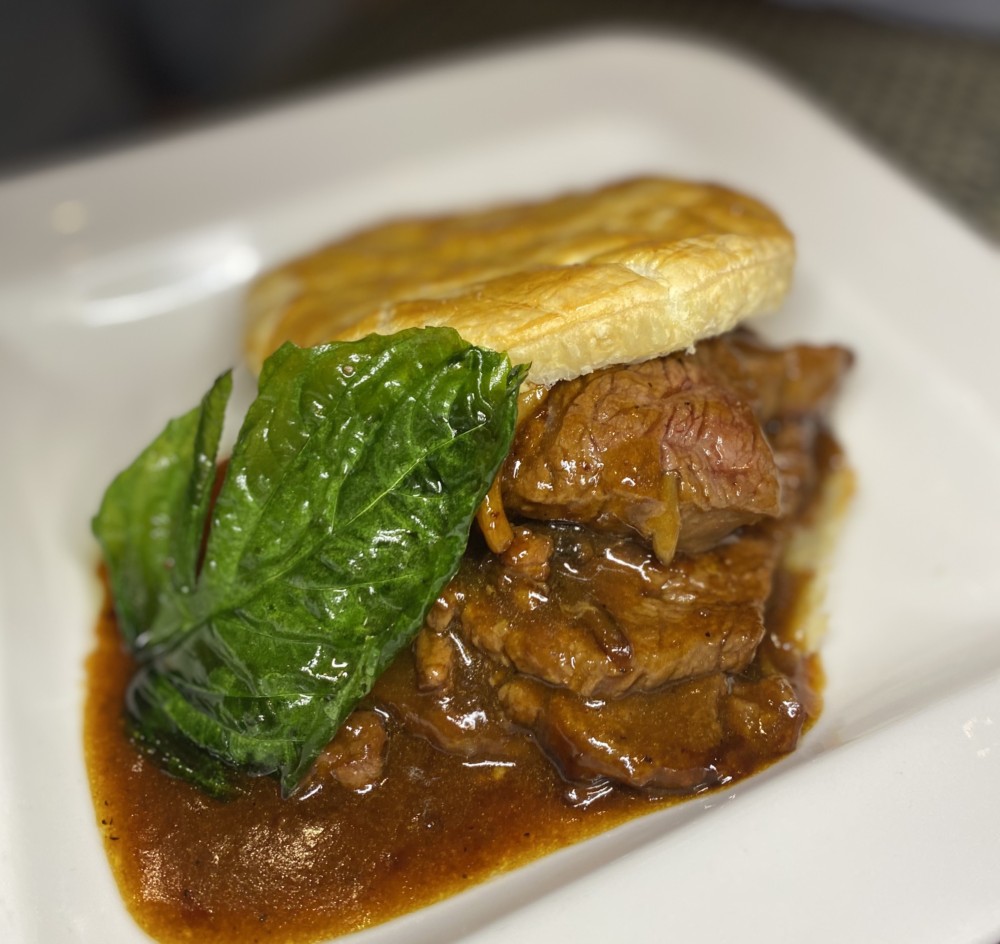 For dinner, the kitchen made a few alterations to the scallop dish on the menu so it would be Shaina-friendly, and they did a great job. I totally cleaned my plate! The dish as is on the menu features Diver sea scallops, Heritage pork belly, parsnip purée, blood orange buerre blanc, and broccolini. For me, the purée and buerre blanc were swapped out for sautéed spinach and tomatoes. It was a big plate full of cooked vegetables, perfectly seared scallops, and crisp pork belly, and I couldn't have been more satisfied.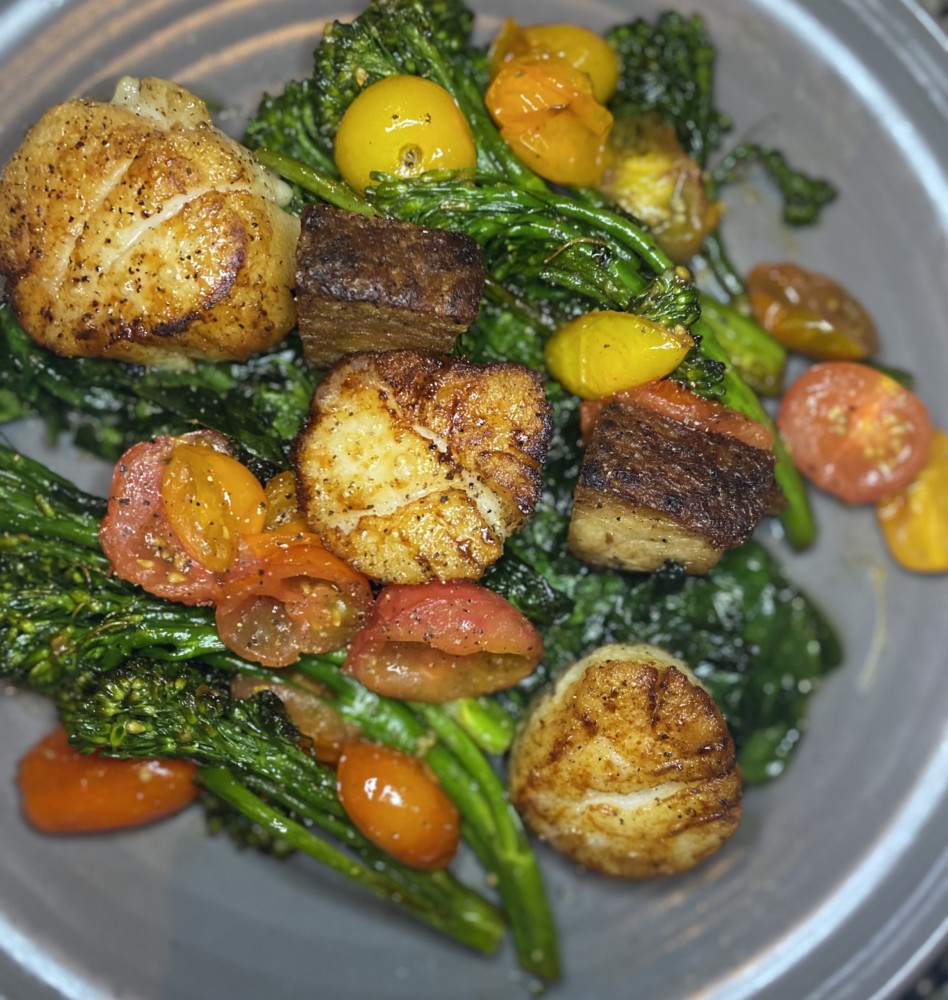 Following the advice of the restaurant's bartender, Roger ordered the crab-crusted grouper with yukon potato mousseline (basically a fancy mashed potato), pan-flashed spinach, forest mushrooms, and blood orange beurre blanc. No substitutions needed. And no morsel left behind.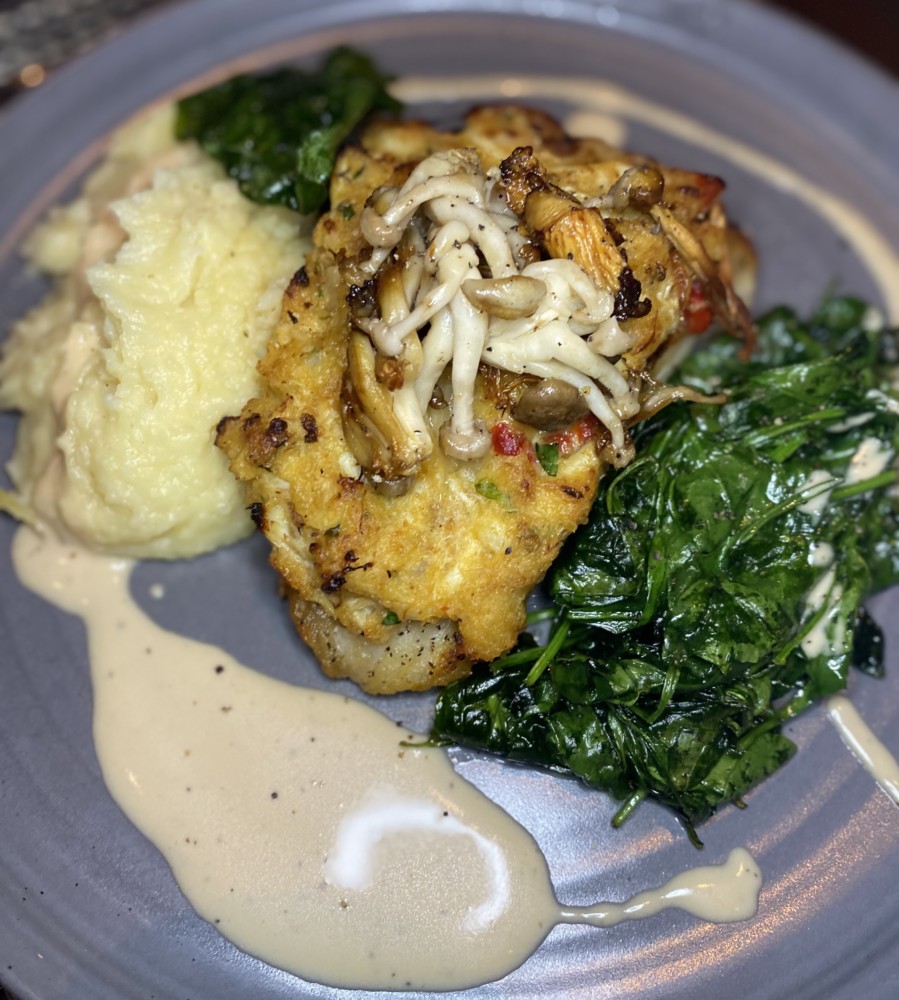 We were too full for dessert, but from what I hear, the 3800 Ocean pastry chef Kursten Restivo is impressive, so don't skip out on a sweet ending when you dine in!
3800 Ocean is also open for lunch, and breakfast Friday through Sunday. The 3800 Lounge offers happy hour Monday through Friday from 5-7pm, featuring a limited appetizer menu.
Additional dining choices at the Palm Beach Marriott Singer Island include the Ocean Breeze Cafe, open daily from 7am-5pm and located in the lobby of the hotel, as well as The Reef Tiki Bar and Lagoon Cantina, both of which are only open from Friday-Sunday.
Visit Palm Beach Marriott Singer Island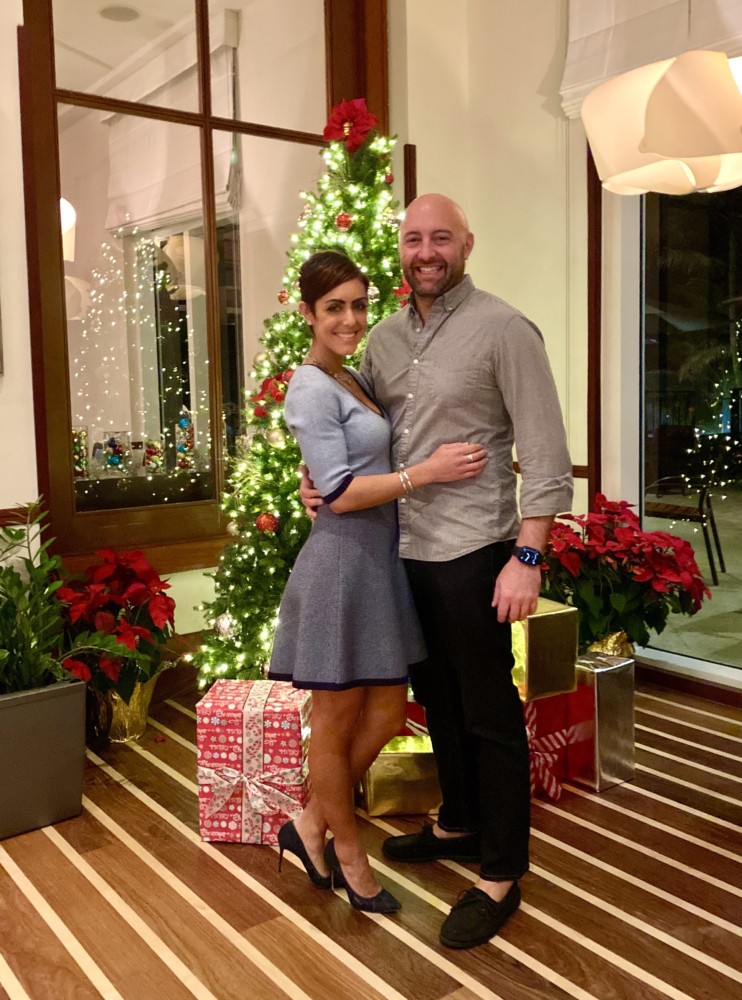 For reservations, visit the Palm Beach Marriott Singer Island website or call 561-340-1700. The resort is located at 3800 North Ocean Drive, Singer Island, in Riviera Beach. There are many local attractions nearby to enhance your stay at Singer Island. You're just a short trip from Downtown West Palm Beach and Downtown Palm Beach Gardens, and the Blue Heron Bridge at Phil Foster Park is known for its unique diving opportunities.