Disclaimer: This shop has been compensated by Collective Bias, Inc. and its advertiser. All opinions are mine alone. #LoveDoveFruits #CollectiveBias
Never miss a bite! Sign up here to receive new recipes and reviews straight to your inbox.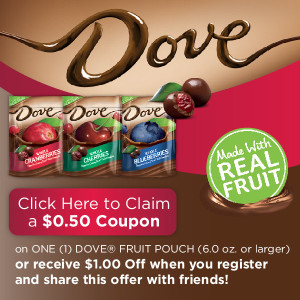 Click here to claim your $.50 coupon for DOVE® Fruit
Homemade Granola with DOVE® Fruit is a better-for-you indulgence filled with chocolate-covered cranberries, coconut, honey, oats, vanilla protein and sunflower seeds.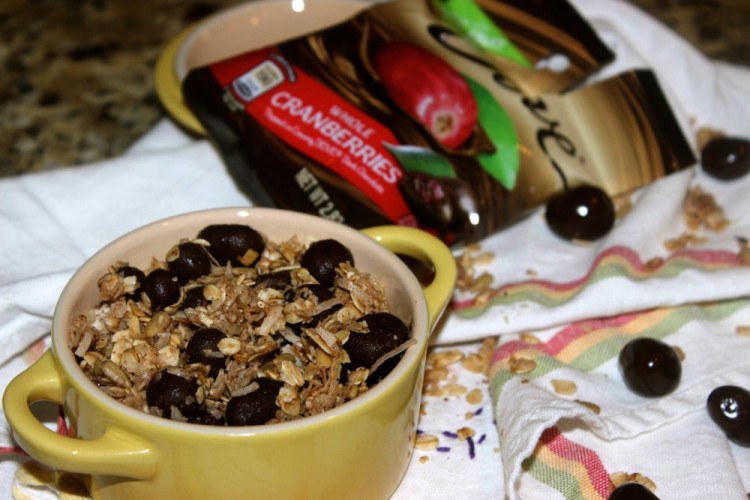 Raise your hand if you have a sweet tooth that gets angry at you if you don't feed it at least something every day. That's what I thought. All hands are raised! What is it about those chewy chocolate chip cookies, fudgy brownies, smooth and creamy ice cream and sugary sweet candies that make everyone so crazy? If only those treats were as good to our bodies as they are to our tastebuds. Sometimes you just want to satisfy that obnoxious sweet tooth and give it its chocolate fix without totally overdoing it. Homemade Granola with DOVE® Fruit are just what you need. This snack is filled with good-for-you ingredients such as new DOVE® Fruit chocolate-covered cranberries. We sweet-tooth-owners definitely know all about the wellness benefits of dark chocolate. DOVE® Fruit is a delicious combination of whole, real fruit dipped in silky smooth DOVE® dark chocolate — and in this granola, they are also mixed with rolled oats, sunflower seeds, honey, vanilla protein and coconut flakes.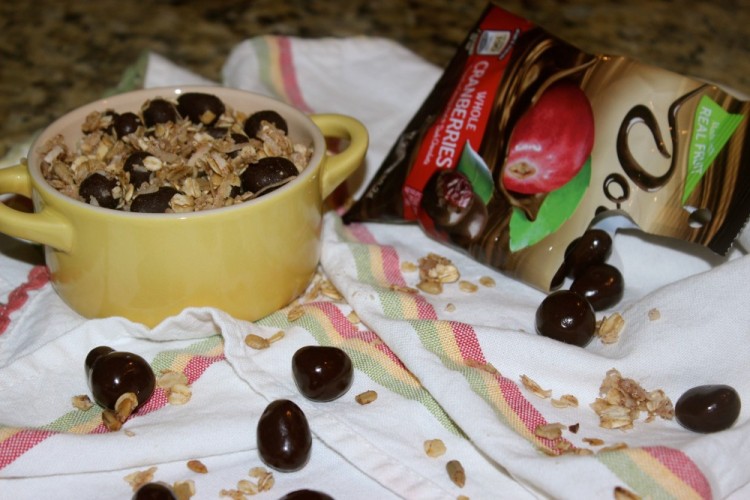 Granola is great for snacking and even better for early mornings when you find yourself too rushed to make breakfast. You can portion out Homemade Granola with DOVE® Fruit into snack bags ahead of time so they are ready and waiting for you as you head out the door. No more forgoing breakfast because you don't have time — you have no excuse if there is homemade granola in your pantry.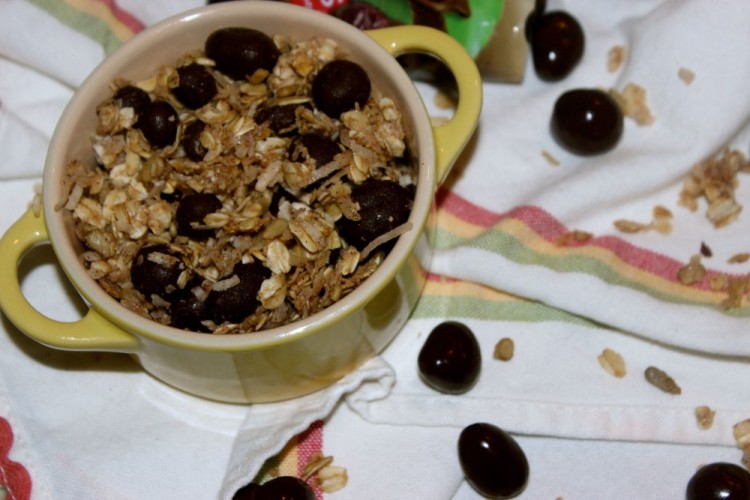 DOVE® Fruit is also available in blueberries and cherries, so you could make three different kinds of granola bar to keep on hand. I was super excited to find these little bags of deliciousness in the candy aisle at Walmart.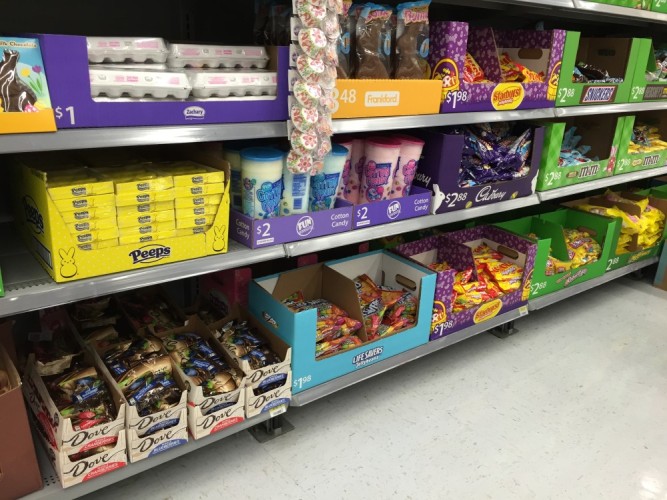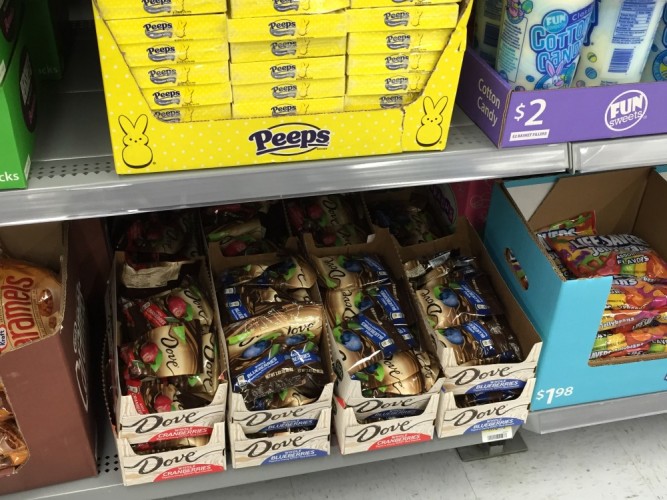 As soon as I saw the DOVE® Fruit, I knew I'd be using them to make granola bars! There are even more great DOVE® Fruit recipe ideas on the DOVE® Fruit social hub. You can also download a coupon to save on your DOVE® purchase.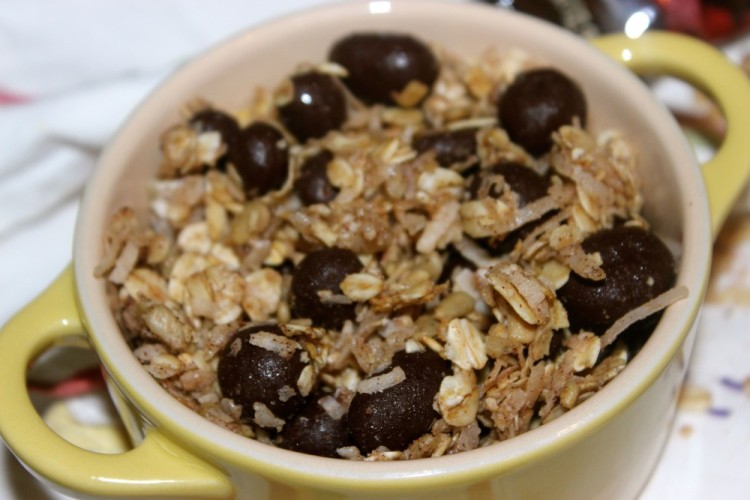 There are so many delicious ingredients in these Homemade Granola Bars with DOVE® Fruit. I'll definitely be snacking on these when that sweet tooth hits. What's your favorite healthy indulgence?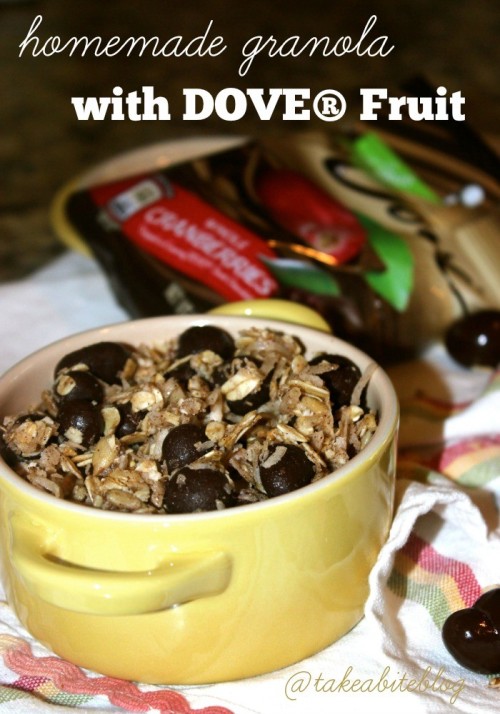 Homemade Granola with DOVE® Fruit
Author:
Ingredients
1 cup oats
1/2 cup shredded coconut
1/4 cup sunflower seeds
1/4 cup vanilla protein powder
1 tsp cinnamon
1/4 cup coconut oil, melted
3 tbsp honey
1 cup DOVE® Fruit Cranberries (or blueberries or cherries!)
Instructions
Combine oats, coconut, sunflower seeds, protein powder and cinnamon in a large mixing bowl.
Mix together melted coconut oil and honey and pour over the oats mixture.
Stir until well combined and fold in the DOVE® Fruit Cranberries.
Spread mixture evenly into a 8×8 baking dish.
Place in the refrigerator for at least 4 hours (or overnight for best results)
Remove and use your hands to break into pieces.
Store in tupperware.
Oh yeah, and today's my birthday — maybe I should mix in some sprinkles. 🙂