I started a new job on Monday, so I wanted to make dinner the night before to celebrate my first week back into the working world. After lots and lots of browsing through many recipes, I finally decided on a Greek theme: Spinach and feta stuffed chicken from Skinnytaste and roasted potatoes in a lemon vinaigrette from Recipegirl. The end result was fantastic and very satisfying. Bubby and I enjoyed a delicious dinner together in honor of my finally getting a job after being here for almost four months.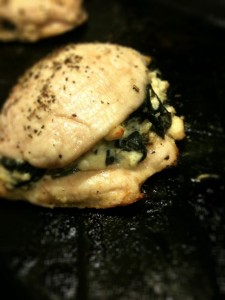 I followed the recipe for the chicken dish for the most part. Since I didn't have whole wheat breadcrumbs (or any breadcrumbs for that matter,) I just didn't coat my chicken with them. I had trouble pounding the chicken cutlets, so they were not as thin as they should have been, making it difficult to completely stuff the chicken with the spinach and feta mixture. Hence the mixture seeps out the sides. Despite this presentation mishap, it didn't alter the taste at all. In the end, it really didn't make much of a difference. Next time I make this dish I will make more of an effort to pound those cutlets so they are as thin as possible. Even with fat-free feta and fat-free ricotta, there was still a lot of flavor from the garlic, onions, parsley, pepper and seasoning mix that I used. Oh, by the way, I never use salt in any of the recipes I make because my Bubby is on a low-salt diet.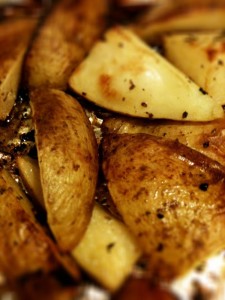 The potatoes were so good. The lemon vinaigrette was the perfect complement to the crispy roasted potatoes and would probably work really well with chicken or lamb, too. I used Russet potatoes instead of red (because that's what we already had) and didn't use the chicken broth. I simply mixed the vinaigrette and poured over the sliced potatoes, and put them in the oven until they were browned and crispy. The Cuisine kitchen smelled amazing as I was preparing this meal. It probably took me about 2 hours from start to finish, but it was well worth the time spent. I always like to have at least two vegetables with my dinner so I steamed some baby carrots as another side dish. I want to try to make either Saturday or Sunday my night to cook dinner for Bubby and myself. I love the feeling of accomplishment after I finished this meal. It's so rewarding to know that you've successfully made something all by yourself that others can enjoy.