When avocados are on sale at Publix, that can only mean one thing has to happen — homemadeguacamole. When peaches are in season and taste so incredibly juicy and sweet, that can also only mean one thing — homemade guacamole with peaches. I love the idea of pairing creamy avocados with the sweet flavors of in-season fruit. One time I had guacamole with strawberries in it. That is definitely something I would never have thought of, but it really was a good match. So, in channeling that food memory, I decided to go the sweet route this time around and dice up some ripe peaches for this Homemade Peach Guacamole. I made a lot since I now have roommates to eat the food I make, as opposed to when I lived alone and had to pawn off all my extra food or risk it sitting in the fridge for days and just going bad. Such a waste.
With only 5 ingredients, this is one of the easiest dips to whip up when you're pressed for time and need a quick dish to bring to a party, or if you just have a random guacamole craving while sitting at home. This does happen. You know it's true.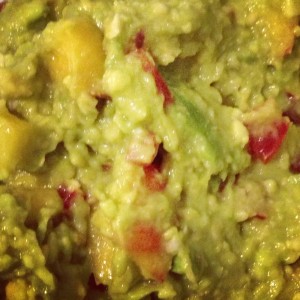 Homemade Peach Guacamole
4 ripe avocados, mashed
6-8 garlic cloves, minced
2 Roma tomatoes, small diced
1 large ripe peach, small diced
juice of 1 lime
Combine all ingredients in a bowl and voila! You have made your own Peach Guacamole! Let chill in the fridge for at least an hour before digging in (if you can control yourself).

Posted with Blogsy