Never miss a bite! Sign up here to receive new recipes and reviews straight to your inbox.
Disclosure: I was invited to dine as a guest of Hooter's of Boca Raton. No monetary compensation has been received for this post. As always, all opinions are 100% my own.
Three decades ago, the first ever Hooters opened in Clearwater, FL. Now, with 420 locations in 29 countries, Hooters is a household name, and the signature Hooters Calendar Girls are almost as iconic as Sports Illustrated Swimsuit models. In Florida alone there are 16 locations — one of which is right here in Boca Raton.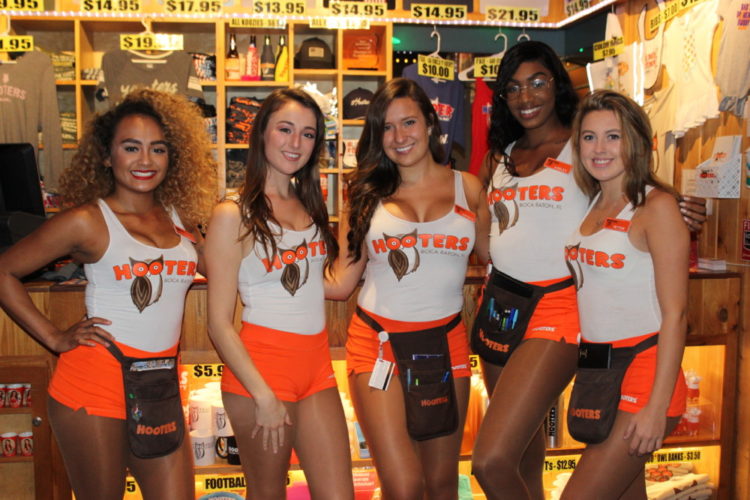 Knowing the clientele that frequent the Boca Raton area, one might not expect there to be a Hooters here, but this sports bar knows how to cater to the locals. The restaurant attracts equal amounts of families with children, older couples, and college kids — and they all seem to leave happy. The menu includes lots of seafood options and a "Wise Choice" section featuring lighter options with calorie counts.
Growing up with a Hooters in Atlantic City, I always imagined it to be a strictly burgers and wings type of place, but I was happy to find that there was plenty for me to enjoy at the Boca Raton location. I was also happy to find out that Hooters of Boca Raton makes their sauces in-house, including the signature mild, medium and hot wing sauces, as well as the ranch and blue cheese sauces. After my visit to Hooters of Boca Raton, the stereotype I grew up associating with the restaurant was gone, and I'd definitely go back again.
I brought my dad along to dinner, knowing how much he'd enjoy digging into their Philly cheesesteak sandwich — and he did! This hearty sandwich is filled with sautéed onions, green peppers, mushrooms and cheese and served on a hoagie roll. Something I found interesting were the side dishes — cole slaw or baked beans, with an upcharge to substitute for fries. Dad couldn't choose, and got both the cole slaw and baked beans. While the cole slaw was a bit dry, he loved the baked beans and detected a bit of sweetness that really put them over the edge. He enjoyed the cheesesteak as well.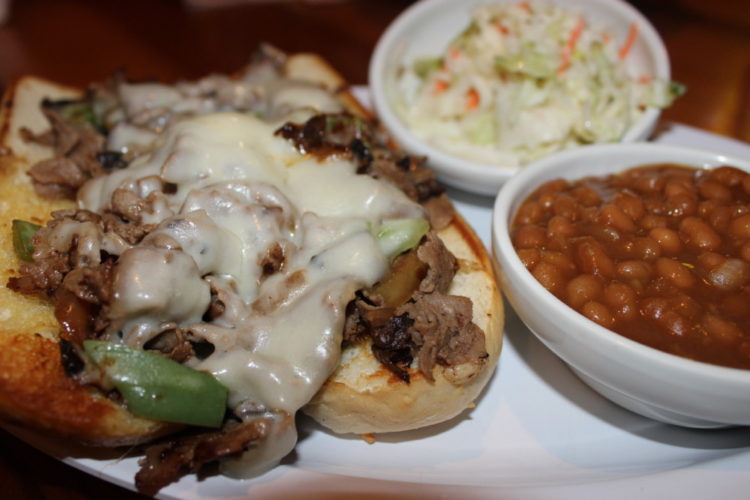 For me, it was aaaaall about the seafood. Hooter's original buffalo shrimp were totally calling my name. You have your choice of 10 or 20 pieces of hand-breaded shrimp tossed in your choice of wing sauce. Prepare yourself for choosing a sauce — it's one of the hardest decisions you'll make during your visit to Hooters. Of course there is the signature mild, medium and hot; but there's also 911 (which I imagine is a bit on the insane side, and definitely not for the faint of heart), spicy garlic, habanero BBQ, chipotle honey, Kansas City BBQ, honey Thai, lemon pepper and more. I chose to have mine smothered in honey Thai sauce. The tender little shrimp soak up that sauce just perfectly, without affecting the texture of the crispy coating. I almost wished I had ordered the 20 pieces instead of 10, but with more food to come, 10 was just enough. One thing's for sure, I would definitely go back for these.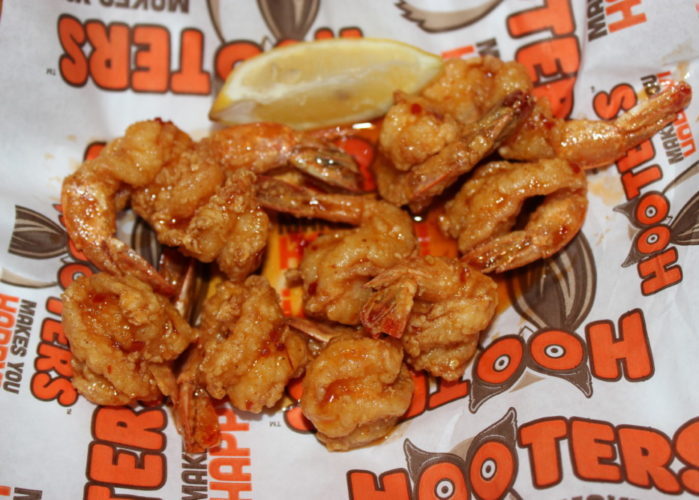 We all know how much I love french fries, but I also have a huge soft spot for onion rings. I didn't like them as a kid — not sure what I was thinking — but now I love 'em. At Hooters, the twelve golden brown rings come stacked one atop the other creating a massive tower of deliciousness. The best part? The two sauces they're served with — remoulade and ranch. Both made in-house, both thick and creamy, and both equally as tasty. By this point, I was pretty much in fried food heaven, as is the case at most sports bars, and my jeans were starting to get a little tight… But we trekked on, this time to something not fried though, thankfully.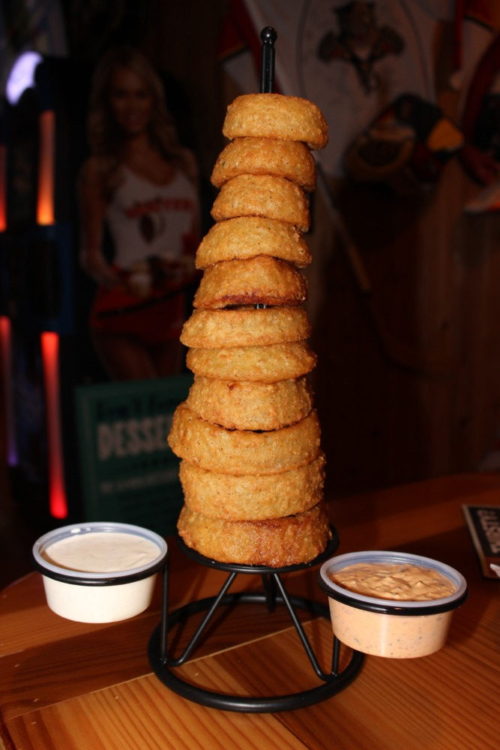 Hooters has a nice selection of seafood, including steamed shrimp, raw oysters, mussels and fish tacos, among others. I haven't had snow crab legs in a while, so I decided to get an order of those. I forgot how hard these are to get the meat out of, so they proved a little more work than they are worth, but I did enjoy having something fresh to offset the other heavier dishes I had eaten. The cocktail sauce was yummy, which is always a plus. That's another thing I used to dislike as a kid and now love. I was actually an extremely picky eater until college — good thing I got adventurous!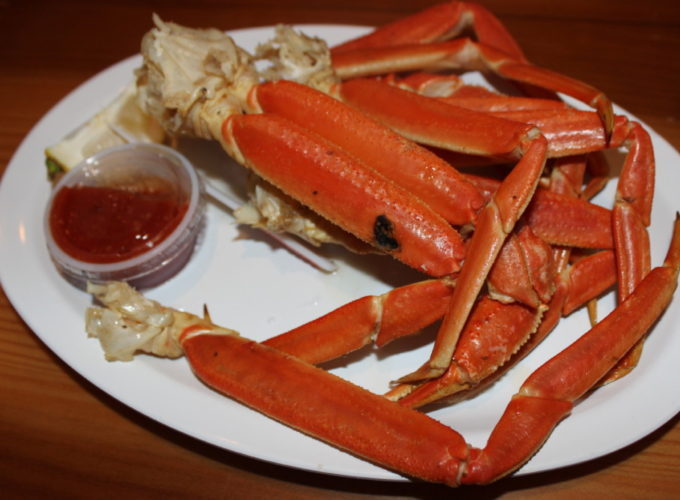 One thing I definitely got from my Dad is the need to end every meal with something sweet. After dinner, he always asks what's for dessert. So, naturally, we couldn't pass up on a little indulgence after our meal. The moment I heard the words Caramel Fudge Cheesecake, there was no hesitation — for either of us. And as soon as the plate hit our table, again there was no hesitation before we went to town. I'll choose cheesecake over any dessert. If fact, when I get married (a girl can dream…), I'd prefer to have a tower of various flavors of cheesecake over a layer cake. This is a Hooters original recipe, and it did not disappoint. From top to bottom, it started with a classic graham cracker crust that was just the right thickness, then came a layer of rich, chocolate fudge, next a smooth and creamy cheesecake layer, followed by a generous pour of caramel sauce and chopped walnuts. The slice of cheesecake sat atop a thick drizzle of chocolate sauce that enhanced the flavor of the cheesecake even more as you scraped up the sauce with each forkful. Let's just say, Dad and I left Hooters with very happy bellies.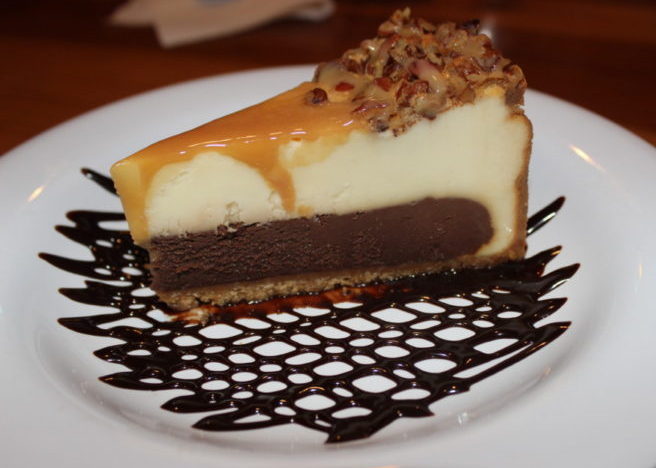 Before we left, General Manager, Chris Torelli, showed us one feature of the Boca Raton location that really stands out — the private room area. There are two adjoining rooms available for guests to reserve for watch parties, Fantasy Football drafts, birthday celebrations, meetings — whatever you'd like! If your party is large enough, the two rooms can be reserved together. There are couches, high top tables, TVs, and one room has a view of the outdoor patio where you can hear live music on the first Friday of every month from 6-10pm.
Hooters of Boca Raton is open Monday through Thursday from 11am-12am, Friday and Saturday from 11am-1am and Sunday from 12pm-11pm. Happy Hour is Monday through Friday from 3-7pm, featuring half-priced appetizers and one pound of crab legs for $13.99. Hooters of Boca Raton is located at 2240 NW 19th St. in Boca Raton.