Never miss a bite! Sign up here to receive new recipes and reviews straight to your inbox.
Tart flavors of apple and sweet notes of coconut blend together to make one show-stopping dessert in this Apple Cinnamon and Coconut Crumb Pie.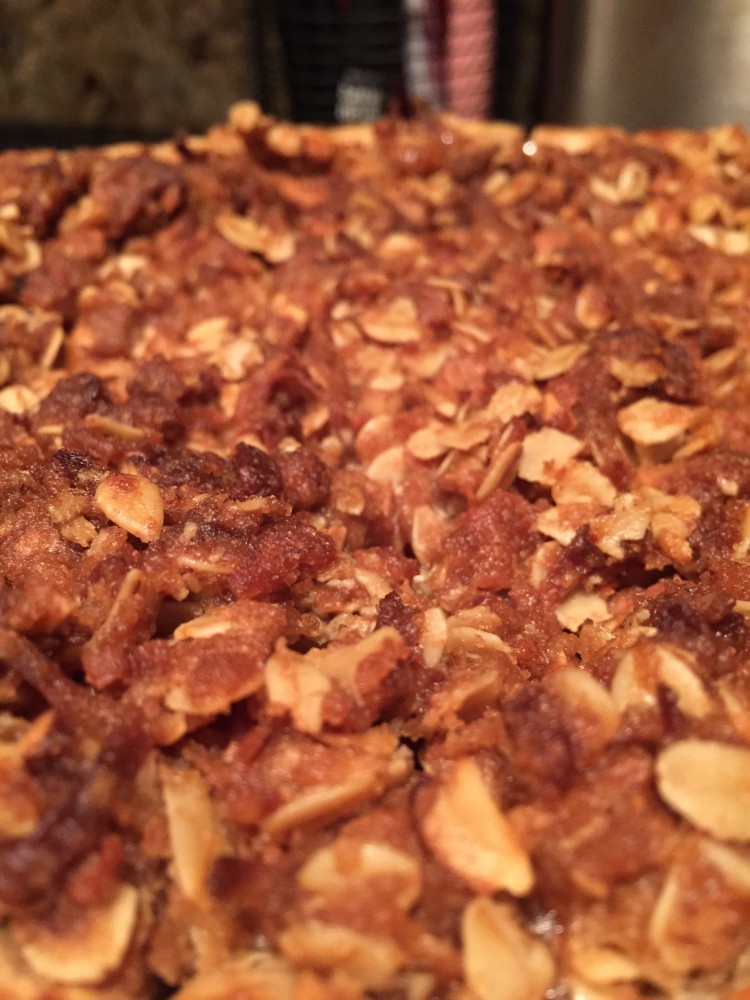 FINALLY… I've made something to share with the Improv Cooking Challenge! Every month I put down the ingredients and posting day on my calendar, fully intent on participating, and every month, posting day comes and goes and I haven't got a thing to share. But nope, not this time! I made sure to plan ahead and get my apples and cinnamon ready for some baking!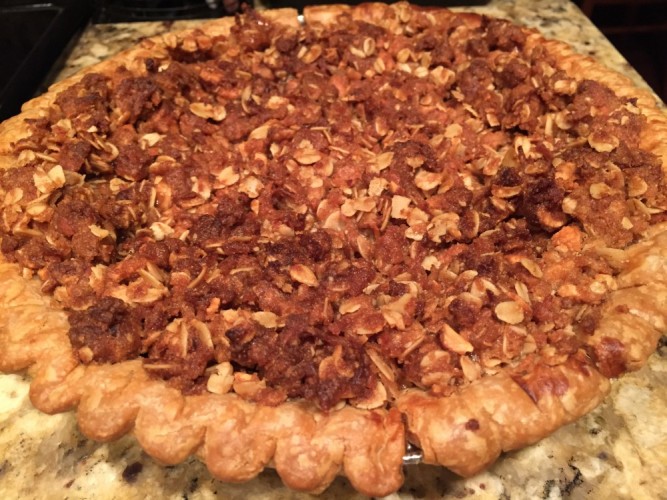 My parents were in town for a couple weeks and one of their favorite desserts is apple pie — but no way was I sharing a plain, boring apple pie for the challenge. I had to go a little crazy and add in something different. Apple and coconut is entirely new territory for me. I would never in my life have thought to combine the two in one dessert until I stumbled upon a chewy little granola bar in Trader Joe's that was a mix of these two ingredients. Who knew they worked so well together?! I was instantly hit with inspiration and wasted no time on my Apple Cinnamon and Coconut Crumb Pie.
Members of the Improv Cooking Challenge group get assigned two ingredients each month. Our task is to create a dish using these two ingredients. Sometimes the ingredients are out of the box, and sometimes they are matches made in heaven — like Apples and Cinnamon. This is as good a combination as chocolate and peanut butter. Apple desserts are way up there for me when it comes to dessert, and with Mom and Dad in town, I knew it was the perfect time to wow them with something special.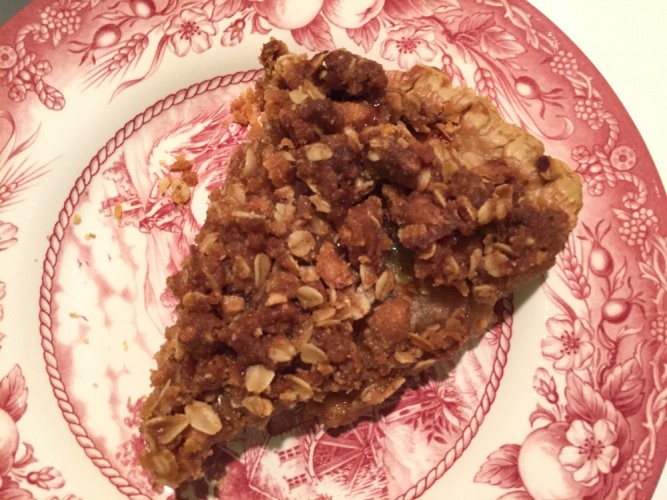 Ok, so I cheated with the crust and used premade Pillsbury, but everything else is from scratch and simply to die for delicious. When baking, I like to use McIntosh apples because of their softer texture and consistency. I made a simple filling of chopped apple, lemon juice, sugar and corn starch, and then brought a little extra flavor to it with coconut extract. That's all well and good, but the crumb topping is where the magic happens — coconut cashews (a brilliant Trader Joe's find), shredded coconut, oats, brown sugar, flour, and coconut oil are mixed together for one of the most flavorful crumbly toppings I've ever made. There is honestly not much that I love more than a good crumb topping. This one is a winner.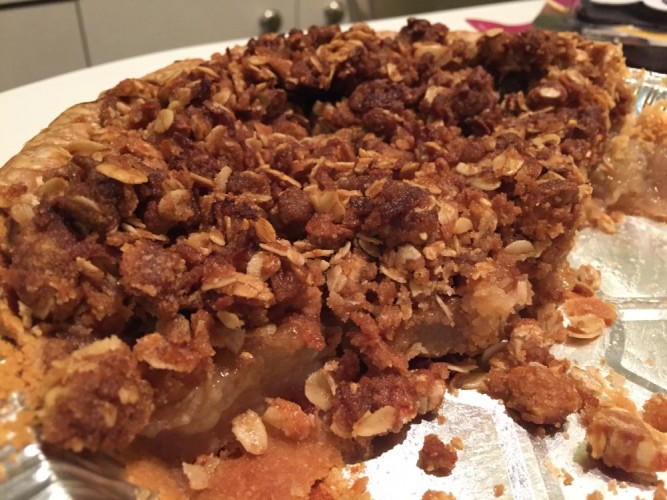 After devouring the delicious dinner Bubby cooked for the four of us on Mom's last night in town, we broke out the Apple Cinnamon and Coconut Crumb Pie for dessert. Grey's Anatomy was on in the background, but all I could hear were the constant mmm's and Shaina this is SO good spewing out of Mom, Dad, and Bubby's mouths every five seconds. It feels really good to hear that your food is being enjoyed. I really do get such joy and happiness from cooking for others and watching them eat my food brings a smile to my face.
I brought home a slice for my roommate and she proceeded to do the exact same thing when she got home from work. I watched her sit at the kitchen table, fork in hand, not even bothering to get out a plate, licking the pie pan clean — and in between each bite, she'd look up at me. I can't stop eating this. It's SO good.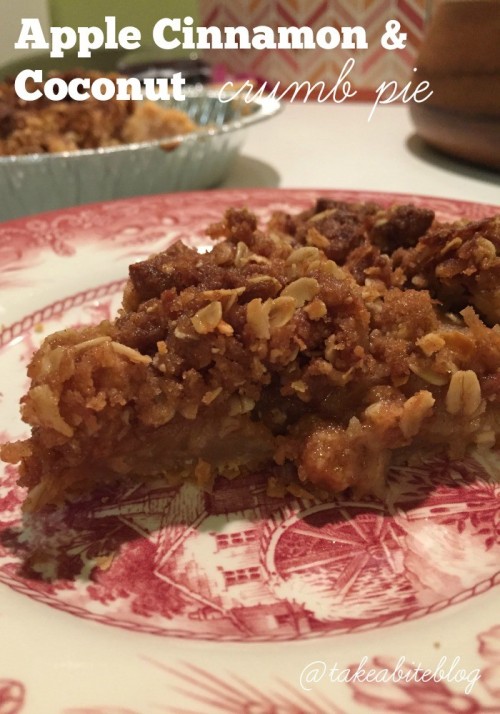 Improv Cooking Challenge: Apple Cinnamon and Coconut Crumb Pie
Author:
Tart flavors of apple and sweet notes of coconut blend together to make one show-stopping dessert in this Apple Cinnamon and Coconut Crumb Pie.
Ingredients
1 9 inch pre-made frozen pie crust
1/2 cup coconut cashews, chopped
1/2 cup light brown sugar
1/2 cup rolled oats
1/2 cup sweetened coconut flakes
1/3 cup all-purpose flour
1/2 cup coconut oil
3 medium McIntosh apples, peeled and sliced
1/2 lemon, juiced
1 tsp coconut extract
1/3 cup white sugar
1/4 cup cornstarch
Read more at https://takeabiteoutofboca.com/search/cherry+#O40ZMqudv2RFGdtH.99
Instructions
Preheat oven to 350 degrees. Line a baking sheet with aluminum foil.
Combine chopped cashews, brown sugar, oats, coconut flakes, flour and coconut oil in a large bowl and mix until the coconut oil is fully incorporate into the dry ingredients.
Cover and chill in the refrigerator for 15 minutes.
Combine sliced apples, lemon juice, coconut extract, white sugar and cornstarch in a medium bowl and stir until apples are coated.
Pour apple mixture into the pie crust and cover completely with the cashew-oat mixture.
Place on the prepared baking sheet. Bake for 1 hour and 15 minutes.
Let cool completely before cutting.
Let's see what the rest of the Improv Cooking Challenge group has come up with this month using Apples and Cinnamon!