Never miss a bite! Sign up here to receive new recipes and reviews straight to your inbox.
Disclosure: I was invited to dine as a guest of The Locale. No monetary compensation has been received for this post. As always, all opinions are 100% my own. 
Boca Raton is no stranger to the act of restaurant turnover, but what about when it's the actual restaurant owners who are the ones who've decided to give their location a complete makeover? That's what The Locale is — a rebranding of its former inhabitant, The Little Chalet, with a new name, concept, menu, decor and overall vibe, in the same downtown Boca location.
The food at The Locale is New American with a Latin flair. There is something I find so romantic about Latin food. The ingredients, the spices… Or maybe it's just because Latin food makes me think of salsa dancing, red wine and good looking men with accents. Whatever the case may be, I love Latin flavors, and The Locale had my tastebuds going crazy. Especially because they served me two kinds of octopus and four kinds of "fries." Could Executive Chef Joshua Miranda have chosen a better way to steal my heart? I think not.
First, let's start with the cocktails. The beverage program is helmed by Frank Spalluto, who has been working in this establishment since The Little Chalet days, and shows a lot of passion for his work. There are various signature cocktails available, with trending ingredients like Acai liqueur, bourbon-soaked cherries, aquafaba (the cooking liquid from chickpeas), and mezcal. I'm a big fan of the smokey flavor of mezcal, so Frank whipped me up a beautiful drink with house-made hibiscus syrup, jalapeño, and lime. Along with the cocktails, there's an extensive list of wine and beer to choose from as well.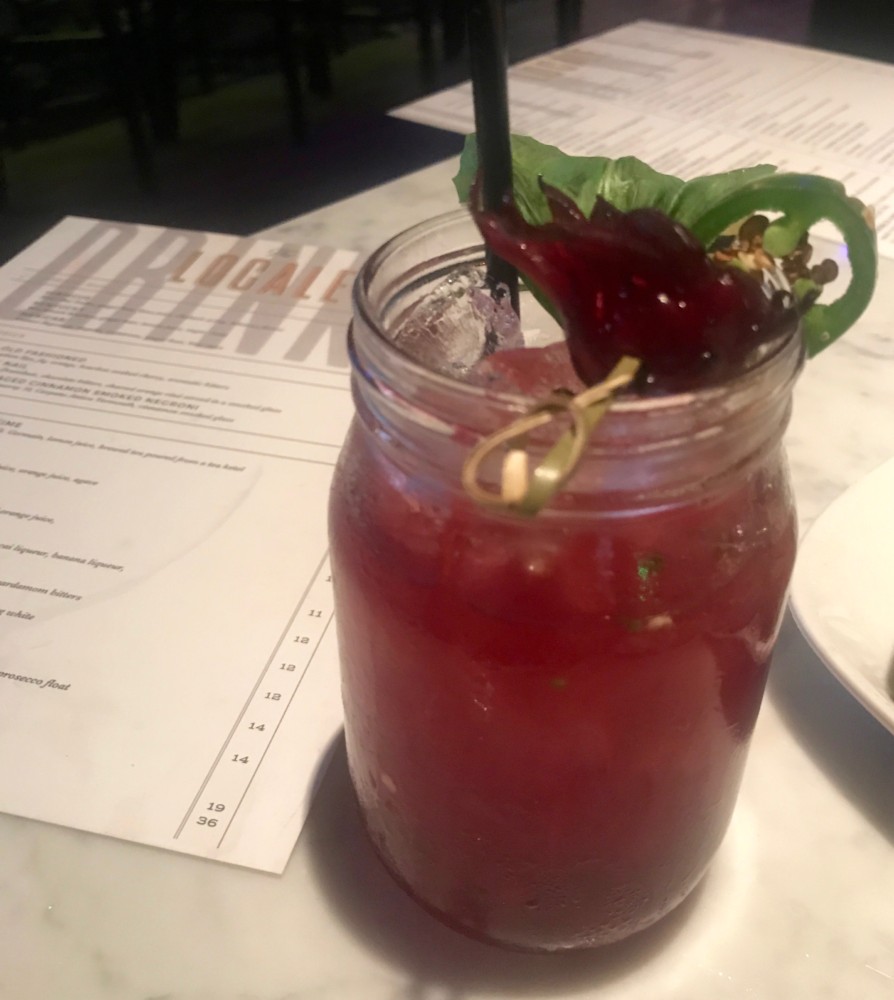 Now let's talk about those two versions of octopus that had my mouth watering as soon as I saw them on the menu. The first is an appetizer, incorporating another one of my favorite foods — plantains! The dish comes with three tostones (fried green plantains) topped with sliced, marinated octopus and avocado salsa. If need be, Chef Josh is able to make the dish gluten-free by frying the plantains in a pan rather than the fryer. I loved the combination of flavors, and the tender plantain was the perfect vehicle for its toppings. I've never seen a version of tostones like this before, and I'm thrilled to have the option at The Locale.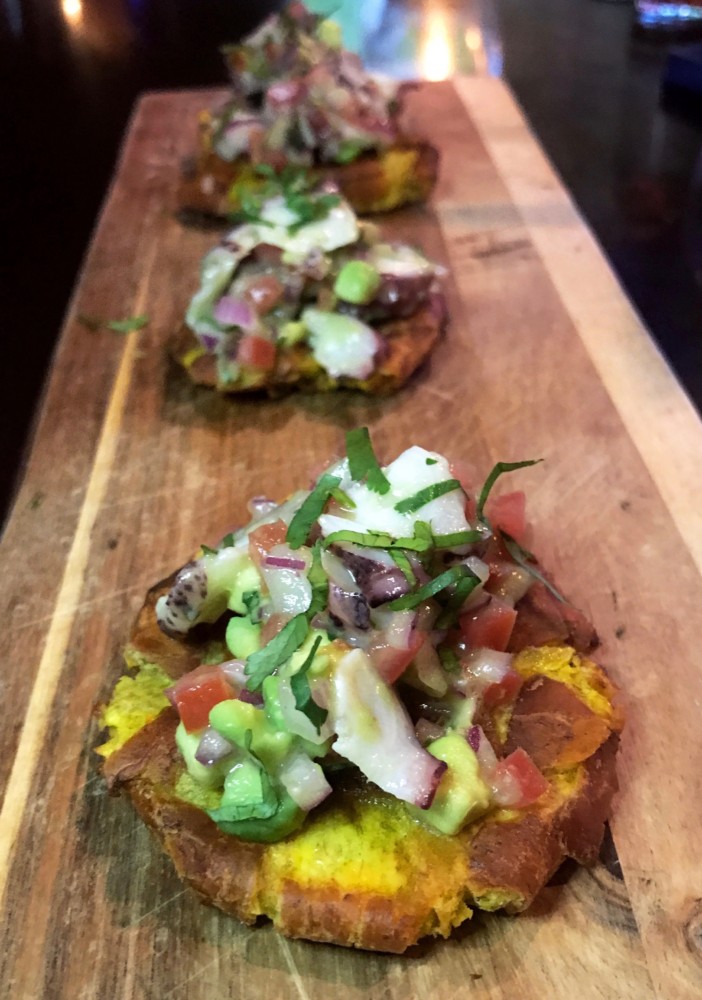 The other octopus dish is an entrée — grilled octopus with cilantro aioli, smashed potato, and chimichurri sauce. It's both gluten- and dairy-free if you forgo the aioli, and it is delicious. The octopus is perfectly charred, and the chimichurri added a beautiful, fresh pop of flavor. While I do love the meaty center, the crispy ends of the tentacles are the best parts, and I always manage to steal them for myself. Other interesting entrée options include the short rib and manchego polenta; bucatini with yellow chili sauce, onions and tomatoes and choice of sautéed filet or chicken; and the airline chicken breast stuffed with catupiry (Brazilian soft cheese), gouda cheese, onions and bacon and served with sautéed mushrooms.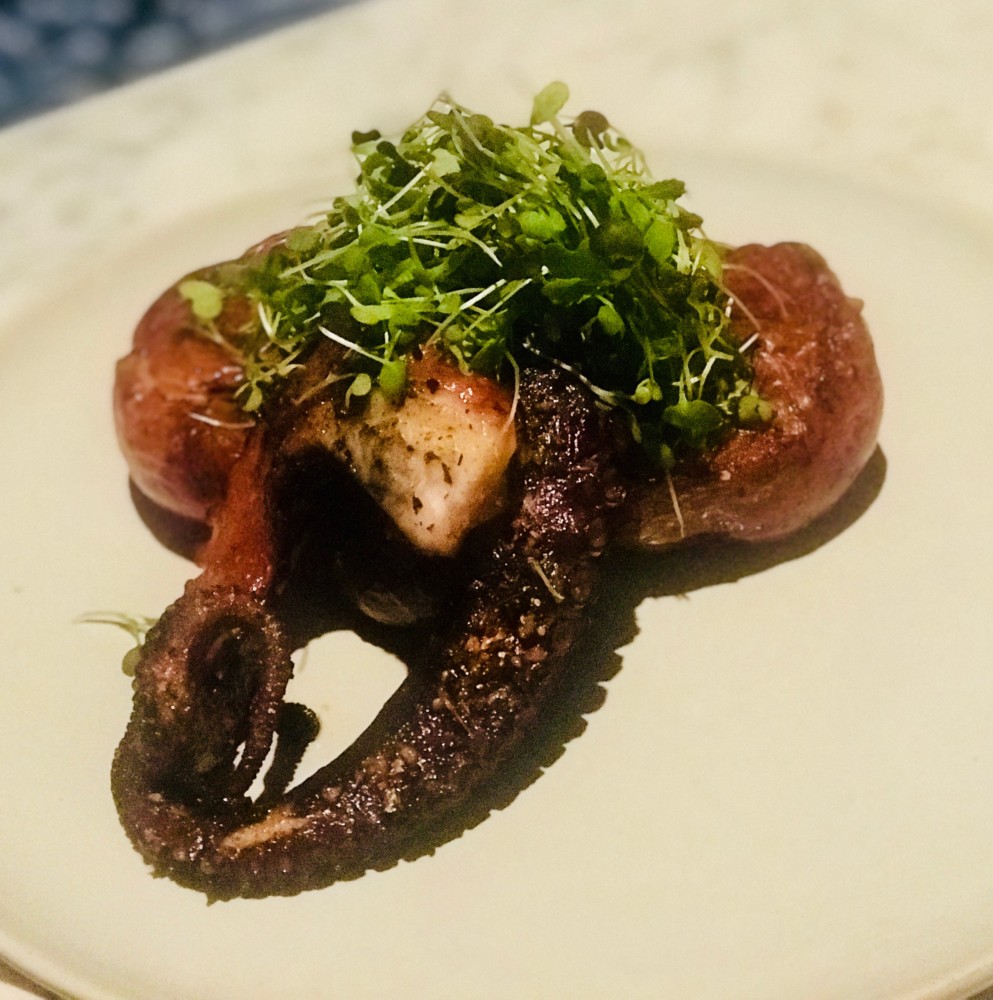 Vegetarians, there are options for you too! The grilled portobello burger is a must, with tamarind glaze, manchego, crispy kale, and aioli, served on a brioche bun. It's delicious even without the manchego and aioli too! The glaze on the mushroom imparts bright, bold flavor and the meaty texture gives it that burger-esque mouthfeel. It comes with fries, which you can enhance with truffle salt for an upcharge.
Speaking of fries, I previously mentioned four different varieties, and I bet you're just dying to know what they are. Well, I've already told you about the truffle fries, but there's more… Let's head back to the appetizer part of the menu where we'll find 'Los Chips,' a trio of fried deliciousness including plantain, yucca and sweet potato, served alongside a trio of sauces. Now, being that I absolutely needed to try aaaaall the fries and sauces, a huge platter was served to my dining partner and me. Plantain chips, yucca fries, sweet potato fries, and truffle fries, along with seven different sauces and dips. Three of them were strictly for my dining partner, as they had either dairy or egg, but the other four?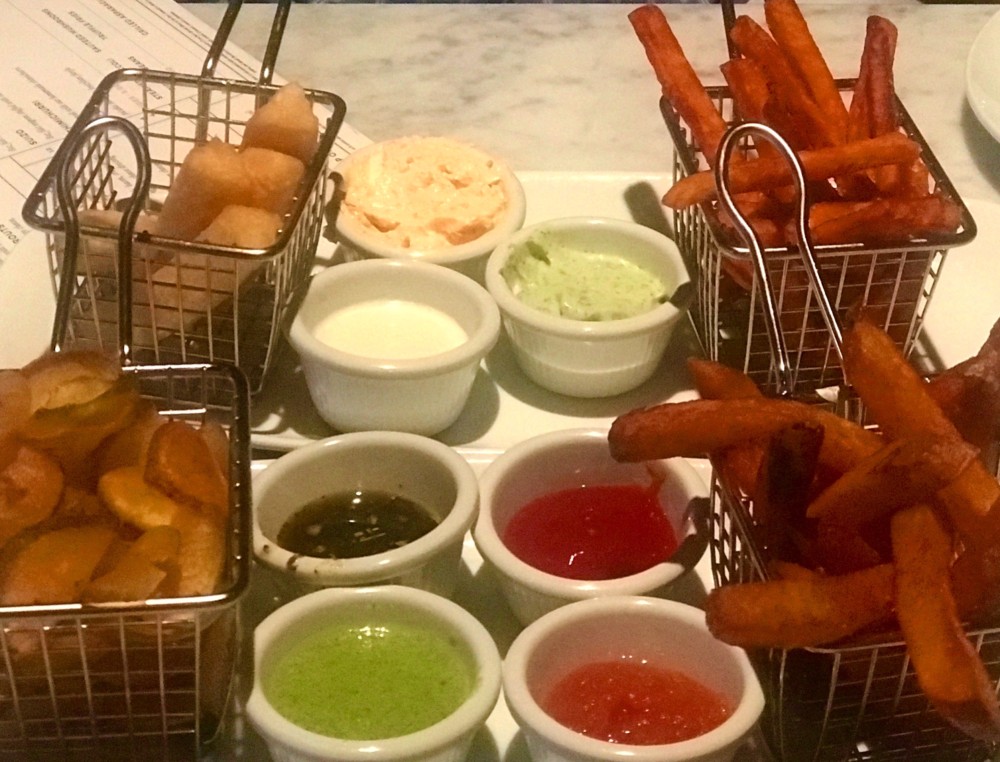 All mine! We'll start with the three I did not taste: the roasted red pepper dip looked super thick and creamy. As I would have guessed, it's made with cream cheese, which I imagine makes it very sweet and palatable, and probably best with the sweet potato fries. The other two were a queso fresco and cilantro aioli, both of which I bet would be good with any of the four choices. Over on my side of the plate was a banana ketchup, chimichurri, a pesto vinaigrette, and regular ketchup just for kicks. The pesto vinaigrette was my favorite, as it had a very mild flavor but worked well with all four dipping choices. The banana ketchup was super unique and interesting — like nothing I've ever tasted before, that's for sure! The chimichurri, while delicious, confused me a bit because it was not as herbacious as a chimichurri should be. I'm not sure what else we could call it though. It might seem like a lot to have so many fried ingredients on one plate, but nothing was overly heavy or greasy, and the lighter sauces helped to balance out that fried flavor.
If you thought it ended there, you're sorely mistaken. While we enjoyed our portobello burger and octopus entrées, we also had a side of sautéed mushrooms, seasoned to perfection, and the Brussels sprouts appetizer. It normally comes with chorizo and manchego, but even the sprouts on their own, drizzled with piquillo pepper vinaigrette was enough to give me a good sense of the dish. I'd put that sauce on anything, it was so good!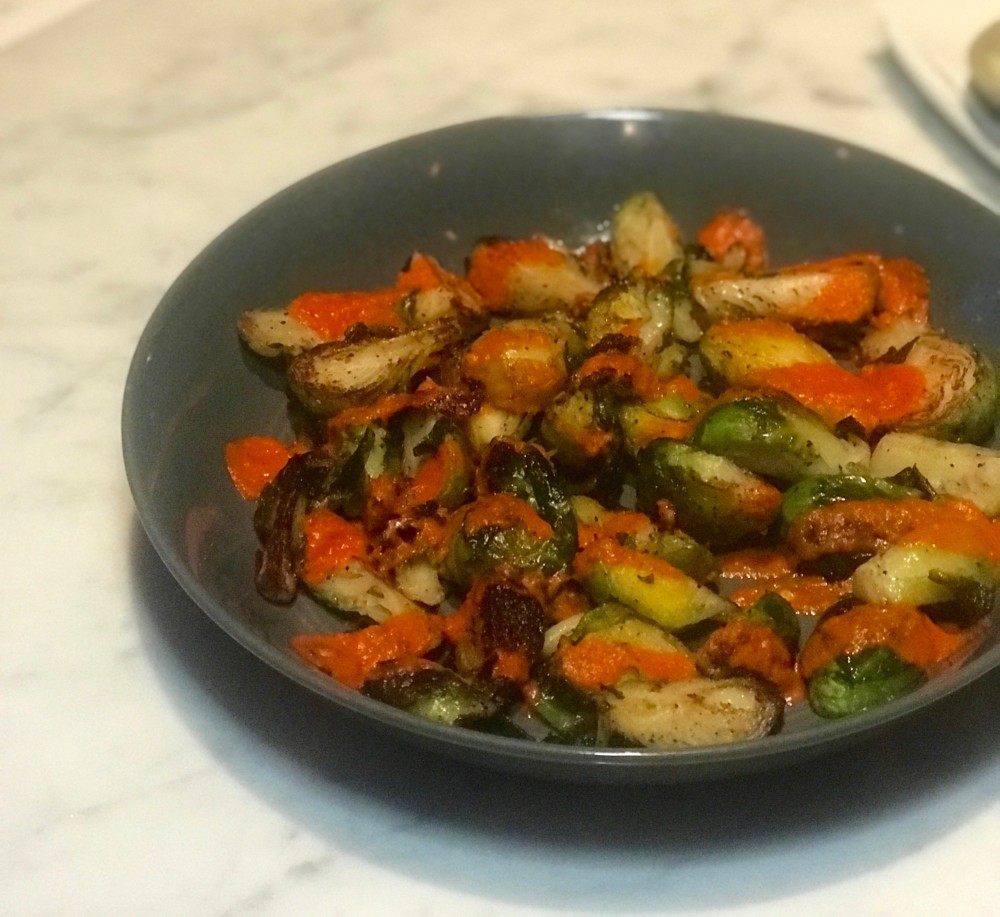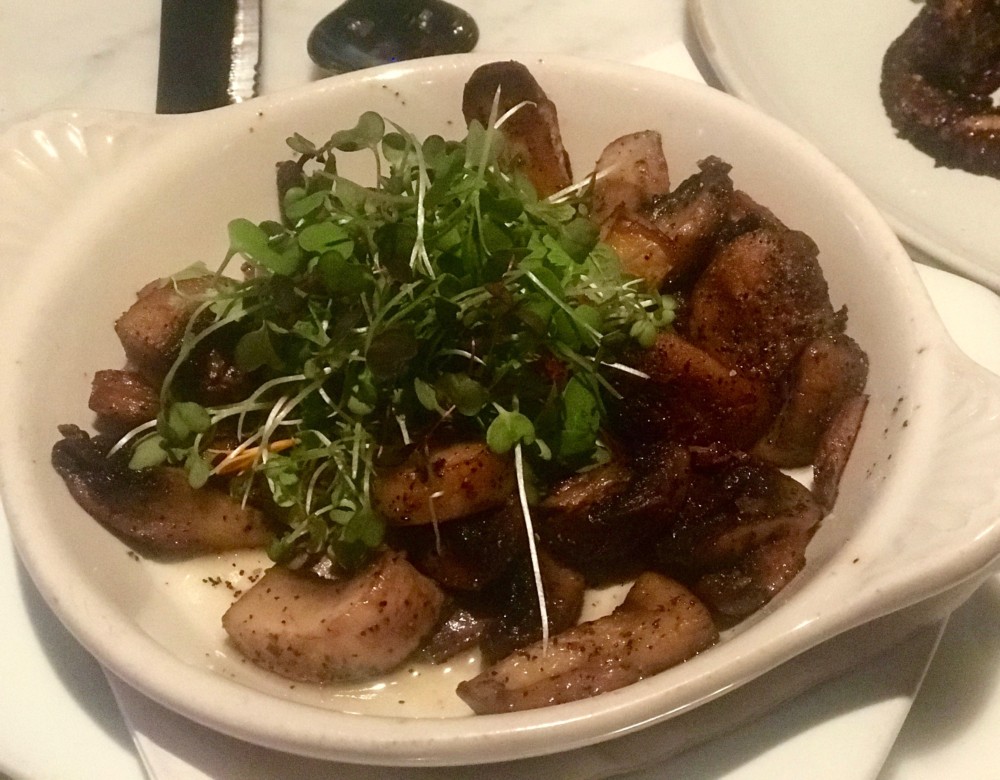 One thing I do want to mention is the wood-fired pizzas, made fresh to order, which include a myriad of topping choices. Although we did not try one, we did get to experience something out of the wood-fire oven — dessert! The Locale offers four different wood-fired desserts, among others. Even though I know I'm not supposed to, I stole a small taste of the Nutella Escalinata, because it has the word Nutella in it, and seriously how could I resist that?! It consists of mascarpone, Nutella and roasted almond, and served with vanilla ice cream. Salivating yet? Thought so. Guess it's time you go and make your reservation!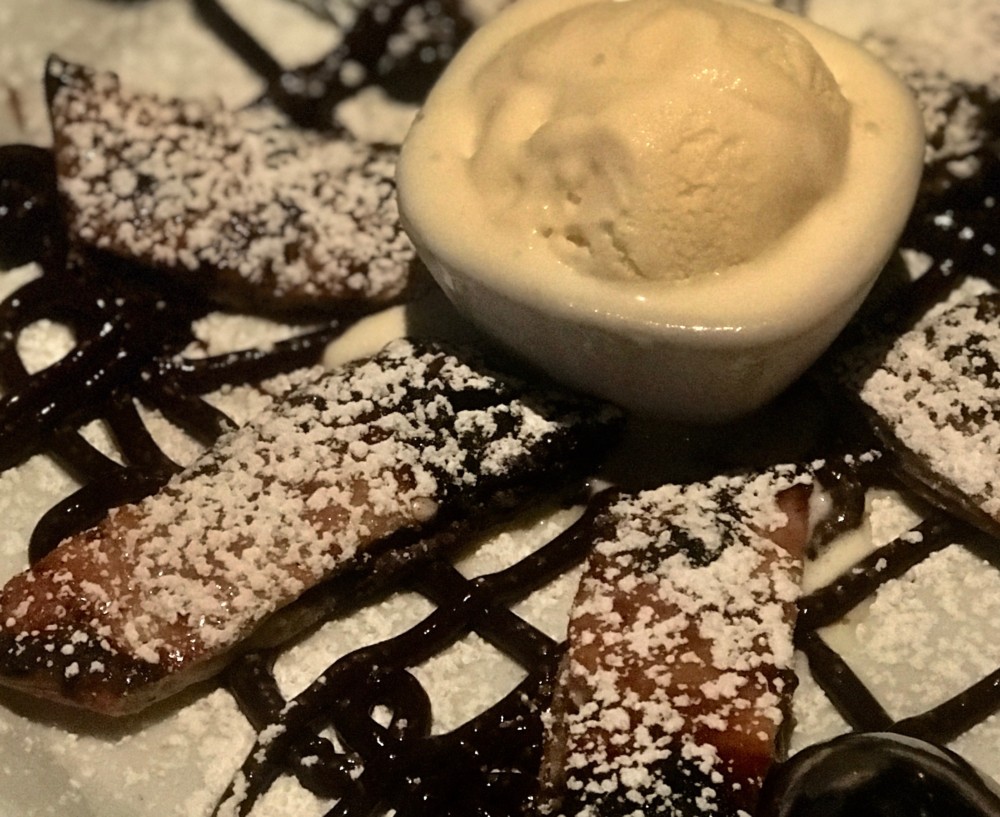 The Locale is located at 499 South Federal Highway in Boca Raton. The restaurant opens for dinner daily at 4pm, and Happy Hour is every day from 4-7pm and features half-priced cocktails, beers, and wines by the glass.