Never miss a bite! Sign up here to receive new recipes and reviews straight to your inbox.
NOTE: This restaurant has since closed.
Disclosure: I was invited to dine as a guest of Inkanto Peruvian Cuisine and received a complimentary meal in exchange for this post. As always, all opinions are 100% my own.
Over the past few months, Peruvian food has become more and more prominent. I love the flavors, the ingredients (plantains are life!) and the sense of traditional authenticity in the recipes. Most recently, I visited a Peruvian restaurant in Fort Lauderdale, Inkanto Peruvian Cuisine, and my love for this cuisine only grew deeper.
The menu is large, and filled with the classic Peruvian dishes you know and love. There are fourteen different varieties of ceviche to choose from — but you don't have to pick just one! If there are three kinds you're drawn to, get the ceviche trio. However, if you really want a ceviche experience, I say go big or go home. Get the sampler, and try four of them!
That's what my dinner date for the night, Destiny, and I did. We couldn't pass up the "ceviche tradicional," the quintessential ceviche preparation featuring slices of white fish marinated in lime, seasoned with Peruvian aji limo pepper, cilantro, garlic, and red onions, and served with sweet potato and Peruvian corn (no corn for me though. We also had ceviche pulpo (Spanish octopus), ceviche de mahi, and ceviche nikkei (tuna). The presentation of the sampler is unbelievable. It's enough food for at least four or five people as an appetizer, but the two of us definitely did some damage. The flavors were bright, bursting with citrus, and the seafood was as fresh as fresh can be.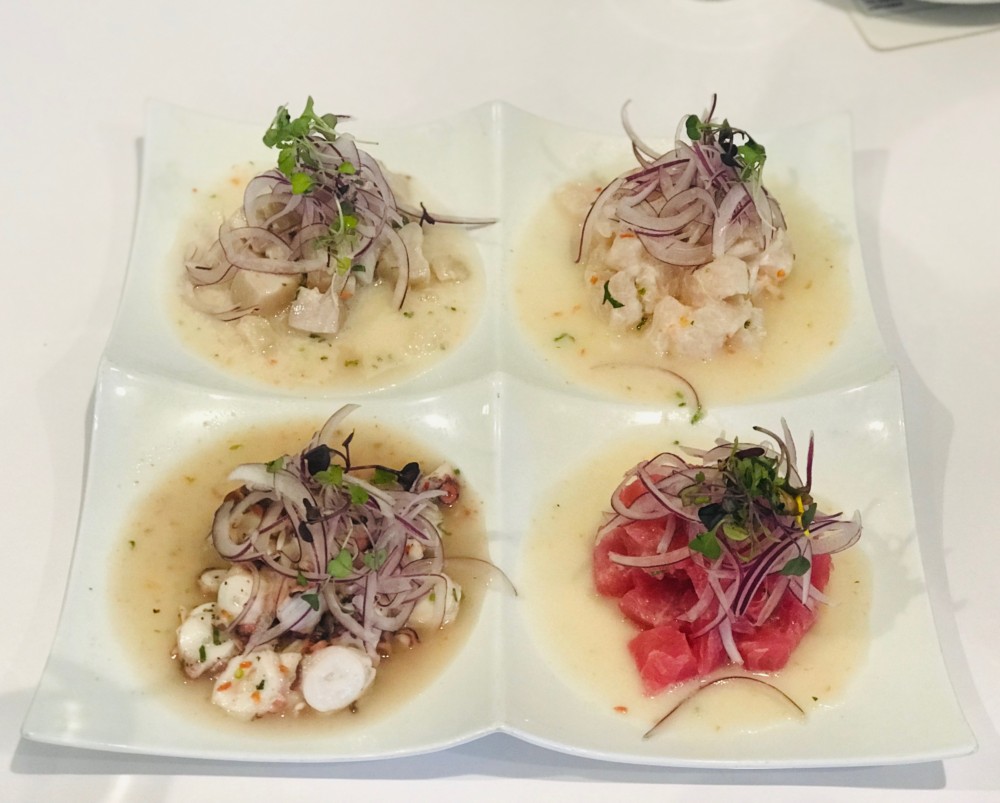 This appetizer alone is enough to bring me back to Inkanto for another visit. Oh, and the causa…
There are five kinds of causa dishes you can choose from — shrimp, crab, tuna, octopus and chicken, or again, you can opt for a sampler. Creamy mashed potato with your choice of protein is topped with a generous amount of sauce and presented beautifully. One serving of causa is pretty big — enough to share between two people — so order wisely. SInce we had our fill of fish, we decided to go for the chicken.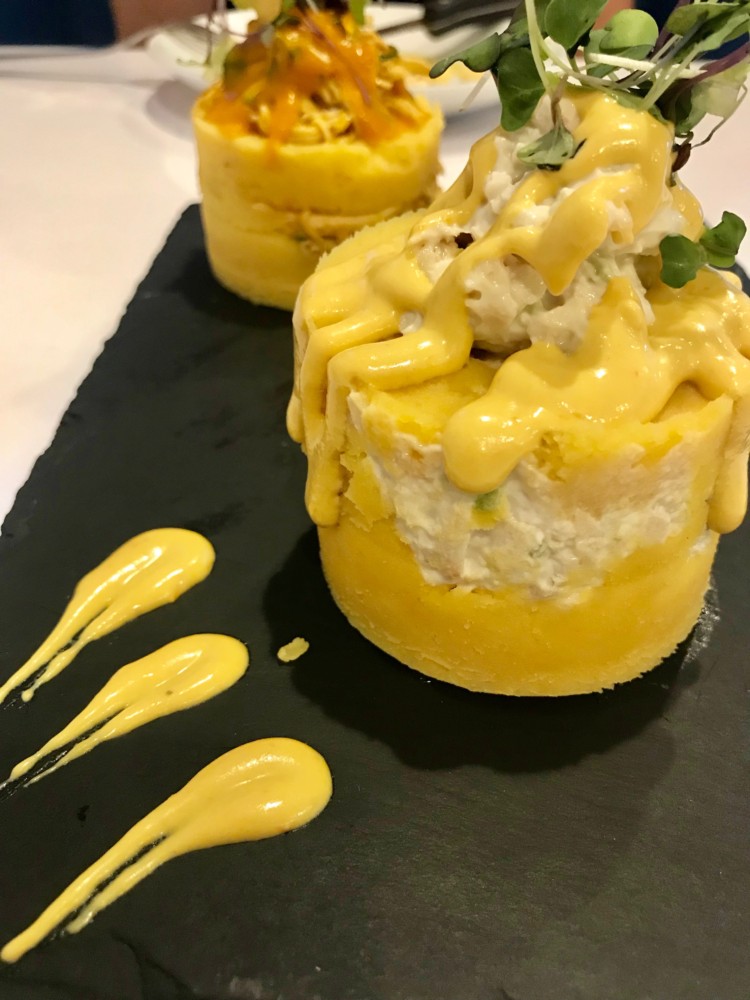 The kitchen prepared one traditional version, and one Shaina-friendly version without any dairy or mayonnaise. Destiny actually said that she liked my version a bit better, as it was on the lighter side, since the chicken was simply seasoned (perfectly, I might add) and not mixed with a mayo-based sauce. This is good to know for those of you who do have allergies to dairy and/or egg. Just let your server know and they will happily accommodate!
We were planning on ordering the lomo saltado, a traditional Peruvian stir-fry steak dish that I have come to absolutely adore. But the next thing we knew, our server brought out the pulpo anticuchero — grilled octopus in an aji panda anticuchero marinade, served with crispy potatoes and Peruvian corn.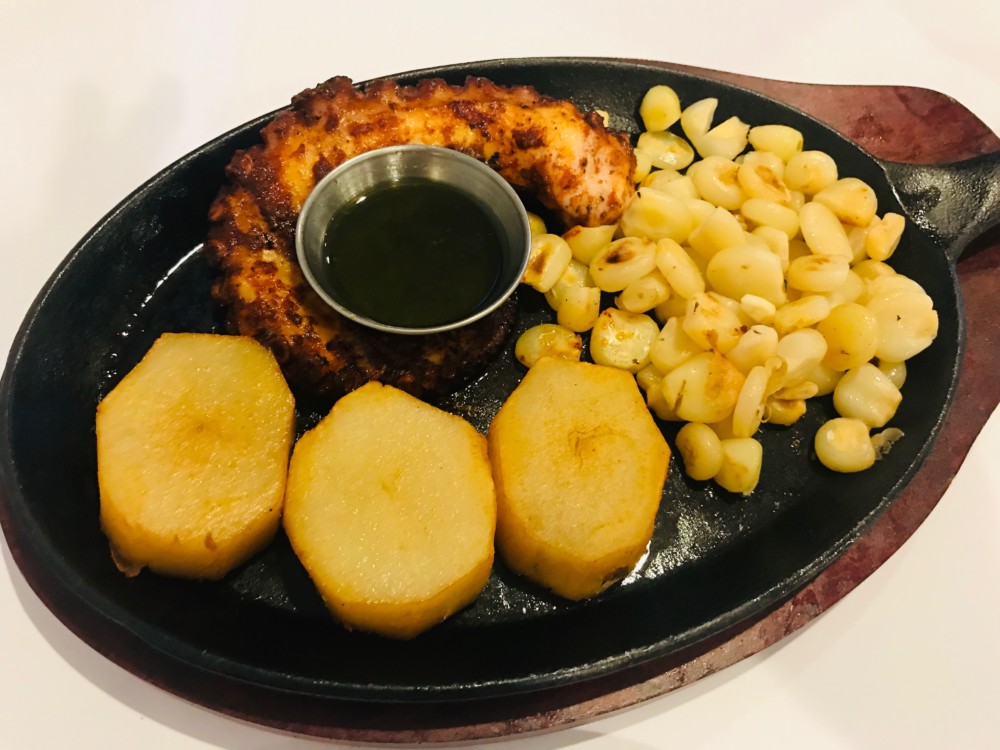 You know I'll never say no to octopus, so who was I to resist this offering from the kitchen? The octopus and potatoes (no corn for me) were delicious, but after a few bites, we were so full that the coveted lomo saltado had to be put on hold. Looks like I'll just have to go back again soon!
As for our drinks, no visit to a Peruvian restaurant is complete without at least one pisco sour. Destiny got the classic, which had a sprinkle of cinnamon on top (is this normal?) which gave it a very holiday-esque aroma. I had the passion fruit pisco, minus any egg white, and it was so good. I loved everything about it — especially the vibrant color!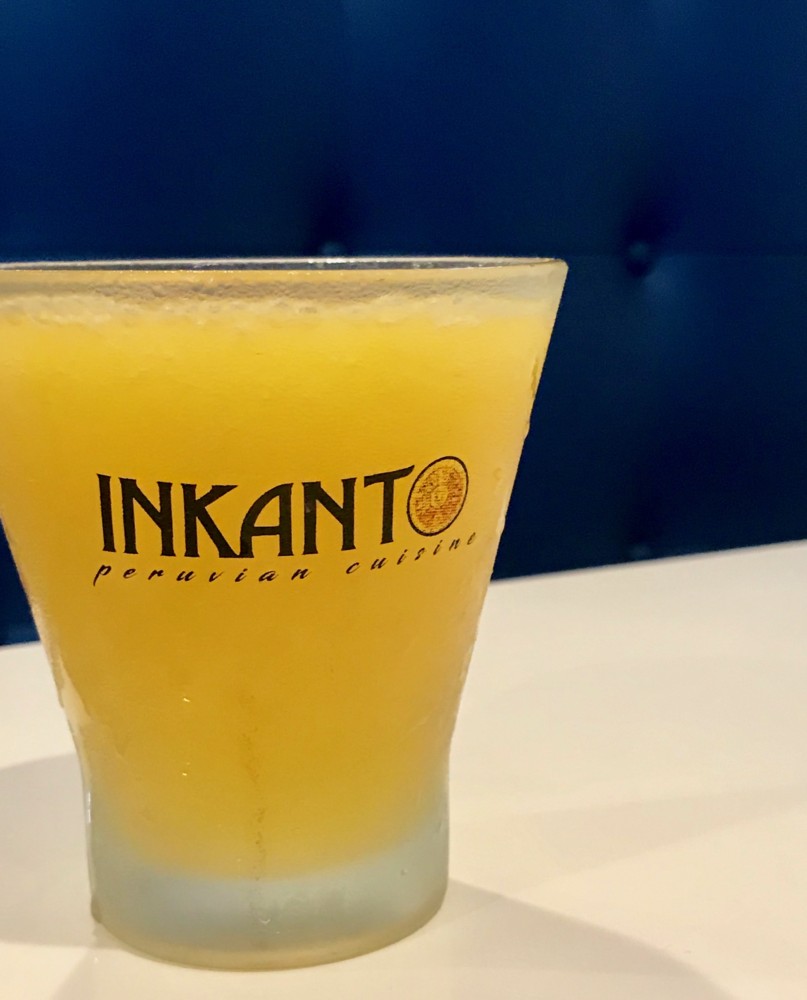 Inkanto is an interesting place. The restaurant is in a strip plaza, and the sign is barely noticeable. The decor is stark white, with a fun and colorful bar area — however, at dinnertime on a Thursday night, it was completely empty. There were a few tables with sit-down diners though, so I'm sure the locals are privy to its presence. I wouldn't go here for a special occasion — it's more of a casual dine kind of spot — as the service wasn't great in the beginning. It did pick up as the evening went on. By the end of the night, we left as satisfied customers with very satisfied appetites. My advice?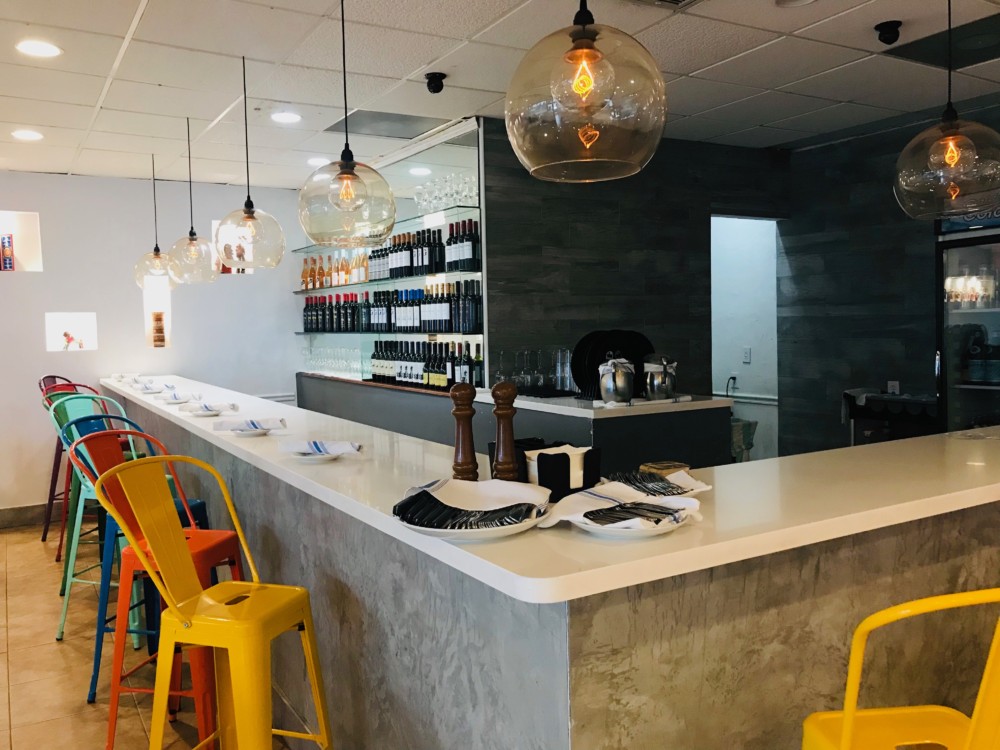 Regardless, I'd go back. I want that lomo saltado!
Inkanto Peruvian Cuisine is located at 1672 East Oakland Park Blvd. in Fort Lauderdale. The restaurant is open Sunday through Thursday from 11:30am-10pm, Friday and Saturday from 11:30am-11pm.