I've been wanting to experiment with spaghetti squash for a while. My older sister shared a recipe with me served as inspiration to finally get one. She suggested a very basic recipe — mix the squash with tomato sauce and parmesan cheese to mimic your traditional spaghetti dish. Of course I wanted to get creative so I sautéed some broccoli and mushrooms in lemon juice and garlic, tossed it with the squash, mixed in some tomato basil bruschetta and smothered the entire portion in parmesan cheese. It was absolutely delicious. It took less than 15 minutes to make, which is perfect for nights when I get home from work and need to throw together something quick and easy for dinner.
Spaghetti squash really does look exactly like spaghetti, though the texture is not as smooth as the pasta strands; it has more of a grainy feel to it (not in a bad way!) and tastes a lot lighter, obviously. You can use this as a low-carb alternative for just about any pasta recipe.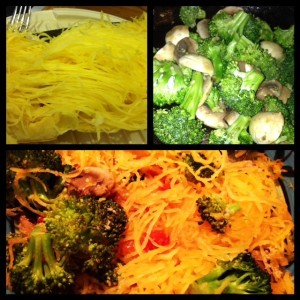 Veggie and Tomato Basil Bruschetta "Spaghetti"
handful baby bella mushrooms, chopped
1/4 cup tomato basil bruschetta (or any kind of sauce you prefer)
Cut off the ends of the squash and prick all over with a fork. Microwave for 10 minutes. While you're waiting, spray a small pan with cooking spray and cook on low heat. Add in lemon juice, garlic, broccoli and mushrooms and sauté until the veggies are cooked well. Remove from heat. By now, your squash will be finished. Cut it in half and scoop out the seeds and any parts that look dark or mushy. Using a fork, remove all of the strands of squash and place into a bowl with the sautéed veggies. Mix in the bruschetta or your choice of sauce and sprinkle a generous amount of parmesan cheese.