Never miss a bite! Sign up here to receive new recipes and reviews straight to your inbox.
Disclosure: I was invited to dine as a guest of the restaurant. No monetary compensation has been received for this post. As always, all opinions are 100% my own.
Boynton Beach has been kissed by father and son duo, Steven Pellegrino, Sr., and Steven Pellegrino, Jr., and Executive Chef Anthony Ianniello and their new old-world Italian restaurant, Baciami, which means 'kiss' in Italian. Baciami is dedicated to the finest quality ingredients and providing diners with an authentic and traditional dining experience. They've even imported their pizza oven straight from Italy!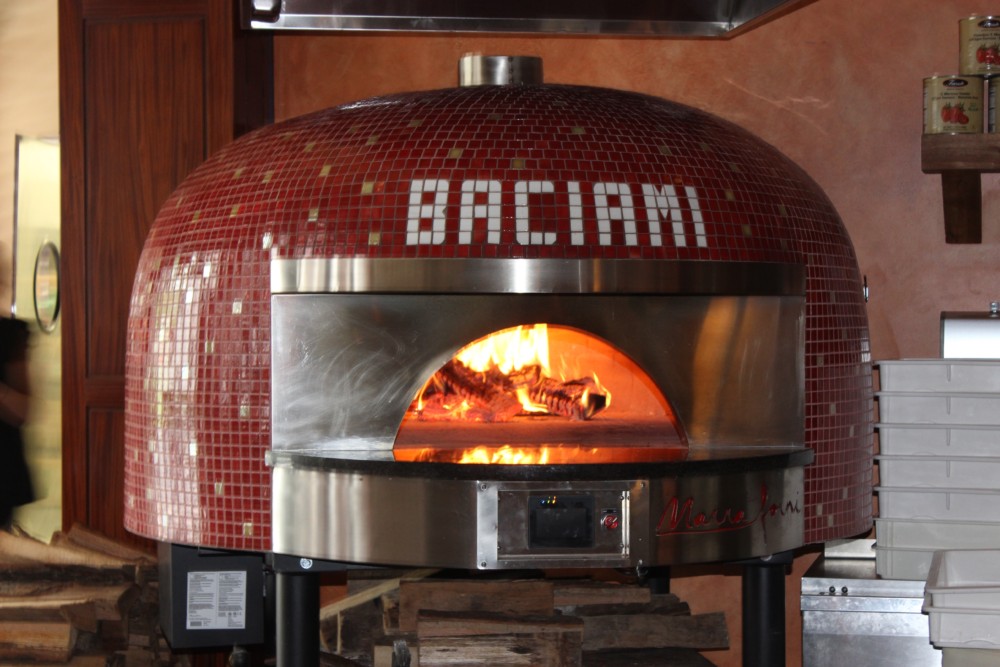 I recently was invited to experience the menu at Baciami, and I have to admit I declined at first — I can't have pizza or pasta, so I thought, what's the point? But when the team promised to take my dietary restrictions into consideration and make sure I was completely satisfied with the seafood options, I couldn't help but change my mind. Especially because I saw the words grilled octopus on the menu. As long as I knew I'd get to try that dish, I was there!
The evening started out, as any evening that includes Italian food should, with a little red wine. I opted for a glass of Erath Pinot Noir (Oregon) and it was a welcome pairing for everything that was to follow. Next came an assortment of appetizers for everyone to enjoy family-style — octopus included! I'll admit, I wanted to hoard that plate all for myself, but I was nice, and decided it'd be okay to share — I even got one of my fellow diners to try it for the very first time! The char on the octopus was incredibly perfect. No sign of chewiness, and an excellent amount of flavor. It was served with baby potatoes, arugula and white beans — a classic preparation of the dish. I really did want to keep this all for myself, but it was definitely too good not to share. I will be going back for more!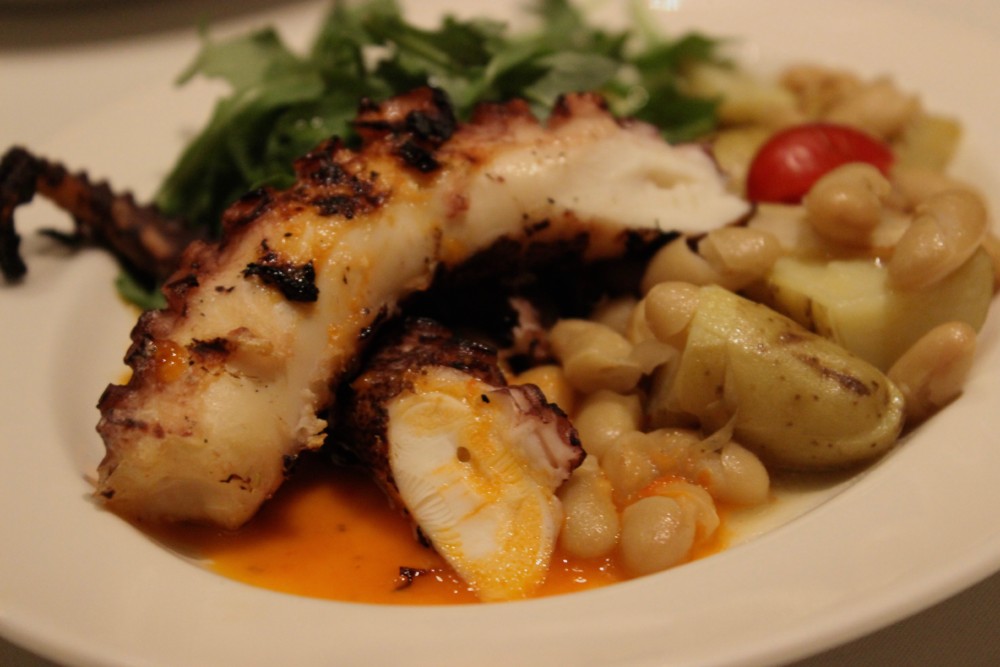 One of my favorite Italian side dishes is escarole and beans. There's something so simple about this dish, yet so full of amazing flavor. It's been a while since I've had it, and I crave it often when dining out Italian. Baciami's Shrimp Oreganato satisfied my craving, and then some! Grilled white beans, sauteed escarole, and perfectly seasoned shrimp make up this yummy appetizer. It's normally served on top of Italian bread, which is ideal for soaking in all of those wonderful flavors, but no bread for me!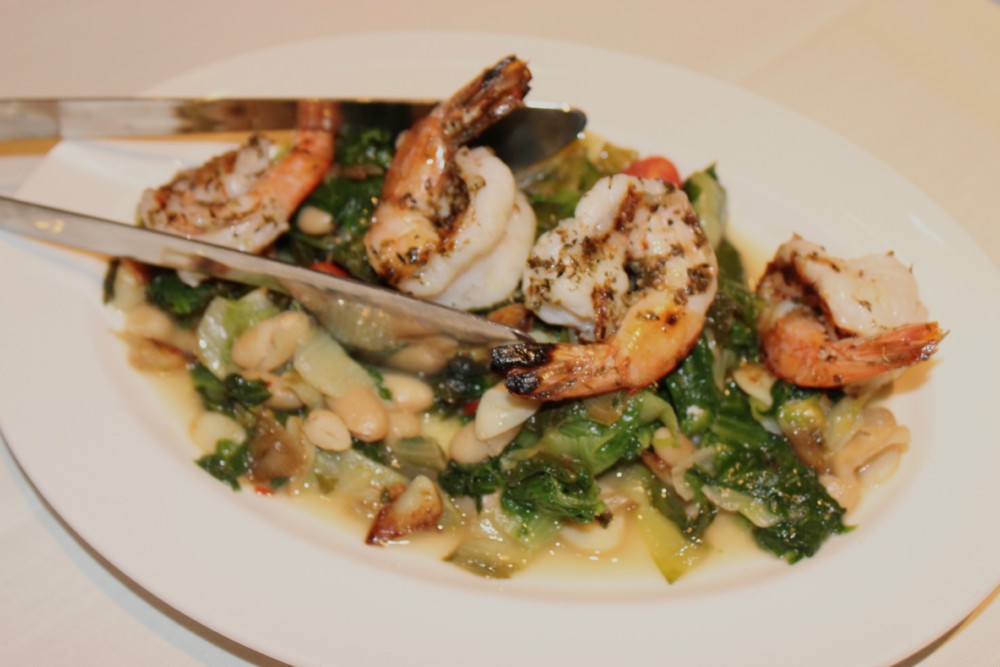 Other dishes brought to the table included the baked eggplant parmesan, stuffed mushrooms with sausage, broccoli rabe and sharp provolone, and two of the wood-burning brick oven pizzas — The Works with meatball, sausage, eggplant, fire roasted red peppers, and mozzarella, and the Roasted Fig with brick-oven-roasted figs, caramelized onions, and creamy goat cheese. I so wanted to dig into that one, but instead got my own taste of those same delicious figs in a salad along with arugula, pine nuts, and fresh cold-pressed olive oil.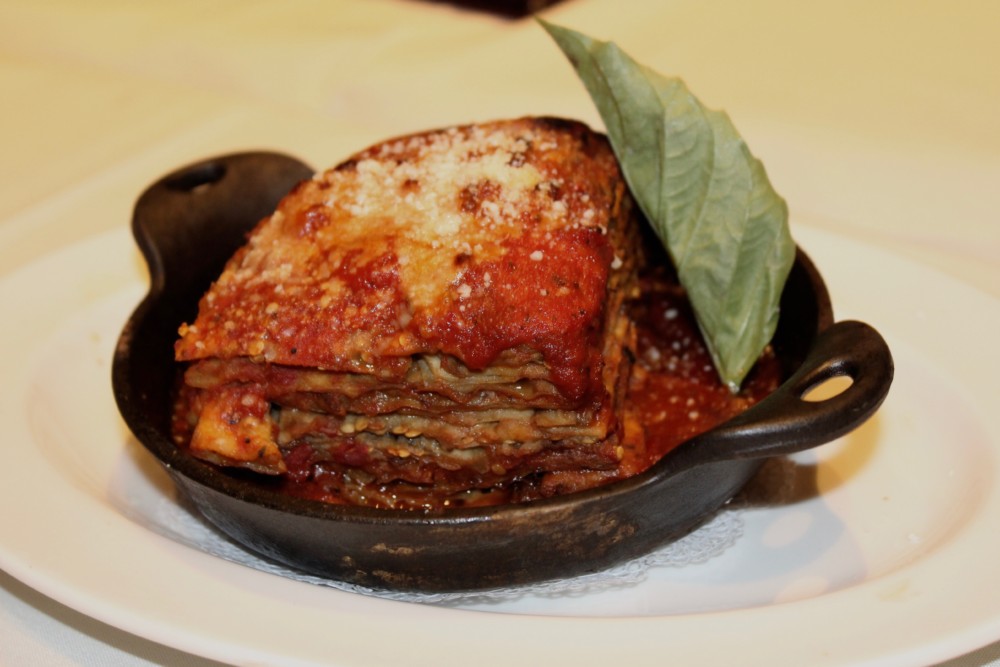 For my entree, I was super excited to order the grilled branzino with roasted tomatoes and garlic spinach. When my plate arrived, I was in awe of just how beautifully the fish was cooked. The photos don't do it justice. It was tender, flakey, and practically melted in my mouth. The tomatoes were bursting with sweetness and complemented the delicate fish very nicely. But my favorite thing on the plate? The spinach! It had such robust garlicky flavor, was sauteed to absolute perfection, and was a heaping pile, so I felt good about getting in all my greens! While many of the entrees on Baciami's menu sound delicious, I highly recommend this one — not only for Pescatarians or seafood lovers, but also for anyone who appreciates the simplicity of a well-cooked, classic dish.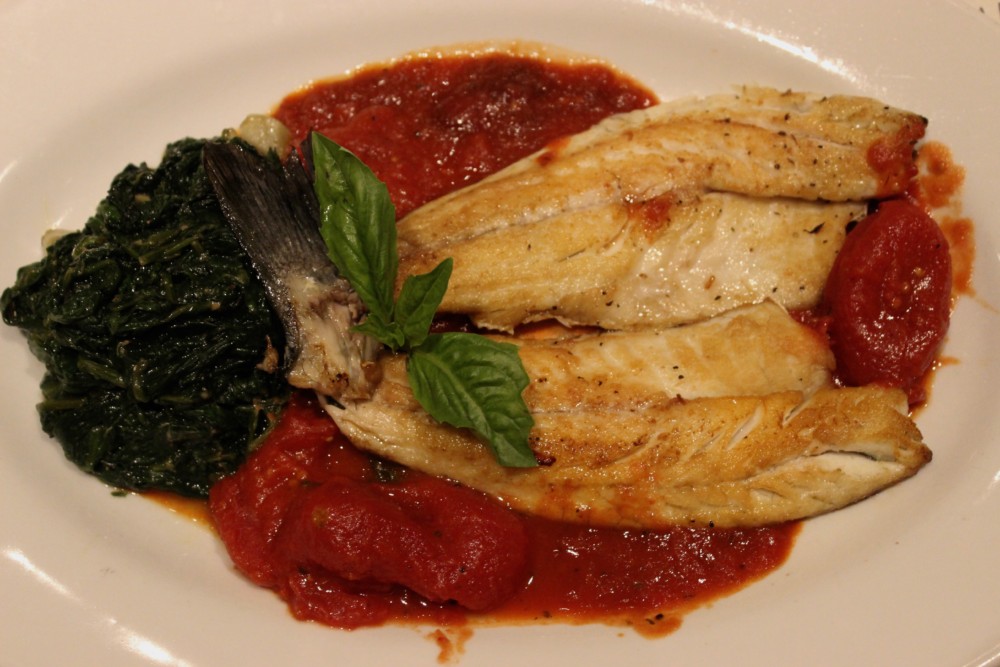 As we all finished our entrees with full bellies and big smiles on our faces, we knew we still had dessert to look forward to. First, we were served an "adult milkshake" — an exclusive item that isn't on the actual menu, but diners who are "in the know" can order, which now includes you! It was all too delicious and probably loaded with extra sugar I'm totally not supposed to have. Oh well, some things are worth it! Besides, it was only a small tasting… Other things that are worth tasting? Carrot cake. Another blogger, Erika, ordered the carrot pecan cake and I just had to steal a bite. The cream cheese frosting was smooth, creamy, and just plain irresistible. And the cake? Super moist (I know everyone hates that word, but there's no other way to describe some things!) and I really enjoyed the sweet nuttiness from the pecans.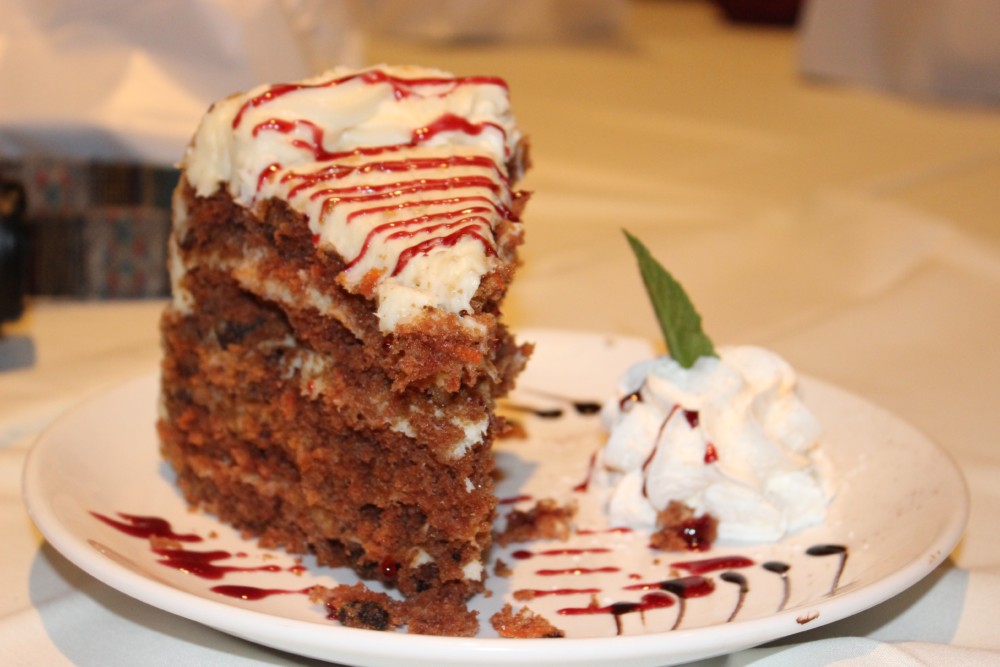 I kept things simple when ordering my individual dessert. Strawberry zabaglione, a whipped cream-esque type of dessert made with egg yolks, sugar, and a sweet wine. I know I know, more sugar. But compared to the other options, this was my best bet. A few spoonfuls is okay!
Baciami officially opened to the public on May 24th and has become a popular spot for daily happy hour in its beautifully designed bar and lounge area. There's also a patio and private dining spaces that can accommodate groups of 25-60 people. You'll find a new lobster special on Thursdays from 6-10pm, featuring fresh-caught Maine lobsters weighing in at 16 oz. each and served with a salad, fresh corn and potatoes for $49/person.
Baciami is open Sunday through Thursday from 4-10pm and Friday-Saturday from 4pm-1am. It is located at 1415 South Federal Highway in Boynton Beach.