Never miss a bite! Sign up here to receive new recipes and reviews straight to your inbox.
Disclosure: I was invited to dine as a guest of the restaurant. No monetary compensation has been received for this post. As always, all opinions are 100% my own.
Rising culinary stars, and husband-and-wife team, Jordan Lerman and Stephanie Cohen, are at it again, providing guests with an incredibly creative menu full of made-in-house items using local and seasonal ingredients. Since opening in April 2016, Chef Jordan has been named "One of the Ten Best Chefs in Palm Beach County" by the New Times, and their restaurant, Jardin has received several accolades including "13 Best Restaurants in Palm Beach" from the Palm Beach Post and "5 Best New Restaurants" from City & Shore Magazine.
My first experience at Jardin was definitely one to remember. I can still taste the creamy, crispy hummus and see the visually stunning vegetarian entree from that first visit. But since Chefs Jordan and Stephanie are all about keeping things fresh and new, the menu is constantly changing. It was time for me to travel back up to West Palm Beach and watch them in action once again.
Jardan, which means "garden" in French, has both indoor and outdoor seating, but my favorite place to dine is at the Chef's Counter, where you can get a first-hand look at the chefs at work. The duo launched a new winter menu including lunchtime treats like warm burrata and pears and a Cuban Philly sandwich. They offer a "Lunchbox" option where guests can choose from a selection of "sammies" and salads, a side dish and a dessert (Chef Stephanie's desserts are not to be missed), served in an actual old school tin lunchbox. New dinner items include duck tacos, charred octopus and braised beef ribs, among others — many of which Jill and I had a chance to try.
As always, Jardin starts off each of their guests with their freshly baked madeleines. The flavor changes every day and ours were everything bagel — pretty appropriate for two Jewish girls who love their bagels and lox. These were so delicious. They're perfectly soft and crumbly, and although the spiced butter they serve is all kinds of wonderful, the madeleines are good enough on their own.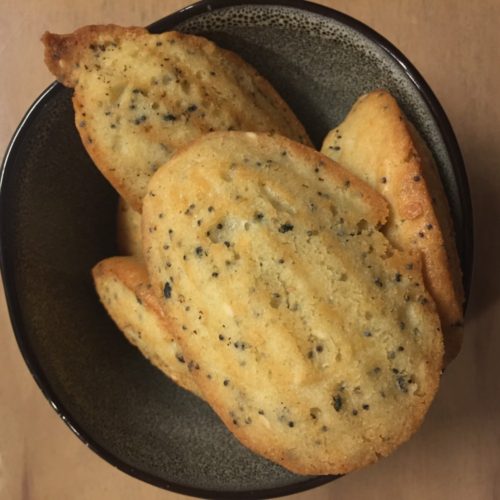 Speaking of Jewish girls loving bagels and lox, we had one of the new "to share" items, the smoked salmon dip with everything-bagel crumble, radish, pickled shallots and diced cucumber, and served with the most delicious, crusty grilled bread. This had all of the flavors of the traditional Jewish breakfast favorite with that Jardin touch. I know it's meant for sharing, but I would have been happy to keep this all to myself, and could honestly eat it as a meal. Everything at Jardin is made in-house, and the bread was no exception. Seriously, let's all stop simply baking bread in the oven and add grilling it as the next step. It's insanely good.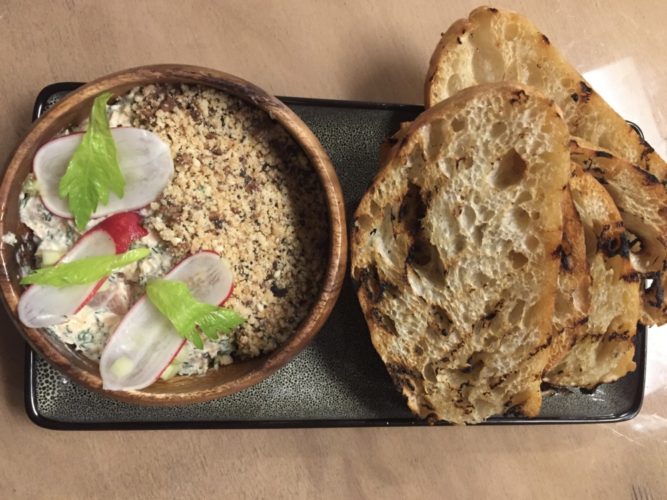 Jardin recently starting working with one of my favorite local farms, Swank Specialty Produce, and utilized their delicious vegetables to make the Swank Farms winter salad — beets, Jerusalem artichokes and other winter vegetables on top of a bed of house-made ricotta, grains and pumpernickel crisps. One of my favorite things about Chefs Jordan and Stephanie is their attention to detail. Each plate looks like a work of art, with vibrant colors and strategic placement of ingredients to make for an eye-catching, as well as palate-pleasing dish. I could eat salads like this every day of my life and never be bored. The rich, creamy ricotta cheese mixed with grains was a welcome textural contrast to the vegetables, and the crispy pieces of pumpernickel added the crunch needed to round everything out. It's an incredibly balanced salad, and one I recommend everyone go try. Like, right now.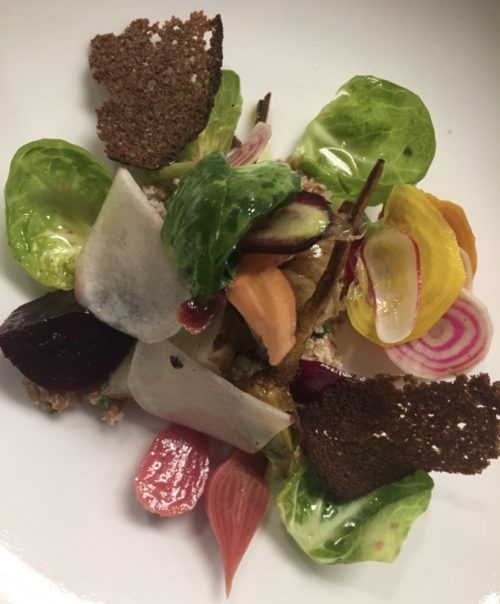 We also had the heirloom tomato and burrata salad, served with more of that delicious crispy bread torn into pieces, basil and black olives. Jill and I are not fans of olives at all, but thankfully their briny flavor did not overpower any part of the dish, as it can easily do. There are few things more satisfying than topping a piece of bread with a juicy, sweet tomato and creamy burrata. Another winning dish.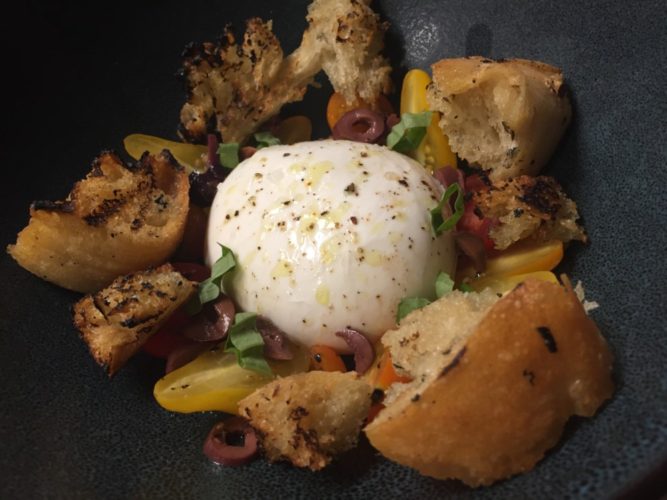 Next up was one of the new appetizers, the squash cappellacci pasta with mascarpone, Brussels sprouts, sage, hazelnuts and bacon (which was served on the side in this case). Cappellacci is basically a pasta dumpling, and these were stuffed with velvety smooth butternut squash. It's a very seasonal dish, and each of the ingredients shone individually, but worked really well together too. Butternut squash and sage is one of my favorite combinations. It screams fall/winter, as did this entire plate of food.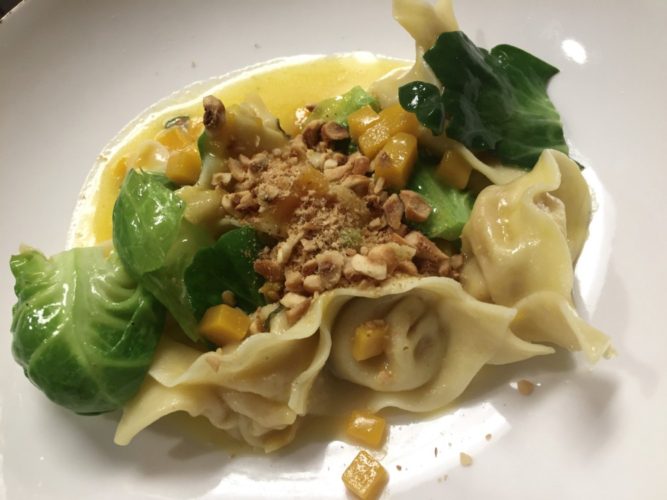 Jardin always has a seasonal fish option, and on this night it happened to be tilefish. I can't remember the last time I had this particular fish. It has a delicate flavor, almost sweet, and was served with forbidden black rice (crazy delicious and really good for you!), parsnip puree, Brussels sprouts, crispy leeks and a citrus vinaigrette. In this dish, as well as the pasta described above, Chef Jordan uses only the leaves from the Brussels sprouts, which I found to make for a better-looking presentation. I absolutely loved the contrast in textures between the parsnip puree and the crispy leeks. That was probably my favorite bite.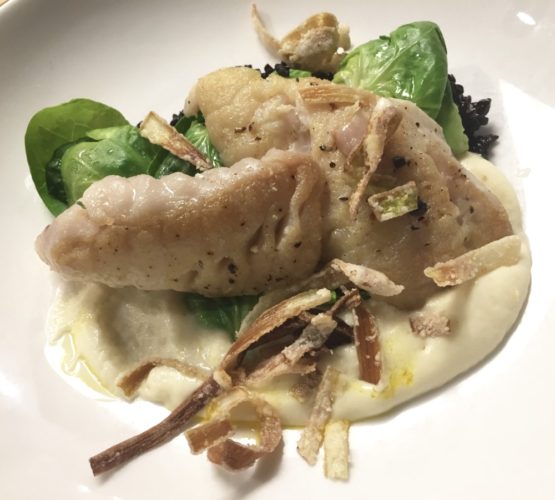 Along with a seasonal fish option, there is always a completely vegetarian entree option as well. The main focus for the current dish is winter squash, with white and purple cauliflower, caramelized pears, grilled onion, goat cheese, candied walnuts, crispy capers and a roasted vegetable jus. Um, is this me on a plate or what?! I was in vegetable heaven. The vegetables were cooked to perfection. I'd bet even a diehard meat-lover would go crazy over this dish. It's a show stopper, in both looks and taste, and really showcases what the restaurant is all about.
As I mentioned in the beginning, Chef Stephanie's desserts are one of the main highlights of visiting Jardin. Her innovative concepts blend flavors and ingredients together that you might not think to combine, like cheddar puff pastry and cookie butter ice cream in her layer apple pie, or chocolate, bacon and peanut butter ice creams with brownie madeleines and cherry meringue in her dish simply called "You're Welcome." The most popular pick are the doughnuts. They have a limited number available per night, so if you want one, you better ask as soon as you sit down! The current doughnut is a soft brioche doughnut with blackberry jam, maple and brie custard.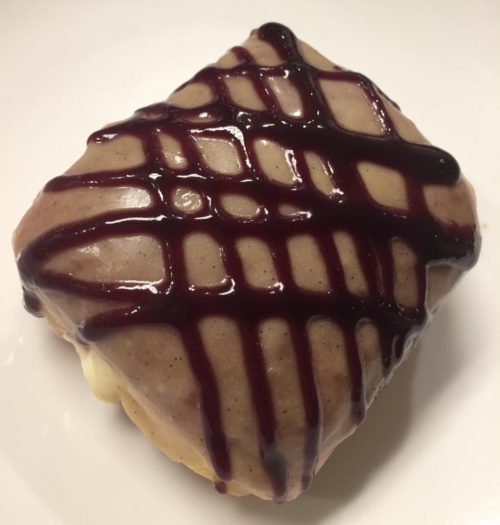 Not only is the food amazing at Jardin, but their craft cocktails are pretty over-the-top as well. As with the menu, the drinks change with the seasons and take inspiration from the classics. They use fresh-squeezed juices, bitters and jams, all made in-house, to give their cocktails a modern twist.
Jardin is open for lunch Tuesday through Friday 11am-3pm, and dinner Tuesday through Saturday 5-10pm. Happy hour is Tuesday through Friday from 4-7pm and Saturday from 4-6pm, and includes half-price drinks and a $5 snack menu.
Jardin is located at 330 Clematis Street in West Palm Beach.