Never miss a bite! Sign up here to receive new recipes and reviews straight to your inbox.
Welcome to the third annual #BrunchWeek hosted by Terri from Love and Confections and Shaina from Take A Bite Out Of Boca. We are so excited to have you join us this year!  Celebrate Brunch with us this week as we prepare for Mother's Day. 30 Bloggers from around the country will showcase their best brunch dishes, from cocktails to casseroles, breakfast breads, sandwiches and salads – there is something for everyone!
Kick start your day with a cup of coffee — inside your oatmeal! You'll feel energized and ready to go after enjoying a bowl of Java Jolt Overnight Oats.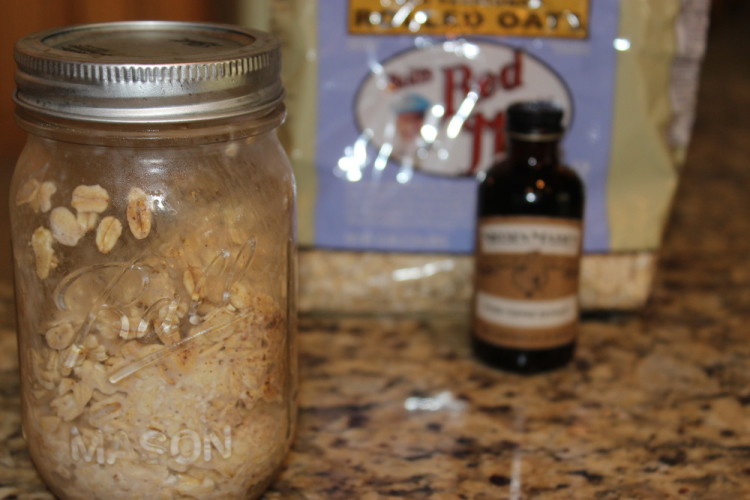 Have you ever used coffee extract? Oh my God — it smells incredible. The taste is even a bit bitter, just like a good strong Cup o' Joe. I recently (finally!) jumped on the overnight oats bandwagon. I can't believe how long it took me to make it, but now that I have, I'm a little obsessed. Not only is it easy, but there are SO many combinations of flavors and ingredients you can use to make each one a little different than the last. When #Brunchweek sponsors Bob's Red Mill sent me a big bag of Gluten Free Rolled Oats, I knew that there would be lots of overnight oats ahead of us! Then I got coffee extract from another #Brunchweek sponsor, Nielsen-Massey, and my mind was blown. Coffee and oatmeal is an obvious choice for breakfast or brunch, and um…it could totally be lunch or dinner too if you're feeling lazy.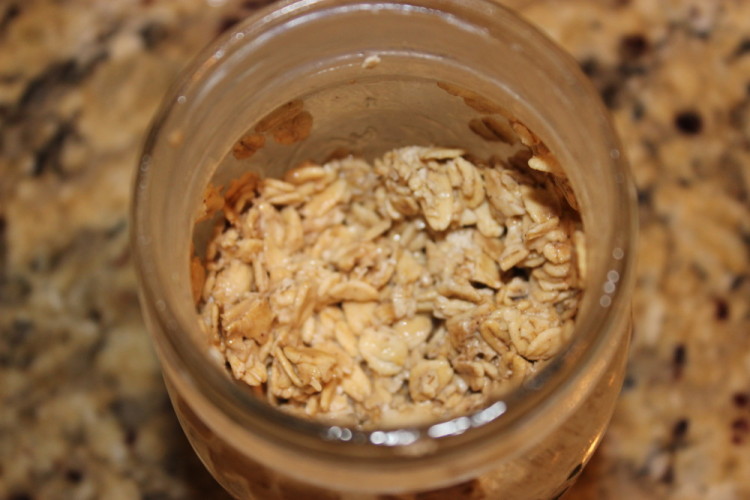 Making overnight oats is super simple. To start, all you need is a mason jar (or any jar with a lid will do) and 2 ingredients that I know you must have in your kitchen. Oats and milk. That's the basis. Then you can have some fun with sweeteners, flavors, spices, and fun mix-ins. Java Jolt Overnight Oats require those simple ingredients as well as brown sugar, cinnamon, coffee extract, which you can find right on the Nielsen-Massey website, and dark chocolate espresso beans. #Brunchweek sponsor, Pacari, sent me tons and tons of chocolate products to use for my recipes this week and the dark chocolate espresso beans were the perfect caffeinated addition to Java Jolt Overnight Oats.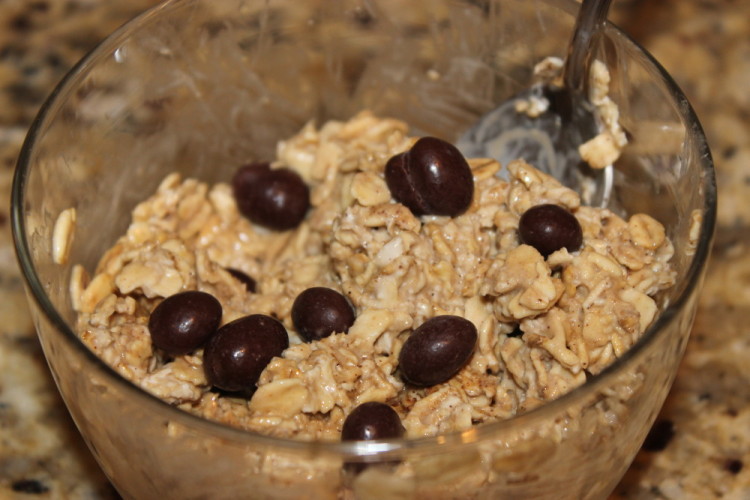 There's no actual coffee used, but you still get that same bold flavor from the extract and the espresso beans. Brunch could last for hours — you need Java Jolt Overnight Oats to wake you up!
Don't forget to enter our #Brunchweek giveaway! We are giving away some awesome prizes from our sponsors. Click here to enter!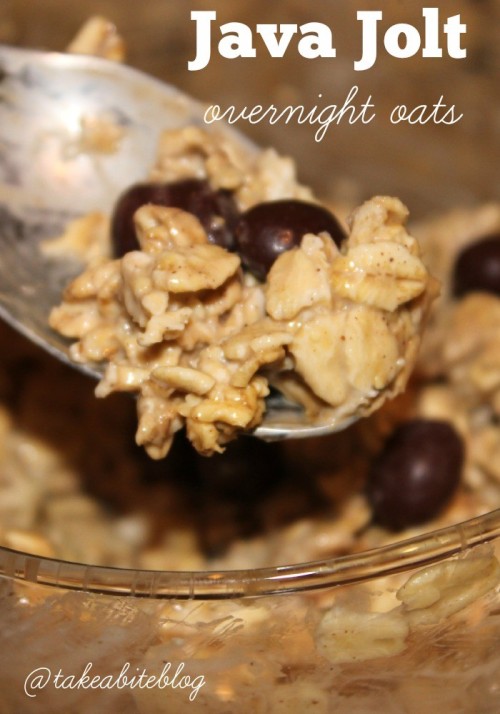 Java Jolt Overnight Oats
Author:
Kick start your day with a cup of coffee — inside your oatmeal! You'll feel energized and ready to go after enjoying a bowl of Java Jolt Overnight Oats.
Ingredients
1 cup Bob's Red Mill Gluten Free Oats
1 cup milk of choice (I used cashew milk)
1 1/2 tsp Nielsen-Massey Coffee Extract
1 tsp Dixie Crystals brown sugar
1 tsp cinnamon
1/2 oz. Pacari Dark Chocolate Covered Espresso Beans
Instructions
Combine oats, milk, coffee extract, brown sugar and cinnamon in a mason jar or any jar with a tight-fitting lid.
Shake to mix ingredients.
Refrigerate overnight.
Add espresso beans when ready to serve.
Serve cold.
Take a look at what the #BrunchWeek Bloggers made today!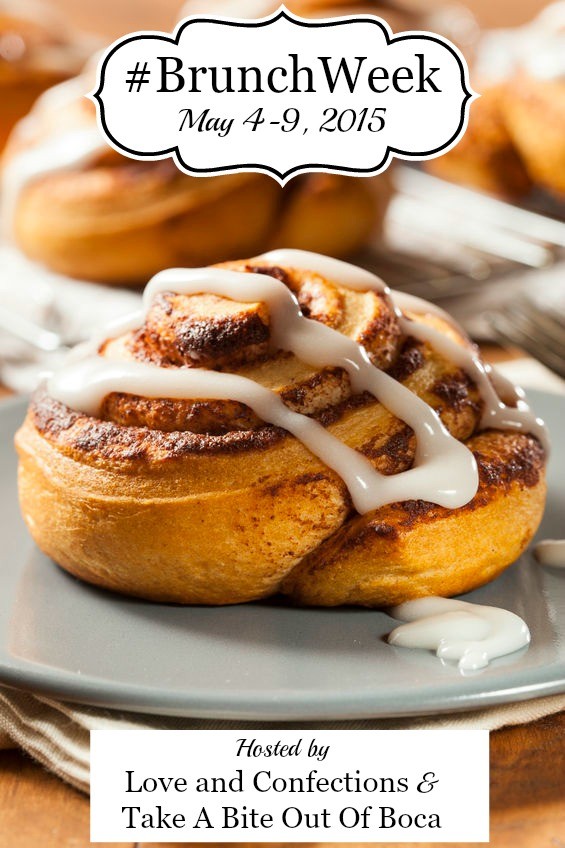 BrunchWeek Beverages:
Mango Swirled Coconut Margarita from The Little Ferraro Kitchen.
Bruleed Grapefruit Mojito from Healthy Delicious.
Strawberry Orange Blossom Sparkler from Baking a Moment.
BrunchWeek Egg Dishes:
Bacon and Egg Sandwiches on Cheddar Biscuits from Sew You Think You Can Cook.
BrunchWeek Breads, Grains and Pastries:
Lemon Blueberry Crepes from Love and Confections.
Java Jolt Overnight Oats from Take A Bite Out Of Boca.
Hagelslag-Covered Bread from Culinary Adventures with Camilla.
Nutella Stuffed Aebleskiver from greens & chocolate.
Baked French Toast Boats from The Spiffy Cookie.
Skinny Banana Oat Flaxseed Cookies from Hip Foodie Mom.
Cinnamon Sugar French Toast Sticks from Making Miracles.
Cheddar Pear Proscuitto Pull-Apart Bread from It Bakes Me Happy.
Alpine Cheese Grisini from Jane's Adventures in Dinner.
BrunchWeek Main Dishes:
Bacon Cheddar Hashbrown Pancake from Pink Cake Plate.
Huevos Rancheros Burgers from The Redhead Baker.
BrunchWeek Fruits, Vegetables and Sides:
Fresh Mint and Orange Blossom Fruit Salad from Sarcastic Cooking.
Citrus and Cilantro Carrot Slaw from A Day in the Life on the Farm.
BrunchWeek Desserts:
Mini Apple Pear Pies from Quarter Life (Crisis) Cuisine.
Strawberry Cake from Chelsea's Messy Apron.
Chocolate Chip Walnut Coffee Cake from girlichef.
Raspberry Oatmeal Bars from My Catholic Kitchen.
Disclosure: Thank you to #BrunchWeek Sponsors: Bob's Red Mill, Cabot Creamery Cooperative, California Walnuts, Dixie Crystals, Grimmway Farms/Cal-Organic/True Juice, KitchenAid, Le Creuset, Nielsen-Massey Vanillas, Pacari Chocolate, Stonyfield Organic, Vidalia Onions, and Woot Froot for providing the prizes free of charge. These companies also provided the bloggers with samples and product to use for #BrunchWeek. All opinions are my own.