Never miss a bite! Sign up here to receive new recipes and reviews straight to your inbox.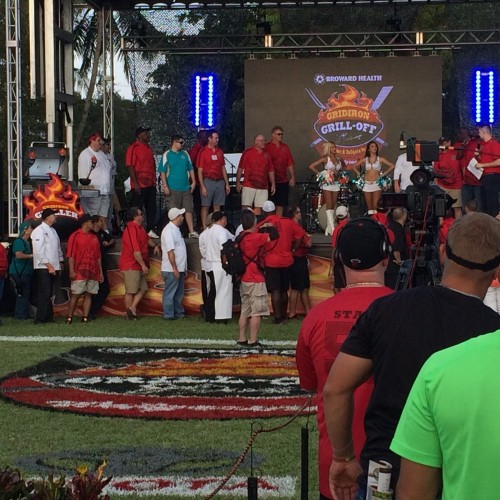 For the fifth year in a row, 25 of South Florida's best chefs paired up with Miami Dolphins legends to prepare and present signature grilled entrees as part of a competition for charity. This year's John Offerdahl's Broward Health® Gridiron Grill-Off Food, Wine and Tailgate Festival was held at the Pompano Beach Amphitheater and yours truly got to be part of the excitement! I even dragged along Mom and Dad (well, dragged along in the sense that they each bought a ticket and accompanied their media-credentials-wearing daughter…).
I may not know Miami Dolphins football players, but I know good food — and this event was crawling with it! Though most of the dishes served were meat, there was an entire section full of delicious seafood labeled "Guy Harvey's Sustainable Seafood Village." The entire festival was bursting with activities for guests — The Jack Daniel's Tennessee Honey Tailgate Zone had music, giveaways, and interactive games; guests could play in the Toyota Cornhole Stadium; and VIPs were able to watch a live cooking demo from Chef Allan Susser and a cook-off competition between radio personalities Paul Castronovo and Young Ron Brewer from Big 105.9 FM. My friend and fellow food blogger Robyn (Grill Girl) was also doing grilling demonstrations with Christian from MyGrillfriend. Mom, Dad, and I watched them make cocktails and appetizers all using ingredients that had been prepared on the grill.
All proceeds from this event went to John Offerdahl's Hand-Off Foundation, which funds agencies that feed children in need such as 4KIDS of South Florida, HOPE South Florida, Here's Help, Florida Restaurant & Lodging Association Education Foundation, Miami Dolphins Foundation, and Taste of the NFL.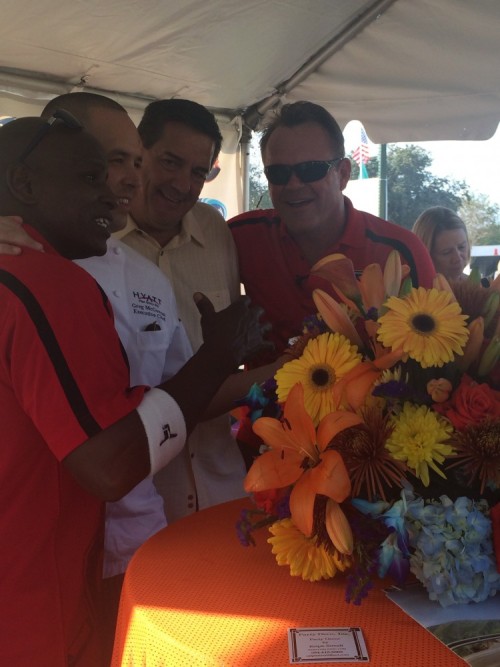 All guests were able to taste each and every one of the signature dishes prepared by the various chef-football legend duos and then vote at the end of the event. There was a winner for Judge's Choice and People's Choice…
There were definitely some standout dishes from the day — my absolute favorite was the grilled sea scallop served by JB's On The Beach. The actual dish also included glazed pork belly, but not mine. It was a crispy potato pancake topped with a gorgeously plump scallop the size of my fist. This seems to be an ongoing trend at these festivals…huge scallops. Not that I'm complaining or anything. I love a good mega size scallop. I also really enjoyed my first bite of the day — the salmon tartare guacamole from 15th Street Fisheries. But I'm sure you want to know which Miami Dolphins legends were cooking up these yummy plates of food, right? Let's get down to it…
(Sorry no photos of most of the meat dishes, I wasn't about to wait in long lines to take a picture of something and not even eat it! Plus people would probably think I was weird…)
The Hilton FTL Marina's G-Bar Chef Nichole Rhone and Fuad Reveiz: Pulled Pork Sliders
Grille 401 Chef Rick Schwager and Jim "Crash" Jensen: Chipotle BBQ Bone in Beef Ribs
Omaha Steaks Chef Karl Marsh and Mark Higgs: Filet Mignon w/ Napa Cabernet Butter Sauce
Diplomat Prime Chef Jaime Bibiloni and Eugene "Mercury" Morris: Cherrywood Grilled Beef Slider
13 American Table Chef Anthony Florin and Shawn Wooden: Grilled Skirt Steak
They also served this with a creamy butternut squash puree and grilled Brussels sprouts — since I'm friends with the GM, he made sure to give me a plate of just the veggies. YUM!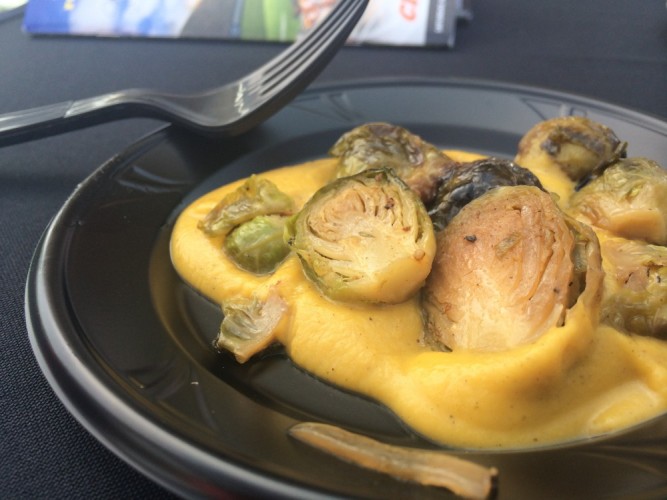 Pelican Landing Chef Greg McGowan and Troy Stradford: Tikka Masala Grilled Pork
This was served over a bed of pickled veggies on grilled pita, so I asked for the dish sans pork and I bet it was JUST as tasty as the original. The veggies were SO yummy, with just the right about of bite and the perfect balance of sweet and spicy.
Palm D'or, Fontana, 19th Hole, Cascades Chef David Hackett and Louis Oliver: Braised Oxtail with Horseradish Panna Cotta Tart
The Grill at Calvary Chef Kenny Velsor and Don McNeal: Brisket Rub with Coca-Cola Chipotle Glaze
McCoy's Oceanfront Chef Daniel Gerety and Sam Madison: Pork Belly and Shrimp with Rum and Kumquat Glaze
This was served over a bed of grits, naturally I asked for a plate without the pork belly and they happily handed one over. Very nicely cooked shrimp, but the grits were a little too…uh, gritty…for me.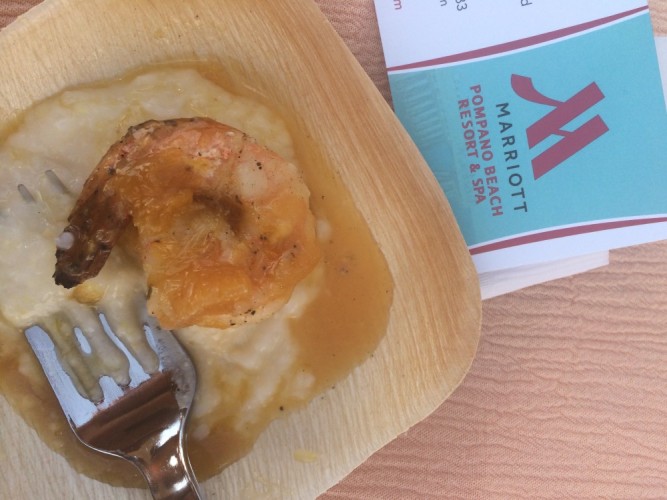 Oceans 234 Chef Victor Franco and Glenn Blackwood: Espresso and Chocolate Crusted Filet Mignon
S3 Restaurant Chef Chris Miracolo and Channing Crowder: Fresh Fish Tacos
They grilled up some cobia for these and it was absolutely delicious. This was another one of my favorites of the day. I'm not normally a fish taco aficionado but when the fish is cooked like this…how could I resist?!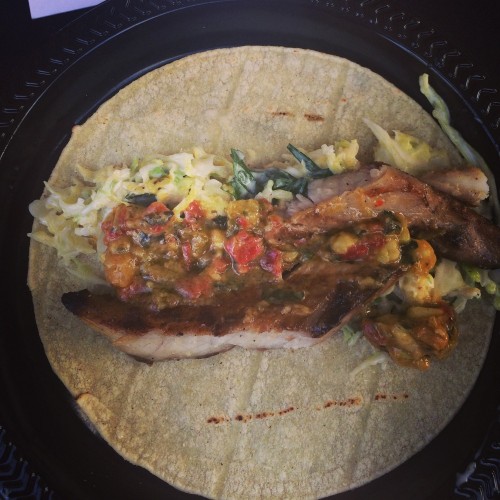 15th Street Fisheries Chef Lenny Judice and Zach Thomas: Salmon Tartare Dip with Guacamole and Margarita Vinaigrette and Purple Potato Chips
The best way to start off your day is with a little chips and guacamole, am I right?! This was a very inventive way of presenting salmon tartare, and the crispy purple chips were a nice touch. Chef Lenny was super cool too, I definitely plan to visit his restaurant sometime.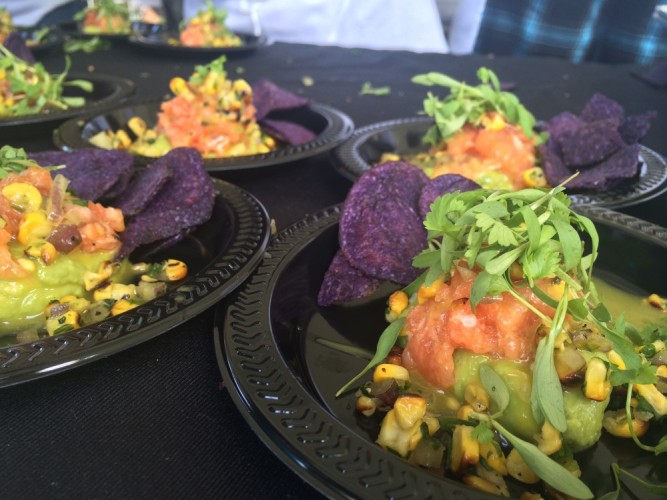 Truluck's Chef Michael Cerny and Dwight Stephenson: Grilled Scallop BLT
This was my mom's favorite of the day, she couldn't stop talking about how much she enjoyed it. This was another big-as-my-face scallop, sandwiched between slider buns with a little bacon and tomato (mine sans bacon). I could eat scallops everyday and not get sick of them. There is something so refreshing about them. I watched as these were being prepared on the grill and practically had to wipe my mouth clean from all the drool.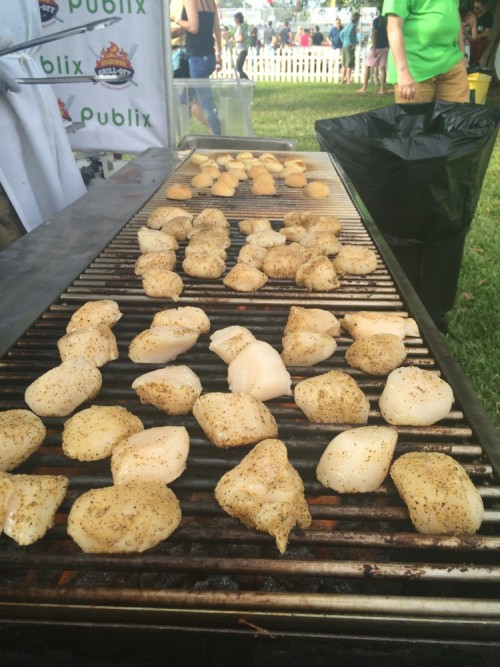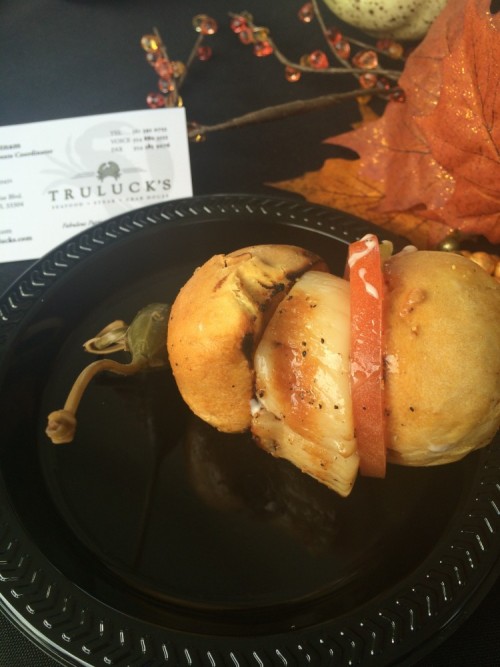 Cafe Maxx Chef Oliver Saucy and Roy Foster: Whiskey & Brown Sugar Beef Brisket
YOLO Chef Peter Boulukos and Ed Newman: Rib Eye Skewers
Chef's Palette Cafe & Grill Chef Dustin Gordon and Jeff Dellenbach: Short Rib Kimchi Burger
Market 17 Farm Fresh Restaurant & Bar Chef Lauren DeShields and Keith Sims: Smoked Maple Chili Chicken Wings
Lobster Bar Sea Grille Chef Jeff Pfeiffer and AJ Duhe: Grilled Royal Dorade with Herbed Bulgar Salad
Another yummy grilled fish, and something I have never had before. I've actually never even heard of Royal Dorade until right then. Have you? They put the entire fish on the grill, which was fun to watch. I used to have this thing about my food looking at me — but I guess I'm over it, because as soon as my place was ready with a piece from that googley-eyed fish, I dug right in.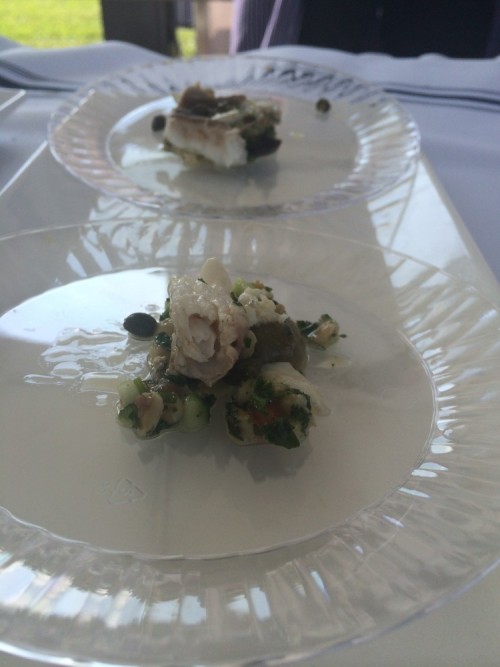 JB's On The Beach Chef Michael Hrabovsky and OJ McDuffie: Grilled Sea Scallops and Glazed Pork Belly
I already expressed my love for this dish. The scallop was incredible. I wish I had more of it right this second.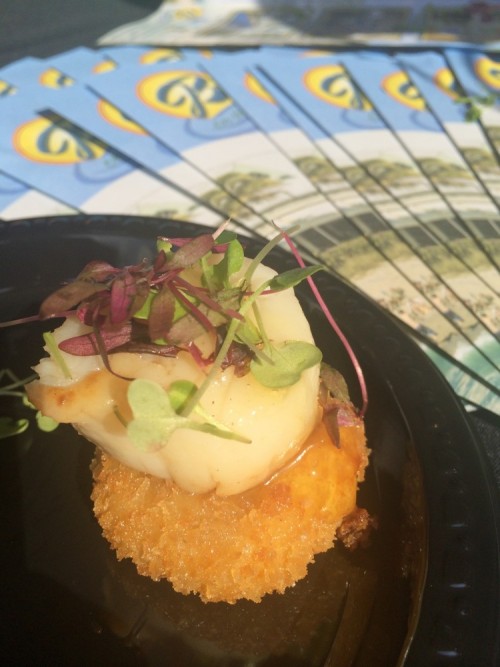 Mai-Kai Owner Dave Levy and Troy Drayton: Asian BBQ Pork Tenderloin
The Royal Pig Chef Stanton Bundy and Mark "Super" Duper: New Orleans BBQ Shrimp & Sweet Potato Grits
Now these were some grits I could get behind. They were super smooth and creamy, and the spicy shrimp on top was out of this world. My mom thought it was a bit spicy, but she's more sensitive to spice than I am. Eating this brought me back to my trip to The Big Easy at the beginning of this year. I never was big on cajun spices until that trip, and now I love 'em.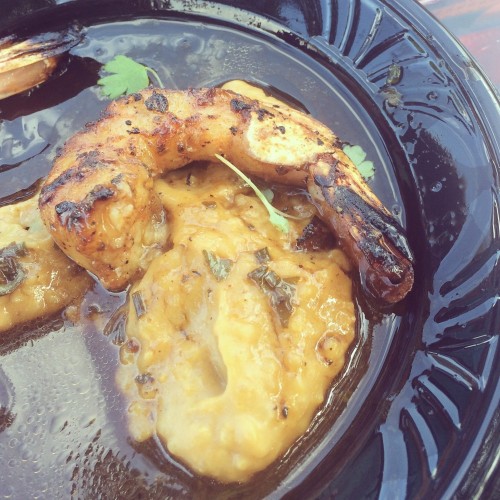 Bimini Boatyard Chef Odel Arencibia and Jeff Cross: Half Shell Scallops with Grilled Short Rib
Another "surf and turf" dish that I asked to be specially prepared. This dish hands down had the best presentation — sautéed spinach filled the shell, topped with a rosemary sprig which acted as a skewer for the scallop and tomato. Although this scallop was as massive as the others, it was still tasty.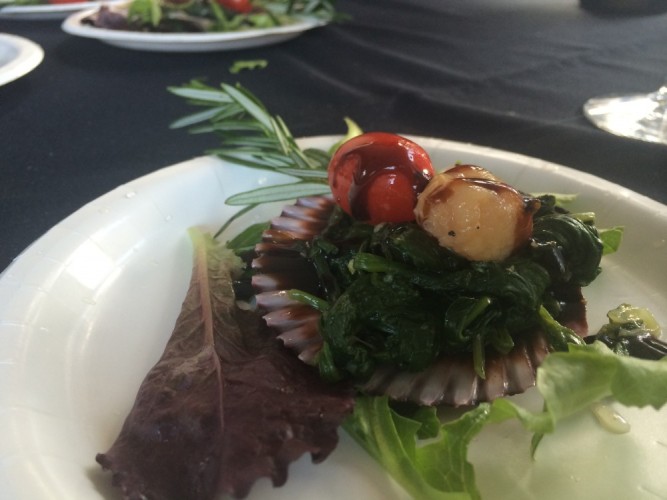 Shula's On The Beach Chef Alexis Martinez and Coach Dave Shula: French Onion Slider
And who were the winners?
The Judge's chose S3 Restaurant, and Oceans 234 took home the People's Choice. Congratulations to both restaurants!
Disclaimer: I was invited to attend the Gridiron Grill-off free of charge as part of the media.