Never miss a bite! Sign up here to receive new recipes and reviews straight to your inbox.
Disclosure: I was invited for a complementary tasting at the North Miami location of Raw Republic. No monetary compensation has been received for this post. As always, all opinions are 100% my own. 
Raw Republic is a family-owned-and-operated juicery featuring 100% raw, unpasteurized and cold-pressed juices, organic smoothies and Acai bowls and a variety of delicious raw foods ranging from cashew cheese quesadillas to coconut pie.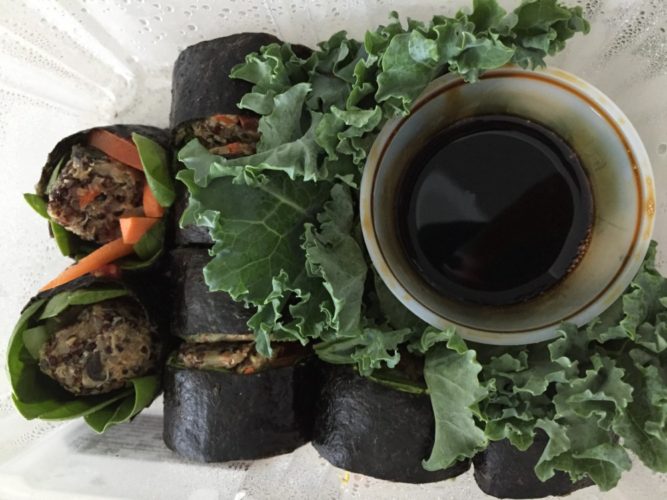 The raw food lifestyle is becoming more and more popular, with Acai bowls and cold-pressed juices as the movement's front runners. With so many of these places popping up down here in South Florida, it takes something special to make yourself stand out. At Raw Republic, I was excited to see so many unique and creative flavor combinations and ingredients in everything they offer. I often crave these vegan, raw, lighter options after lots of back-to-back media dinners and events, and this visit to Raw Republic came at just the right time. I couldn't wait to try ALL the things in their grab-and-go case — quinoa tabouli salad, chickpea "tuna" sandwich, nori chipotle wrap, quinoa "sushi," curried quinoa salad, cinnamon roll pumpkin pie, and so much more.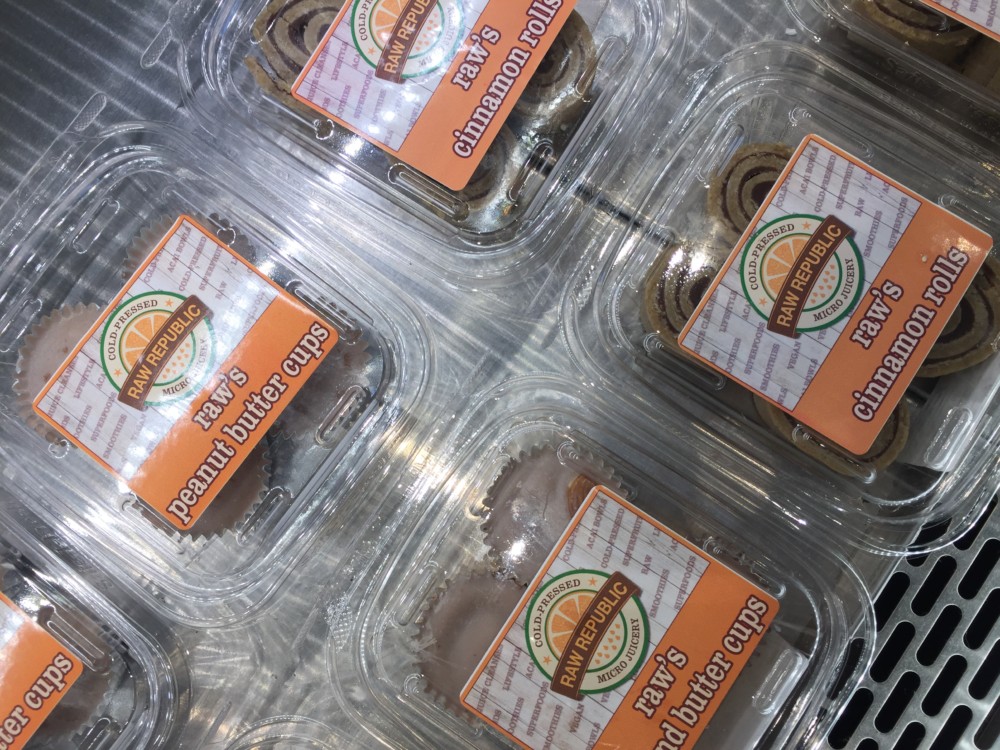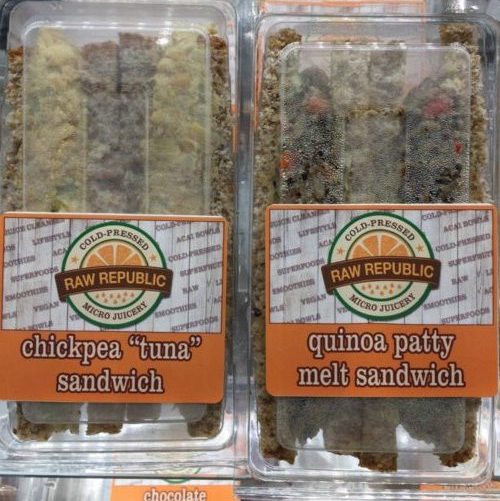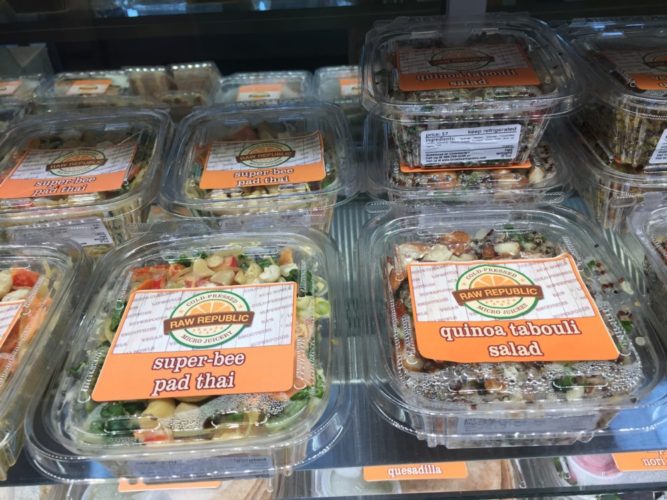 But before that, Jill and I had a chance to sample just about all of the juices available. Like I mentioned, their flavors definitely stand out as different from many other places — watermelon, sunflower sprouts, ginger and limesalt; pineapple, coconut water, green apple, cucumber and chia seeds. My favorite was the Greenshine with green tea, mint extract, Red Delicious apple, pineapple, orange and lemon. They also have a couple "indulgent" options such as the Matcha Cookie with activated cashew, coconut water and meat, matcha, cacao, dates, vanilla extract and sea salt (this seriously does taste like a certain black and white sandwich cookie that everyone knows and loves!), and Cafe con Leche with coffee extract, activated almond, filtered H20, pumpkin pie spice, vanilla extract and raw honey.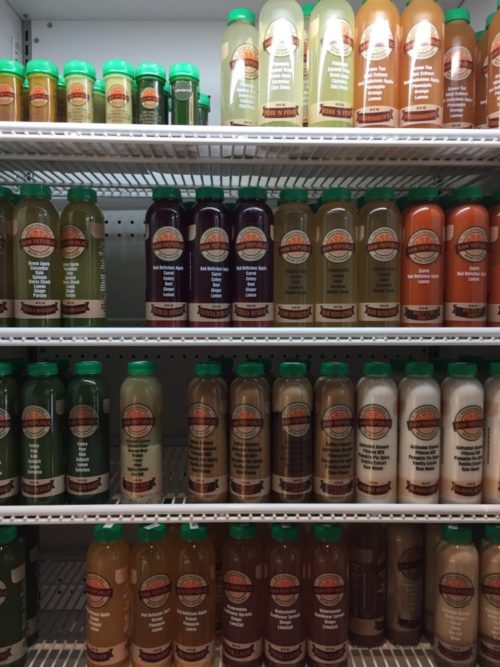 The real stars of Raw Republic are their Acai and pitaya (dragonfruit) bowls. That's what we were most excited about tasting, and lucky for us — owner Jesse brought out three different varieties for us to try. The first was the eye-catching pitaya bowl called Pretty in Pink. The base is made with pitaya, coconut water and banana and then it's topped with dried coconut, sliced banana, flax seed and honey. It's as delicious as it is beautiful. I like the simplicity of Raw Republic's bowls. Jesse stressed how important it is for them to keep things as natural as possible with no added sugar or unnecessary ingredients. This is evident in the flavor of their bowl bases — they aren't too sweet like some bowls can often be. I also absolutely loved the perfectly smooth consistency. They're not too thin and not too thick.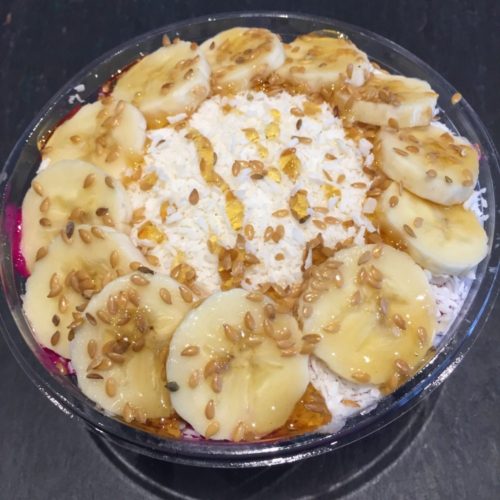 Next we tried the PB&A made with acai, banana, almond mylk and peanut butter, and topped with granola, cacao nibs and sliced bananas. Peanut butter fanatics will love this one. There's great texture from the granola and cacao nibs, and the peanut butter is not too overpowering. This was Jill's choice, but I couldn't help but steal a few more spoonfuls after my first taste…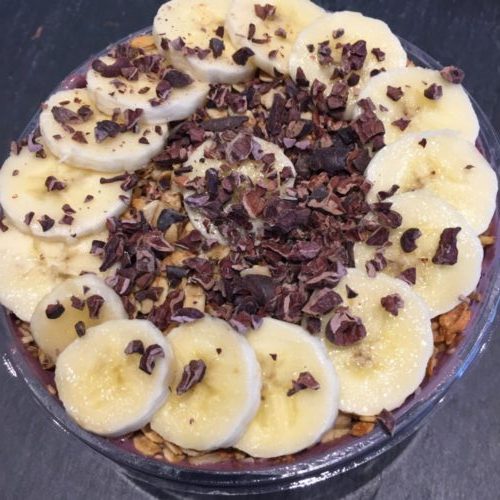 My choice was the Hawaiian Punch made with acai, mixed berries, banana, almond mylk and pineapple, topped with dried coconut, pineapple chunks and goji berries. It was the goji berries that won me over on this one, I freaking love the sweet flavor and chewy texture of those little things. They're also pretty nutrient-dense, which is always an added bonus.  You can also add granola to this bowl if you like a little bit of crunch. This was a little sweeter than the PB&A, but not quite as sweet as the Pretty in Pink — it was right in the middle, just how I like it.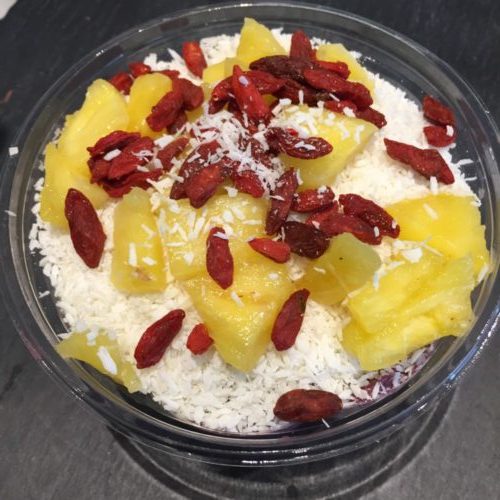 Now back to that grab and go case… I absolutely loved the chipotle nori wrap. A little sweet, a little spicy, filled with vegetarian-friendly ingredients and the nori (seaweed) wrap balanced everything out with its subtle saltiness. I wish I could have boxed up everything at Raw Republic to bring back up to Boca with me. I'm keeping my fingers crossed that they'll continue to expand the brand and come up to Palm Beach County!
Raw Republic also offers juice cleanses. If you are interested, inquire here. Raw Republic is located at 20804 Biscayne Blvd. in Aventura and at 14871 Biscayne Blvd. in North Miami.