Jamba Juice has been around way before the juice craze hit. Many people associate the company with smoothies, but they have been doing the juice thing since the beginning. Now, they are launching a whole new line of made-to-order, freshly squeezed juices.

Denise (Denise's Foodie Events and Savor the City Culinary Tours) and I had the opportunity to taste six of these delicious new concoctions. We probably looked funny sitting at the table with 12 small cups of juice sitting in front of us. People were probably wondering what we were doing with so much to drink and what exactly we were drinking, but at least it got them talking about the juices!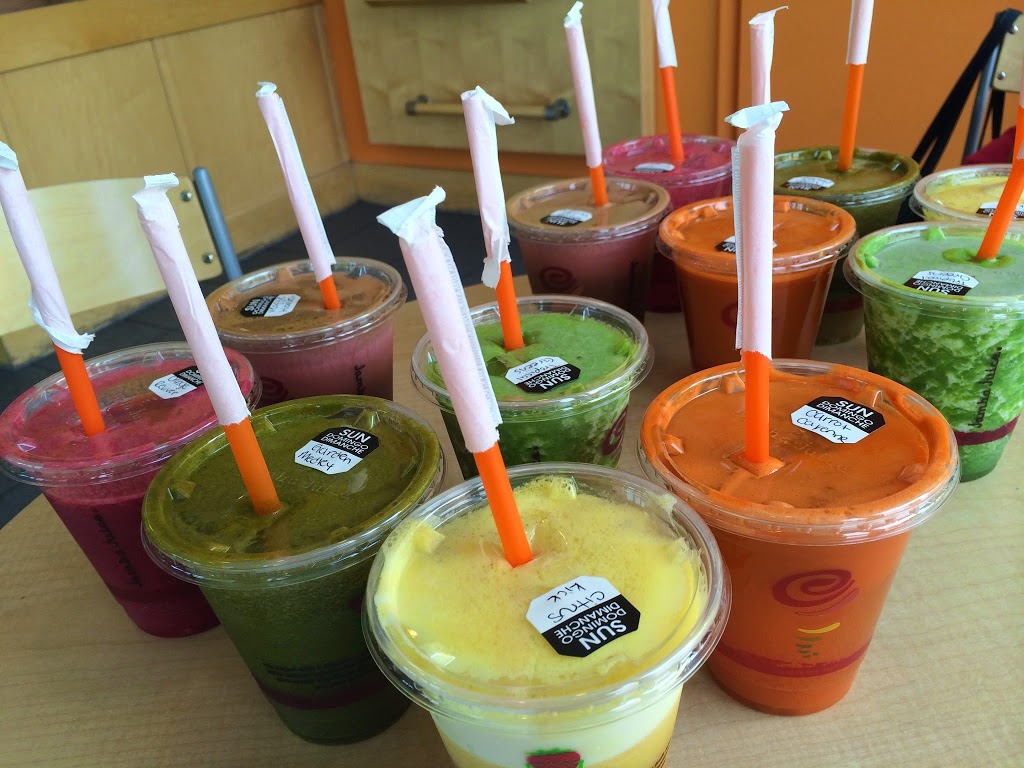 I have always been a fan of Jamba, but I really never knew they did juices. As I mentioned above, I have always thought of it as the place to go for smoothies. It wasn't until recently that I noticed they have been doing a lot more green smoothies, including things like spinach, beets and carrots into their fresh and fruity mixes.
When I got the opportunity to try out the new juice line, I was super excited. I was getting bored of the same old juice place I'd been going to, and definitely needed something new. The timing couldn't have been more perfect.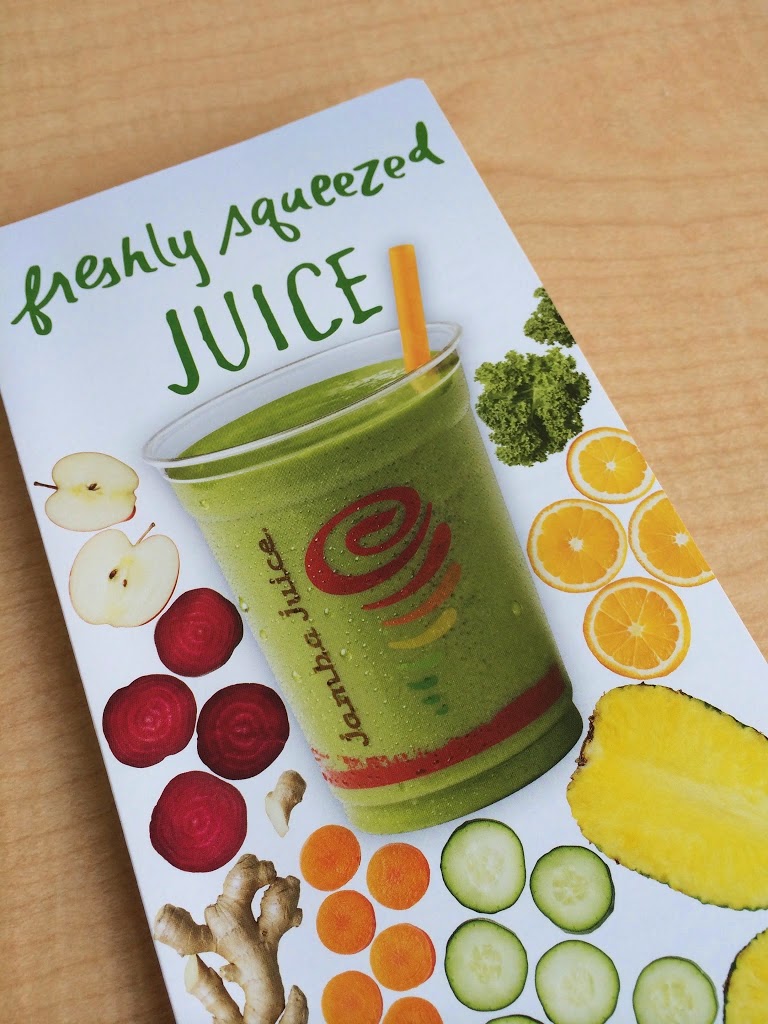 So how were the juices? Pretty good! Funny thing is Denise and I shared a very similar palate as we tasted each drink, and in the end we both picked the same two as our favorites. Let's get into it…

First up was the Citrus Kick, a vitamin-C packed juice with orange, apple, pineapple and ginger. The pineapple outshone the other ingredients; I only detected a hint of orange and a slight kick from the ginger. The balance of flavors were right on. After continuing to sip, I was able to find the tart apple taste which rounded everything out. It's refreshing and something I would want to drink on days when I'm feeling under the weather and need that boost of vitamins.

Next we tried the Garden Medley and both had the same reaction upon first sip. Blech. First of all, the color is very off-putting. But honestly, it tasted like its name: a garden. Dirt. Earthy. VERY earthy. It's made up of spinach, carrot, apple and chia, so we weren't sure what was making it this way because these aren't earthy ingredients. It definitely needed more sweetness to it. Time to move on…

Orange Reviver was next, a vibrantly hued pink drink that obviously gets its coloring from beets. But you would never know because there is absolutely NO beet flavor in this juice. Anywhere. All we could taste is banana, and the texture was very thick and smooth like you get from any kind of banana smoothie-type drink. There is also orange, apple, and chia in this one, but nope — nothing but banana hit my taste buds. Not a bad thing, I love banana so I did really like the juice, but I was confused. The name and color do not match the taste. I propose changing the name to "Banana Reviver."

Next we tried the Veggie Harvest, a blend of beer, carrot, spinach, apple, and ginger. BAM! Ginger hit me hard on this one, which is a flavor I absolutely love. A subtle hint of carrot followed, and then there were some sweet notes of apple. This was another one with a not-so-pretty color and a kind of earthy taste, to which I credit the beets. Weird thing was after tasting this, Denise and I both took another sip of the Garden Medley to compare said earthiness and magically the distaste we had for it before was gone and out came bits and pieces of apple flavor, sweetening it up a tiny bit, and making it a little more drinkable.

Carrot Cayenne was next on the list. This was a gorgeous hue of bright orange and packed quite a punch from the cayenne. It hits you right in the back of your throat. Once you've gotten over the initial shock of the cayenne, the carrot shines through, making it a pretty smooth experience. Denise said it was a little spicy for her, but I thought it was just the right amount.

Last, but not least, was what I consider to be the true green drink: Tropical Greens. This one has spinach, apple, pineapple, and chia. It was that quintessential color you think of when you think of a green juice and a wonderful combination of pineapple and apple to give it the perfect amount of sweetness to offset any bitterness you'd get from the spinach. It was a perfect balance, and a great way to end the tasting.


As if you couldn't tell, the first and last drinks were the favorites. I also really liked the Orange (ahem, BANANA) Reviver. It was cool to get to try all of their drinks in one sitting. I'm always the one standing in line for 20 minutes trying to decide what I want — doing this was ideal. Plus, I went right after finishing up a great Spin class at the gym, so it was the perfect post-workout breakfast!

Thank you so much to Jamba Juice of Boca Village and especially their manager, Brittany, for providing us with the juices and answering all of our questions about the ingredients. Check out Denise's review of our juice tasting here and for a full list of juices and their nutrition facts, visit the Jamba Juice website. Follow them on Facebook, Twitter, Pinterest, and Instagram.
Disclaimer: Denise invited me to come with her to a free juice tasting courtesy of Jamba Juice. We were provided with juices from the new Freshly Squeezed product line free of charge. No other compensation was provided. As always, all opinions are my own.