Never miss a bite! Sign up here to receive new recipes and reviews straight to your inbox.
Disclosure: I received complementary admission into the event. No monetary compensation has been received for this post. As always, all opinions are 100% my own.
We are well into the new year and Festival Season is upon us. The culinary scene in South Florida is seriously bustling and there are so many opportunities for locals to get in on all the delicious fun. 
One of my favorite Boca Raton events is Flavors, a fundraising food-and-wine tasting hosted by the Junior League of Boca Raton in support of their mission to promote volunteerism, developing the potential of women, and improving our community. Originally, the event was called Chocolate Decadence, which explains why it's always held in February, which happens to be Celebration of Chocolate Month. Over the years, it's evolved to include not only plenty of mouth-watering desserts, but various local restaurants, wineries and local craft breweries as well.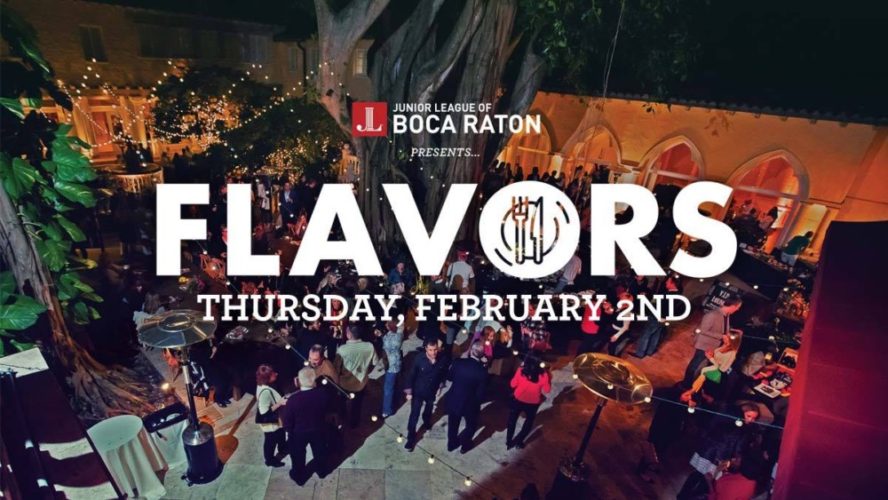 This year, Flavors was held at The Addison for the second year in a row. The Addison is well known for being Boca's premier wedding venue — and rightfully so. This place is incredible. I've been to a few different events, including a Halloween party complete with a haunted house and tons of costumed actors running around in zombie costumes that looked like they came straight from The Walking Dead. When The Addison hosts an event, they go all out, and Flavors was no exception.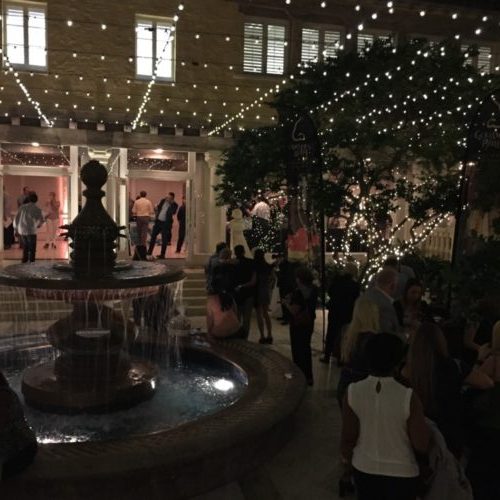 Pair together a breathtaking location with absolutely delicious bites from some of the area's best local chefs and restaurants, and creative craft cocktails, beer and wine, and you've got one amazing party. For three hours, guests sipped and savored all of the yummy offerings, enjoyed live entertainment, bid on silent auction items like luxury staycations and private in-home dinners from some of the evening's participating chefs, and explored all of the nooks and crannies at The Addison. There are so many different rooms, and the restaurants were so spread out, that a map was handed out to all guests to ensure they didn't miss a thing.
Ironically, my favorite bite of the night was also the very first thing I tried. Kapow! Noodle Bar, located in Mizner Park, recently appointed a new executive chef, Tim Nickey. Standing behind the restaurant's table, he was serving one of his new dishes, tuna poke gyoza tacos. They were very simple and straightforward, but absolutely delicious. I'll admit, I went back for seconds… They were mini, so it's okay!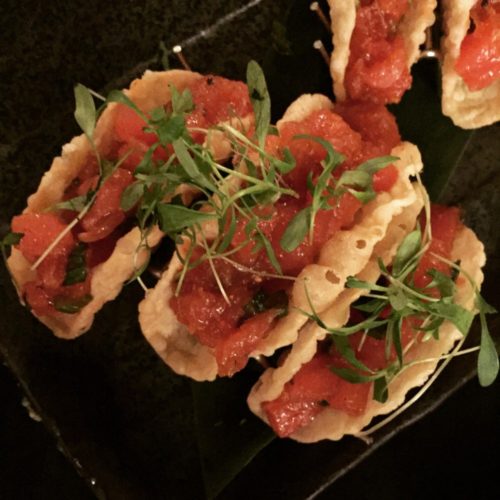 I must have been in a tuna mood that night, because my second favorite dish came from Harvest Seasonal Grill, a new restaurant that opened in Delray Beach a couple months ago. They served a super flavorful tuna poke, alongside a super grain salad that was light and fresh and a nice change of pace from some of the heavier dishes other restaurants were serving.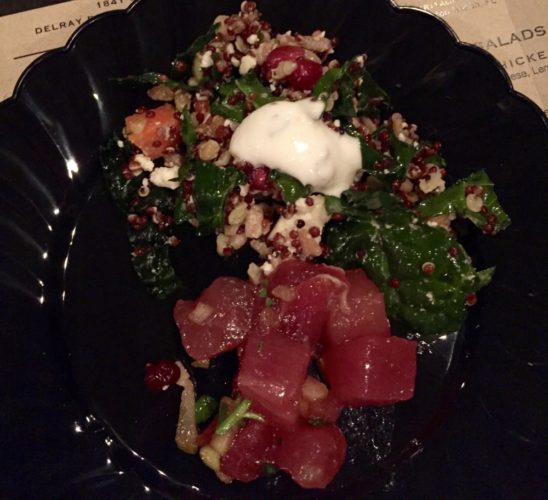 Which brings me to my third favorite, definitely one of the heavier options, but worth every single calorie. The portions at these events are relatively small anyway, so basically calories don't even count… Tanzy, the restaurant located inside Boca Raton's iPic Theaters, served their four-cheese fiocci with pears. Three little pasta "purses" stuffed to the brim with creamy cheese and tart pear, smothered in a velvety smooth cheese sauce practically melted in your mouth with each bite. If I'm going to eat pasta, it had better be worth it — and I promise you, this was.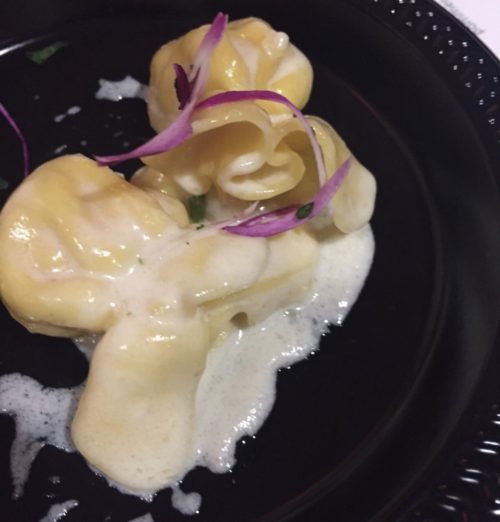 Other dishes throughout the evening included hibiscus pork belly with beluga lentils and creamy polenta from The Addison, Italian meatballs from Anthony's Coal Fired Pizza (later in the night they whipped out some Margherita pizzas t00), more meatballs from Cafe Med, even more meatballs from Vic & Angelo's, pineapple fried rice and salmon poke from Buddha Sky Bar, wahoo with basil and scallops and caviar tartare from Chops Lobster Bar, crispy cauliflower with pickled grapes from Jardin, pulled pork tacos from MEAT Eatery, tomato and mozzarella skewers from Roots Italian Kitchen, Caribbean steak and black rice bowls with pesto from Bolay, assorted charcuterie and cheese from GourmetPhile Specialty Market, Korean BBQ pork ribs from Rebel House, grilled orange-glazed baby back ribs from Tucker Duke's and the signature Shackburger from Shake Shack.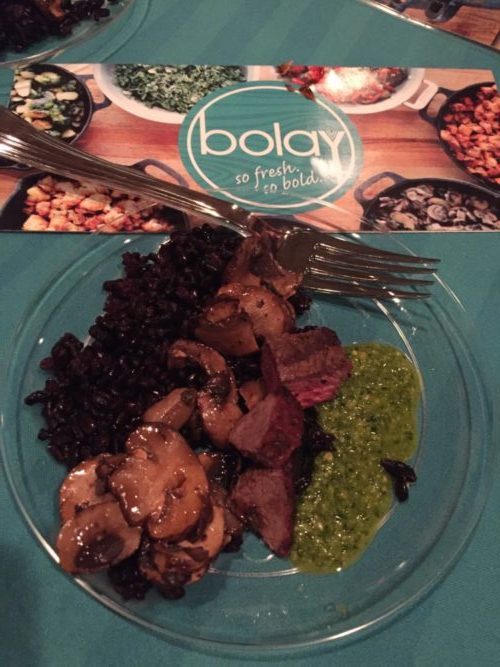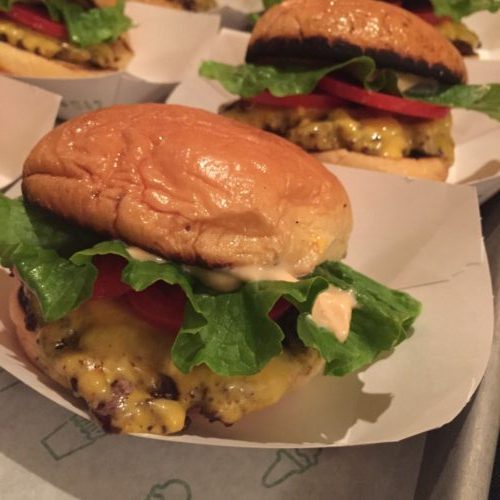 Desserts didn't disappoint either — bacon chocolate chip cookies and brownies from Bacon Box, mini cupcakes from Allstar Gourmet Cupcakes, and brownie and bundt bites and other goodies from Corner Bakery.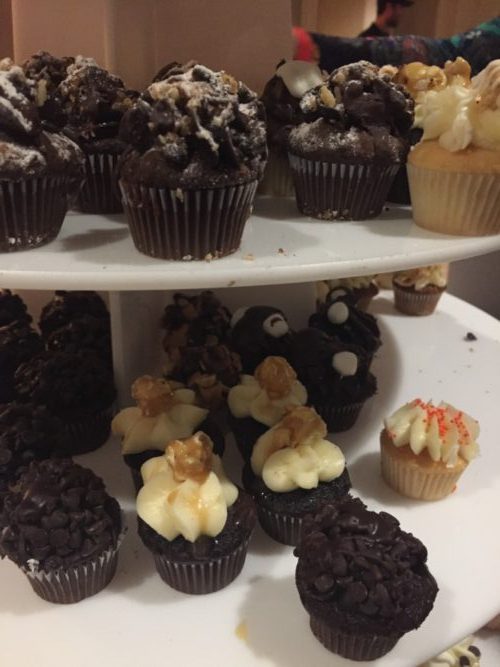 There was also plenty to drink. Atlantic Avenue Beverage with a signature cocktail of clarified applejack milk punch, JOYA Sangria, and MIA Beer, Islamorada Beer Co., Barrel of Monks Brewery and TEN Alkalife Water.
With 24 participating restaurants and over 600 attendees, the event was a total success and raised $29,600. If you've never attended a Flavors event before, set yourself a reminder to look for it next year. This all-inclusive event gives you the opportunity to support a group of women who are constantly finding ways to give back to the community. Plus, you get to eat and drink really good stuff, and that's never a bad way to spend a night!