Never miss a bite! Sign up here to receive new recipes and reviews straight to your inbox.
Disclosure: I was invited to dine as a guest of the restaurant. No monetary compensation has been received for this post. As always, all opinions are 100% my own. 
When it comes to some of the best cheesecake in New York, there's no doubt Junior's comes to mind. Now you don't have to travel all the way to The Big Apple for a slice — just hop on over to Mizner Park in Boca!
Junior's has been gracing the lives of New Yorkers since 1950, and although it's most well known for it's insanely delicious varieties of cheesecake, there is plenty more to salivate over.  It's only fitting for a New York-based restaurant to open up in Boca Raton, a place you'll often hear people call "The Sixth Borough." The restaurant serves breakfast, lunch and dinner daily, with a daily happy hour from 3-7pm. With a menu full of classics, deli lovers are sure to get excited about visiting — but there are nontraditional items for those of us who like a little something different.
The staff at Junior's is warm and friendly, the bright orange decor will instantly lift your spirits, and the food is unpretentious and approachable — just as a deli should be. I was excited to give Junior's a try, and even more excited that I was able to bring my mom along for the ride. The nice thing about Mizner Park is that all of the restaurants have outside seating. In the summer, it can be unbearable, but on this particular night, there was a breeze so we grabbed a table out on the sidewalk and enjoyed some people watching while we dined.
Junior's offers its guests complementary pickled beets, coleslaw and pickles upon arrival. I don't like pickles, but I like pickled vegetables — weird, right? The beets were delicious, and although Mom wasn't a fan of the coleslaw, I liked it. She felt it was too dry, which is true — it was not heavily dressed in mayonnaise, but instead very lightly coated in vinegar — and this is exactly why I liked it. The coleslaw and beets were a nice, refreshing start to our meal, but we knew there were much better things to come.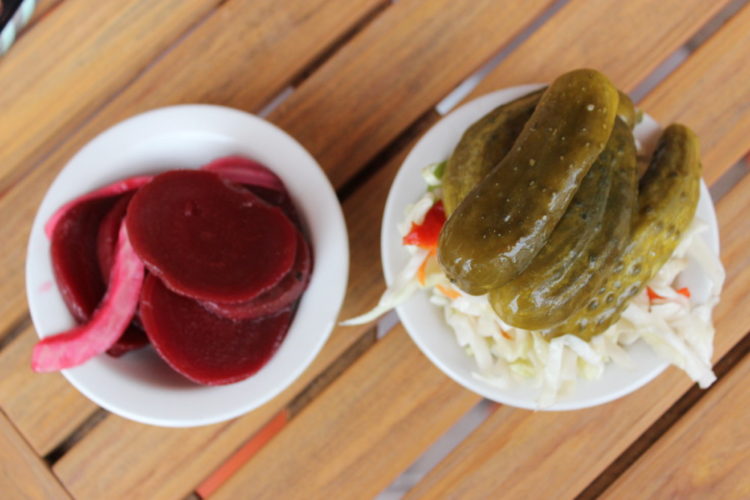 Like crab cake. A real deal, no-filler crab cake. On a grilled portobello mushroom. With a red pepper remoulade sauce that I just wanted to smear all over everything, dip everything into, and pretty much just dive right into with a spoon. Yes, a New York-style deli serving a crab cake seems out of the ordinary, but like I said, Junior's likes to give its customers something new and different. Mom loved the crab cake. She said it was her favorite part of the meal, and said multiple times how she'd go back solely for this menu item. Guess that's saying something! I enjoyed it just as much, and was very happy with the fact that there were no breadcrumbs to be found anywhere in that mixture. To any of you who add breadcrumbs or any type of filler to your crab cakes, just STOP. The remoulade was the perfect accompanying sauce — but it paired well with other parts of the meal too. Like the grilled vegetable platter.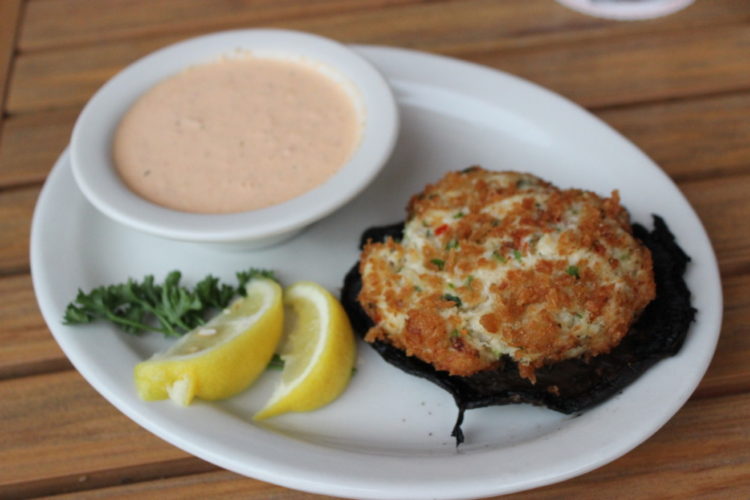 Don't see it on their menu? That's because it's not. When the manager heard me say that I don't eat meat, he graciously offered to bring me a plate of grilled vegetables and hummus — something they offer any guest (you just have to ask!). I respectfully declined at first — I know what grilled veggies taste like, and I was here to highlight items that are special to Junior's. But the Chef jumped at the idea of doing something off-menu, and minutes later, there was a plate full of zucchini, squash, eggplant, portobello mushroom and tomato sitting in front of us. My compliments to the Chef! Underneath all that veggie deliciousness was a mound of Junior's smooth and creamy hummus. Although the hummus was yummy with the veggies, you know I definitely dipped them into that red pepper remoulade too! In the end, I was happy the Chef decided to make us the platter. After all, you can never have too many veggies!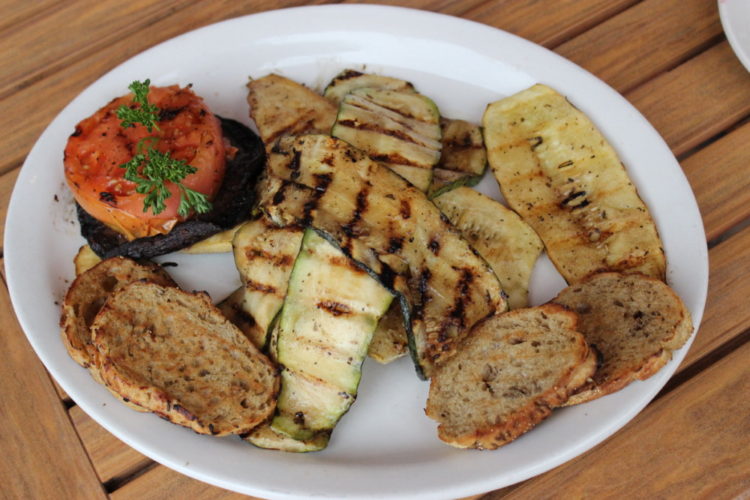 When I first looked at Junior's menu, the first thing to jump out at me was the pastrami-smoked salmon salad. No, it's not pastrami. Yes, it's smoked salmon seasoned with all the yumminess that makes pastrami taste like pastrami — I mean, besides the actual meat… The seasoning is where it's at! The salad is filled with grilled portobello mushrooms, roasted red pepper, pickled onions, bacon (obviously no bacon for me), and lots of salmon. There was a little too much of the mixed greens for my liking — I like my salads filled with more stuff than lettuce — but it was still absolutely delicious and extremely filling. If salads aren't your thing but you still want a taste of the pastrami-smoked salmon, Junior's offers an appetizer option that comes with rye bread and mustard-dill sauce.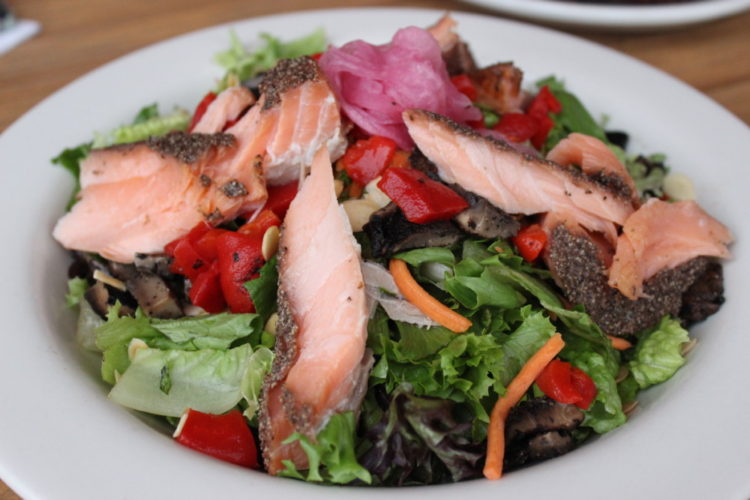 Now, to address the title of this post — the latkes. As a side to my salad, I ordered a single potato latke. On the menu, they're called potato pancakes, but they'll always be latkes to me. This is an old-world classic, something that no New York or Jewish deli should ever be without. At Junior's, you can get an order of one or three, or you can go totally out of the box and order the Something Different sandwich which is actually not a sandwich made with bread, but made with latkes. But more on that later…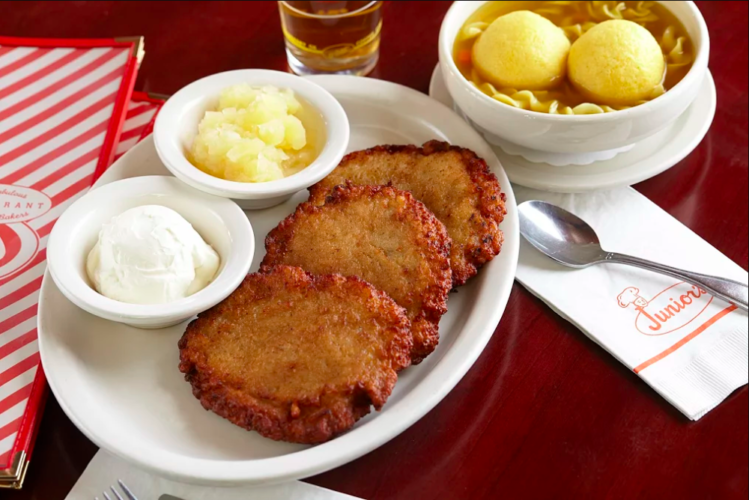 Back to the latke. I was so excited to dig in that I forgot to take a picture, so thank you, Junior's, for providing this image to use. It's almost the size of my head, and comes with a side of chunky applesauce. The latke is thick and dense, with crispy edges, and a fluffy potato-y filling that practically melts in your mouth. It's everything I ever wanted in a latke. Sorry, Dad, but these may beat yours…just by a little! I used the red pepper remoulade for this too — are you surprised? Writing this is making me really, really want another one.
So let's talk about being different. Like I mentioned, Junior's offers a sandwich that takes two of these ginormous potato latkes, and stuffs beef brisket between them. You can get it with a mushroom gravy (made with beef stock) or au jus, and it's served with applesauce. Guess who ordered this? Yep, MOM! I think my Dad would have loved this too. She gushed about how good the brisket was — how well it was sliced, how flavorful it was, and how it wasn't fatty at all. Of course it's absolutely impossible to actually eat this like a sandwich. It's more of a knife-and-fork deal, for sure. It's definitely shareable — there's a ton of brisket on the sandwich. So much so that Mom made sure to box some up to bring home for Bubby. She loved it just as much!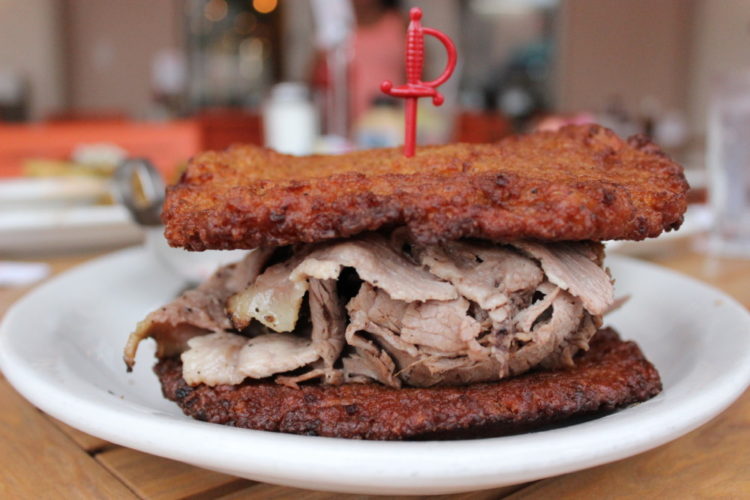 Now we get to the heart of Junior's… the bakery. There are so many different flavors of cheesecake and cakes, as well as the traditional Black and White Cookies, rugelach, cupcakes, brownies and more. We had no clue what to decide on, so the manager did the choosing for us: chocolate swirl cheesecake with a chocolate cookie crust, and the chocolate mousse cheesecake with no crust at all. This gluten-free dessert is a layer of Junior's signature New York-style cheesecake, followed by a layer of light and fluffy chocolate mousse, followed by a rich, decadent chocolate ganache and chocolate chips. This is a chocoholic's dream! Cheesecake is pretty much my favorite dessert, so I was in heaven. The chocolate-swirl wasn't very chocolatey at all — more like the signature cheesecake with a little bit of chocolate swirled on top. But it's cheesecake, so I'm not complaining! The cheesecake is incredibly smooth and creamy, very dense but doesn't feel heavy, and leaves you feeling full and happy. Who cares if your pants feel a little tighter? A meal like this is well worth it!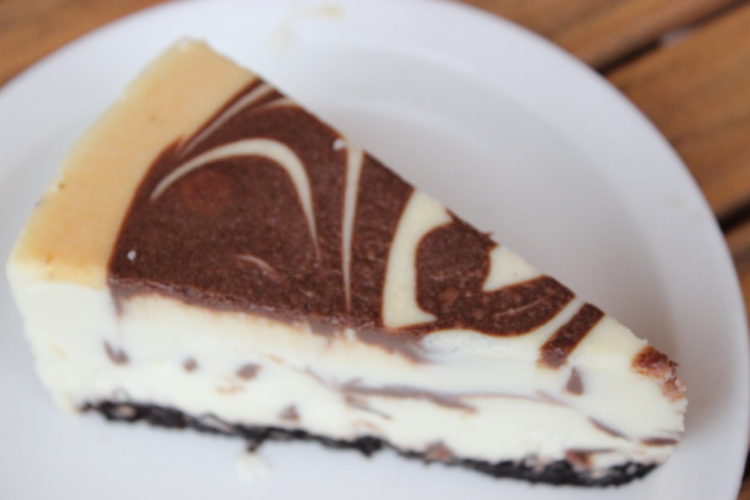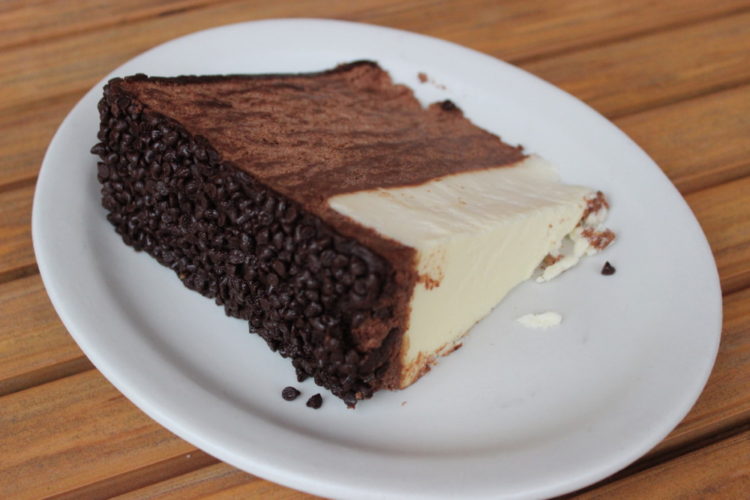 Junior's Restaurant is located at 409 Plaza Real in Mizner Park in Boca Raton.