Never miss a bite! Sign up here to receive new recipes and reviews straight to your inbox.
Disclosure: I was invited to dine as a guest of Juvia in exchange for this post and received complimentary transportation on Brightline. As always, all opinions are 100% my own.
Juvia combines the traditional cooking styles, flavors and ingredients of France, Japan and Peru, offering guests a menu filled with delicious variety. The restaurant is also located on the rooftop of a building on Lincoln Road in South Beach, so not only are you getting a great meal — but you're getting a great meal with the most incredible view of Miami Beach.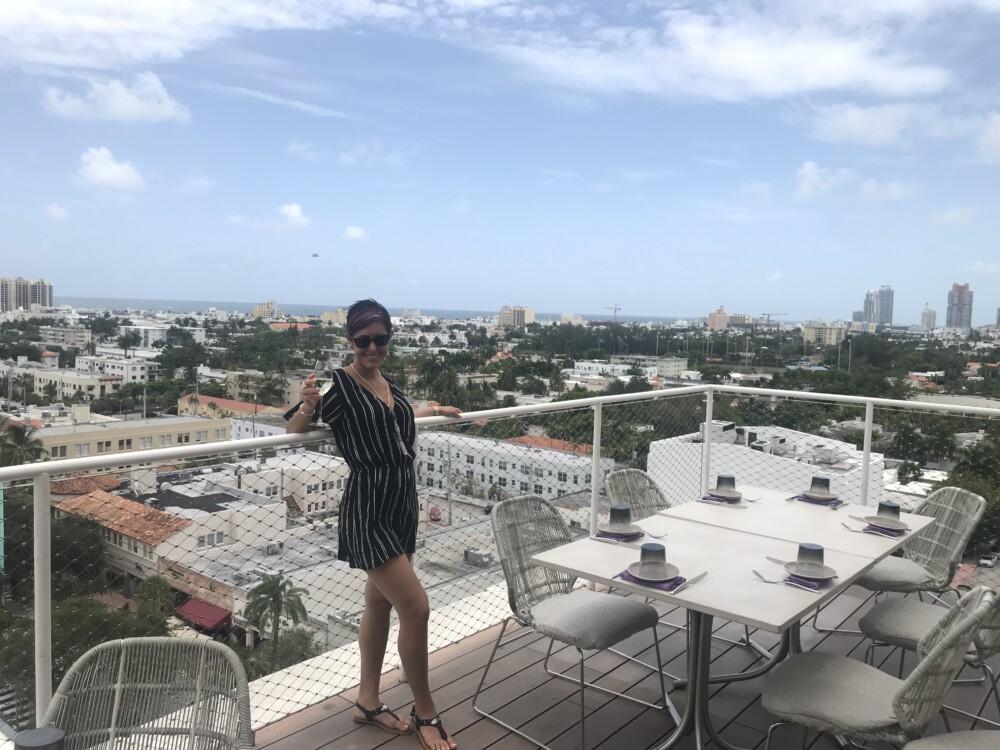 Day trips to Miami aren't so bad when you don't have to worry about getting in your car and actually driving there. On a bright, beautiful Saturday morning, Roger and I headed down to South Beach via Brightline, the super convenient and only privately owned, operated and maintained passenger rail system in the United States. This was my second experience riding Select from West Palm Beach to Miami, and there is no better way to do it!
When you ride Select, not only do you get to enjoy unlimited beer, wine and snacks in Select Lounge before you board, but you also have waiter service on the train, offering beer, wine, liquor and even more snacks to choose from. The seats are super comfy and you don't even really feel like you're on a train, making the ride that much better. Even the bathrooms are impressive — they're big and spacious, with sliding doors that automatically close behind you!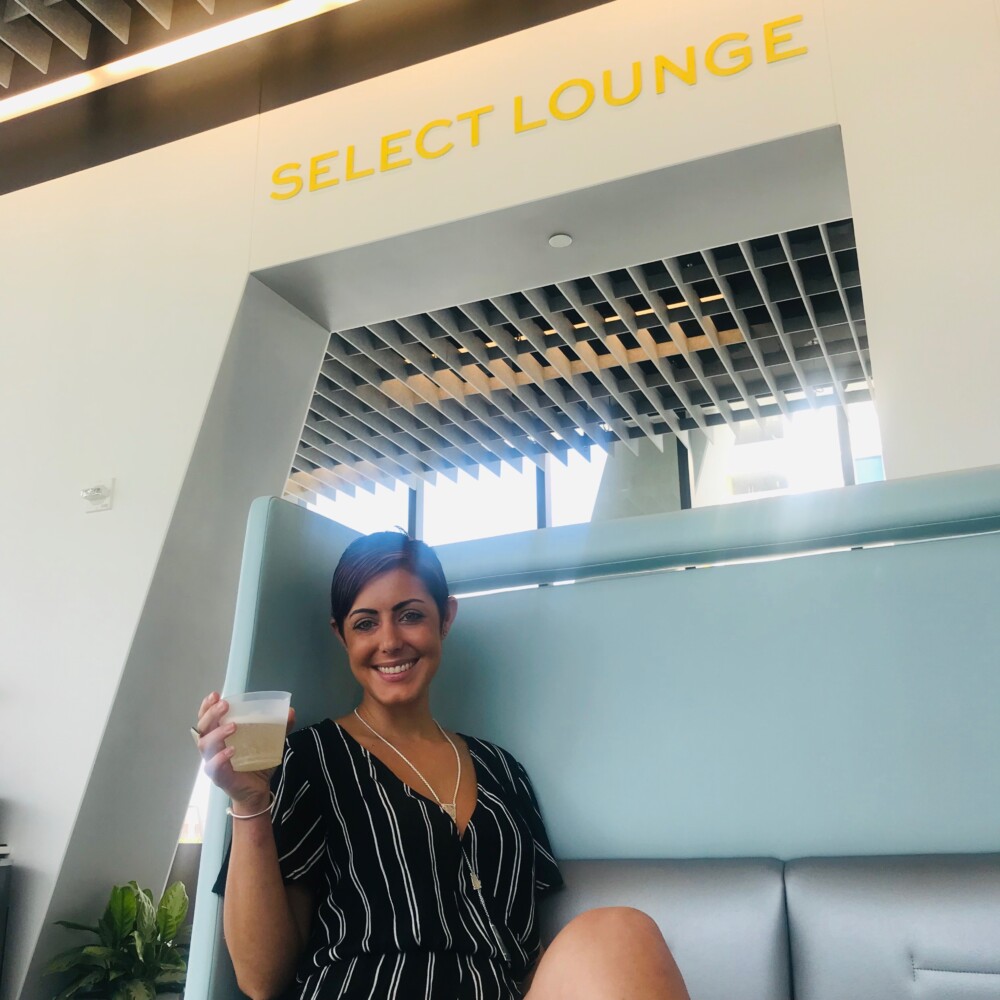 The ride from West Palm to Miami is a little over an hour, but it feels like no time at all when you're able to sit back, relax and enjoy the ride! Once we got to the Miami station, we were only a short Uber ride away from our final brunch destination — Juvia.
Juvia is a rooftop bar and restaurant overlooking the whole city of Miami Beach. During the day, the vibe is low key and laid back, yet still upscale (dress code is 'Miami Chic' and men aren't allowed in with tank tops or sandals). The DJ spun chill music, providing the perfect background for weekend afternoon brunching.
The speciality cocktails are a must… I love a good tequila drink, so the Mula Fresca called my name immediately. It's made with Del Maguey Vida mezcal, tequila's smokey cousin, Don Julio blanco passion fruit, lime juice and ginger beer. This sweet and smokey cocktail was super refreshing and had just the right amount of kick to it.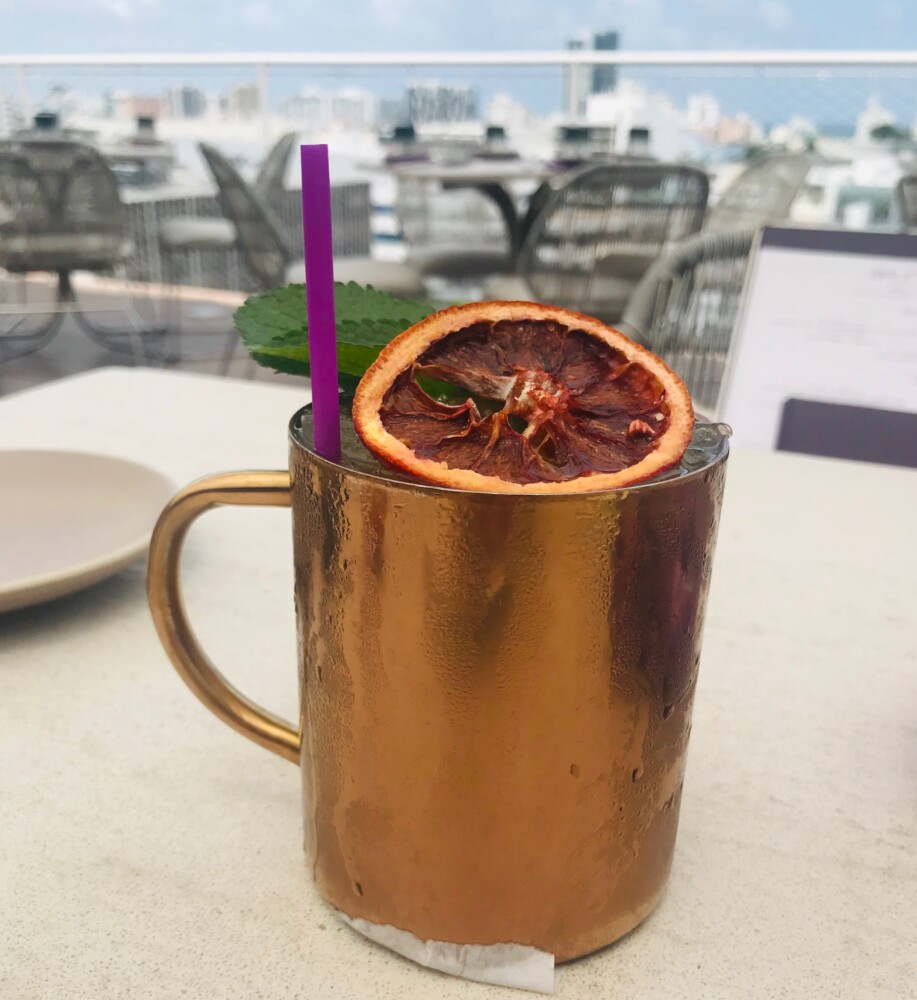 Juvia offers a 3-course prix fixe brunch menu, including bottomless mimosas, bellinis or prosecco, for $65 per person. It's a great deal for those who want the full brunch experience. We decided to order a la carte since dessert wasn't in the cards for us (yanno, 'cause of my allergies).
We started off light and fresh, with oysters and ceviche. You really can't go wrong with either of these choices. Order a glass of prosecco or champagne and go to town. This is the kind of starters I prefer — full of flavor without any heaviness. When you start off with light appetizers, it's easier to fully enjoy your entrée — and that's exactly what we did.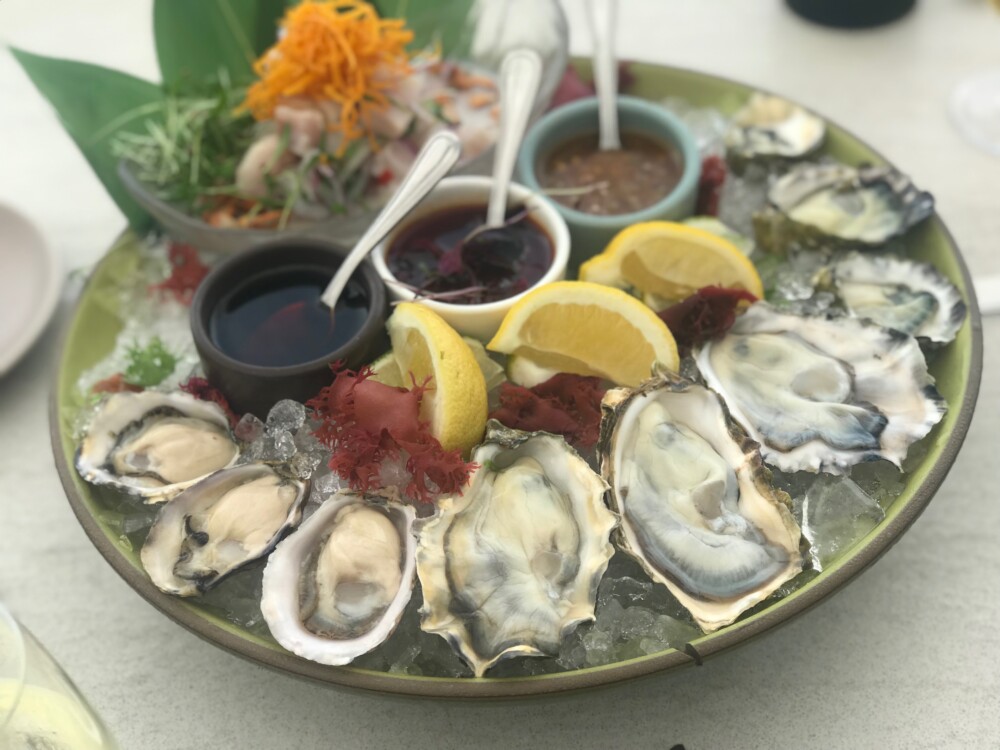 We got the Chilean sea bass, cooked to absolute perfection, and served with green beans, okra, shimeji mushroom, and pickled onions. The brown butter basil soy sauce was served on the side for us, but normally is included on the plate. The dish was beautifully presented, and had my mouth watering the moment it was set down on the table. I couldn't wait to dig in — and once I started, there was no stopping me. I know some of you are probably thinking, gross — slimy okra, but it was surprisingly tasty. It's all in the preparation!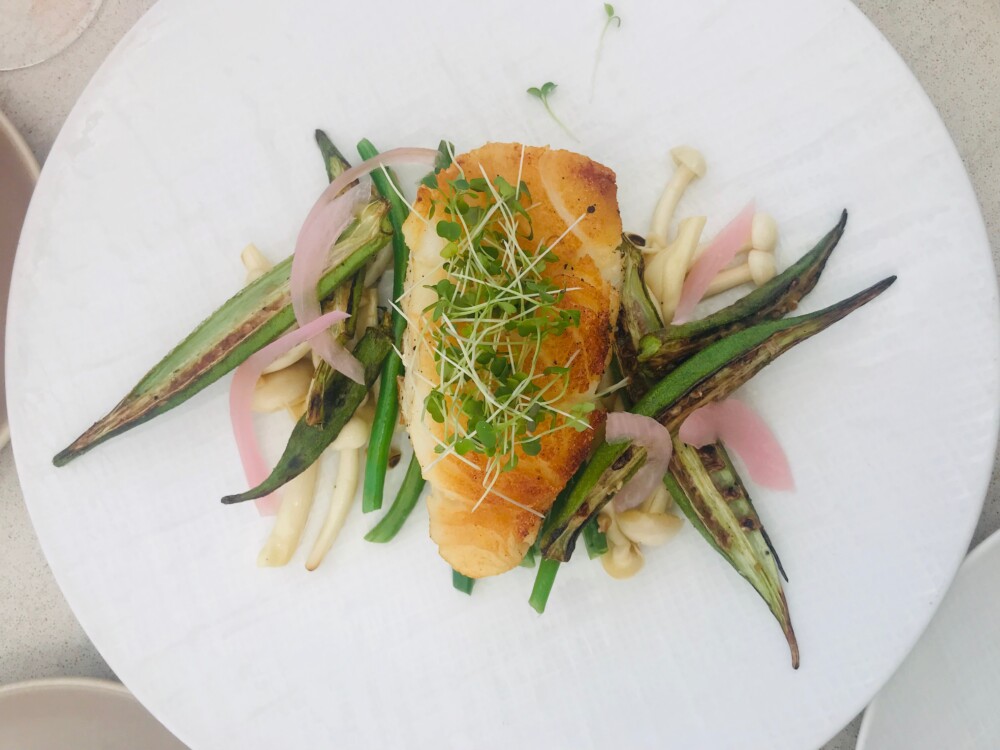 If food with a view is what you're looking for, Juvia is the place to go. I've never seen a more picturesque view of Miami Beach. It's truly an experience — and I can only imagine how amazing it looks at night with the city all lit up!
Juvia is located at 1111 Lincoln Road in Miami Beach. The restaurant is open for dinner Sunday through Thursday from 6-11pm, and Friday and Saturday from 6pm-1am. Brunch is served Saturday and Sunday from 11:30am-3pm.