Never miss a bite! Sign up here to receive new recipes and reviews straight to your inbox.
Welcome to the third annual #BrunchWeek hosted by Terri from Love and Confections and Shaina from Take A Bite Out Of Boca. We are so excited to have you join us this year!  Celebrate Brunch with us this week as we prepare for Mother's Day. 30 Bloggers from around the country will showcase their best brunch dishes, from cocktails to casseroles, breakfast breads, sandwiches and salads – there is something for everyone!
Tired of the same old scrambled eggs? Try something a little out of the box, like a Kale and Toasted Quinoa Egg White Scramble.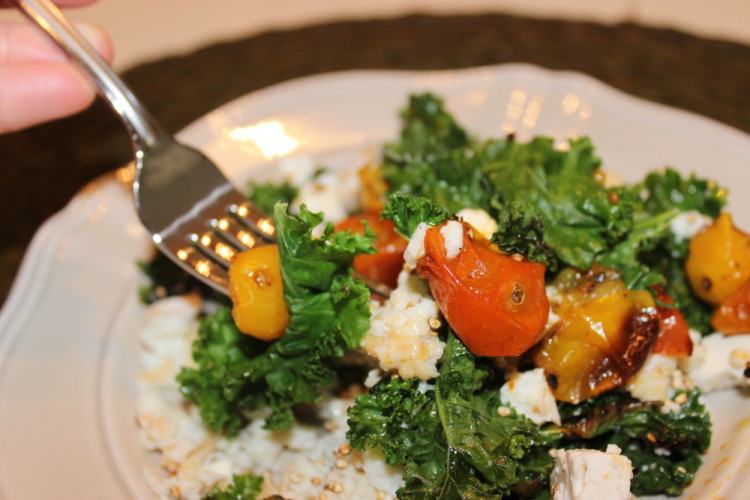 Writing about a vacation is so hard. I'm still formulating all of my thoughts for my blog post capturing the two days I spent in Tampa last month — but when I do post the recap, you'll definitely want to sit somewhere comfortable because it's going to be a long post (albiet a good one!) This Kale and Toasted Quinoa Egg White Scramble is inspired by my breakfast at one of the cutest places we found during our trip, the Oxford Exchange. It's a tea room, coffee shop, bookstore and a restaurant and was highly recommended to us by a few different people, so we knew it was a must-try. We sat down for breakfast in the restaurant and the Kale Scramble immediately stood out to me. I don't like scrambled eggs — in fact, I don't really like the taste of eggs by themselves, at all. But I'm okay with egg whites. This scramble was made with egg whites, black quinoa, cherry tomatoes, goat cheese, green onion and of course, kale. I'm getting hungry again just thinking about it…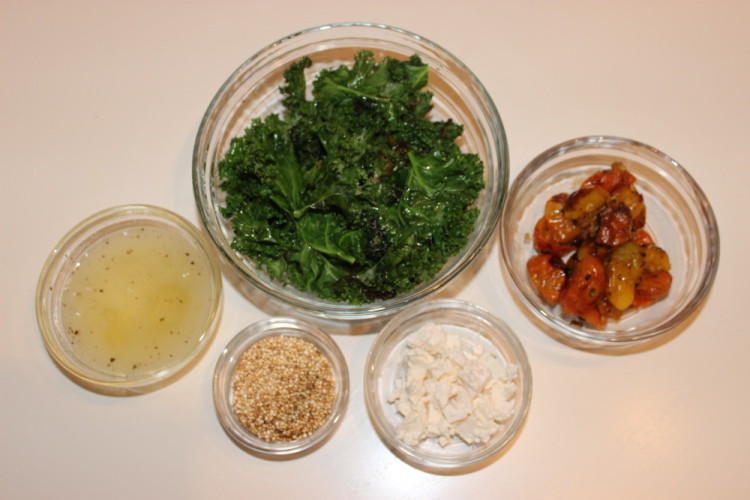 After licking my plate clean, I knew I needed to make this at home for #BrunchWeek using the gorgeous kale I received from our sponsor, Cal-Organic Farms. Lucky for me, upon returning home, I already had everything I needed to put together my own version of that Kale Scramble I oh-so-admired. I made a few changes — swapping feta for the goat cheese and toasting white quinoa instead of using black. Sometimes you gotta improvise with what you have! I added a lot more kale and tomatoes than the original, and I roasted the tomatoes with a little olive oil, salt and pepper to bring out their inherent sweetness.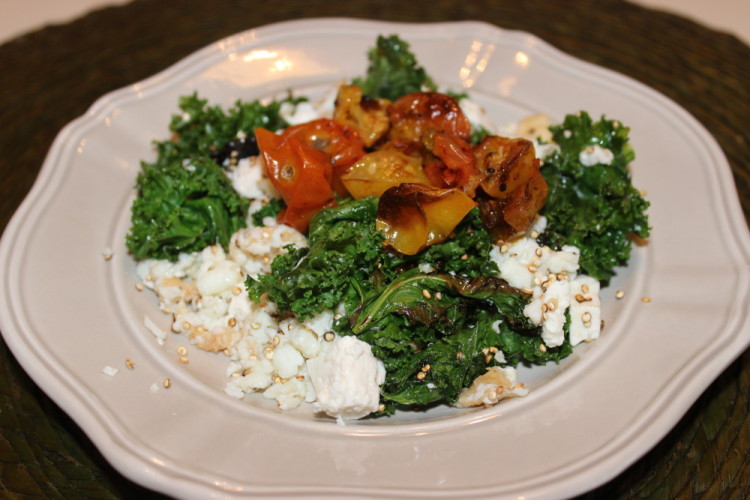 This would be a fantastic dish to serve for brunch. You could keep all of the ingredients separate and even add a few others to make an Egg White Scramble Bar, where guests can create their own scramble — or just prepare it as is and tell everyone they will totally thank you for serving them the most delicious scramble they'll ever have. Kale and Toasted Quinoa Egg White Scramble will not disappoint!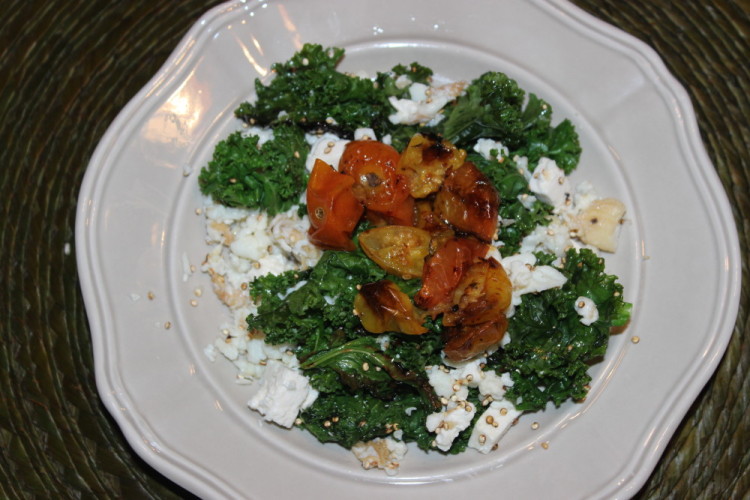 Don't forget to enter our #Brunchweek giveaway! We are giving away some awesome prizes from our sponsors. Click here to enter!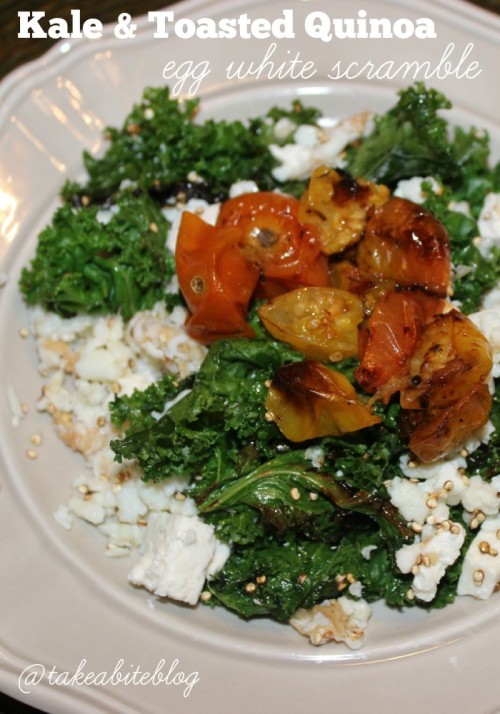 Kale and Toasted Quinoa Egg White Scramble
Author:
Tired of the same old scrambled eggs? Try something a little out of the box, like a Kale and Toasted Quinoa Egg White Scramble.
Ingredients
10 cherry tomatoes, halved
1 1/2 tbsp olive oil, divided 3 ways
salt and pepper
3 large stalks of kale, ribs removed
2 tbsp uncooked quinoa, toasted
4 egg whites
1 tsp milk of choice (I used cashew milk)
salt and pepper
1 oz. crumbled feta chees
Instructions
Preheat the oven to 400 degrees.
Place halved cherry tomatoes in a small bowl.
Drizzle with 1/2 tbsp olive oil and season with salt and pepper. Toss to coat.
Arrange the tomatoes on a baking sheet lived with parchment paper or a silicone baking mat.
Bake for 20 minutes.
While the tomatoes are cooking, add 1/2 tbsp olive oil to a medium saucepan and add kale leaves.
Cook on medium for about 6-8 minutes or until the leaves start to wilt and become a little crispy. They may appear almost burnt, but this is the texture you want to achieve.
Remove the cooked kale leaves from the pan and set aside.
Add uncooked quinoa to the pan (do not add any additional oil) and reduce to low heat. Cook, covered, for about 2-3 minutes or until you start to hear a popping noise.
It will both sound and smell like you're making popcorn. Keep a close watch to make sure the quinoa doesn't burn.
Remove toasted quinoa and set aside.
Add egg whites, milk, salt and pepper to a small bowl and whisk until combined.
Heat remaining 1/2 tbsp oil in the pan on medium heat.
Add egg white mixture and reduce to low heat. Let the eggs begin to cook and then stir until fluffy and just about cooked through.
Remove from heat and allow to finish cooking.
Add crumbled feta cheese and toasted quinoa to the pan and mix into the egg whites. Season as needed.
Top with cooked kale and roasted tomatoes.
Serve right away.
Notes
Inspired by the Kale Scramble at Oxford Exchange in Tampa, FL
Come see what today's #BrunchWeek Bloggers have made!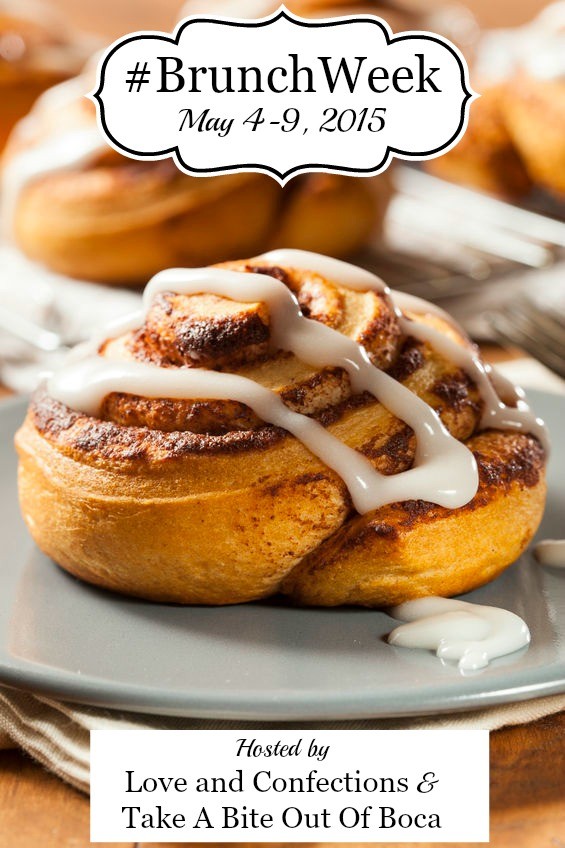 BrunchWeek Beverages:
Grape Mojito from The Spiffy Cookie.
BrunchWeek Egg Dishes:
Caramelized Onion, Kale, Bacon and Cheddar Strata from Love and Confections.
Kale and Toasted Quinoa Egg White Scramble from Take A Bite Out Of Boca.
Breakfast Enchiladas from Cooking in Stilettos
Croque Madame Breakfast Casserole from Bread Booze Bacon.
Rainbow Chard and Cheddar Cheese Frittata from My Catholic Kitchen.
BrunchWeek Breads, Grains and Pastries:
Perfect French Toast from Quarter Life (Crisis) Cuisine.
Oat Breakfast Cookies from Pink Cake Plate.
Cinnamon Oatmeal Pancakes with Spiced Pear Syrup from The Redhead Baker.
Cinnamon Crumb Coffee Cake Muffins from Making Miracles.
Classic Buttermilk Pancakes from That Skinny Chick Can Bake.
Bacci Bread and Pear Pudding from A Day in the Life on the Farm.
Pear Coffee Cake and Fruit & Cheese Salad from Sew You Think You Can Cook.
BrunchWeek Main Dishes:
Waldorf Quinoa Chicken Salad from Cupcake & Kale Chips.
BrunchWeek Fruits, Vegetables and Sides:
Chilled Strawberry Soup from The Suburban Soapbox
BrunchWeek Desserts:
Orange Blossom Olive Oil Cake with Mango Citrus Glaze from Taste Cook Sip.
Walnut Meringue Banana Mess from Jane's Adventures in Dinner.
Disclosure: Thank you to #BrunchWeek Sponsors: Bob's Red Mill, Cabot Creamery Cooperative, California Walnuts, Dixie Crystals, Grimmway Farms/Cal-Organic/True Juice, KitchenAid, Le Creuset, Nielsen-Massey Vanillas, Pacari Chocolate, Stonyfield Organic, Vidalia Onions, and Woot Froot for providing the prizes free of charge. These companies also provided the bloggers with samples and product to use for #BrunchWeek. All opinions are my own.