Never miss a bite! Sign up here to receive new recipes and reviews straight to your inbox.
There is nothing worse that running around all day only to come home, starving, and find that you have nothing prepared for dinner. This usually results in you opening the refrigerator door and just standing there, hoping something will magically jump out from behind the milk and eggs and yell, "Hey you! Make me!"
That never happens.
And now you have absolutely no desire to cook.
Enter: Quick and Easy No-Cook Recipes! Have you ever checked out the #YahooDIY website? There are so many ideas for recipes, especially around the holidays. We all know this is probably the busiest time of year and we could use all the help we can get in the kitchen. #YahooDIY has 5 no-cook recipes that you absolutely, positively neeeeeeed to have in your life. Like no-cook tomato sauce. You know you have so many boxes of pasta in your pantry and it's one of the easiest dinners to ever put together, if only you had some sauce… And now you don't have to run out to the store to get some! Plus, those store-bought jars have way too many ingredients anyway. This one has five. Count them — 1, 2, 3, 4, 5. That's all.
#YahooDIY also shows you how to save your herbs for a rainy day, make lots of yummy rice krispies snacks and make your own fruit leather.
But right now, let's talk about no-cook meals. Because they are easy, and we like easy this time of year. Actually, I like easy any time of year.
If you have a food processor (big shout out to Bub for a great Chanukah present!) then you can make my all time favorite no-fuss, no-cook, most simple dinner ever — dip. Grab a can of chickpeas, cannelloni beans, black beans, edamame, whatever you have and throw them in the food processor with a little extra virgin olive oil, salt and pepper and any extra mix-ins you'd like. Break out the veggies, tortilla chips, crackers, pretzels, or warm up some pita or baguette in the oven and you have the perfect little appetizer platter that took you no more than 5 minutes to whip up. This Creamy White Beach Dip from one of my favorite blogger's cookbooks took no time at all to get together. Just some white beans, roasted garlic, evoo, salt and pepper and voila — dinner!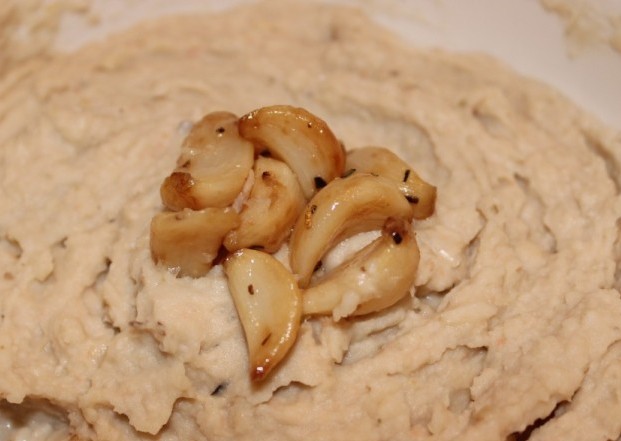 And salads — can it get any easier? The options are endless when it comes to salads. You could clean out your entire fridge into a salad and it would probably be one of the tastiest concoctions you've ever created. The most stuff in a salad, the better. One-note Caesar salads are such a bore — I want a big bowl bursting with color with flavors from every which way and all kinds of texture zig zagging through out.
Another easy job for your food processor — pesto! You may have to go to the grocery store for this one, but that still doesn't take away from how quick and easy it is! There are four things crucial to any pesto — herbs, nuts, cheese, and extra virgin olive oil. You want to use the good stuff too — no short cuts!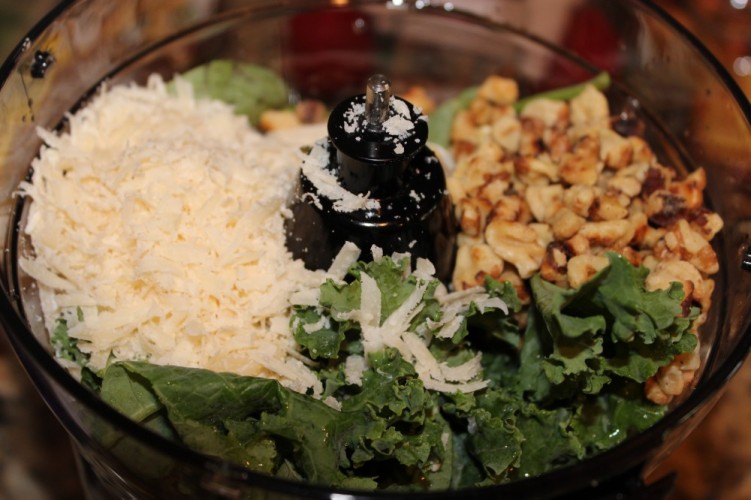 My usual is basil, toasted pine nuts, and parmesan; but sometimes I'll venture outward and do something crazy. Like this kale-basil and walnut combination. It's a little darker than my usual basil-only recipe, and has a bit more depth in flavor. Just look how vibrant it is!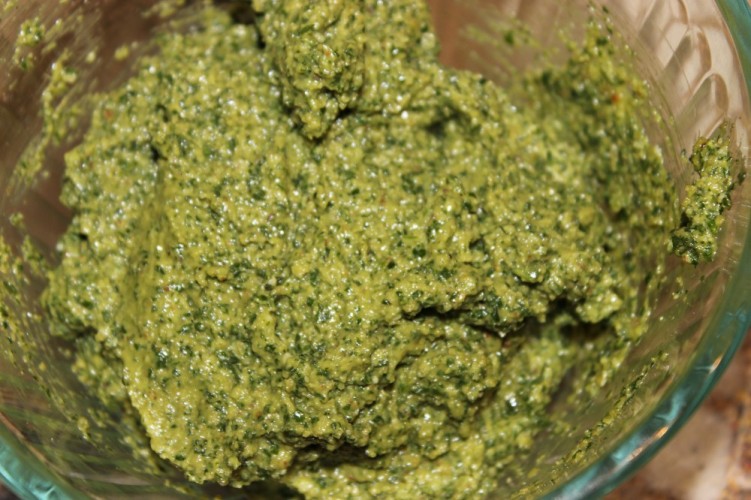 So now you have some variety for all that pasta you've got… #YahooDIY tomato sauce or my super yummy pesto…which would you choose?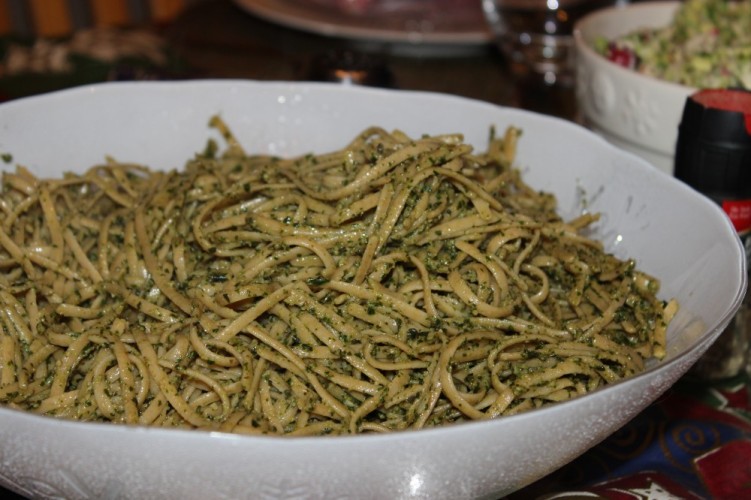 Silly question. Why choose? Make one tonight and the other tomorrow! Let #YahooDIY inspire you to make all kinds of quick and easy dishes this holiday season. You deserve the break — and some good food! 🙂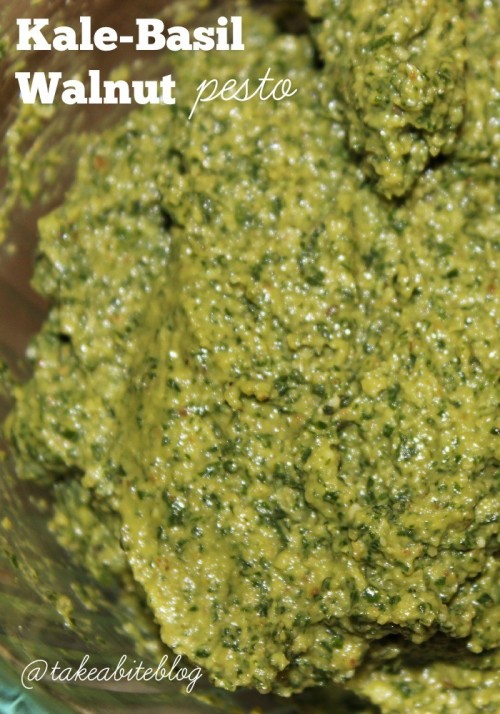 Quick and Easy No-Cook Meals #YahooDIY
Author:
Ingredients
1/2 cup chopped walnuts, toasted
1 cup curly leaf kale
1 cup fresh basil
3-4 garlic cloves
1 cup grated parmesan cheese
1/2 cup extra-virgin olive oil, plus more if needed
salt and pepper
Instructions
Add the first five ingredients to a large food processor and pulse until a puree starts to form.
Slowly drizzle in the olive oil while the food processor is on and continuing until it reaches your desired consistency.
Add salt and pepper and pulse again, add more if needed.
Disclaimer: Thank you Yahoo! for sponsoring this post. While this was a sponsored opportunity from Yahoo!, all content and opinions expressed here are my own.