Never miss a bite! Sign up here to receive new recipes and reviews straight to your inbox.
Disclosure: I was invited to dine as a guest of Kapow! Noodle Bar. No monetary compensation has been received for this post. As always, all opinions are 100% my own. 
Sub-Culture Restaurant Group's Asian fusion concept, Kapow! Noodle Bar, is consistently offering unique, creative menu options to its guests. Its location in Boca Raton has been a Mizner Park staple and go-to happy hour spot for years, and the newly opened West Palm Beach spot has proven to be just as popular.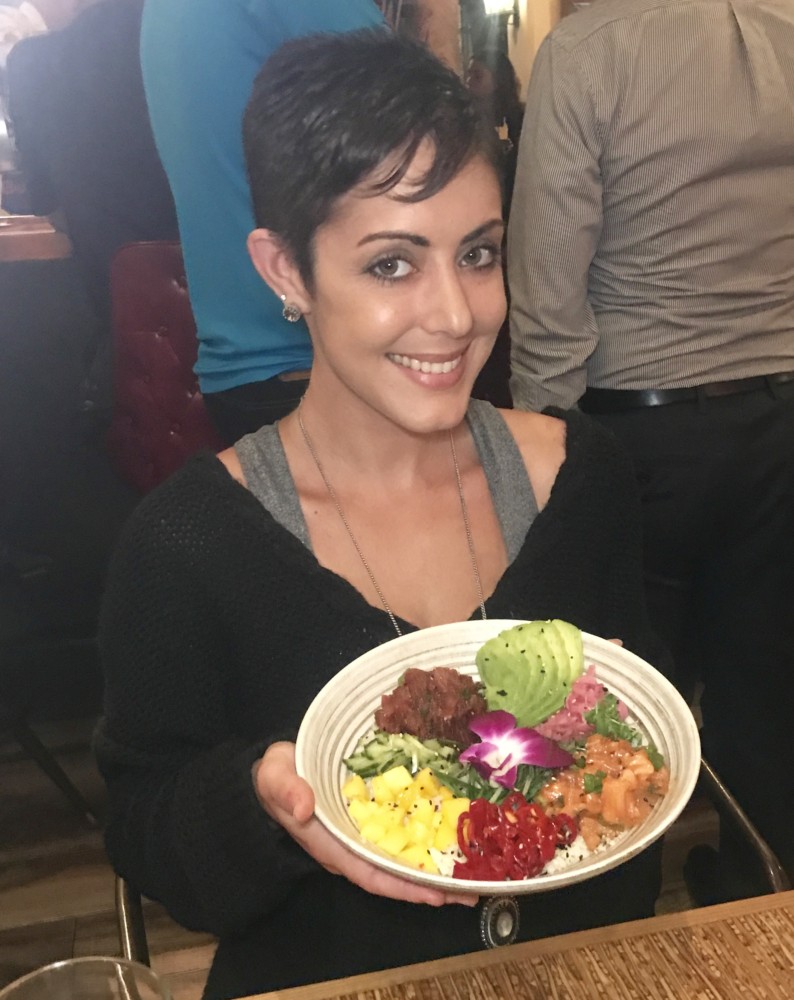 I've been going to Kapow in Mizner Park since it opened not long after I moved here in 2011 and have probably eaten more servings of their edamame than any other restaurant in all of South Florida. (Side note: if you haven't had it, you're seriously missing out.) I've happy hour-ed, I've brunched, celebrated St. Patrick's Day, attended the grand opening of Kapow West Palm Beach, and then some. To say I'm a fan is putting it mildly, so when I got the invite to come on over for dinner, I wasted no time.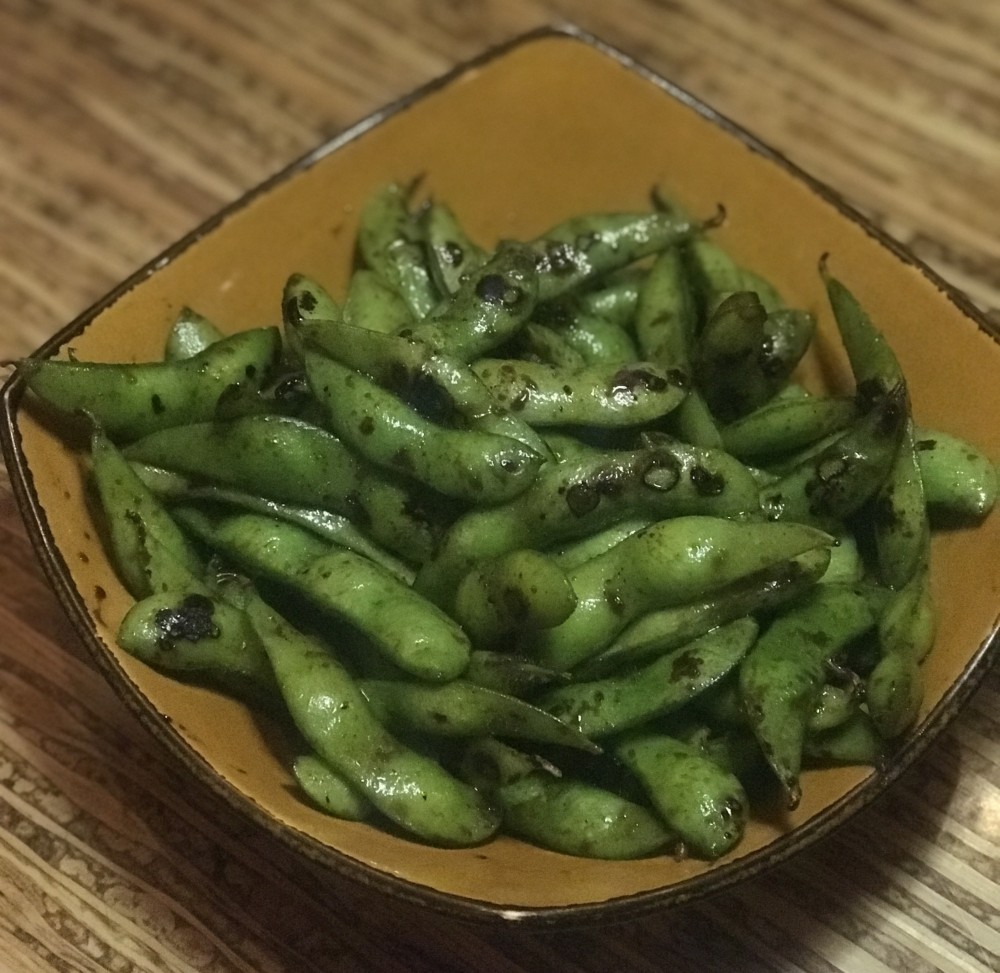 There have been a lot of changes since those first visits years ago, e.g., the Brussels sprouts and cauliflower dish I used to literally inhale all by myself every single time I went is no longer on the menu. But they do have a General Tso's cauliflower appetizer that's probably just as good, if not better. Most likely better, because not only has the menu changed through the years, but so have the chefs. Currently, Kapow is led by Corporate Executive Chef Tim Nickey and Chef Eric Sheremeta, who work together to put out some seriously amazing food at both locations. While there are some items exclusive to the West Palm Beach menu, you're pretty much guaranteed a delicious meal no matter which spot you decide on.
I happened to go in during the month of March, which to my slight dismay, isn't reserved solely for celebrating my birthday — it's also National Noodle Month. Good thing I like noodles, otherwise I wouldn't be ok with sharing my birthday month. Kapow chose to celebrate this momentous foodie-approved holiday with none other than 31 days of noodle specials. Genius, right? Each day of the month, a different noodle dish is featured including things like shrimp pad Thai, lobster ramen, truffled duck udon soup and so on. Chefs Tim and Eric drew their inspiration for the menu from Japan, Thailand, China and Vietnam, so you can bet there is a ton of variety. Jill and I visited on Thai shrimp pad se ew night. This stir-fried noodle dish is made with wide rice noodles and a soy sauce-based sauce. Although the kitchen wasn't able to alter this particular sauce to make it gluten-free for me, they were more than accommodating for the rest of our meal — and even went totally off-menu to create something super Shaina-friendly and truly Instagram-worthy.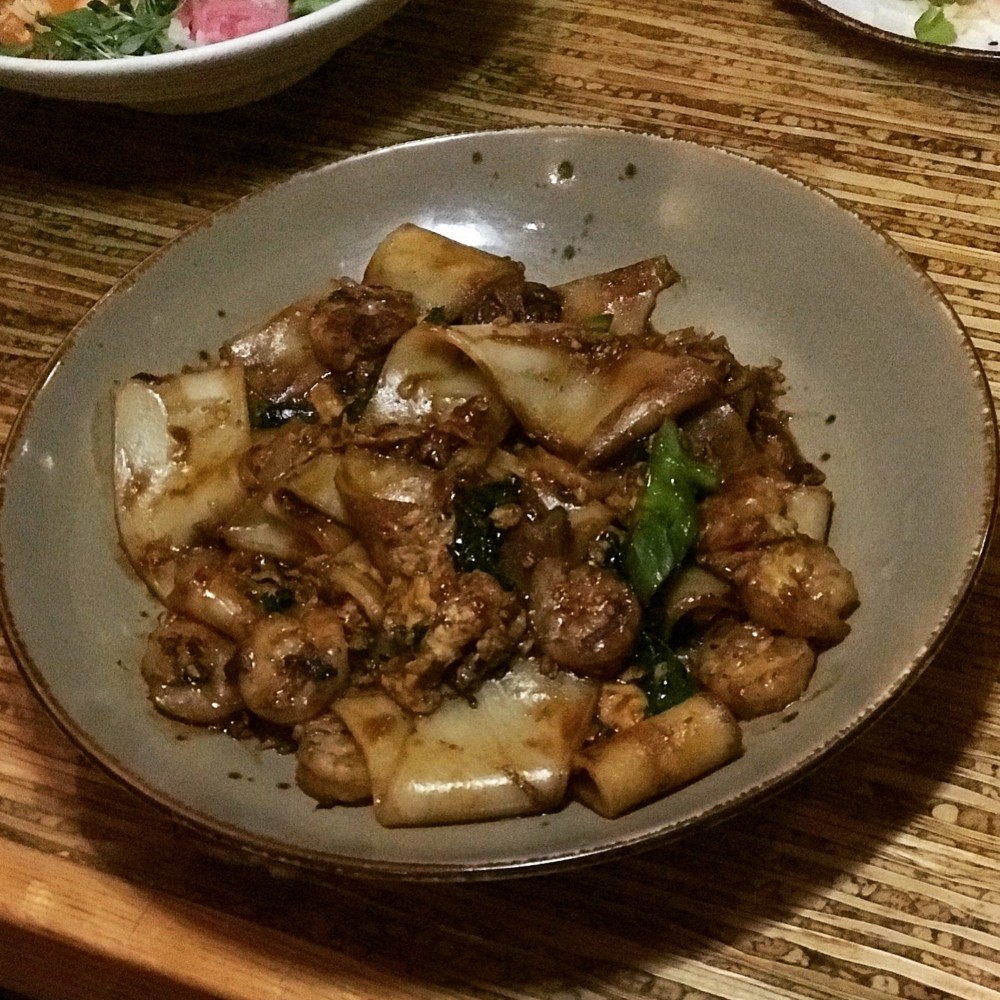 Chef Eric prepared me one of the most stunning dishes I have ever laid eyes on. No exaggeration here. The colors were bright, and vibrant and practically jumped out of the bowl. The fish was fresh and flavorful, and the minimalistic approach to sauce or seasoning was a brave, yet successful, choice. The bottom layer is not sushi rice — nope, it's cauliflower rice. On top is sushi-grade salmon and Ahi tuna with just the right amount of gluten-free soy sauce, pickled red onions and peppers, diced mango, cucumber and avocado, topped with sesame seeds. Not only was it presented absolutely beautifully, but it was just as delicious. The ingredients spoke for themselves, but also blended so well together. I told Chef Eric this needs to be on the menu. People would order it JUST to take a picture — and then they'd keep ordering it after tasting it.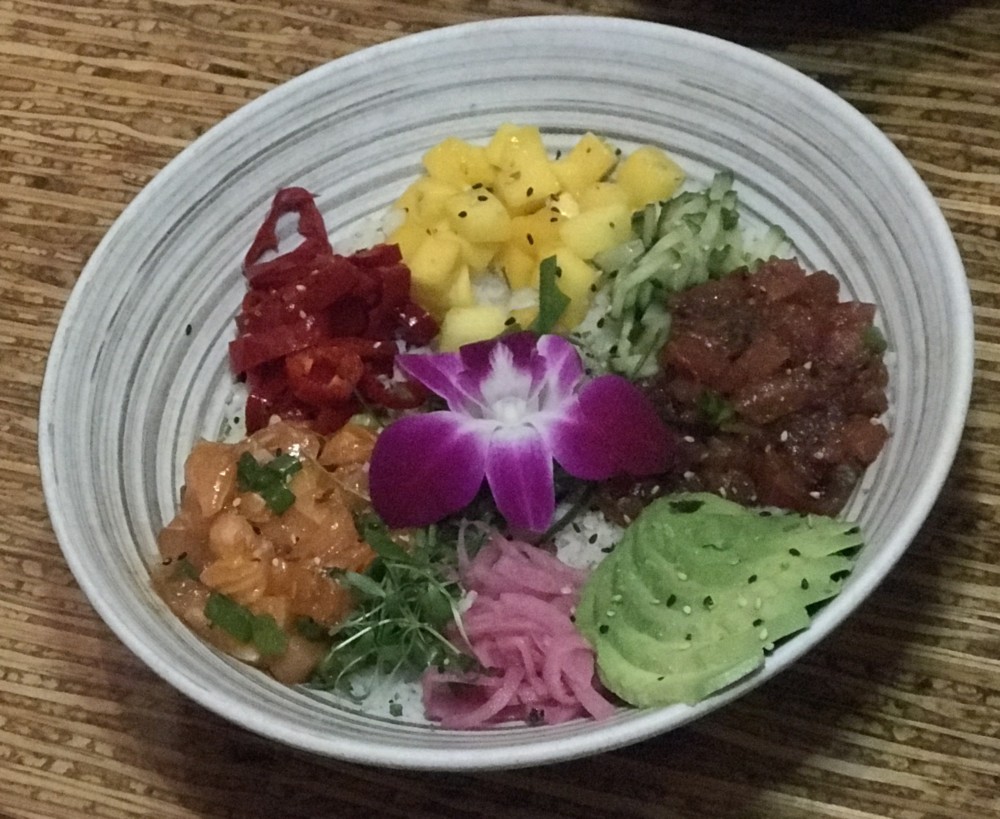 As I mentioned earlier, no trip to Kapow is complete without an order of edamame. Seasoned with soy, garlic, ginger and togarashi (and YES, they can be made gluten-free), these babies are too good to pass up. It's a huge order so it's very easy to share. Although I'm sure I could eat the whole bowl by myself too…
The Dim Sum section of the menu is super popular, with a variety of dumplings, potstickers and bao buns. Kapow even dedicates a whole day to this type of appetizer. On Tuesdays starting at 2pm, guests can enjoy $2 crispy mushroom and short rib buns, $3 ahi tuna and skirt steak tacos, as well as $1 Tyku Sake sidecars, $3 Sapporo drafts and $5 punch bowls. There's also a DJ in-house from 8pm to close. Jill tried the crispy mushroom bao bun with tempura enoki mushrooms, truffle, kewpie (a Japanese dressing), pickled cucumber and shiso leaf. While I couldn't taste it, the aroma of truffle totally smacked me in the face as soon as the plate hit the table. The smell alone hinted at how good it must have tasted — and Jill's affirmation confirmed it.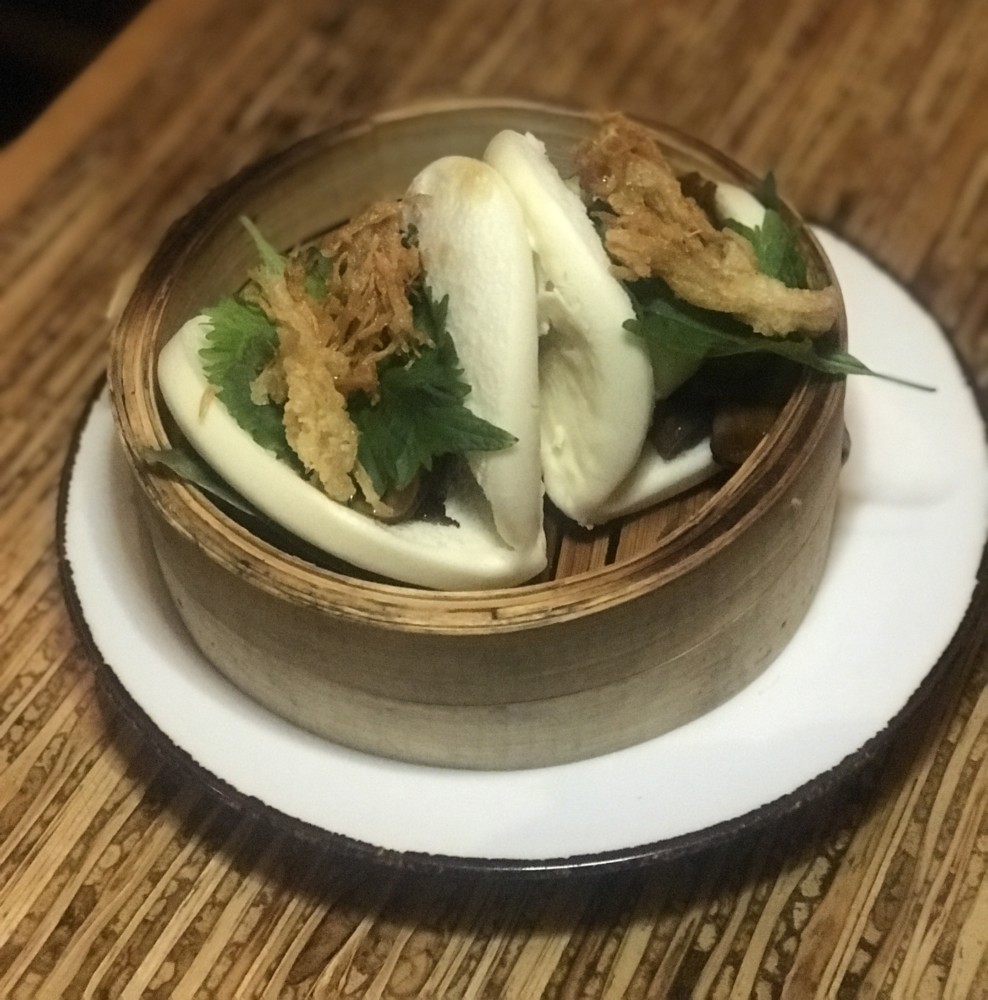 Kapow's menu is full of interesting takes on traditional Asian cuisine, and their desserts are a sheer testament to that. Guests go crazy over the Thai donuts with leche condensada and raspberry-lychee Sauce, and the pineapple brûlée with toasted coconut, fleur de sel and lime. There's also a flourless chocolate cake with ginger-passion fruit puree, and exclusive to the West Palm Beach location, a key lime yuzu pie with coconut whipped cream. 
Kapow! Noodle Bar Boca Raton is located in Mizner Park at 431 Plaza Real. The restaurant is open Monday through Thursday from 11:30am-12am, Friday and Saturday from 11:30am-2am, and Sunday from 11am-12am. West Palm Beach is open Monday through Wednesday from 4pm-12am, Thursday through Saturday 4pm-2am, and Sunday from 11am-12am. Brunch is served on Sundays from 11am-3pm, and Happy Hour is Monday through Friday from 4-7pm. Mondays is In The Biz, where service and hospitality industry professionals get 50% off their entire checks all day, and on Wednesdays, enjoy half-price bottles on wine and cold sake.