Never miss a bite! Sign up here to receive new recipes and reviews straight to your inbox.
Disclosure: I received complementary product in exchange for this post. No monetary compensation has been received. As always, all opinions are 100% my own.
Experience the JOY of JOYA Sangria, available in red or white, as a 750-ML bottle and a 3 liter box. Keep its boxed version fresh for up to six weeks when you use Boxxle, a multi-patented dispenser for 3 liter premium wine casks.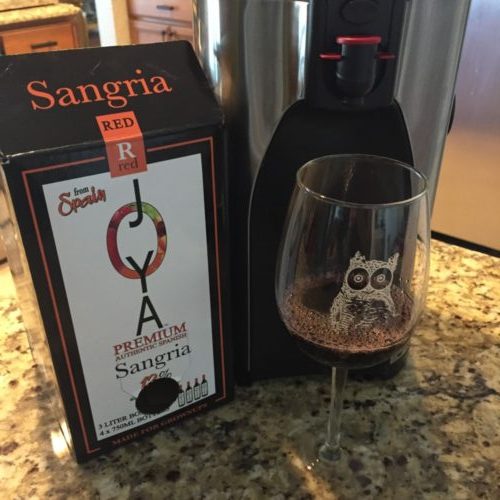 We all know how much I love a good glass of wine, but hand me a glass of well-made sangria, and I'm almost just as happy. I believe that making sangria is a true art form. You need to know just the right ratio of wine to liquor to fresh fruit to whatever else you're using. I personally don't like them too sweet, so the less sugar the better. This is one of the main reasons why I fell in love with JOYA Sangria after being introduced to it in 2016. Both the red and white varieties are delicious without being too sweet. It only has 8 grams of sugar per five ounce glass and 45 grams per 750 ML bottle, as compared to other varieties such as Real which has 33 grams per five ounce glass and 165 grams per 750 ML bottle and Opici which has 16 grams per five ounce glass and 86 grams per 750 ML bottle.
JOYA is Spanish for jewel — and that's exactly what this sangria is. This award-winning sangria has won Highest Honors of Silver in sangria categories at the Los Angeles International Wine Competition, San Francisco International Wine Competition, San Diego Critics Challenge International Wine Competition and the International WOMAN'S Wine Competition. It also completely sold out at the Boca Food and Wine Festival this past year and had the most wine sales of any other brand presenting that evening.
What makes JOYA Sangria different from other sangrias? Its fuller body at 12% ABV versus most competitors at 7-8.5% ABV. This means that JOYA Sangria maintains its taste and alcohol down to the very last drop, even after cooling it down with ice — which is one of the best ways to serve it, either over ice or chilled and garnished with fresh fruit. This is usually how you drink white wines, but not always the case with red. But with this red, you must drink the red over ice. It really does make all the difference. When warm, there's a little bit of a bite to it. But as soon as it cools down, it becomes a lighter, more refreshing drink, perfect for drinking on a warm summer day — or, when in South Florida, on a warm winter day. Which is exactly what I did.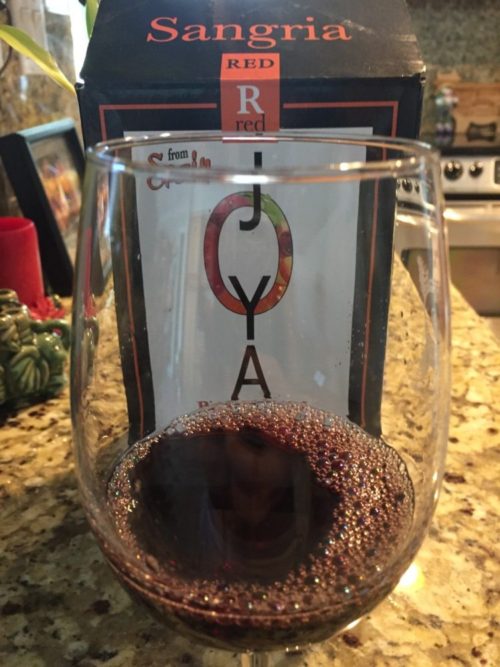 But instead of screwing the cap back on and storing the bottle in my fridge, I took a different route which saves me the trouble of having to stock up on more bottles of this delicious sangria, because with the boxed variety, I get four bottles in one! This is perfect when you're hosting a backyard BBQ or picnic, tailgate party or any kind of food-and-wine-focused gathering. Plus, if you get yourself a Boxxle, it'll stay fresh for six weeks. Not to mention, it's a bit sleeker and more attractive than a cardboard box.
Here's how it works: purchase your favorite 3 liter boxed wine and open it up. Take out the interior bag and insert it into the Boxxle. It's tricky as first, but you will essentially be placing the bag in Boxxle with the spigot at the top and will have to twist it upside down. This YouTube video was super helpful as I was figuring it all out. Boxxle raises the wine up, allowing the spigot to be above your glass rather than below as it would be if it were still in its original box. Boxxle also automatically compresses the bag, so you can get the most out of your wine.
According to its website, Boxxle was created to combat some of the problems found with boxed wine: We did not like the fact that you had to bring your box to the edge of a countertop or table to fill your glass. We did not like that you still needed to open the box to squeeze out the last couple of glasses, and we did not like the fact that we had a cardboard box sitting in the kitchen or on our dining room table.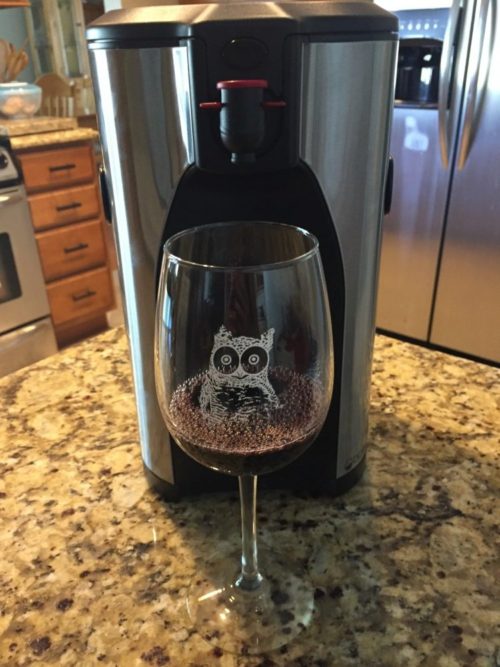 After using it, it definitely does solve these problems and would be a good investment if you are someone who entertains frequently or just likes to have fresh wine sitting around for those times when you just want a small glass of wine, but don't feel like opening an entire bottle. Want to purchase your own Boxxle? Click here!
So, when you stock up on bottles of JOYA Sangria, be sure to ask about their boxed varieties too. While it may not always be in stock, liquor stores should have no problem getting one for you. JOYA Sangria is currently available at the following liquor stores in South Florida:
4S Liquors
1501 NW 2nd Avenue


Boca Raton, FL 33432

Hamptons Palm Beach
257-A Royal Poinciana Way


Palm Beach, FL 3480

67 Wine & Spirits
5479 N. Federal Highway


Fort Lauderdale, FL 33308

Smitty's Old Fashioned Butcher & Fine Wines
1980 NE 45th Street


Oakland Park, FL 33308
You can also find JOYA Sangria at the following restaurants:
Boca Grove Country Club
21315 WhitakerDrive


Boca Raton, FL 33433

Augy's Restaurant
1501 NW 2nd Ave.


Boca Raton, FL 33432

Benny's On The Beach
10 S. Ocean Blvd.


Lake Worth, FL 

Buddha Sky Bar
2117 E. Atlantic Avenue


Delray Beach, FL 33444

Medieval Times
4510 West Vine Street


Kissimmee, FL 34746
Follow these brands on social media!
JOYA Sangria: Facebook, Twitter, Instagram, Pinterest
Boxxle: Facebook, Twitter, YouTube