What do you think of when I say Peruvian Food? Drawing a blank? I was. But after dining at Victoria's Peruvian Cuisine in Lantana, I will never ever draw a blank again. Fresh ingredients, robust flavors, a made-to-order menu, and an extremely knowledgeable and friendly staff. This is a restaurant definitely worth checking out. It's located in a small plaza off of Lantana Road. You probably wouldn't even notice it if you didn't already know it was there.

I went there for dinner with my mom's best friend since she was 3 years old. She moved down to Florida a while back and loves it. She is a massage therapist and gives a seriously good massage, hot stones and everything! I am a firm believer in treating yourself to a lavish professional massage every chance you get. I don't actually even consider it a treat. It's a necessity! There are a lot of benefits, mentally and physically. Now if only insurance would cover weekly massages; I'd be all over that.

Anyway, I went to see Jeanne for a massage and then we decided we'd go out to dinner afterward. It was a toss-up between Greek or Peruvian. Since I've never been to a Peruvian restaurant before, the choice was easy. We walked in and were immediately greeted and seated by our waiter, Kelly, who described in minute detail just about everything on the menu. You could really tell how much he cared about the food and the preparation of each dish. Everything is made-to-order, so if you want to make changes or substitutions it is totally okay. I like restaurants that are that accommodating to their patrons. Not to say that you should always switch things around, because obviously a dish is what it is for a reason, but if you need to make a minor change, you should be able to.

Jeanne ordered one of their soups. Now, their soups are not the standard starter dish that you'd get before your entree. This IS the entrée! It's definitely enough for two people to share. Jeanne got the Aquadito de Mariscos: a seafood soup with a cilantro base, rice, green peas, carrots and diced potato. If I were to order soup, I'd get the Parihuela: shrimp, crab, mussels, calamari, octopus and fish in a light tomato broth. It's kind of exactly what I got in soup-form. Pardon the ugly photo; green soup is really not that easy to photograph.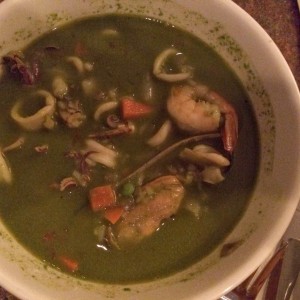 What I did end up ordering was the Arroz con Mariscos: mixed seafood and rice sautéed with yellow pepper olive oil, green peas, corn and roasted red pepper. There were huge scallops and shrimps, octopus and calamari, and mussels still in their shell. It was very much like paella, one of my favorite foods ever. The main difference is the use of saffron, which was not present in this dish. I all but licked my plate clean. Every last piece of seafood was gone, with traces of rice scattered on my plate when Kelly came to clear our table. I obviously didn't like it at all.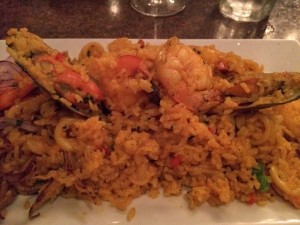 Everything about the experience was pleasant from the moment I stepped through the door. It felt authentic, with beautiful décor, relaxing music, and even Peruvian dancing showing on a TV in the dining area. I would 100% go back to Victoria's and highly recommend you do, too. Even better if you can get an amazing massage right before you go.

Posted with Blogsy