Never miss a bite! Sign up here to receive new recipes and reviews straight to your inbox.
Layer upon layer of your favorite Mexican dip components all in one delicious Layered Mexican Pie!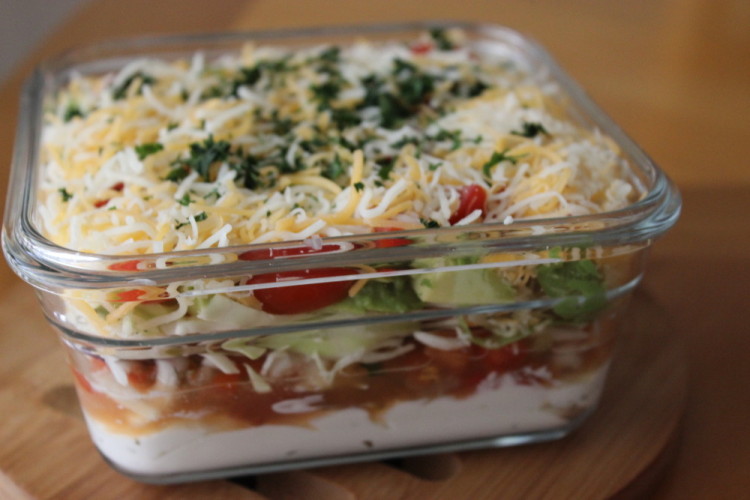 We're closing in on Labor Day Weekend and I'm sure you've been perusing Pinterest looking for the perfect party appetizers to make for your celebrations. Look no further — this Layered Mexican Pie is going to be your new best friend! It's super easy to make with ingredients you probably already have at home. Dips are always a popular dish to make for any holiday party, but you don't necessarily need tortilla chips to indulge in this Layered Mexican Pie. Just grab a fork and dig in!
This is a riff on my aunt's dish — a staple at just about every family BBQ. I changed a few things, but the basic idea is the same — a super addictive, delicious party dish that will have your guests huddled around the bowl, shoveling bite after bite in their pie-holes. Mexican Pie…Pie-holes…See what I did there? 😉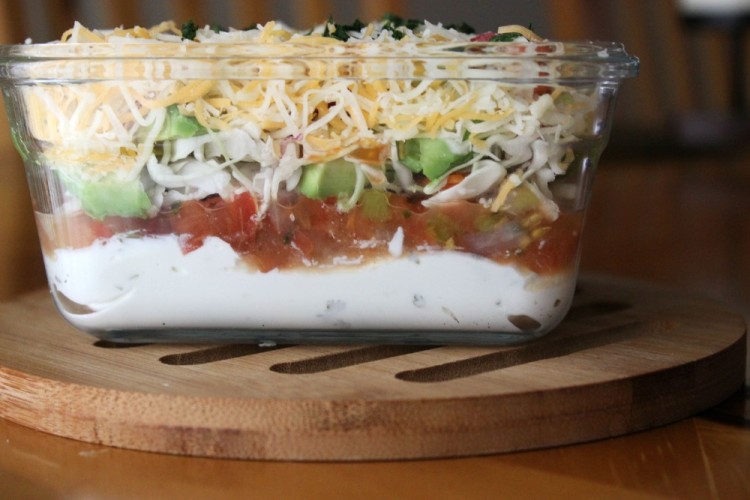 I realized you could go sans chips when Bub decided to spoon out a serving for herself and starting eating it as if it were a salad or side dish. We were all dipping away and she goes, I don't even need the chips for this! While I do love the salty crunch of a tortilla chip loaded with this Layered Mexican Pie, it's definitely an option to forgo the chips if you're looking for a little less of a caloric snack.
Everyone will love you for bringing this to your Labor Day parties next weekend. In fact, everyone will love you for bringing this to any and every party for the rest of your life. Just make it. Trust me.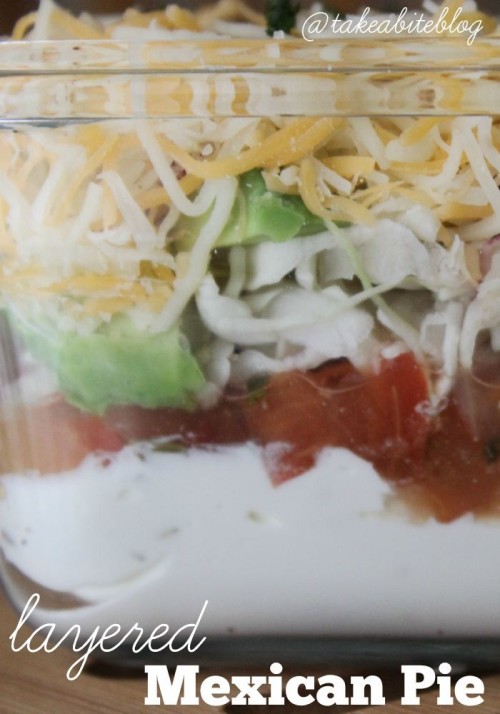 Layered Mexican Pie
Author:
Layer upon layer of your favorite Mexican dip components all in one delicious Layered Mexican Pie!
Ingredients
1 8 oz. block reduced fat cream cheese, softened
1 cup non fat plain Greek yogurt
1 8 oz. container of your favorite salsa, drained
1 8 oz. bag shredded lettuce
1 small avocado, diced
6-8 cherry tomatoes, quartered
2 cups Mexican blend shredded cheese
1 tbsp chopped cilantro
Instructions
Whip together the cream cheese and yogurt in a food processor until smooth and creamy.
Assemble as follows:
Cream cheese & yogurt mixture
Salsa
Shredded lettuce
Avocado
Cherry tomatoes
Cheese
Cilantro
*Adjust measurements according to how much you want to make.