Experience French-Vietnamese Fusion at Le Colonial in Delray Beach
In February 2023, one of the most highly anticipated restaurant openings took place inside a brand new building at the corner of Atlantic Avenue and NE 6th Avenue in Delray Beach. Delray couldn't wait for Le Colonial to open its doors. It arrived in style, with a cuisine not yet found in the community: French-Vietnamese.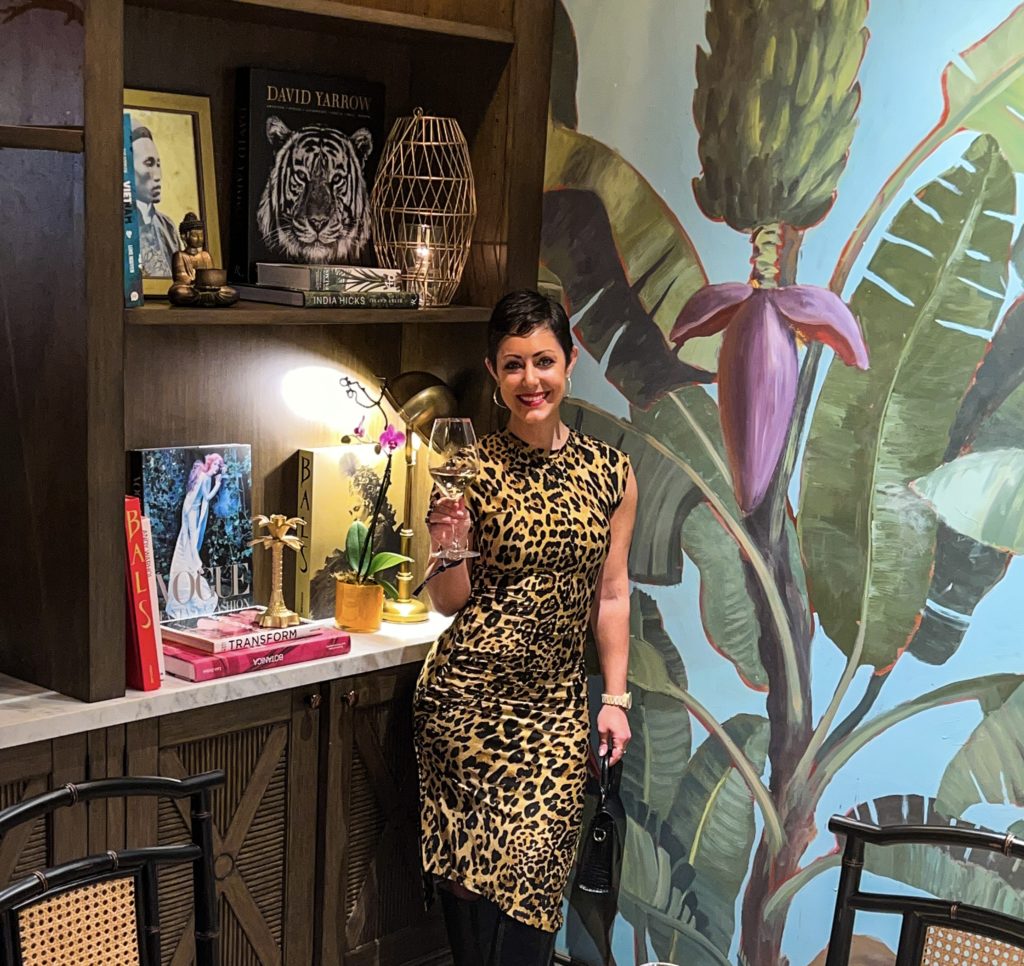 Le Colonial is a "celebration of seductive spirit and vivid flavors reminiscent of Saigon in the 1920s." As you enter, you really feel as though you have been transported back in time. Tables are immersed in a jungle of large palm fronds and Birds of Paradise. The vibe is laid-back but elevated, with coastal accents and earth tones, and a sense of intimacy in its layout. There is even a dress code to give the entire experience an essence of sophistication.
Downtown Delray Beach is Le Colonial's 5th U.S. location; the others being Chicago, Houston, Atlanta, and Lake Forest. Naples, Denver, and Scottsdale are on the horizon. The 7,000-square-foot restaurant has an indoor dining room and outdoor patio seating, plus a social lounge.
Relax in the Lounge During Saigon Social Happy Hour
The lounge atmosphere is a little more casual, with a beautiful bar and couches that line the walls of windows overlooking the Avenue. This is also where Le Colonial's version of happy hour takes place. Saigon Social is Monday-Friday from 3-5pm, featuring a limited menu of discounted bites and drinks.
There is a separate lounge menu, which is an abbreviated version of the dining room menu, focused on small, shareable plates.
One of my favorites is the Ca Song, spicy yellowfin tuna tartare. Layers of yellowfin tuna, hass avocado, sweet chili, cucumber, red shiso and a generous portion of soy caviar are topped with one large rice "chip". It has a kick, but it's not too spicy. (A note to my gluten free friends: this is not safe for Celiacs. There are very trace amounts of gluten in the caviar. It hasn't bothered me the times I've had it, thankfully. You know your body and its limitations; listen to it.)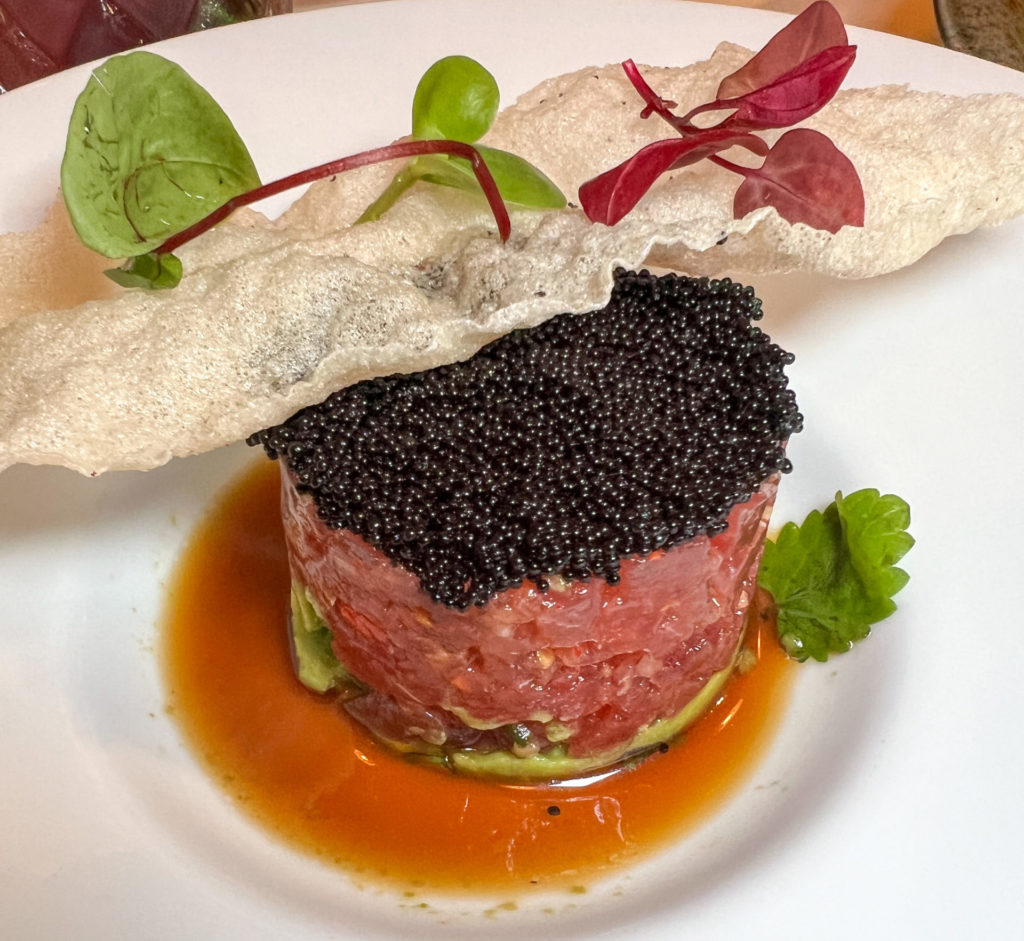 Everyone raves about the Banh Uot, sesame beef ravioli. It uses rice noodles, which makes it gluten free — and totally Shaina friendly. These flat rice noodles are stuffed with tender grilled sesame beef and served alongside cucumber, lettuce, basil and a lime-garlic sauce. The sauce is thin, more dressing-like. I recommend tilting the plate and spooning more of the sauce directly over the ravioli before going in.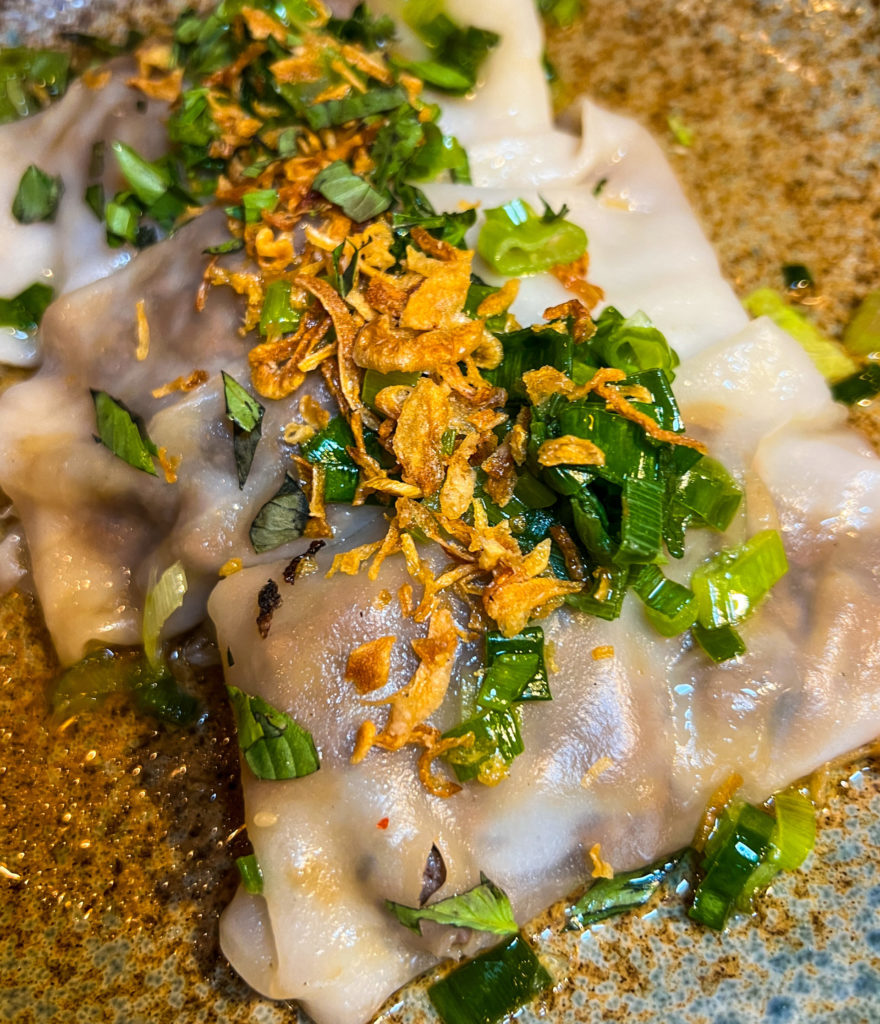 The crunch from the lettuce and cucumber adds the perfect amount of texture to the soft noodle. My only complaint about this dish is that when you cut open the ravioli, the beef falls out too easily. But that's super minor. This is an absolute must when dining at Le Colonial, regardless of whether you're in the lounge or the dining room.
Le Colonial Craft Cocktails
Le Colonial has a nice wine menu and even a few non-alcoholic beverage choices like the Mango Pineapple Spritz and Iced Vietnamese Coffee made with Café du Monde chickory coffee and sweetened condensed milk. If you're into craft cocktails, though, the drink list is sure to spark joy into your tastebuds.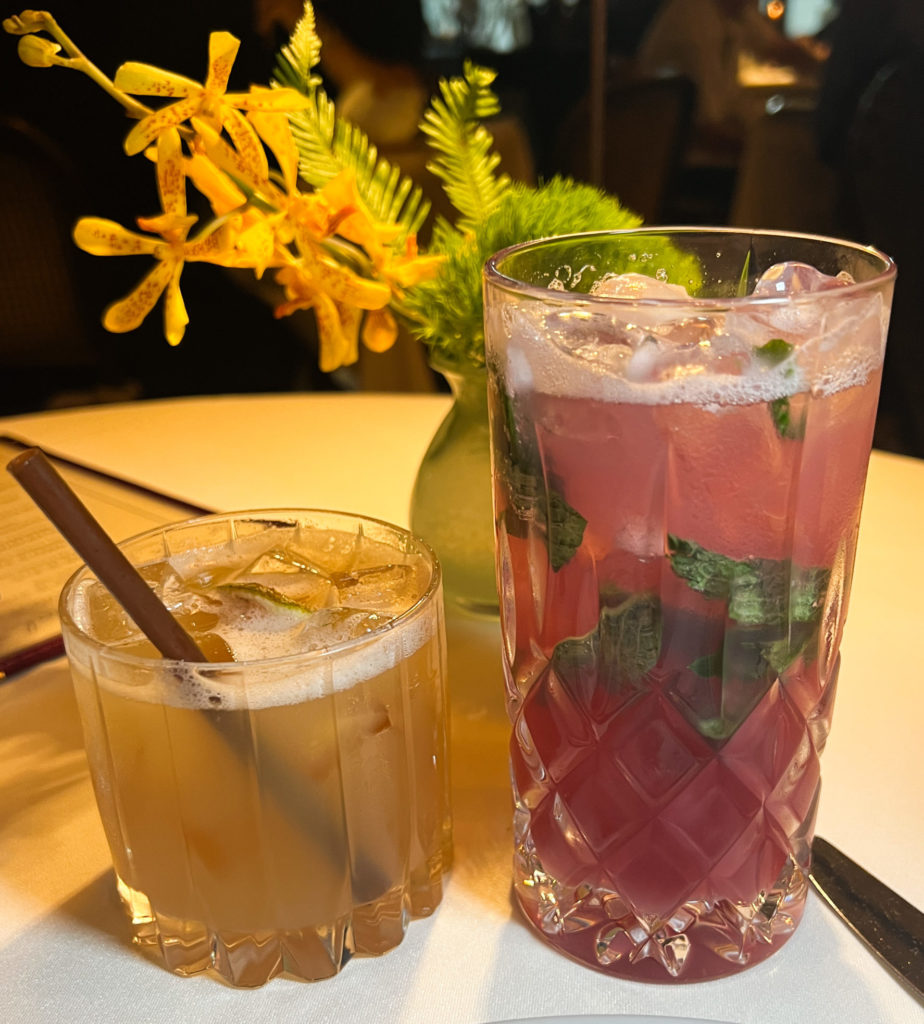 If you're looking for something tasty but not too boozy, the Vietnamese Mojito is a good choice. It pays homage to traditional mojitos using fresh lime and mint, but that's where the similarities end. There is no rum, but it still does give off a tropical feel. The main spirit is a lychee liqueur, and it also has pomegranate and orgeat, which is a cocktail syrup made from almonds, sugar and either rose or orange flower water. If you've ever had a Mai Tai (also on the cocktail list), you've tasted orgeat. It's a popular ingredient for most tiki drinks.
Le Colonial's signature cocktail is the Smoked Old Fashioned. It's a bit pricey, but it is made with an exclusive Le Colonial Maker's Mark barrel selection. For a more budget friendly Old Fashioned, the 'On the Ave' is just as tasty, so I'm told by my bourbon-and-whiskey-loving boyfriend.
The Main Event: Must-Have Dishes
I've tried quite a few of the entrées at Le Colonial, and it's honestly hard to pick a favorite. Each dish has such distinct flavors and aromas, fresh (and lots of local) ingredients, and beautiful presentation. My best advice for a night out at Le Colonial is to go with a group of friends or a double date and order a variety of items to share. Believe me, there's no way you're going to be able to choose one dish for yourself. You're going to want a taste of everything!
One of the most iconic things on the menu has to be the Ca Chien Saigon, crispy South Florida red snapper. It's a whole fish, filleted and served tableside, and meant to be shared by two — but since you're most likely ordering more food, this can easily be split between four people. It's served on a bed of peppers, scallions, crispy garlic, dill and butter lettuce, with chili-garlic fish sauce. Oh, and the best part? Le Colonial uses rice flour to fry the snapper, so it's gluten free! Check out this video on my Instagram, and prepare to drool.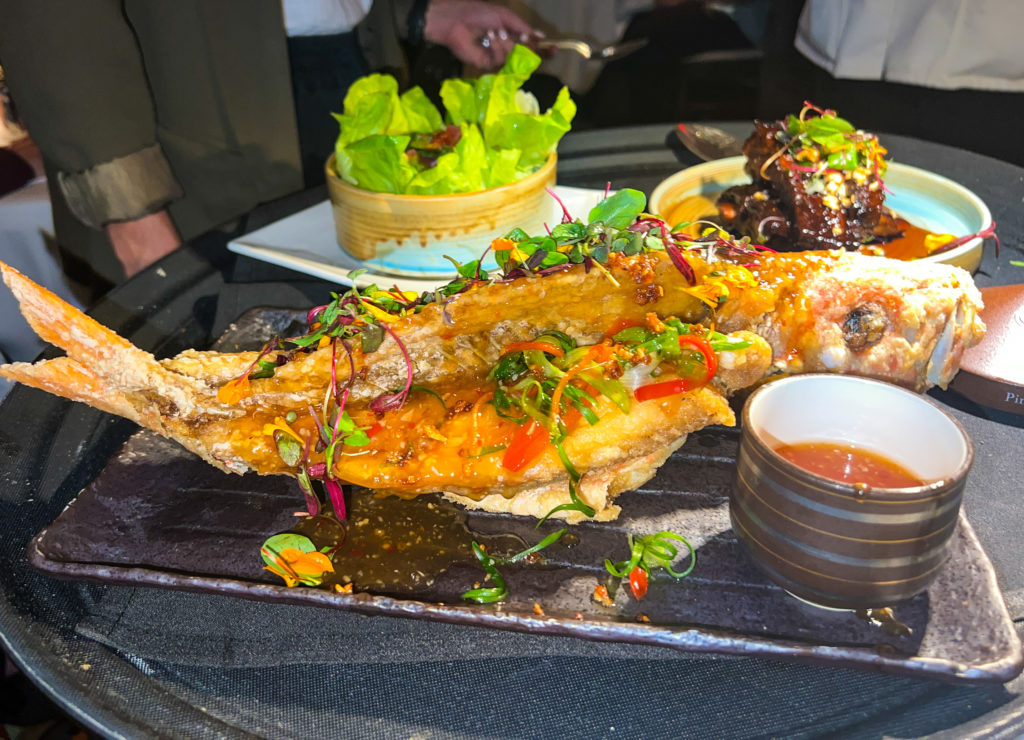 I have to show some love for the Suon Nuong, baby back ribs. I've never had ribs like these before and they are probably the best I've ever tasted. The dish consists of chargrilled Beeler's Heritage pork ribs with a Vietnamese dry rub, lemongrass, cabbage slaw, scallion oil and toasted peanuts — and you guessed it, gluten free! Are you sensing a pattern here? Le Colonial has a ton of gluten-free options.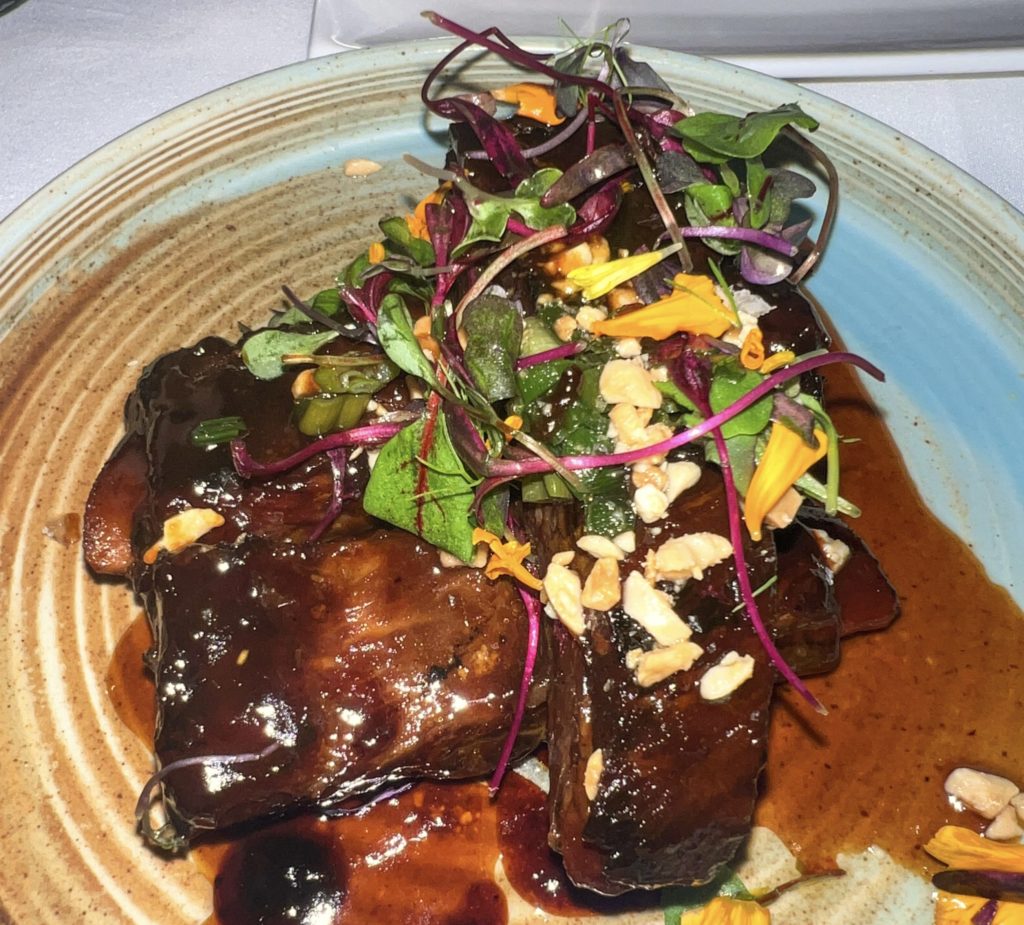 The Ca Hoi Nuong, roasted salmon, is another favorite of mine. It's a beautiful combination of miso-glazed Faroe Island salmon swimming in a coconut lobster broth with baby bok choy, organic Mother Fungi shiitake mushrooms and annato oil. One bite and you'll be blown away by how each component just fits together so perfectly.
The last dish I'll touch on is the one I've had most recently, which is available on the special menus for both Downtown Delray Beach Restaurant Month and Flavor Palm Beach: the Ga Xao Xa Ot, spicy chicken stir-fry with Cage Free Cook's Venture chicken, turmeric, lemongrass, jalapeño, J&C Tropical Farms Vidalia onion, Mother Fungi mushrooms and Thai basil.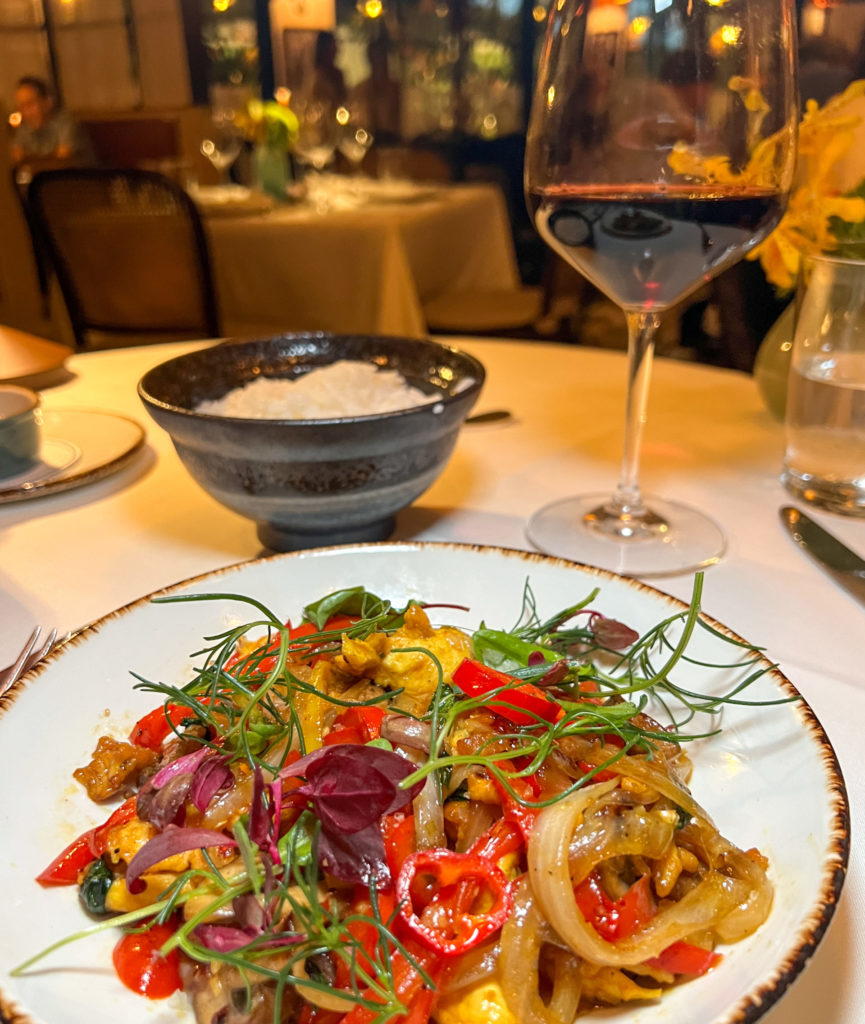 If heat scares you, don't fret; the spice level can be adjusted, so just let your server know. I asked for mild for mine — it still did pack some heat, but nothing too crazy.
Whatever you order, expect to find yourself immersed in vibrant flavors, intense aromas, and an overall excellent experience — service included.
Make Your Reservations at Le Colonial Delray Beach
Le Colonial is located at 601 East Atlantic Avenue in Delray Beach. The restaurant is open for dinner Sunday-Tuesday from 5-9pm, Wednesday and Thursday from 5-10pm, and Friday and Saturday from 5-11pm. Lunch is served on Saturday and Sunday from 11am-4pm. The lounge is open Sunday-Tuesday from 3-10pm, Wednesday and Thursday from 3-11pm and Friday and Saturday from 3pm-midnight.
Disclosure: I was provided with a complimentary dining experience at Le Colonial. As always, my opinions are 100% my own.