Never miss a bite! Sign up here to receive new recipes and reviews straight to your inbox.
Spring is here! No more hot soups and heavy casseroles — we're all craving light, bright and refreshing food, and this Lemon Ricotta Spring Pasta Salad is just that!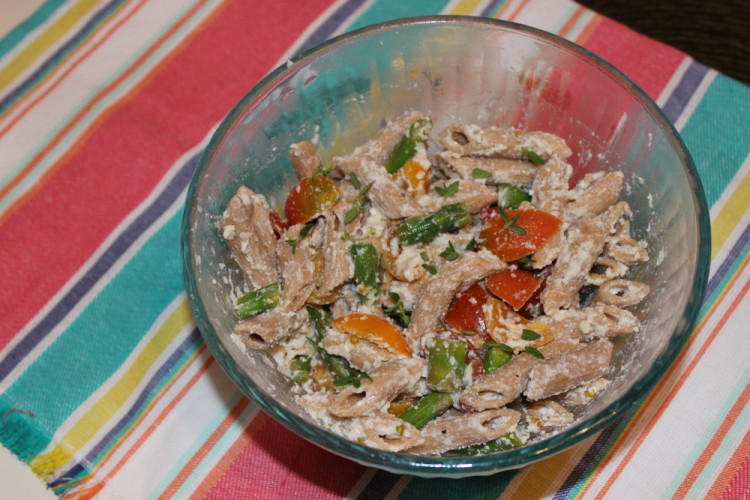 I'm not sure if Florida even has a "spring." We've had temperatures in the 80s since February and it's only going to get hotter. Come June, I'll be showering twice after the gym — once to rid all that workout sweat, and then again because it's so hot outside that you sweat the second you step out of the bathroom. I'm not kidding. Florida friends, please vouch for me here!
Despite how nonexistent spring is down in this part of the country, I still crave spring produce like mad this time of year. Asparagus is my favorite spring veggie, and knowing that my neighbor's tree is about to drop zillions of fresh mangos makes me giddy with excitement. Spring brings such a beautiful bounty of fruits and vegetables — herbs too! I wish I had a green thumb and could grow all of my own, but…I think that gene missed me. Maybe one day…
One of my favorite ways to highlight veggies is in salad — but not just the same old lettuce-filled salad. Those get boring after a while. There are so many other salads… Macaroni, egg, potato, fruit and the best one — PASTA! There are few things more comforting than a bowl of pasta, but when the temps are warming up and the sun is shining, who wants to sit inside and burn their tongue on a hot dish? No way. We want to be outside! We want to throw pool parties and BBQs. We want to go out on boats and play on the beach all day. When you're out doing all these fun spring-y things, you know there's bound to be food involved, and pasta salad is the way to go!
I've been loving the combination of lemon and ricotta lately. These Lemon Ricotta Sandwich Cookies were so addicting and the flavor was just to die for. If it's that good in a dessert, you know it's going to be great in a pasta salad. This Lemon Ricotta Spring Pasta Salad is full of asparagus and heirloom cherry tomatoes and topped with fresh thyme. Thyme is a springtime herb that is subtle but really adds a nice punch. It's lemony, so it goes perfectly with the flavors of the pasta salad. Ricotta cheese is mixed with lemon juice, lemon infused olive oil and a little salt and pepper, and then mixed in with the veggies and pasta. The best part about this Lemon Ricotta Spring Pasta Salad? Those with gluten sensitivity are free to eat as much as they want! It's important at a party that everyone is taken care of, and with Jovial Foods pasta products, everyone always is!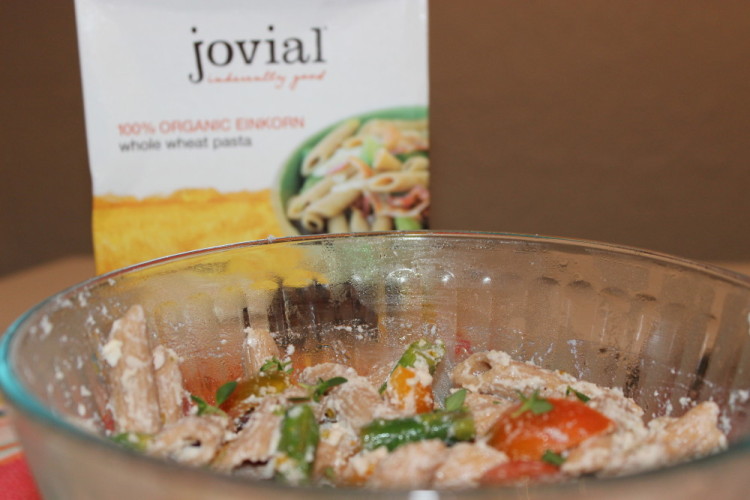 Jovial Foods offers gluten-free pasta and cookies, and they also offer products made with einkorn, the world's most ancient wheat and an alternative to modern, mass market wheat and an alternative to those with gluten sensitivity. I used Jovial Foods Whole Grain Einkorn Penne Rigate in this Lemon Ricotta Spring Pasta Salad. Einkorn is rich in protein, B vitamins, dietary fiber, iron, essential and trace minerals, and is the purest species of wheat because it has never been hybridized. Aside from pasta, Jovial Foods also makes einkorn wheat berries, flour, cookies and sourdough crackers.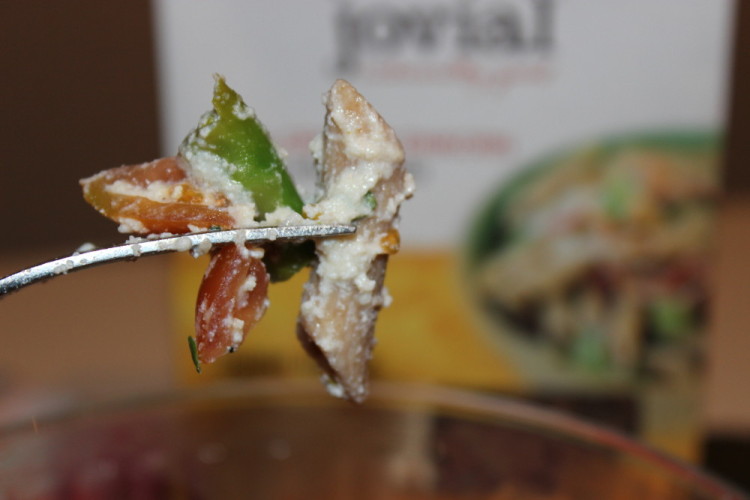 Don't worry about sacrificing flavor for nutrition — Jovial Foods products are still just as delicious as the pasta you know and love, maybe even more so! Those who aren't fond of the taste of whole grain pasta may shy away, but just put a bowl of Lemon Ricotta Spring Pasta Salad in their face and I'm not sure how they could say no!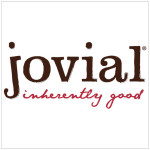 Make sure you visit Jovial Foods to learn more about their products and get great recipes! Find them on Facebook, Twitter, Instagram, Pinterest and YouTube.
But first…make a bowl of Lemon Ricotta Spring Pasta Salad!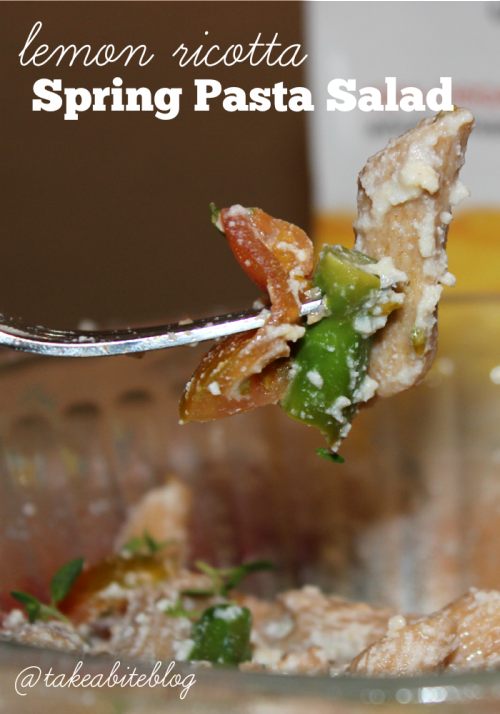 Lemon Ricotta Spring Pasta Salad
Author:
Spring is here! No more hot soups and heavy casseroles — we're all craving light, bright and refreshing food, and this Lemon Ricotta Spring Pasta Salad is just that!
Ingredients
1 box Jovial Foods Whole Grain Einkorn Penne Rigate, cooked according to package directions and cooled completely
1 cup part-skim ricotta cheese
juice from 1/2 lemon
1 tsp lemon infused olive oil
salt and pepper
8 oz. fresh asapragus, blanched
8 oz. red and yellow cherry tomatoes, halved
1 tbsp fresh thyme, chopped
Instructions
Combine ricotta, lemon juice, olive oil, salt and pepper in a small bowl and whisk until well combined.
Add cooked and cooled pasta, blanched asparagus and cherry tomatoes to a large bowl.
Stir in the ricotta mixture and toss until the pasta and vegetables are coated.
Sprinkle with fresh thyme
Serve cold.
Disclaimer: This is a sponsored post by Jovial Foods, Inc. I have received product and monetary compensation for this post. The nutritional information listed here has been supplied by the sponsor. As always, all opinions are 100% my own.