Never miss a bite! Sign up here to receive new recipes and reviews straight to your inbox.
Disclosure: I was invited to dine as a guest of the Delray Beach location of Lemongrass Asian Bistro. No monetary compensation has been received for this post. As always, all opinions are 100% my own.
Here's a tip: if you want to win me over, your best bet is to treat me to Asian style dining. Sushi and Thai food are at the very top of my list of favorite cuisines, and lucky for me, these two types of food are typically served together at Asian restaurants. I've passed by Lemongrass Asian Bistro, in both Downtown Delray and Downtown Boca, many many times, and have only eaten at each location once (additional locations include Boynton Beach and the newest in Wellington). So when the Delray Beach Downtown Development Authority invited me in for dinner during the annual Dine Out Downtown Delray Restaurant Week, I was all too eager to check it out.
Lemongrass Asian Bistro has been tickling tastebuds since 2006 with its fresh ingredients, beautifully presented dishes, creative cocktails and unique twists on classics. The menu is a little overwhelming since there are so many options — everything from sushi and sashimi to signature Thai and noodles to wok stir fries and curries. It was hard to decide what to get, but I think our choices were top notch. Speaking of top notch, the staff at Lemongrass is the best of its kind. Our server was right on point; he took all of my food sensitivities into consideration and made all the necessary alterations to our order. His knowledge of the menu and preparation of each dish was evident, as was his passion for working with the company and serving the local Delray Beach community.
To start, we went with the First Love sushi roll — eel, avocado and kani, topped with salmon. Side note: to make this gluten-free, ask for the masago on the side as it contains regular soy sauce. When it comes to sushi, eel is my favorite. I haven't been able to have it too much lately because a lot of places pre-marinate it with some kind of soy mixture. All of the ingredients were super fresh and full of flavor; just writing about it is making me hungry. Ugh, now I want sushi! Lemongrass has an extensive list of sushi, so good luck choosing a roll. Aside from the regular list of rolls, there are a few Chef's featured rolls as well as a list of cucumber-wrapped rolls and smaller rolls with seaweed on the outside. Then there's the sashimi and a la carte fresh cuts. So many options…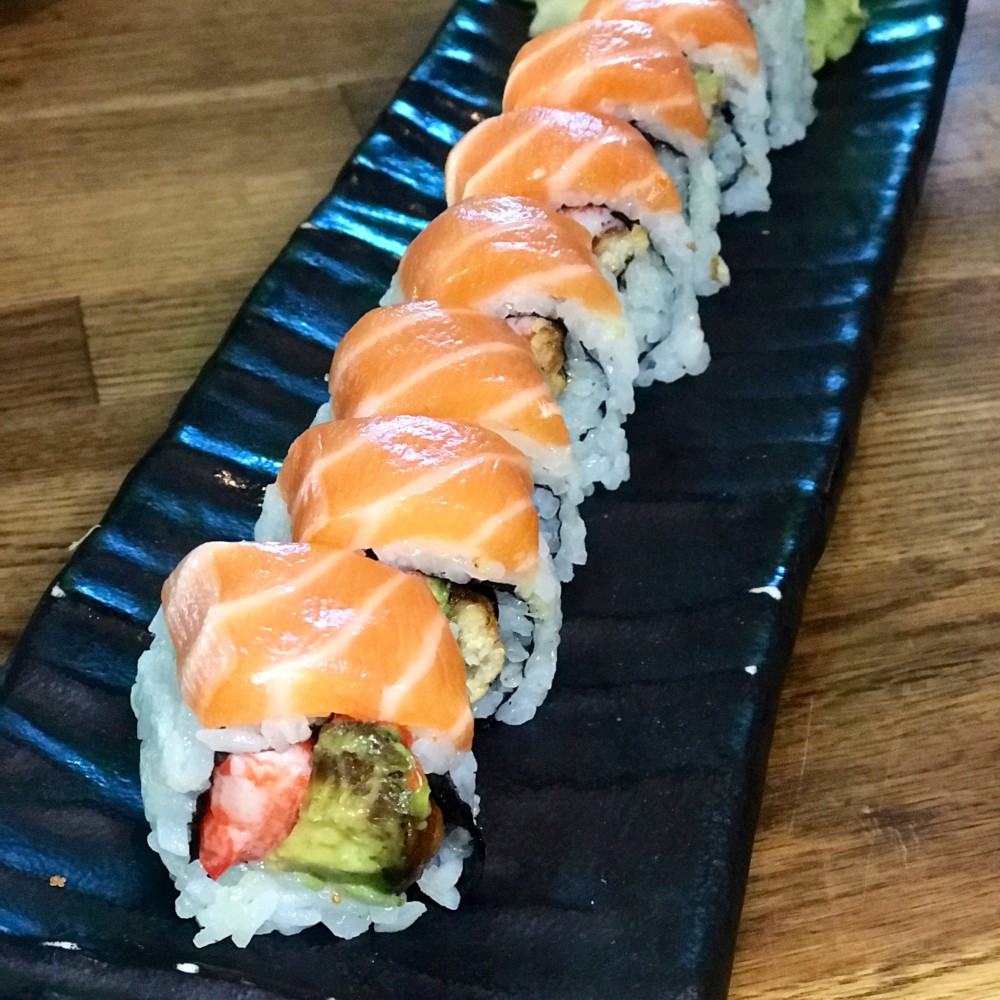 The small plates from the kitchen and sushi bar also include a ton of choices like salmon carpaccio, tuna tataki and seafood ceviche. The "Belly Belly" appetizer stood out because of it's name alone — it's a platter of three types of nigiri style sushi: seared tuna belly with black tobiko, seared salmon with ikura and seared hamachi belly. Please don't let the word "belly" freak you out. This is so worth trying. All three pieces were rich and buttery smooth. I only wish there had been more on the plate!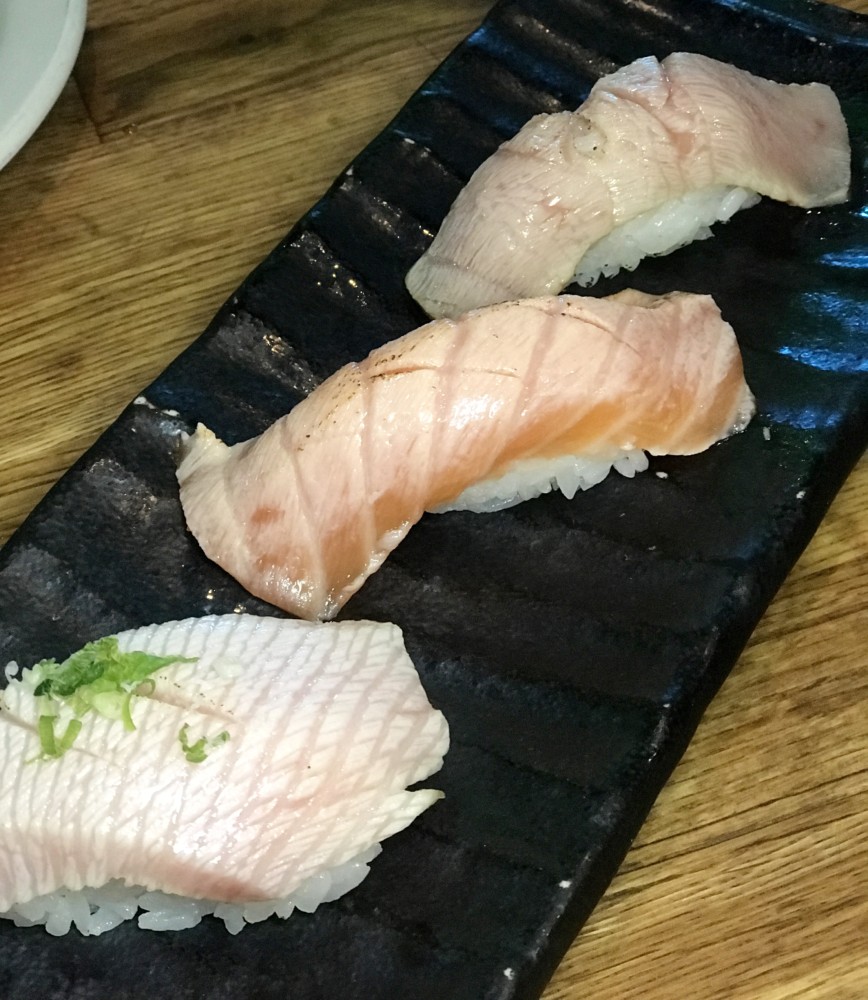 I can't go to an Asian restaurant and not get some kind of pad Thai if it's offered. One of the signature entrées at Lemongrass is their lobster pad Thai, which usually comes with lightly battered and fried lobster tail. To keep it gluten-free, ours was steamed — and probably even better than the norm because you don't have any batter masking the fresh taste of the lobster. I was in pad Thai heaven and continued to dream about its deliciousness for days after this dinner. No wonder it's a signature dish. Why get regular ol' pad Thai when you can have it with lobster?!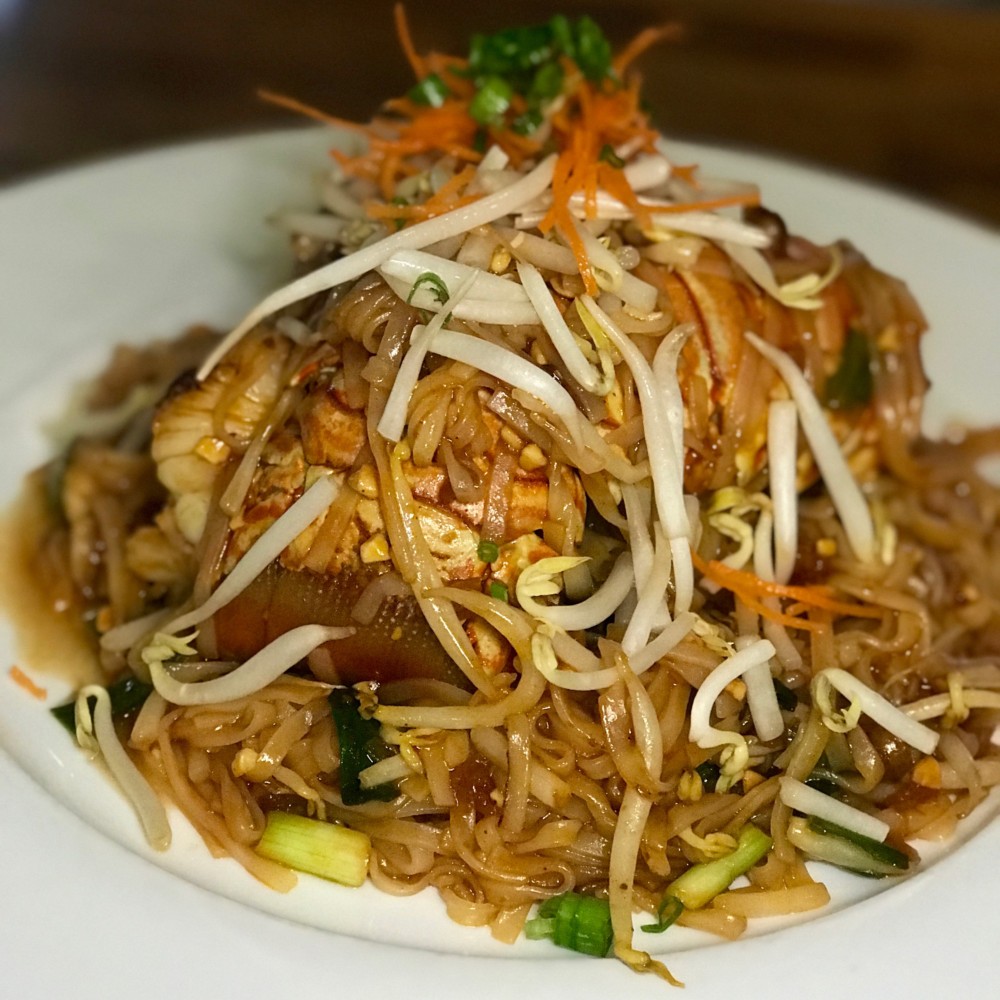 Lemongrass also has a variety of "street wok" style dishes, all served with your choice of white or brown rice and a choice of chicken, beef or organic non-GMO tofu, and for an additional price, shrimp, calamari, scallops or a seafood combo, and the option to add an Asian style egg on top. Roger and I decided to go all out and ordered the seafood combo, because, well why choose when you can just have it all? It came with huge, succulent shrimp, scallops, and calamari and bright, briny mussels, all of which were enhanced with a garlic-pepper sauce and steamed mixed vegetables.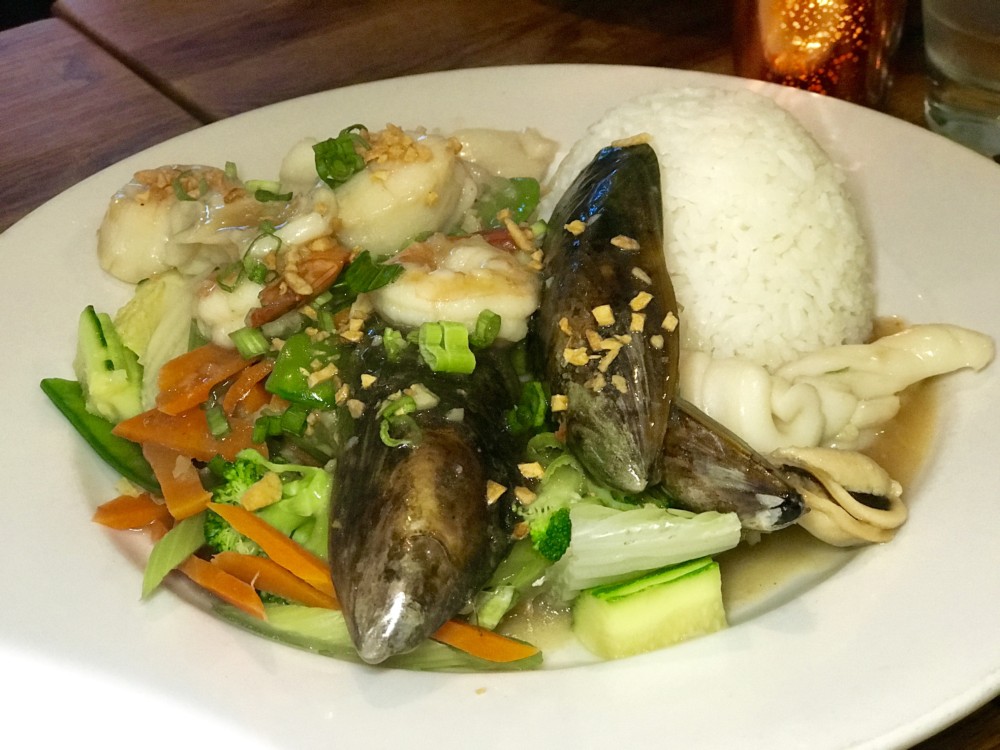 I couldn't have been happier with our choices, despite totally wanting to order just about everything on the menu. Both the food and service at Lemongrass deliver a unique and satisfying experience, and I will definitely be adding it to my regular rotation of restaurants to visit. There is still so much more I need to try there!
Lemongrass Asian Bistro is located at 420 East Atlantic Avenue in Delray Beach. The restaurant is open for lunch and dinner Monday through Friday from 11:30am-10:30pm, and Saturday and Sunday from 12pm-11:30pm. Happy hour is every day from 4-7pm with discounted small plates from the kitchen and sushi bar and drink specials.