Why does it always take me so long to try the restaurants that people suggest!? My roommate Amy has seriously been telling me about one specific place since the day I met her about a year and a half ago. Nauti Dawg Marina Café is the cutest freaking place ever. It's right on the water in Lighthouse Point in a neighborhood that reminds me of Key West with so much color and kitchyness. You can sit outside on the patio overlooking the dock and gorgeous scenery – there are really beautiful homes in this area.

I went there on a lunch date, but it was Sunday so the breakfast menu was still available until 1pm. I originally thought I'd get something brunchy, but I was in a lunch mood by the time we sat down. I did, however, stick to brunchy drinks. I ordered the champagne cocktail with Pomegranate juice. That was deeeelicious. They also have beer Bloody Marys. For someone who hates – and I mean HATES – Bloody Marys, these actually weren't too bad. I tried a sip and was surprised that I didn't spit it out. Bloody Marys usually taste extremely salty to me and I just cannot take it. The beer cuts that saltiness and makes it actually taste pretty refreshing.

For starters, we got the Tuna Wontons, crispy wontons topped with seaweed salad, tuna tartar, roasted pepper and wasabi aioli. I took my first bite and almost all of the tuna topping fell off onto the table! Oops. So much for being a classy, clean date. Oh well. I still ate what was left in the wonton and enjoyed it thoroughly. I really really really wanted to order the baked goat cheese, which came recommend by Amy, but they didn't have it ready yet because they were still in the process of switching from breakfast to their lunch/dinner menu. Next time…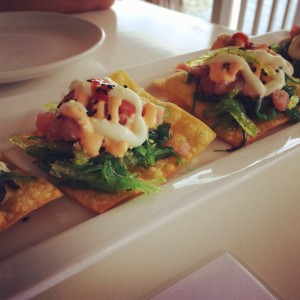 I went with their signature salad for
lunch:

Bibb lettuce with spiced pecans, sliced apples, endive and dried cherries with baked goat cheese and a poppy seed vinaigrette. Dried cherries are up there as one of my favorite things. And goat cheese…well, you know how I feel about anything with goat cheese. And these little crispy balls of cheese were freaking phenomenal. I'm assuming this is pretty similar to what the baked goat cheese dish would have been, so I stopped being sad that I couldn't try that appetizer. Kind of.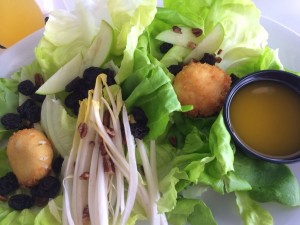 My date got the Tuscan chicken sandwich: grilled chicken with roasted red peppers, provolone, lettuce and basil pesto on fresh baguette. It also came with a side, so he ordered their vegetable of the day: sautéed zucchini and squash.
Everything was as amazing as I was told it would be. Now that I've been once, I need to go back again and again. Not only because the food and drinks were great, but because the atmosphere is just really refreshing. One of the best parts about living in Florida is all the al fresco dining options you have. Nauti Dawg is one of the best.

Posted with Blogsy