Never miss a bite! Sign up here to receive new recipes and reviews straight to your inbox.
Disclosure: I was invited to dine as a guest of Lionfish Modern Coastal Cuisine Delray Beach. As always, all opinions are 100% my own.
Love is in the Air at Lionfish Delray This Valentine's Day
Lionfish Modern Coastal Cuisine has quickly become one of Downtown Delray's premier destinations for fresh, sustainable seafood, and craft cocktails. This Valentine's Day, guests can indulge in three unique cocktails that will be available during the entire week leading up to the holiday, and a special four-course tasting menu exclusively offered on Sunday, February 14th.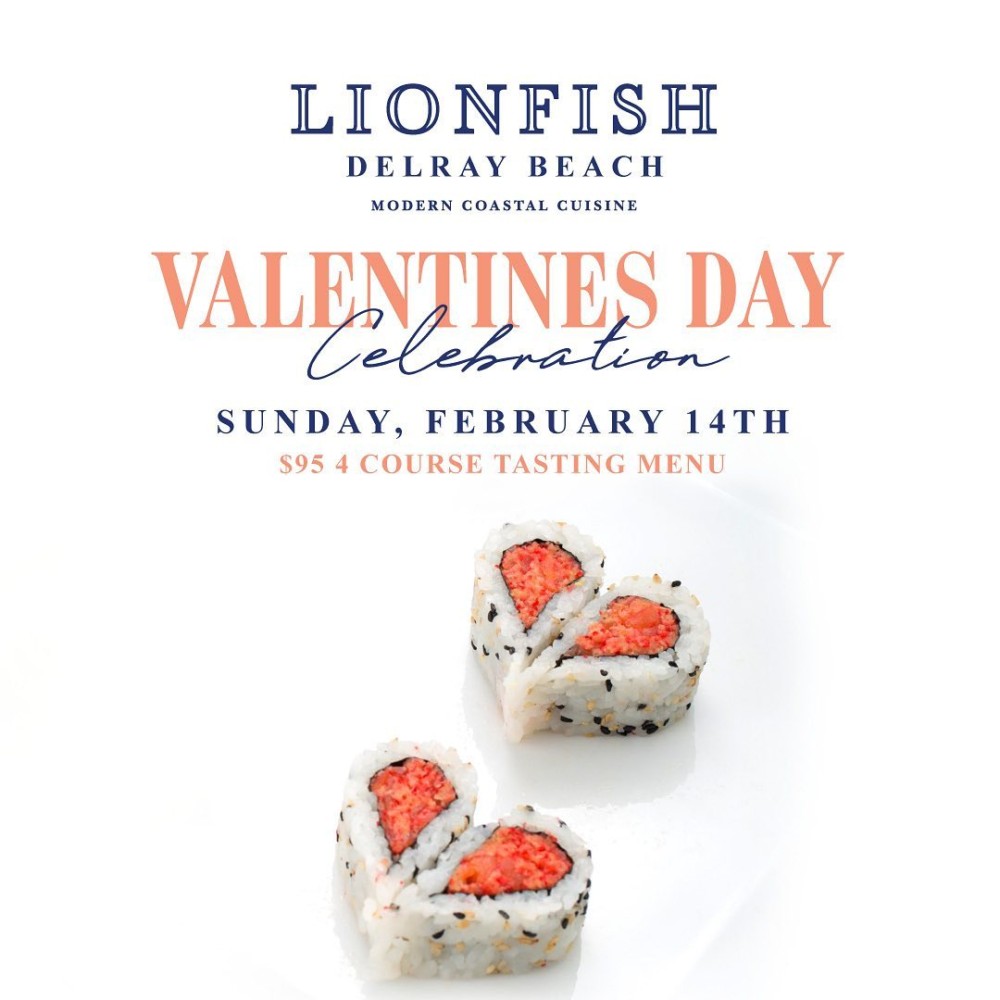 Lionfish is known for its fresh-catch cuisine, grass-fed meats, nod to local farmers and purveyors, and coastal-chic decor. There is both indoor and outdoor seating available, but I much prefer sitting at the bar, where the energy is high, the lights are low, and the vibe is always fun. Plus, when you sit at the bar, you can watch the bartenders make your cocktails — and if you're lucky enough to have the restaurant's head bartender, Dave, behind the bar during your visit, it's bound to be entertaining. Dave created three Valentine's Day-themed cocktails that will be available from February 8th through the 14th, each of which feature ingredients that you don't see in a typical drink.
Valentine's Day Cocktails at Lionfish
If you're a gin drinker, you are definitely going to love the Secrets in the Garden cocktail. Actually, even if you're not a gin drinker, you'll love it — I certainly did! Gin is not usually my go-to when it comes to cocktails, but I absolutely loved this. The cocktail consists of fresh lemon, lavender syrup, Creme de Violette, and rose water, served over crushed ice in a Collins glass and garnished with an edible flower. It's incredibly light and refreshing, and the gin flavor wasn't overpowering.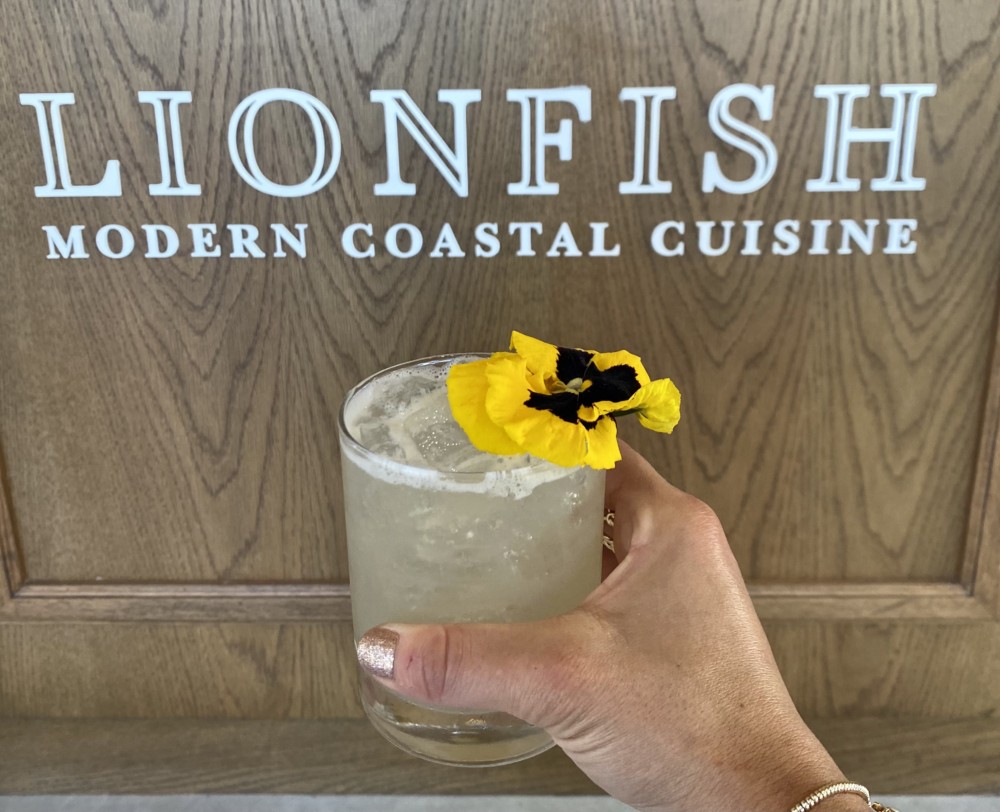 For those who like sweeter cocktails, the Love Boat will be your jam (or in this case, whipped cream…). This vodka-based cocktail also has fresh lemon, a strawberry and Veuve Clicquot champagne syrup, and Lillet rosé, which is a rosé aperitif that complements the strawberries and champagne perfectly. It's served over crushed ice in a champagne flute, and topped with Veuve Clicquot whipped cream and strawberry dust. The syrup, whipped cream and strawberry dust are all house made, by master mixologist Dave himself. While I so desperately wish I could have tried that champagne whipped cream, I had mine without, and it was still very good. So, don't fret if you too can't have dairy, simply ask for the drink without the whipped cream!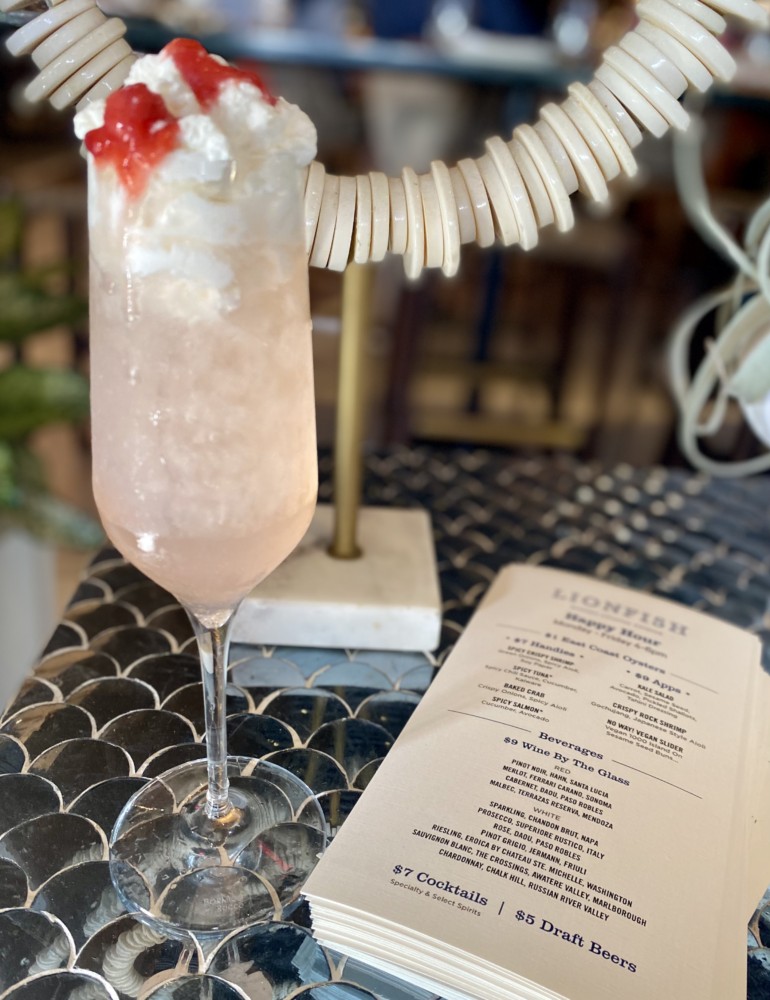 Last, but certainly not least, is the strongest of the three cocktails: Cupid's Envy. Angels Envy bourbon whiskey is the star of the show here, along with Mexican chocolate bitters, black walnut butters, Giffard banana liqueur, and Averna amaro. It's served over a large ice cube in a glass that has been filled with cedar smoke — which smells amazing, by the way. I had a sip or two of this before passing it off to my bourbon-loving boyfriend, and I actually was surprised at how much I enjoyed it. There is a lot of very strong flavor, but everything is so well balanced that it wasn't overwhelmingly boozy.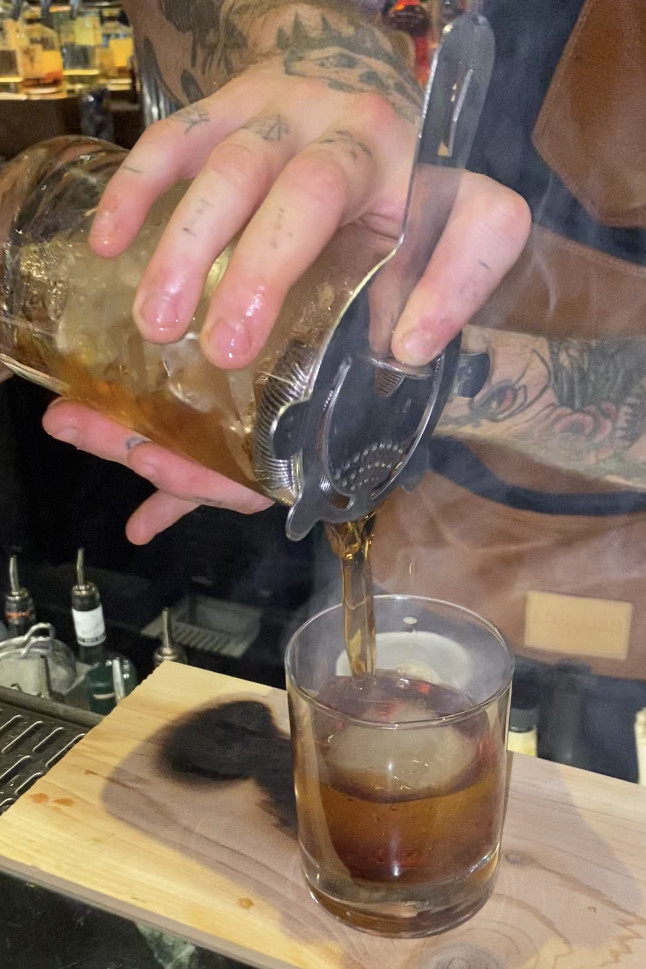 Valentine's Day Dinner at Lionfish
Make it a point to visit Lionfish sometime during the week of February 8th to try one (or all!) of these cocktails, and if you still haven't made plans for Valentine's Day dinner, reservations are still available for Sunday evening! The tasting menu will be offered at $95 per person, not including beverages.
The menu features:
First Course: a choice of beef carpaccio with manchego frico, manchego aioli and mizuna pesto, or Key West pink shrimp ceviche with mango and smoked fresno chili
Second Course: a choice of Maine lobster bisque with gougeres, or duck breast hot rock with smoked miso
Third Course: choice of 5 oz. wagyu filet with roasted organic mushrooms and truffle demi, or grilled golden tilefish with green romesco, baby artichokes and carrots
Dessert: strawberry milk buttermilk cake with strawberry milk custard, champagne strawberries and chantilly cream
A limited a la carte menu will also be available. Reservations can be made via OpenTable or by calling the restaurant at 561-639-8700.
Lionfish Modern Coastal Cuisine is located at 307 E. Atlantic Avenue in Delray Beach. The restaurant is open Monday through Thursday from 4-10pm, Friday from 4-11pm, Saturday from 10am-11pm, and Sunday from 10am-10pm. Happy hour is Monday through Friday from 4-6pm, featuring $9 wines by the glass, $7 cocktails, $5 draft beers, and a special menu of $7 and $9 appetizers. Brunch is served on Saturday and Sunday from 10am-3pm, featuring $20 all-you-can-drink mimosas (OJ or mango), sparkling rosé, Aperol spritz, and Bloody Marys.