Never miss a bite! Sign up here to receive new recipes and reviews straight to your inbox.
Disclosure: I was invited to dine as a guest of Lionfish Modern Coastal Cuisine in exchange for this post. As always, all opinions are 100% my own.
Lionfish is Downtown Delray's Newest Hotspot
After one of the longest anticipated restaurant openings in town, Lionfish Modern Coastal Cuisine finally opened its doors in Downtown Delray Beach on September 21st, and the place has been slammed with reservations ever since. (note that of course, all social distancing protocol is being enforced.)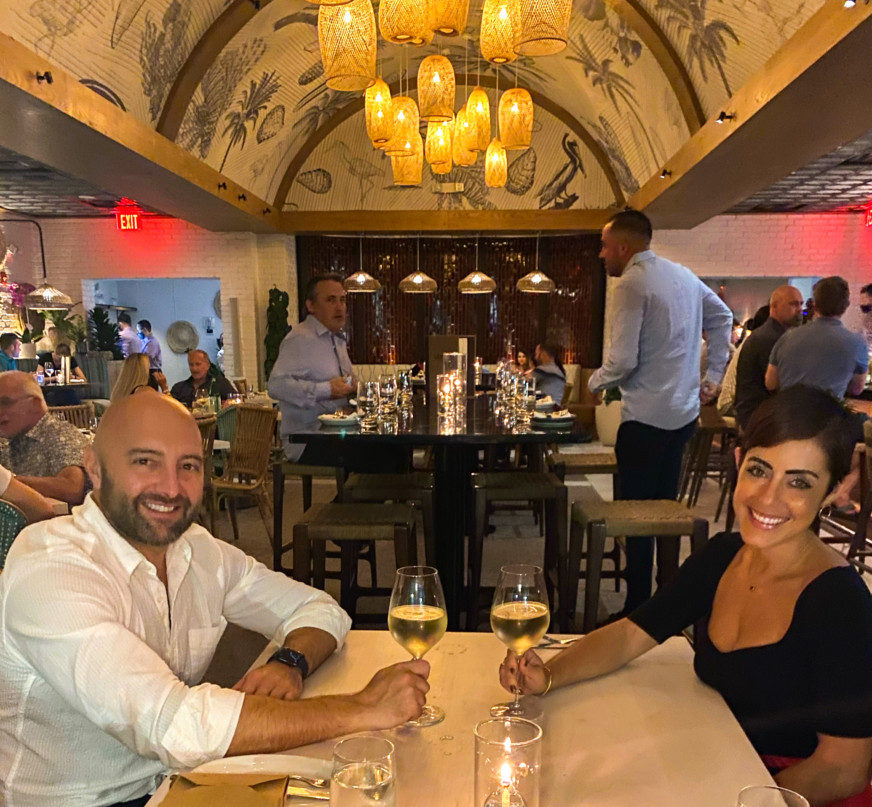 If you remember back before COVID, I was lucky enough to spend an afternoon out on the Biscayne Bay with the Lionfish culinary team, select local media professionals, and a group of divers who specialize in spearfishing for lionfish. While on the boat, we were taught us about the importance of ridding our oceans of this invasive species that is slowly but surely killing our coral reefs and other sea life, and were treated to signature food and drinks that would be featured on Lionfish's menu.
Lionfish prepares its namesake dish two ways — in a ceviche appetizer with cucumber, avocado, key lime, coconut, agave pickled serrano, and spring onions, served with tortilla crisps (a must-try!); and as an entrée, fried whole and served with lemon, capers, charred greens, bagna cauda, and gribiche. Just as a side note…the whole fried lionfish is not always available, i.e., if the seas are too rough, divers might not be able to get out into the ocean. So, if it's something you're dead set on ordering, I recommend calling ahead to check.
Fresh, Sustainable and Local
Lionfish is all about serving fresh, sustainable, and local ingredients in a fun, comfortable, casual atmosphere. It's clearly everyone's favorite place to drink and dine these days — you even need a reservation to grab seats at the bar for happy hour! Speaking of happy hour, they've got a great one: $7 and $9 small plates, $1 oysters, and half off all cocktails, beers, and wine. The drink selections are top-notch too. Choose from a wide variety of wine, sake, and beer, many of which are Florida-brewed. The cocktail menu is filled with light and fresh options, like the Deckhand with Grey Goose vodka, kiwi, mint, and fresh lime. If you're looking for something a bit stronger, check out the Barracuda with 1792 Small Batch bourbon, spiced watermelon, aquafaba, and fresh lemon.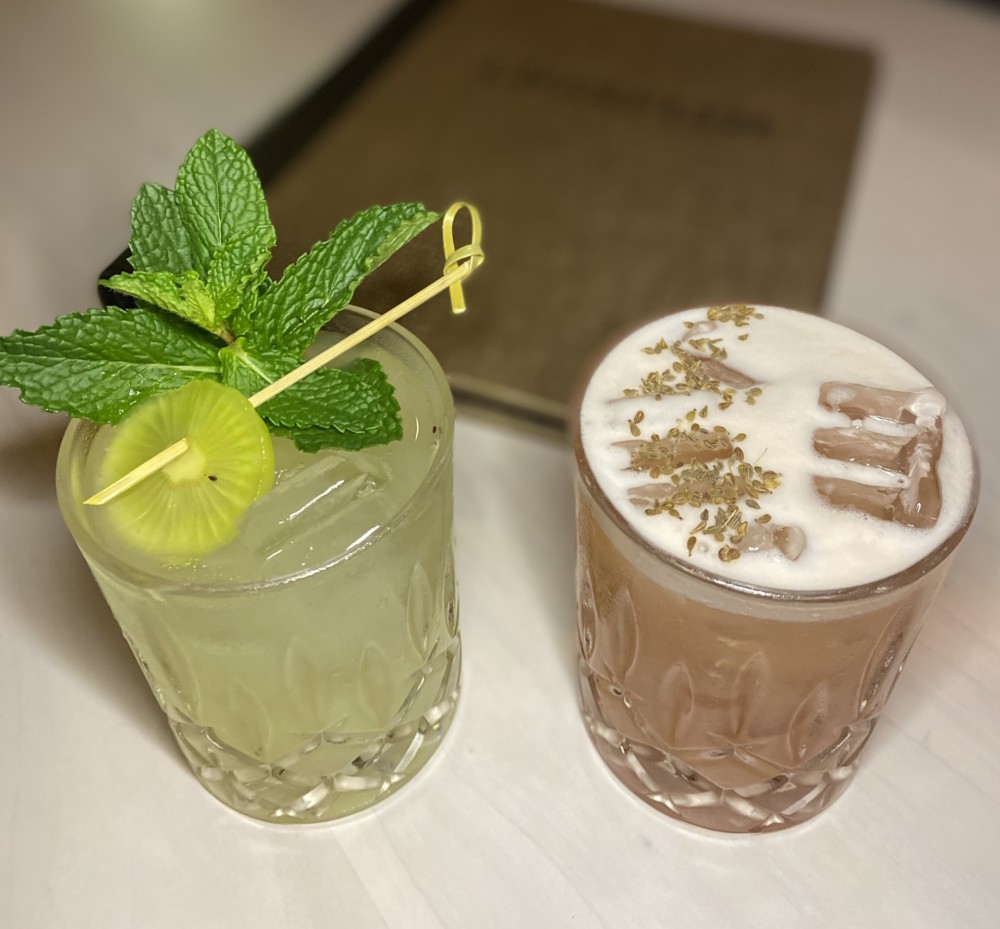 Now let's get to the food! The number one thing I recommend at Lionfish is the yellowfin tuna tiradito. I tasted this incredibly delicious, gluten- and dairy-free dish while on that yacht day trip many months ago and fell in love — and after getting it another three times at the restaurant since its opening, I am still very much in love. The tuna is swimming in a coconut kaffir lime broth, with slices of tart apple and jicama, topped with chile oil and cilantro. One bite and I promise you will be hooked! It's easily my favorite thing on the menu.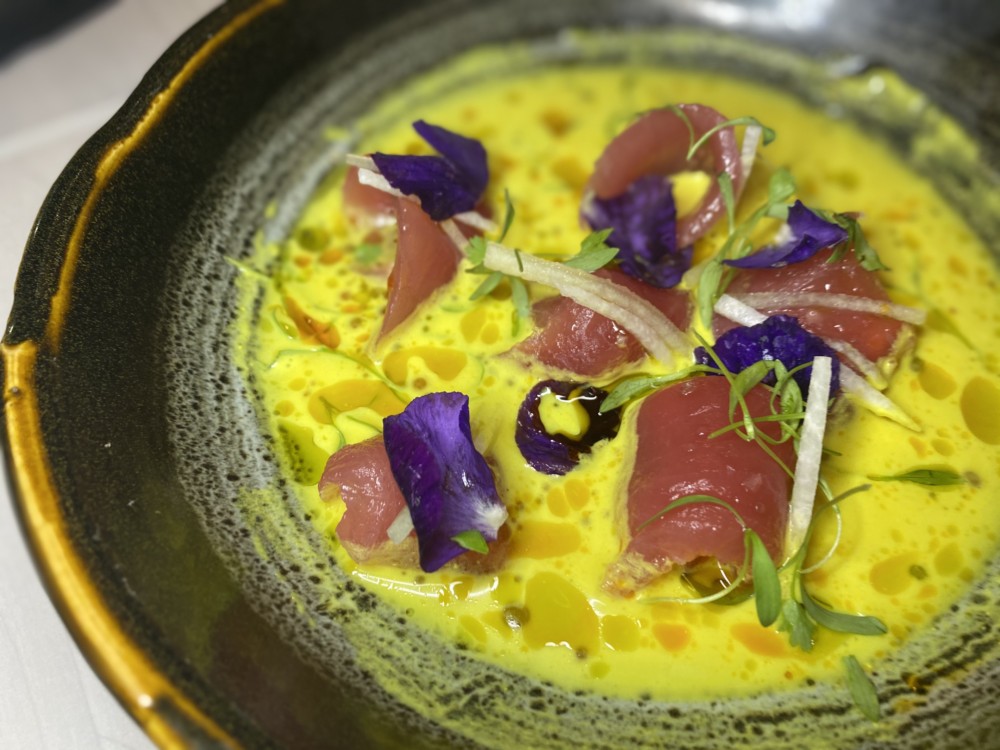 I also really enjoyed the hiramasa crudo. I wasn't sure what kind of fish 'hiramasa' is, as I've never ever heard that name or seen it on another menu, but after a quick Google search, I found that it's yellowtail. The crudo is a simple, refreshing dish, but it has massive flavor from sweet black garlic, bitter fennel, spicy harissa, and citrusy orange. Side note: I asked for the orange to be left off since I can't have it, and this accommodation was no problem for the kitchen.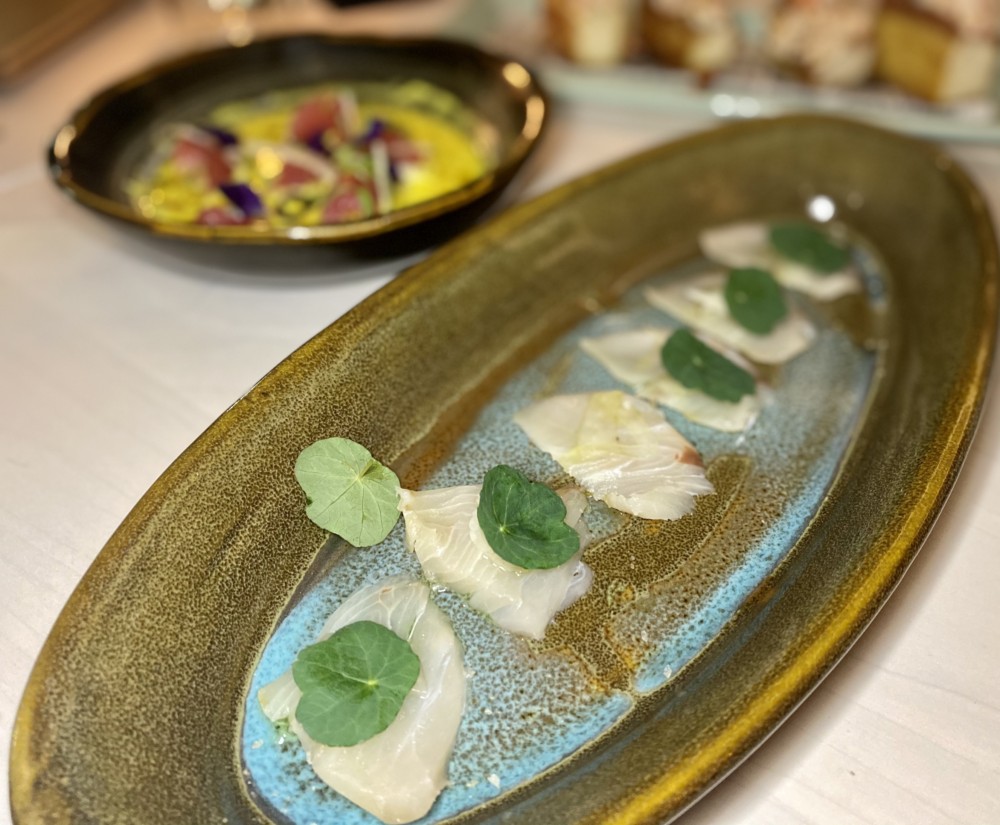 Additional items that have been popular with diners include the mini Maine lobster rolls on warm, griddled brioche buns and the spicy grilled octopus with fermented chile, crispy garlic, crispy potatoes, and cilantro aioli.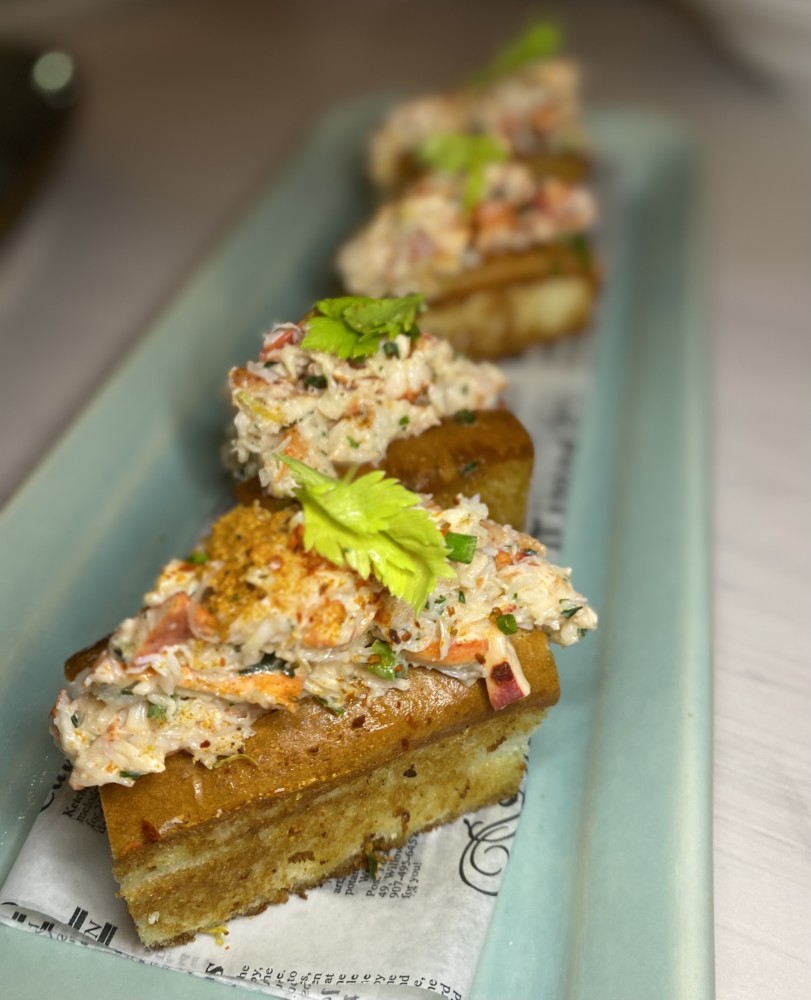 When it comes to the fresh seafood entrées, you really can't go wrong. The whole steamed pompano is a great local catch, and not something you see very often on restaurant menus. The first time Roger and I dined there, we both had this and loved the light, white flakey Florida fish. The second time around, Roger ordered the pan-seared New Bedford scallops, served with sweet peppers, yellow corn, red ogo, and salsa macha. We were both impressed with its beautiful, colorful presentation, and he loved the combination of flavors and ingredients.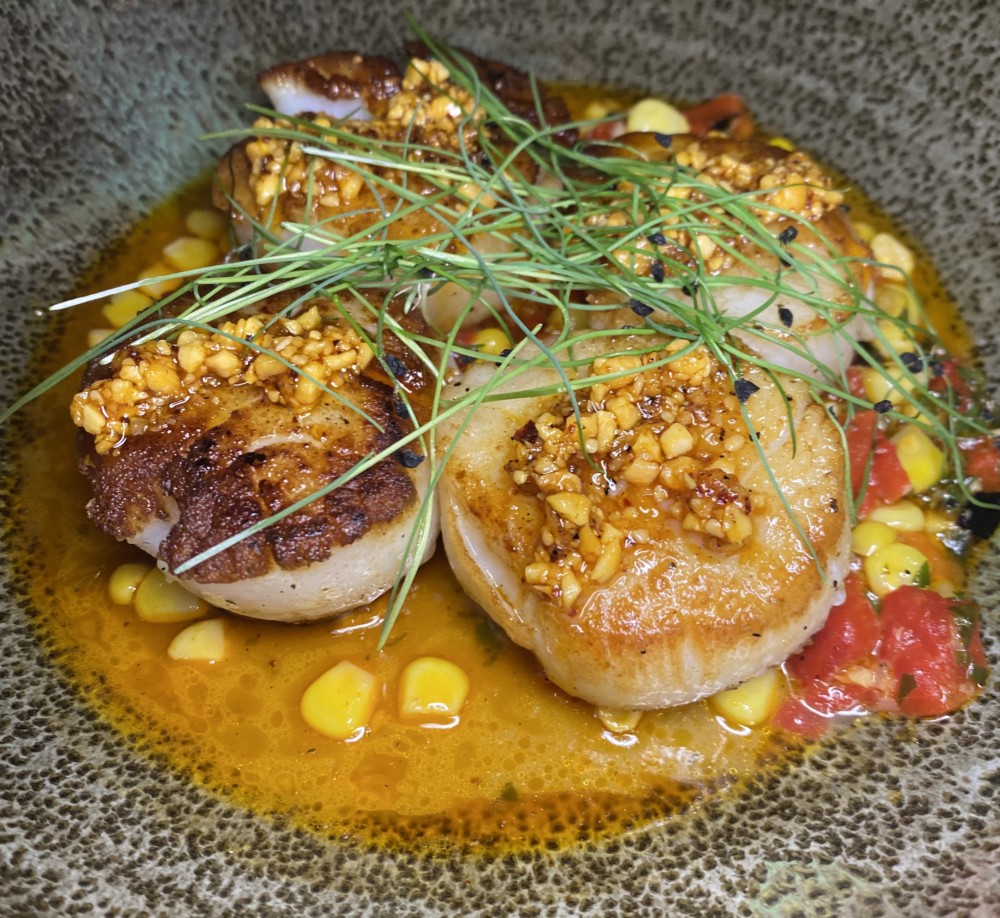 I, on the other hand, decided to check out the non-seafood entrées this time. I heard from quite a few people how good the grilled lamb chops were, so it wasn't difficult to decide. The meat was cooked perfectly — so tender and juicy, cooked medium — and I absolutely loved the mint chimichurri served over top. The dish also includes shiso, pearl onion, arugula, eggplant puree, and crispy little potatoes. Lionfish may be well known for its fresh and local catch, but don't overlook the meat section of the menu — it's well worth checking out!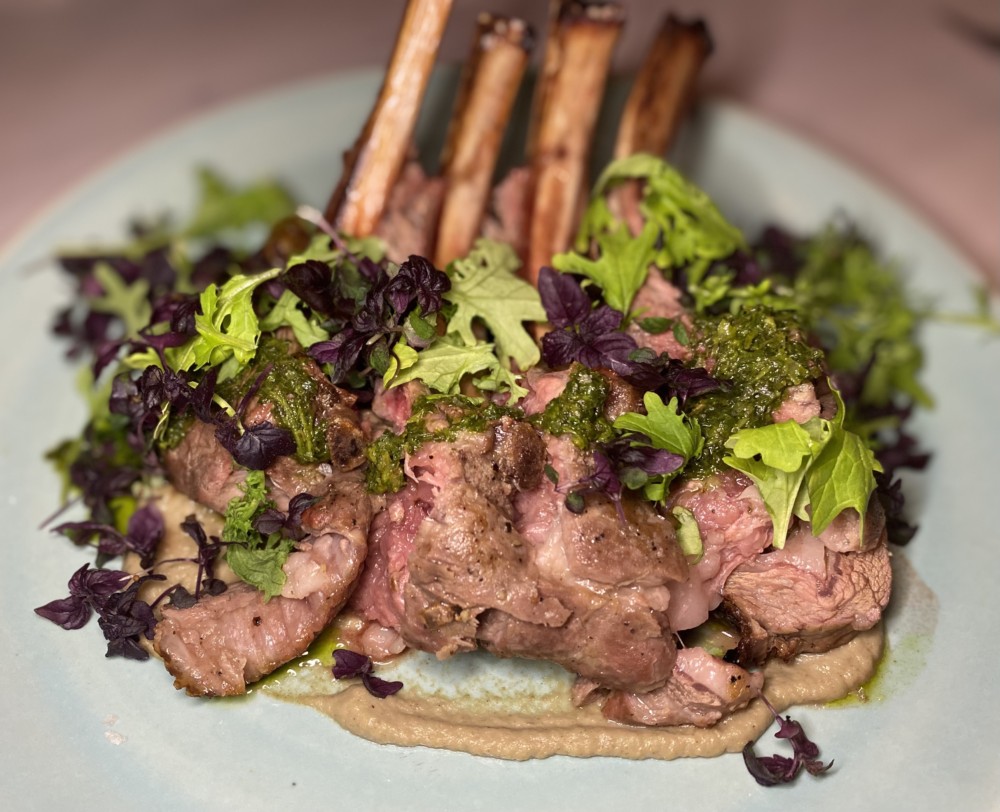 Reserve Your Table Now at Lionfish
I am thrilled to have a new place in town for wining and dining, and I think it's safe to say that everyone else is too!
Lionfish is located at 307 East Atlantic Avenue in Delray Beach. The restaurant is open for dinner Monday through Thursday from 4-10pm, Friday from 4-11pm, Saturday from 10am-11pm, and Sunday from 10am-10pm. Happy hour is Monday through Friday from 4-6pm. Brunch is served Saturday and Sunday from 10am-3pm, and features bottomless mimosas, sparkling rosé, bloody Marys and aperol spritz.