Never miss a bite! Sign up here to receive new recipes and reviews straight to your inbox.
If the hot summer temperatures have you craving a cool refreshing smoothie, this Mango Strawberry Banana Smoothie will hit the spot!
Smoothies are my favorite breakfast, especially in the summer when temperatures are through the roof and I'm sweating again five seconds after taking a shower. Blah, blah, blah — I know I talk a lot about how hot it is here in Florida, but truthfully, I really do love the heat and would not trade a second of it. The best way to cool down when it's this hot? Blend up your favorite fruit into one delicious and refreshing smoothie!
The best part about this Mango Strawberry Banana Smoothie is how quick and easy it is to make. Just dice up your mango, strawberries and banana, throw the pieces in a blender along with some unsweetened almond milk and that's all. If you do what I did and use frozen strawberries and banana, you won't even need ice. It's super thick and creamy all on its own. I used fresh mango because I had it, but frozen would work too. Mangos are one of my favorite summer fruit and right now is the best time for them, especially when you know people with mango trees! They fall off the branches like crazy, and if you don't grab them right away, they'll rot. It's a good thing I'm always available to take in more mangos!
The combination of mangos, strawberries and banana creates a tropical explosion of flavor. The banana is responsible for that creamy smooth texture that makes smoothies so irresistible. No one likes a watery smoothie!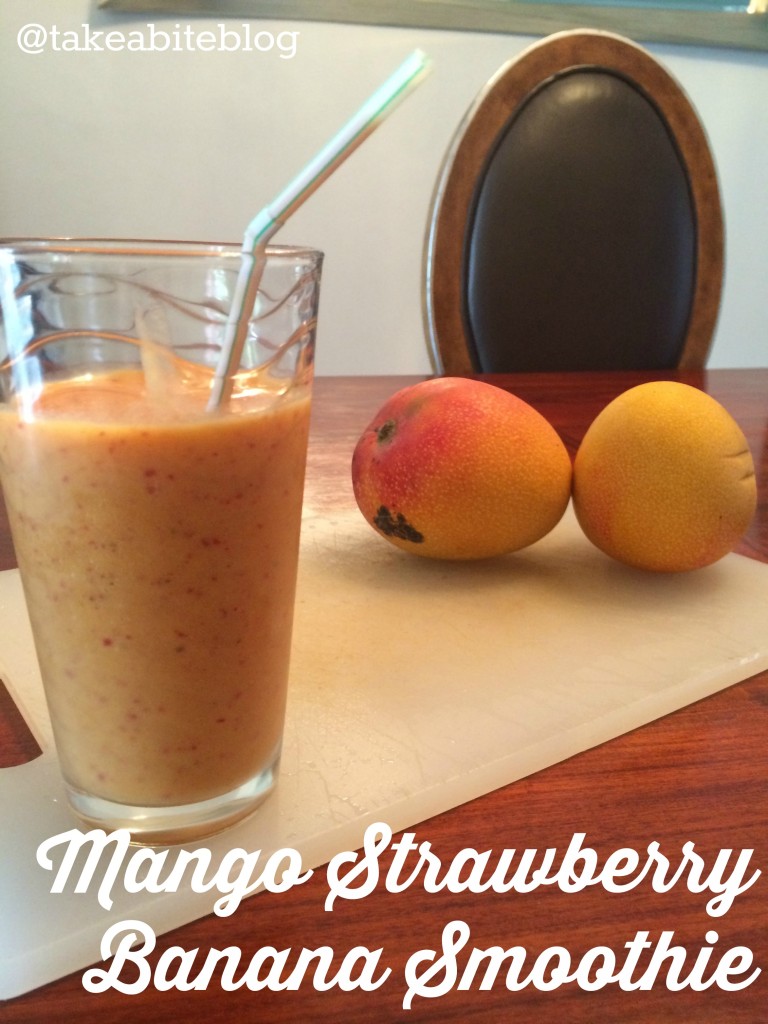 [yumprint-recipe id='9′]Disclaimer: This post contains Amazon Affiliate links to products I love to use. If you click through the link and purchase one of these items, I will receive a small percentage of the sale price. It's the little things like this that help me to continue bringing you yummy treats. Thank you in advance for helping out Take A Bite Out of Boca with your purchases through Amazon.