Remember the insanely delicious Sesame-Glazed Cauliflower and Cauliflower Gratin with Horseradish Cheddar Cheese I made? Those recipes totally came from today's guest blogger, Brianne from Cupcakes and Kale Chips. She is my go-to for amazing savory dishes. Her desserts are killer too, but she seems to know my savory taste buds pretty freaking well. Brianne is a fellow Jersey girl, so obvi we hit it off the moment we met at BlogHer Food last weekend. I love making new friends, especially when they're from Jersey!
—————-
When the temperature is rising (and bathing suit season is here), you need a sweet, fresh, tart and tangy frozen treat that's also light and healthy, like these Mango Strawberry Lime Popsicles.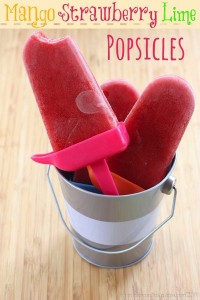 Hi, my name is Brianne from Cupcakes and Kale Chips and I am so excited to be guest posting here at Take a Bite Out of Boca today. I just met Shaina a couple weeks ago in Miami for the BlogHer Food 2014 Conference, and she is absolutely adorable and sweet. So when she needed a few foodie friends to fill in for her for a few days, I was happy to help out.

I always find it kind of amusing when someone who is vegetarian or even vegan is a fan of my blog. Well honestly, I still find it totally insane that I have "fans" at all, since this was something I just started as a hobby. You see, I am a former Chemical Engineer who is now a stay-at-home mom of two crazy little boys, and I love to cook and just needed a creative outlet. Definitely not someone who expected to have "fans". Really, I think Shaina just thinks my kids are cute.

But I have recipes for everyone because we pretty much eat everything in my house. So although you'll find things like Sundried Tomato, Rosemary and Balsamic Marinated Flank Steak on my site, I think you're more likely to see me sharing veggie side dishes, like Baked Cauli-Tots, and healthier snacks, like my secret ingredient Chocolate and Peanut Butter Cookie Dough Ball. And since I have a wheat allergy, most of my recipes are gluten-free, but I try to stick to standard items most people have in their kitchen that are naturally gluten-free, and avoid a laundry list of "special" ingredients.

Oh and desserts, of course! I loves me some ice cream.

So it's kind of the "Love All, Serve All" blog, which is why you'll recipes from healthy, everyday snacks and meals to rich, indulgent treats, because it's all about balance, you know, like burgers & quinoa, ice cream and salad, cookies and cauliflower… Cupcakes and Kale Chips!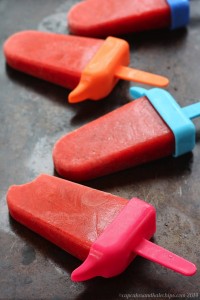 Since I am in Shaina's hot and sunny Florida kitchen, I had to bring a frozen treat. Of course the kiddies love popsicles, but with fresh fruit and the tang of lime, I think these Mango Strawberry Lime Popsicles are perfect for adults, too. In fact, I was tempted to dip the edge in a little salt, because it almost tasted like a strawberry margarita. Well, minus the tequila. I was making these for the four year old, you know. Four ingredients, naturally gluten free, easy to make vegan, full of fresh fruit, healthy, light and sooooo good – you have to make these this summer!

I hope you enjoy these popsicles, and I hope you'll come visit Cupcakes & Kale Chips on Facebook, Twitter, Pinterest, Instagram, and Google+. See you soon!
Mango Strawberry Lime Popsicles (Serves 4-6, depending on the size of your popsicle molds or cups)

Ingredients
Half of a mango, cut into chunks

1 cup strawberries, washed, stems and hulls removed

1/4 cup lime juice

1-2 Tablespoons honey or agave nectar, or to taste
Directions
Place the mango, strawberries, and lime juice in a blender and puree until smooth.

Add honey or agave to desired sweetness.

Pour the puree into popsicle molds or cups, insert sticks, and freeze until solid, about 6-8 hours.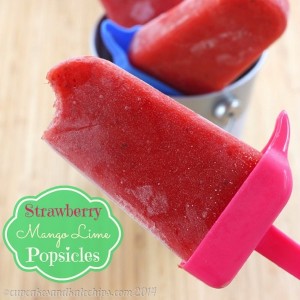 —–

Haha!! I do think your kids are adorable, Brianne, but I love your blog just the same! Thanks for this light and refreshing summer recipe. I have got to try these! Florida is so super hot nowadays that a cool popsicle is the perfect way to cool down.
Brianne has so many great recipes on her blog, so make sure to check out Cupcakes and Kale Chips, and also follow her on Facebook, Twitter and Pinterest!