Never miss a bite! Sign up here to receive new recipes and reviews straight to your inbox.
Disclaimer: I have an ongoing relationship with Stonyfield as a member of the Clean Plate Club. I receive product, coupons and compensation for posts featuring their products. As always, all opinions are 100% my own. #stonyfieldblogger #sponsored
A creamy Greek yogurt-based dip that tastes just like the classic Margherita pizza!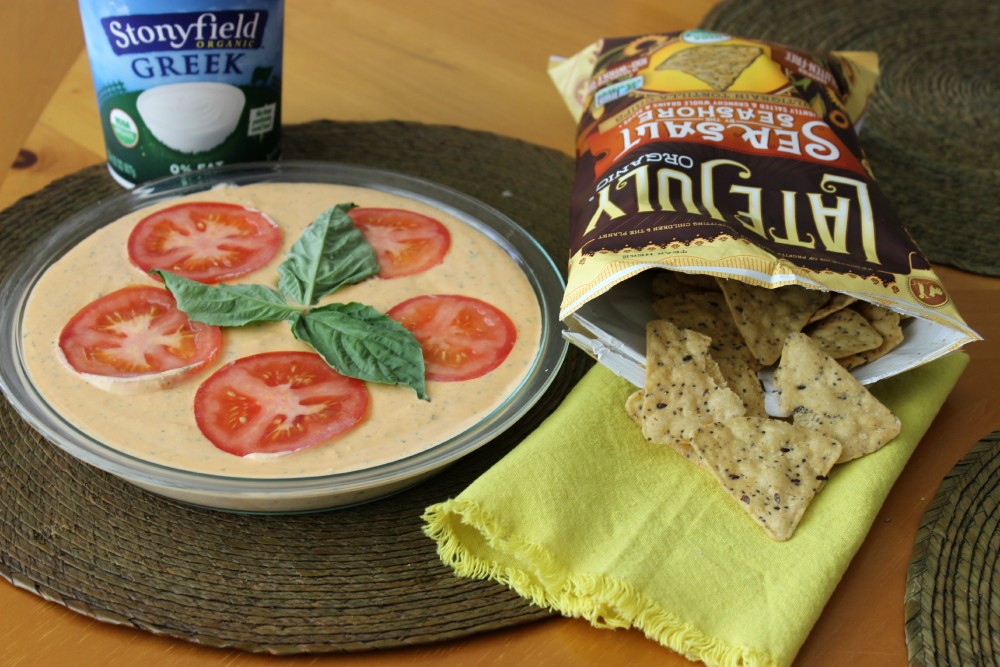 The idea for a Margherita Pizza Dip came to me during spin class. Yes, I do some of my best recipe-creating during my workouts. I wasn't even craving pizza — the idea just sort of sprang up as I was climbing one super-steep hill. The first ingredient I reach for when making any kind of creamy dip is Greek yogurt. You'll never find mayonnaise or sour cream in my fridge, and you'll never see it in my recipes. Stonyfield plain nonfat Greek yogurt is my go-to!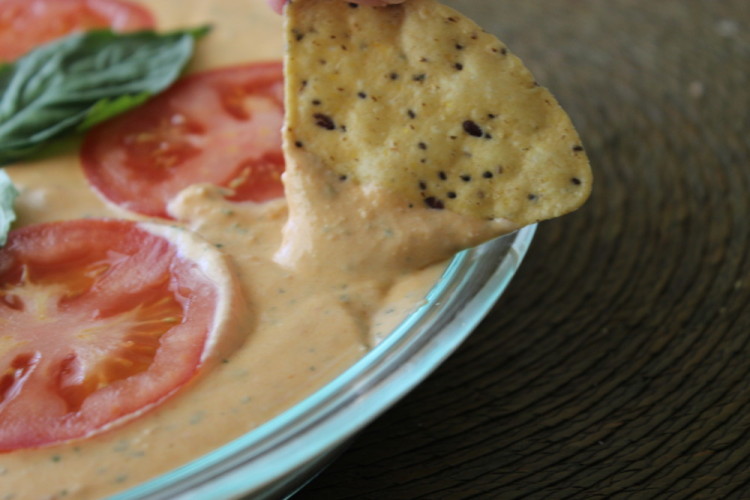 A combination of nonfat Greek yogurt and reduced fat cream cheese help give this Margherita Pizza Dip it's thick, creamy consistency without packing in major fat and calories. I'm a total chip-and-dip kind of girl — once I get going, it's hard to stop! If I can keep the dips on the lighter side, at least I won't feel too guilty as I'm stuffing my face with dip-covered chips. Another way to keep things nice and healthy is to nosh on things like Late July's new Organic Sea Salt by the Seashore Multigrain Tortilla Chips. They are certified USDA organic, gluten free and non-GMO and made from 100% whole grains and seeds. They taste pretty awesome drenched in Margherita Pizza Dip too!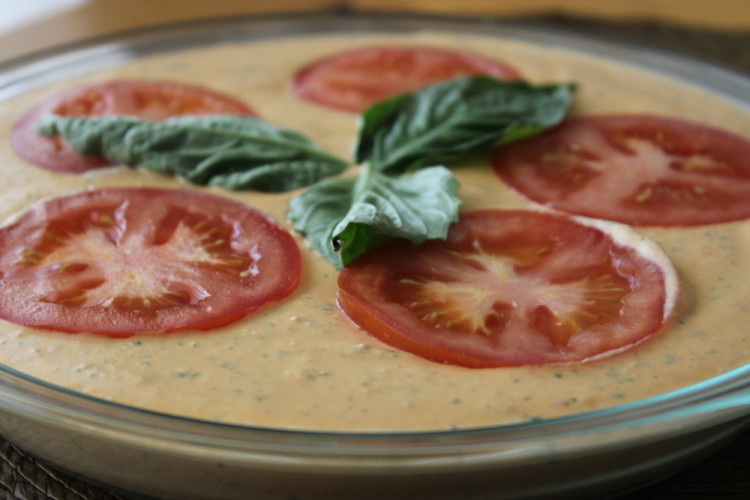 Summer is prime time for BBQs and pool parties, and chips and dips are always the perfect thing to bring! Make Margherita Pizza Dip and serve it along with Late July Organic Sea Salt by the Seashore Multigrain Tortilla Chips for all your summer gatherings. Sure, you could just order a Margherita pizza instead — but it's much more fun to grab those chips and get dippin'!
Stay up to date on all of Late July's yummy products on Facebook, Twitter and Instagram.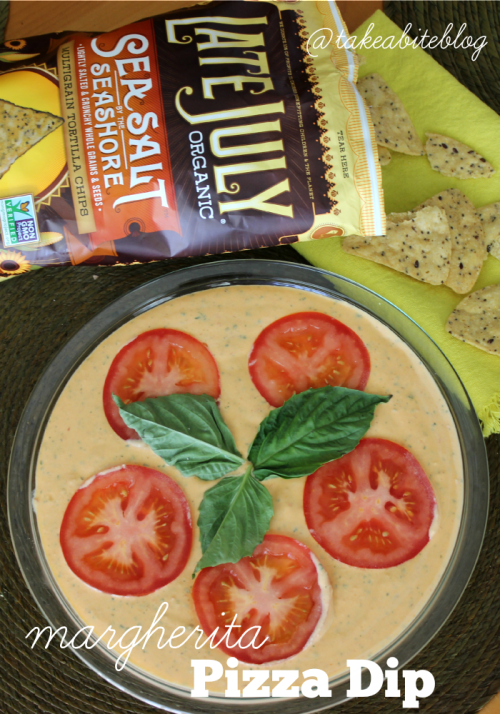 Margherita Pizza Dip
Author:
A creamy Greek yogurt-based dip that tastes just like the classic Margherita pizza!
Ingredients
2 cups shredded part-skim mozzarella cheese
1 cup Stonyfield non fat plain Greek yogurt
8 oz. reduced fat cream cheese
1 cup tomato-basil sauce
2 small tomatoes
handful of fresh basil leaves, plus a few more for garnish
2 tsp oregano
2-3 cloves garlic
salt and pepper
Instructions
Add mozzarella, Greek yogurt, cream cheese and tomato-basil sauce to a blender and pulse until smooth.
Cut up one of the tomatoes and add it to the blender, along with the basil, oregano and garlic.
Pulse until well-combined and the consistency is smooth and creamy.
Season with salt and pepper to taste.
Cut thick slices from the remaining tomato
Pour mixture into a wide dish and top with tomato slices and basil.
Serve cold.