Never miss a bite! Sign up here to receive new recipes and reviews straight to your inbox.
NOTE: This restaurant has since closed.
Disclosure: I was invited to dine as a guest of the restaurant. No monetary compensation has been received for this post. As always, all opinions are 100% my own. 
Bar Brawls may be over, but you can still find me at Max's Social House on any given night, sipping on perfectly crafted cocktails and noshing on one of the creative menu items from Executive Chef Eric Baker (also of Max's Harvest). It's definitely one of my favorite bars in town, not only for the food and drink, but also for its cozy atmosphere. Max's Social House — called SoHo by locals and loyal guests — is situated a little off the beaten path, which means you don't have to worry about the hustle and bustle of Atlantic Avenue or its crowds of people.
I was recently invited to a grandiose VIP dinner to celebrate the unveiling of Chef Eric's newest menu launch. There are small changes on the SoHo menu every so often, as Chef Eric likes to keep things fresh and seasonal, but this time he's made more than just a few tiny edits. Don't worry, SoHo favorites such as the Pimento Cheese Dip and SoHo Blend Burger are still there for you to enjoy — but you may find yourself wanting to shy away from the familiar and get a little adventurous on your next visit.
Cocktail hour included two new drinks — a batch-bourbon punch drink called Soda Popinski's Soda Fury, made with cherry heering, lemon and cream soda, and the Star Fox and Slippy Toad Do Mexico, made with blanco tequila, mulled Myer lemon, averna and simple syrup. Bourbon is not my thing, but that tequila drink was a breath of fresh air and the perfect start to the evening.
Plenty of passed hor d'oeuvres too. There were some seriously tasty bites that I could easily make a meal out of — the Falafel Bacalao Croquettes with a lemon tahini dipping sauce, Fried Oyster Tacos with remoulade, pickled okra and cabbage, and the Monkfish Pastrami 'Reuben' with pickled mustard seeds, brusselkraut, and Russian dressing on marbled rye bread. Though all three were quite delicious, my favorite was the monkfish reuben. I honestly have no idea what an actual reuben is supposed to taste like, but the flavors here were on point. Tangy, smokey, and even a little, dare I say, sweet. It seems like making fish versions of a reuben sandwich is becoming a trend, and I can't say I'm mad about it one bit!
Dinner was not for the faint of heart. Dish after dish came out, leaving us all incredibly full, but wonderfully satisfied. First up was a dish that is not new, but is certainly a house favorite, the Loaded Avocado Hummus — the 'loaded' part refers to the bacon, feta, and olives that are part of this velvety-smooth dip (I got one sans bacon of course). It's served with the most addicting crispy house-made tortilla chips. I couldn't stop eating them!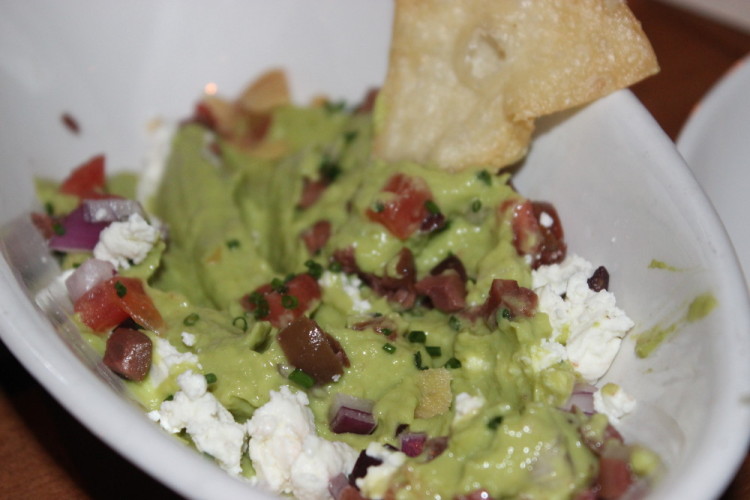 Along with the dip, we were presented with the beautiful new Beets & Burrata salad. This combination of beets, dates, pistachios, arugula, and croutons is topped with a generous amount of creamy, cool burrata and drizzled with pomegranate molasses. I love every single component of this dish — the flavors, the texture, the colors — it's something I could order again and again, and never be bored with.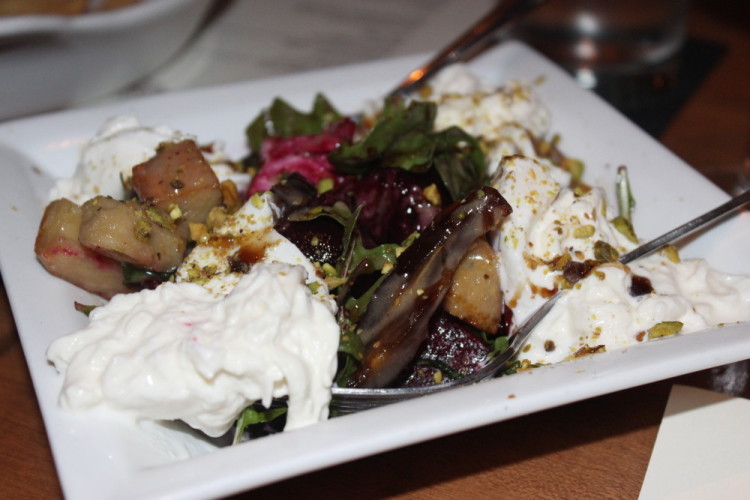 The next dish to come out is a very interesting one — something you would only get when you're dealing with a Jewish chef. Matzah Ball Ramen. Yes, ramen meets Jewish penicillin. Although the dish was made with schmaltz (chicken fat) and had corned beef, I still made sure to get a nice helping of noodles and matzah ball. The broth was a little too thick for my liking, most likely from the schmaltz, but the noodles were delicious and the matzah ball was light and fluffy, just the way my Bubby makes 'em! This is one of the most unique menu items to hit SoHo (or any restaurant for that matter) and I highly recommend you give it a try.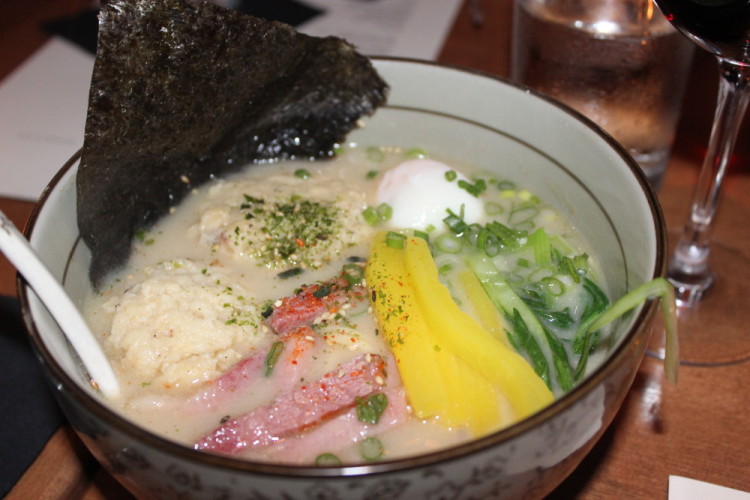 Another dish worth noting is the new Rainbow Trout 'Meuniere' with brown butter, capers, pine nuts, raisins, cauliflower, and red Russian kale — a gorgeous plate of food with such a palatable variety of flavors all married together to bring you the ultimate seafood dish. It was probably my favorite thing we had that night. Thankfully my table-mates were nice enough to let me steal the last piece, since the other dishes served were meat — the St. Louis BBQ Ribs and the build-your-own Peking Duck buns.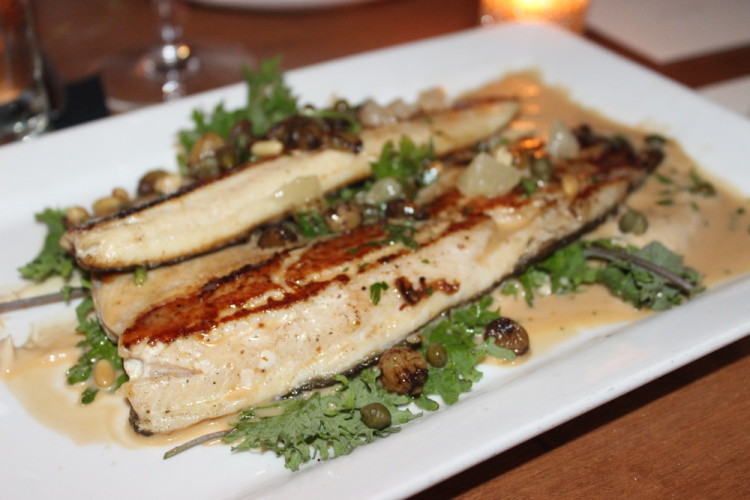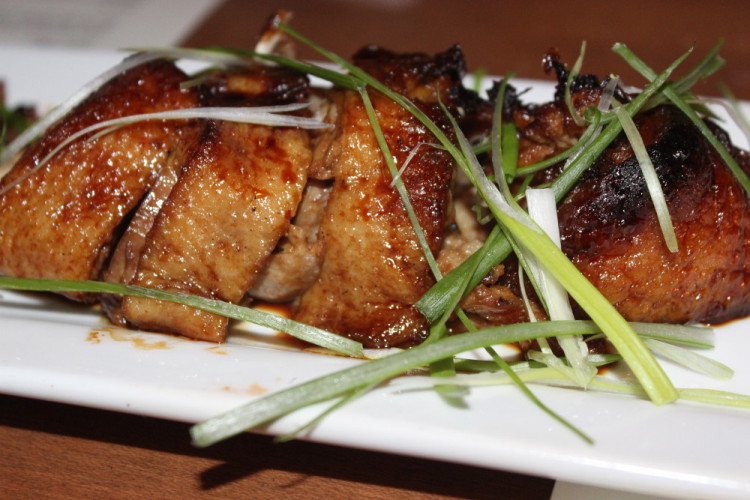 Side note: The new octopus dish was not part of this zillion-course tasting menu; however, I had the pleasure of trying it the previous week. It definitely deserves a mention here! The Octopus 'Anticucho' is served with a Peruvian cassoulet and Aji amarillo sauce. You're probably like, what the…? Basically, it's a skewer of perfectly cooked octopus and potato on top of a spicy mixture of various beans and chile peppers. There is also chorizo in the mix, but of course I had mine without. This is a must-try for all octopus lovers!
Throughout dinner, we had a chance to try a few other cocktails, all newly added to the already expansive drink menu. Each cocktail comes with an interesting list of ingredients, and an even more interesting name. We tried "Winter Isn't Coming," made with rye whiskey, cognac, amaro, mole bitters, orange bitters, and cacao rum; the "Legend of Bobby Brownout," (named after one of Bar Brawls' semi-finalists) made with vodka, cranberry, grapefruit, amaro, ginger syrup; and "Phil and Ed's Excellent Adventure," made with templeton rye, blanco vermouth, lemon, simple, ardbeg spray.
Now, for dessert. I have to admit I was a little upset when I heard the legendary banana cream pie was being taken off the menu. That jar dessert has held my heart captive since I first tried it over a year ago. But SoHo has a new in-house pastry chef, Rachel Vondell, who is definitely doing the place some good. After trying her desserts, I think I'll be okay without the banana cream pie. The baklava was thick and flakey, sticky and sweet, crunchy and smooth — and the orange ginger pistachio ice cream served alongside was its perfect counterpart. The S'mores Ice Cream Sandwich was a sinfully sweet play on the traditional campfire treat, with graham cracker ice cream topped with a layer of marshmallow cream and sandwiched between two soft and chewy chocolate cookies.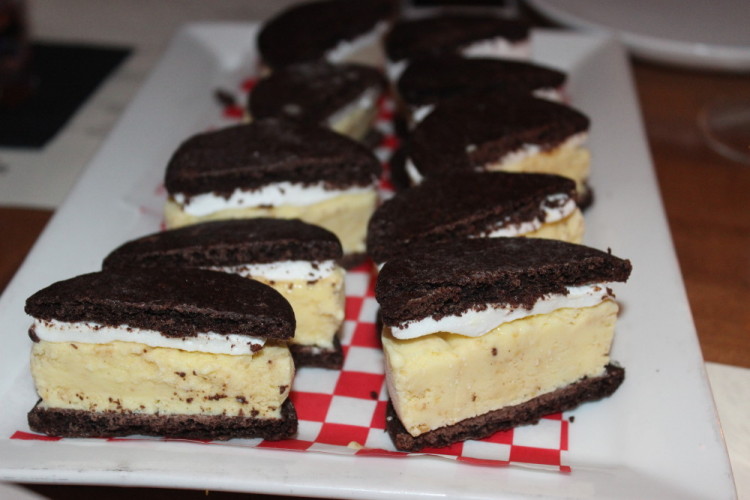 There are so many other dishes worth trying on SoHo's menu — even the side dishes are filled with flavors and preparations you won't see just everywhere. There's a reason it's one of my all-time favorite Delray spots. Max's Social House is located at 116 NE 6th Avenue.