Never miss a bite! Sign up here to receive new recipes and reviews straight to your inbox.
Disclosure: I was invited to dine as a guest of Meat Market Palm Beach and received a complimentary meal in exchange for this post. As always, all opinions are 100% my own.
Meat Market Palm Beach is one of the county's most popular and loved steakhouses, if not only for the food but for the atmosphere as well. The restaurant is able to accommodate large group events and intimate dinner parties, and it is the perfect setting for a romantic date night or special occasion dinner with friends and/or family.
Meat Market Palm Beach has been on my radar ever since I started eating meat about a year ago, and it took me this long to get there. It was well worth the wait though — and Roger and I definitely made the most of it. Our server, Carlos, was incredibly friendly and attentive to detail throughout the entire meal, especially regarding my allergies. Chef de Cuisine Chris Garvin came out to greet us, and gave us some recommendations for the evening. Pro-tip: Always listen to the chef.
We started things off with the BBQ beef ribs, featuring Niman Ranch all-natural, humanely raised meat, and served with jalapeño coleslaw. The ribs were so tender and flavorful — the meat practically fell off the (freaking huge) bone. The BBQ sauce was sweet and savory. If there had been any extra sauce left, I wouldn't have been opposed to licking the plate clean. #SorryNotSorry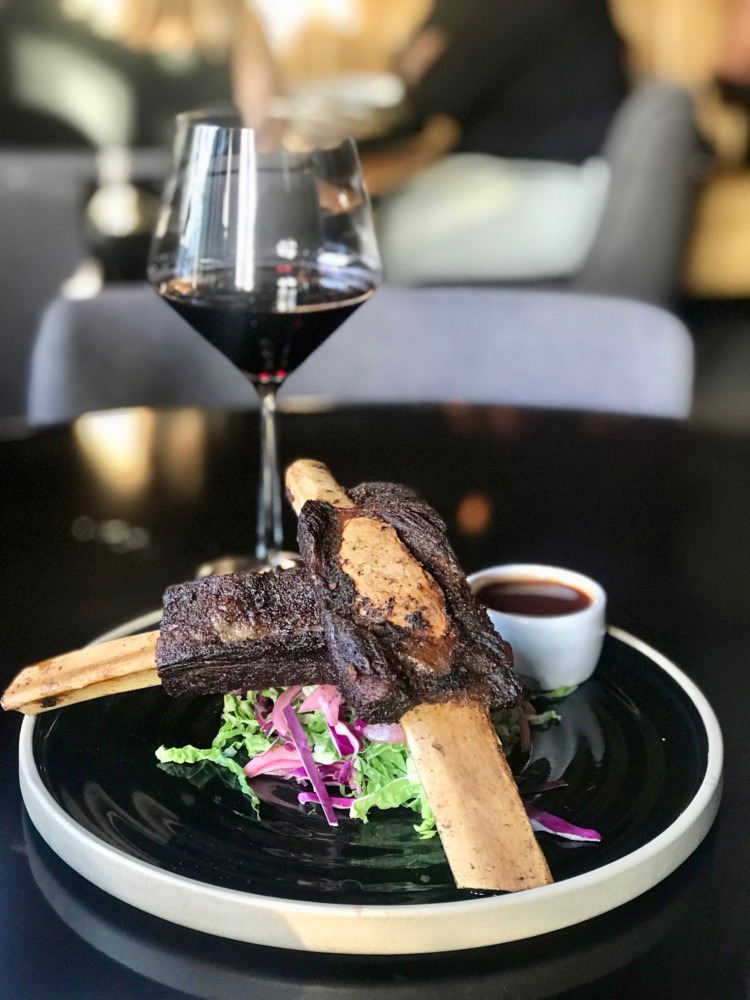 Meat Market might be well revered for its steaks, but there is one other dish in particular that everyone raves about, vegetarian or not. The roasted cauliflower is definitely a crowdpleaser, with lemon and capers, parmesan and cauliflower purée. Of course, ours had to be altered a bit due to my dairy allergy, but it was still a winner for me. Bright citrus with a hint of saltiness, tender florets with that notable charred flavor, and not to mention, the presentation of a whole cauliflower is just pretty to look at.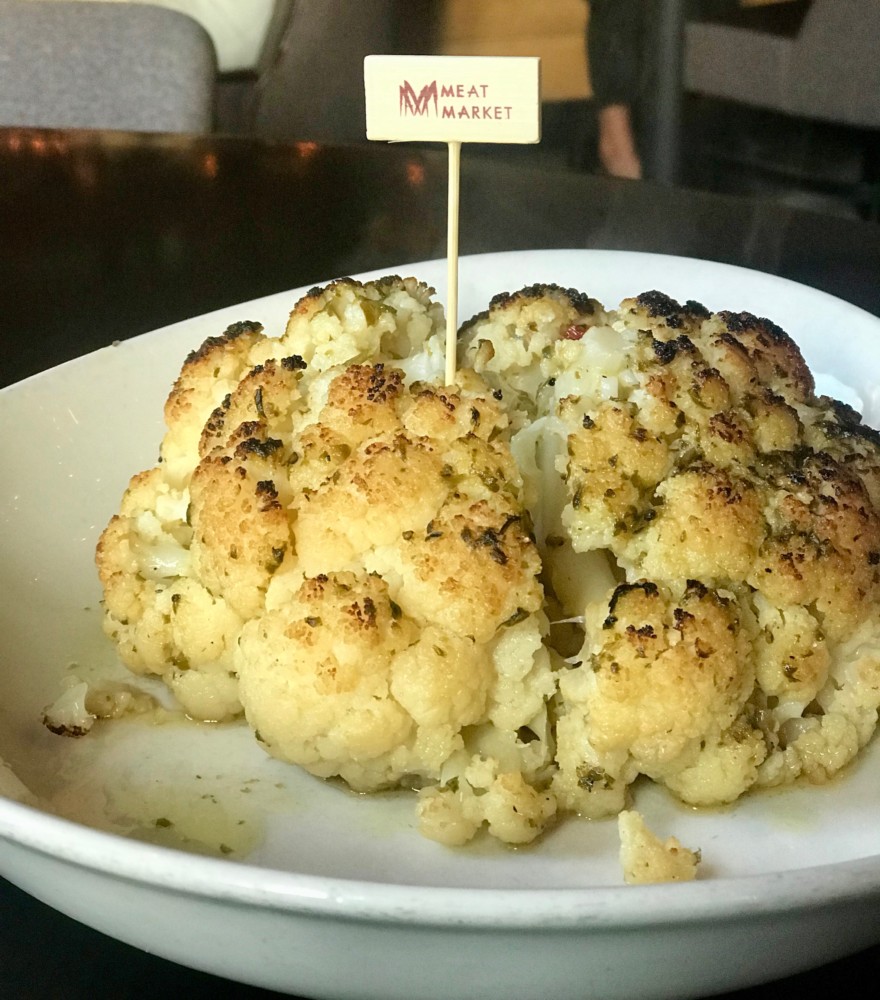 While there are some great fish entrée selections, there was no way Roger and I were visiting Meat Market without getting hot and heavy with a couple of steaks — and when I say heavy, I mean heavy. Roger had one of the most decadent steak dinners I have ever laid eyes on. It was the Meat Market Creative Steak of the Day Special, featuring Australian wagyu strip steak, topped with marrow butter, and roasted bone marrow, butter-basted in Kobe beef fat. The marrow is then scooped out onto the melt-in-your-mouth steak, and the bone is used as a vehicle for a shot of Jack Daniels straight to the face.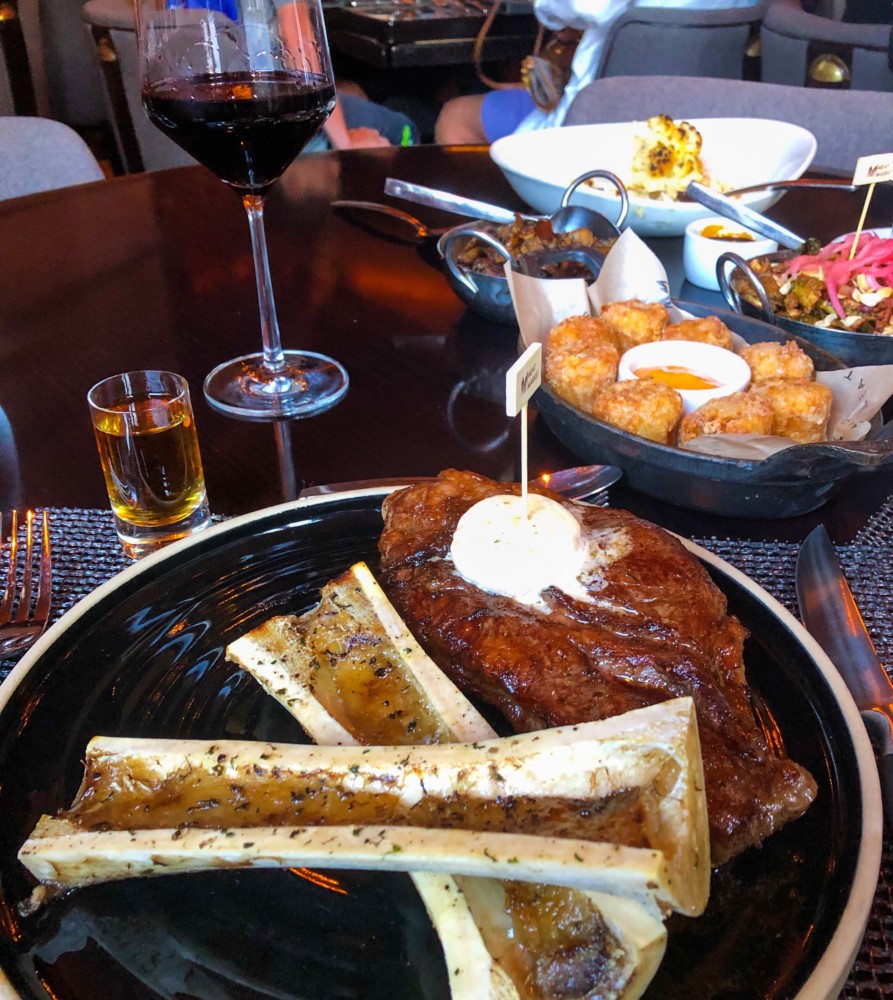 Yes, I'm serious. This was the steak special at Meat Market.
I wasn't kidding when I said it was decadent.
I, on the other head, went in a little bit of a different direction and ordered the filet — just a tad less fatty and buttery than that strip steak. It was cooked to my liking, and seasoned to perfection. Both steaks paired beautifully with a glass of Mount Veeder cabernet.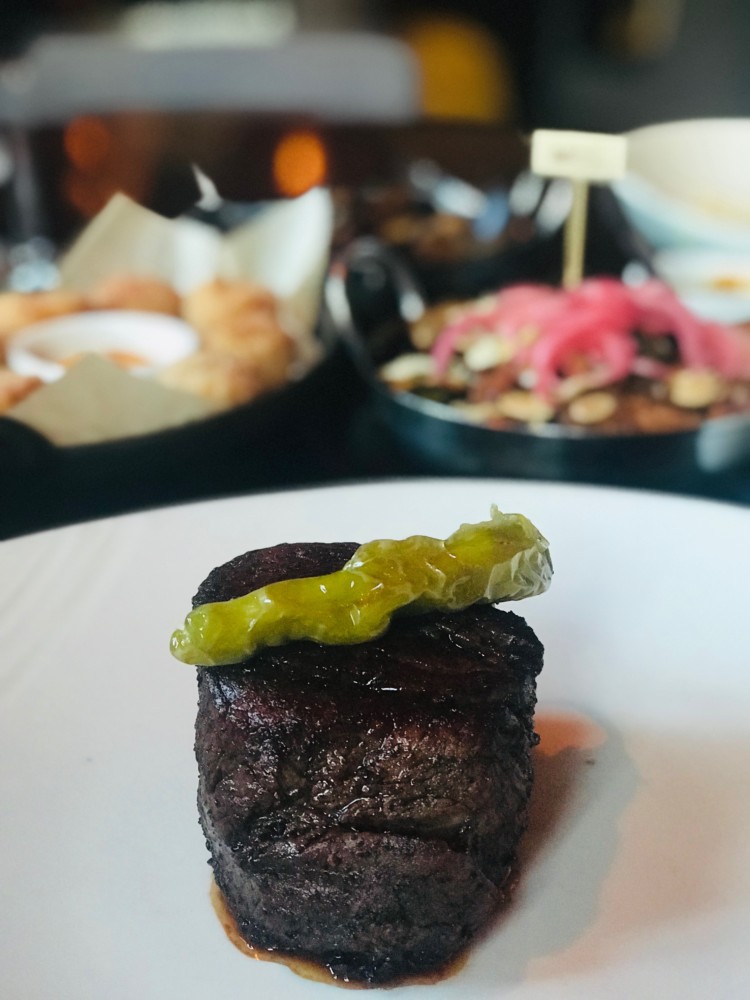 But as anyone knows, a steak dinner is nothing without a few good side dishes. We opted for three — the wild mushrooms, crispy Brussels sprouts with slivered almonds and pickled red onion, and (for Roger) the gouda tater tots, which seem to be just as popular as the roasted cauliflower.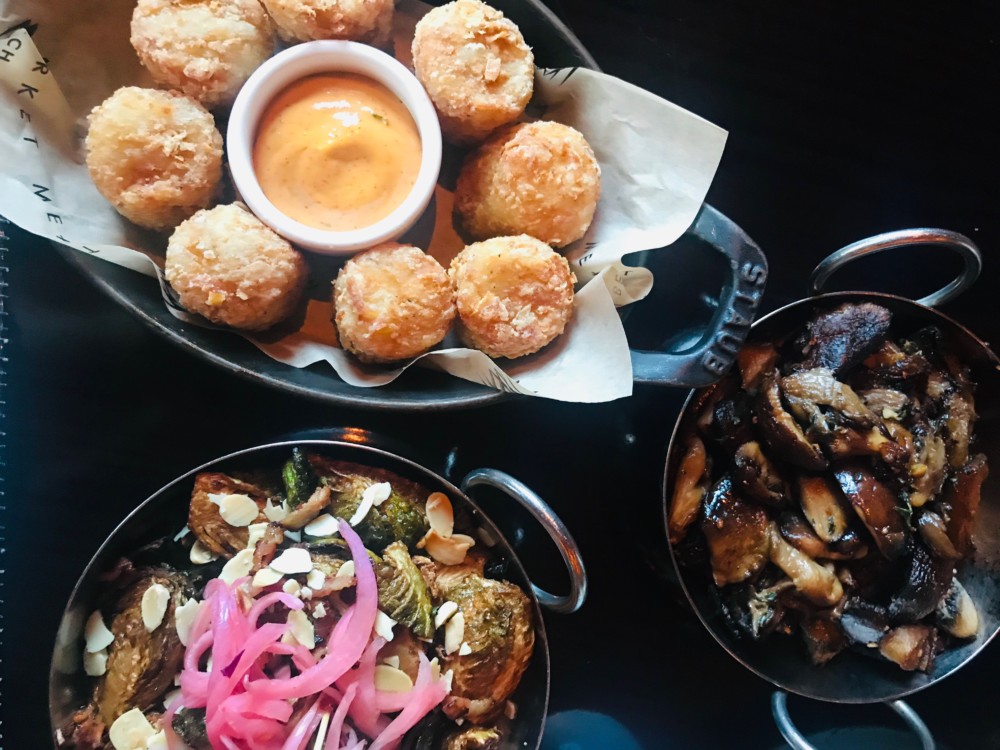 I was super excited to finally check Meat Market Palm Beach off my restaurant bucket list, but that doesn't mean I won't be back for more!
Meat Market Palm Beach is located at 191 Bradley Place in Palm Beach. The restaurant is open for dinner Sunday through Wednesday from 4-10pm and Thursday through Saturday from 4-11pm. Happy hour is daily from 4-8pm, featuring $10 Veuve Clicquot and Belvedere martinis and a select menu of specially priced drinks and food.
Meat Market is also one of the restaurants participating in Flavor Palm Beach Restaurant Month, lasting from September 1-30 when local restaurants offer guests a selection of specially priced three-course meals for lunch and dinner. Reservations are highly recommended during this month-long event!