Get Your Fill of Western Mediterranean Cuisine at Medi Terra in Boca Raton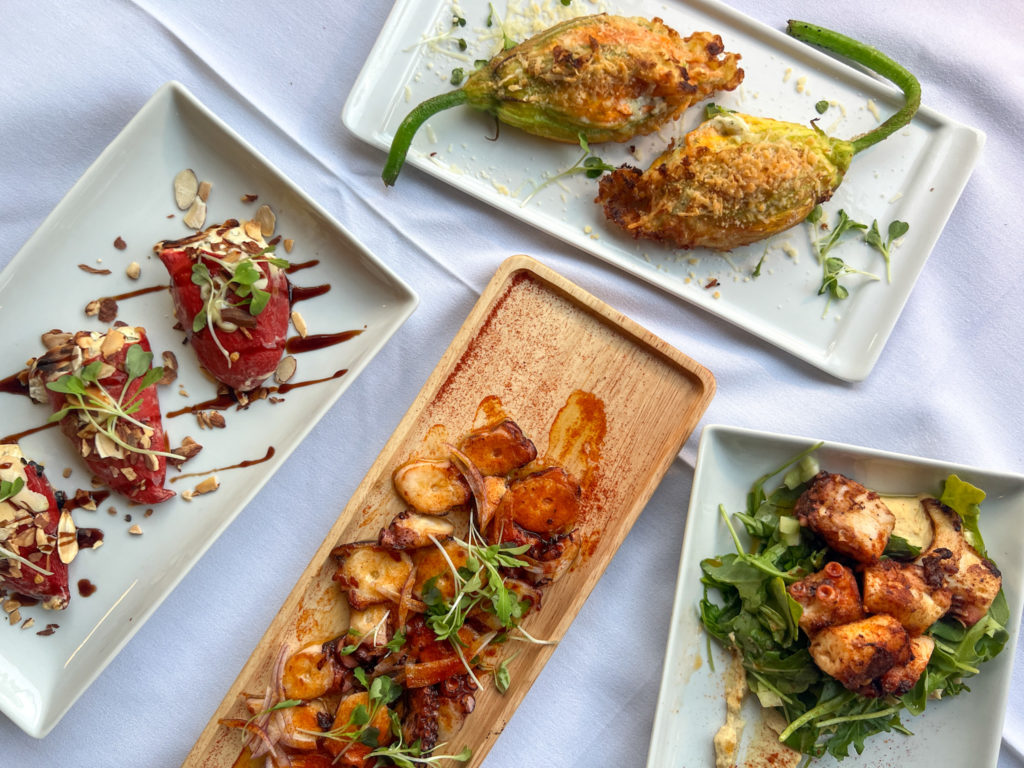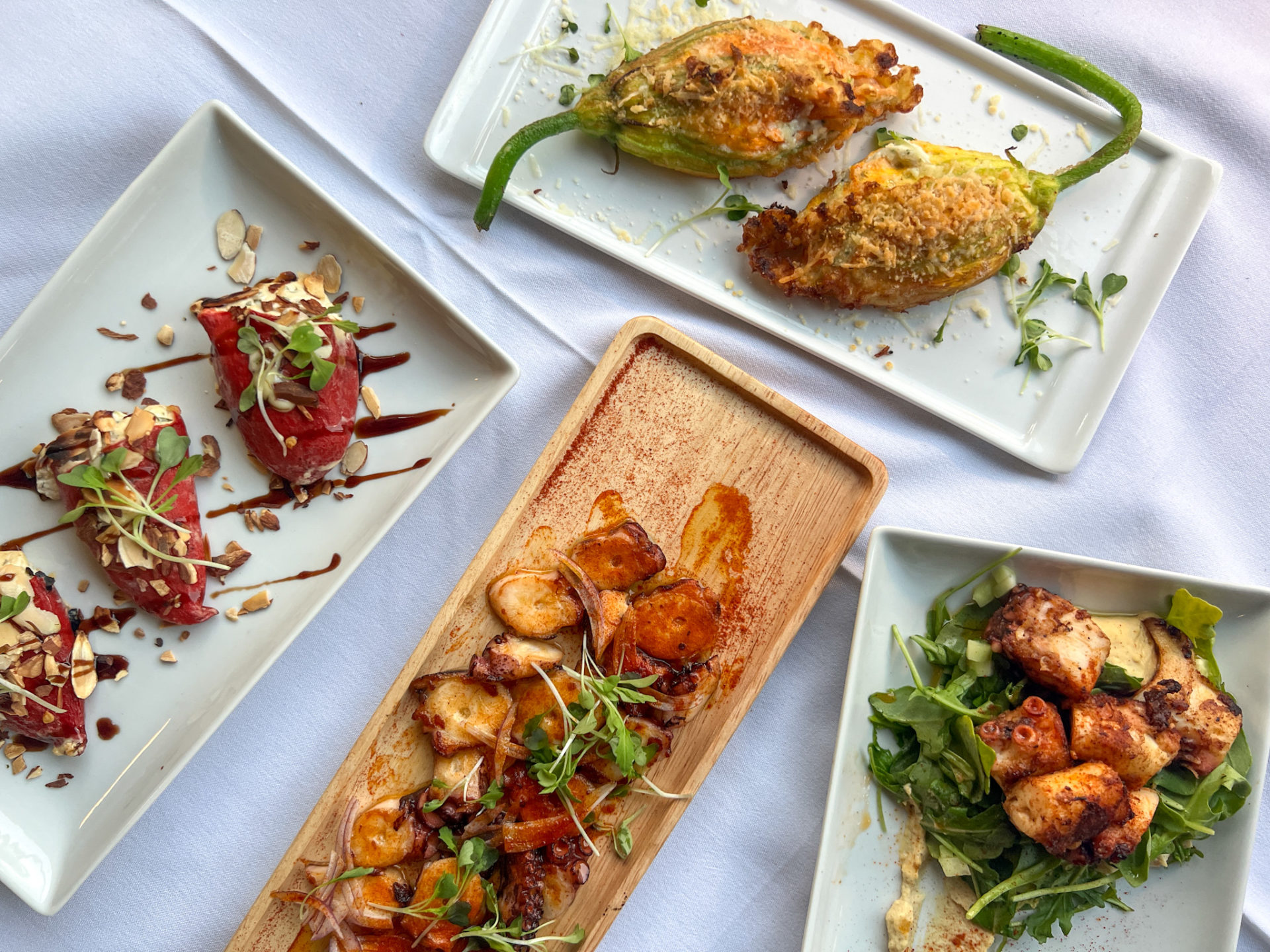 Medi Terra is one of Boca Raton's newest restaurants, located in Royal Palm Place, serving up the flavors from the coasts of France, Spain, Italy, Portugal and Morocco. This Western Mediterranean restaurant comes from co-owners and father-and-son team, Chef Michael Velicu and Daniel Velicu. While Chef Michael is making magic in the kitchen, Daniel is manning the front-of-house, greeting guests and making them feel right at home.
The space is the former Ristorante Sapori, a family-owned Italian restaurant that served Boca Raton for over 20 years — a place I had been to quite a few times and am sad to see it has left the area, but after a great dining experience at Medi Terra, I have to admit, I am not mad about its replacement.
Chef Michael sources ingredients locally whenever possible, opting always for what's fresh and in season. That means the menu will change and dishes may be presented differently. But you can always expect bright flavors, bold seasonings, and beautiful presentation.
How to Start Your Meal at Medi Terra
I always study the menu before going to a restaurant, especially somewhere totally new. When I first looked at Medi Terra's menu — weeks before going, mind you — one appetizer immediately jumped out at me: piquillo peppers with herbed goat cheese and marcona almonds. It was every bit as delicious as it sounds. Three peppers are stuffed with the goat cheese, topped with the slivered marcona almonds, and drizzled with balsamic. It sounds simple, but that herbaceous flavor really enhanced the creaminess of the goat cheese. This is the perfect appetizer to start any meal at Medi Terra. Shareable, but also so good, you may want to order it just for yourself.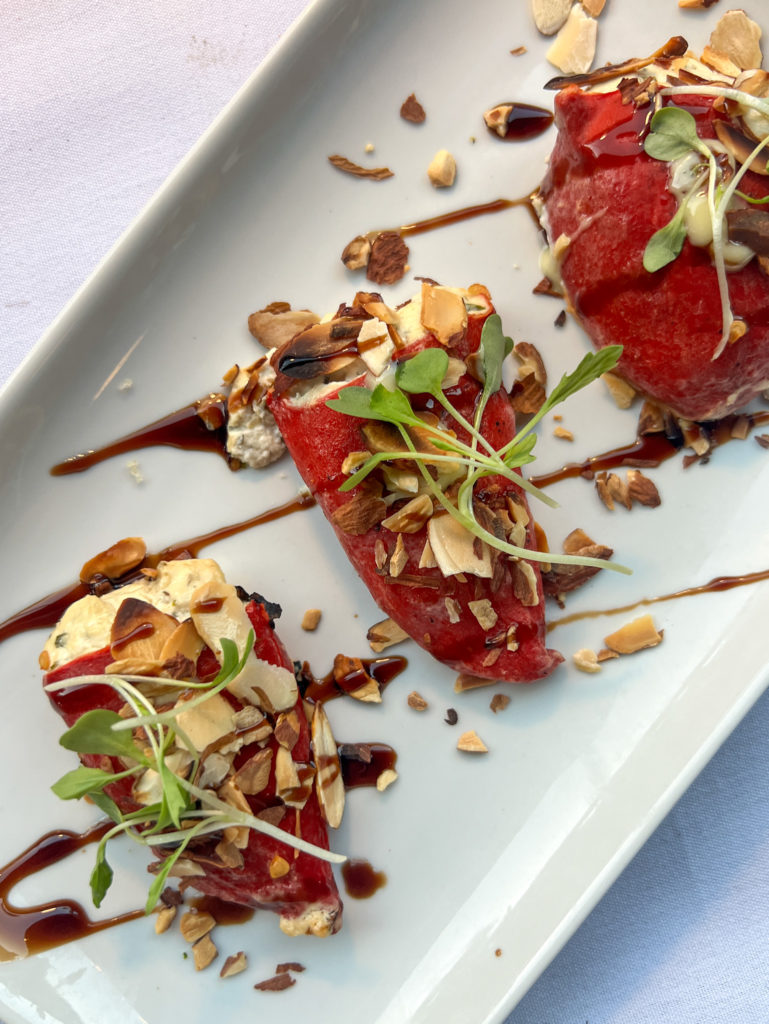 As always, hummus is a go-to at any Mediterranean restaurant. This velvety smooth dip is made in-house, and has a really pretty and colorful presentation with pomegranate arils, olive oil and a rainbow of crudité. You can get it with grilled za'atar pita on the side as well.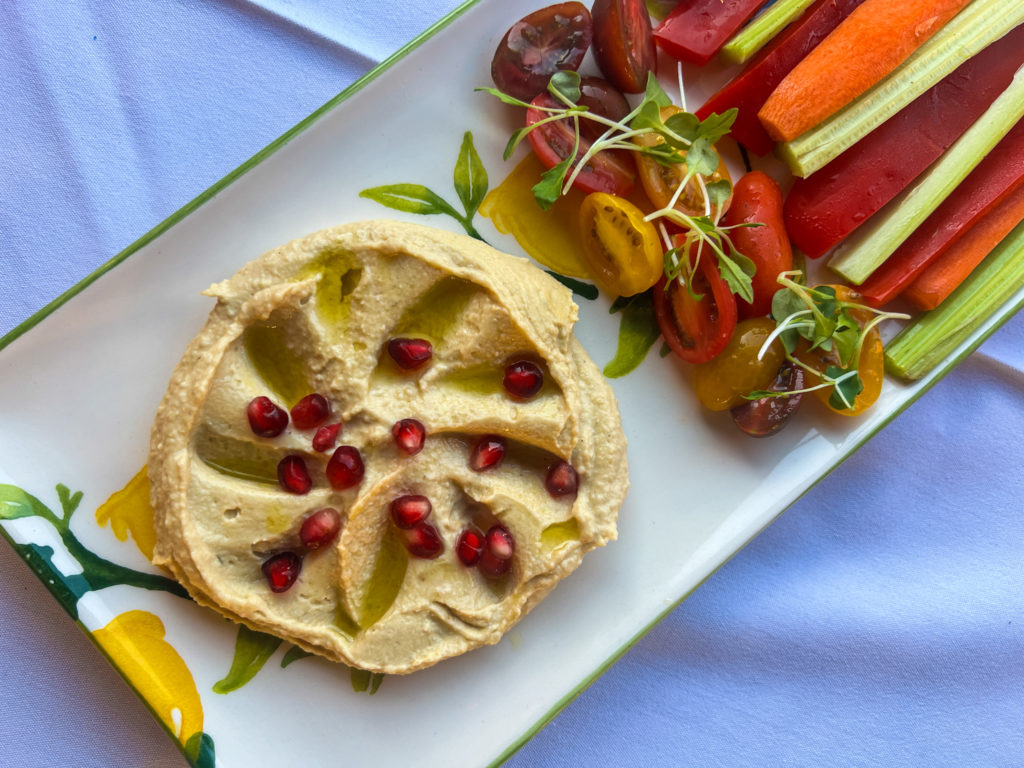 Dueling Octopus
Another must-have dish is the octopus. Well, actually, both octopus dishes. Daniel suggested that we do a little side-by-side comparison of the two styles of octopus on the menu, and now I am going to suggest that you do the same. Both of these are Spanish-inspired, but one is the northern-style preparation, and the other is southern.
The northern preparation is called pulpo a la gallego and consists of sliced octopus with thin slivers of onion, sprinkled with smoked pimentón. Then, there is the southern preparation of grilled octopus, which is what's seen on a lot of menus nowadays. Medi Terra serves it on a bed of cucumbers and arugula, alongside house-made hummus and crispy chickpeas.
The smokiness of the northern dish is ultimately what sets the two dishes apart, so it really comes down to a matter of taste preference. I was pretty torn; I loved them both, but grilled won for me in the end. I am such a fan of grilled octopus if it's done right, and this was definitely done right.
Main Plates to Order at Medi Terra
I probably could have filled up on appetizers, but onto the main course…
We ordered the half roasted duck with duck-fat roasted fingerling potatoes and sauce a'la orange. Since orange is not Shaina-friendly, we asked for the sauce on the side. I know what you're thinking… "omg that's the best part." But when I tell you that the duck was so good, it did not even need a sauce, I am not exaggerating. The skin was perfectly crisp and the meat was fall-off-the-bone tender, super juicy and absolutely delicious. It's a decent size portion too and definitely shareable.
We also tried the Paella Valenciana, which comes with scallops, shrimp, calamari, clams, marinated grilled chicken, Palacio chorizo, and saffron-infused Bomba rice. There's a little bit of everything in this dish. It was a little heavy on the saffron, though, which you can immediately tell just by the color. I wasn't a huge fan of the chorizo and I don't like clams, but overall it was a decent dish.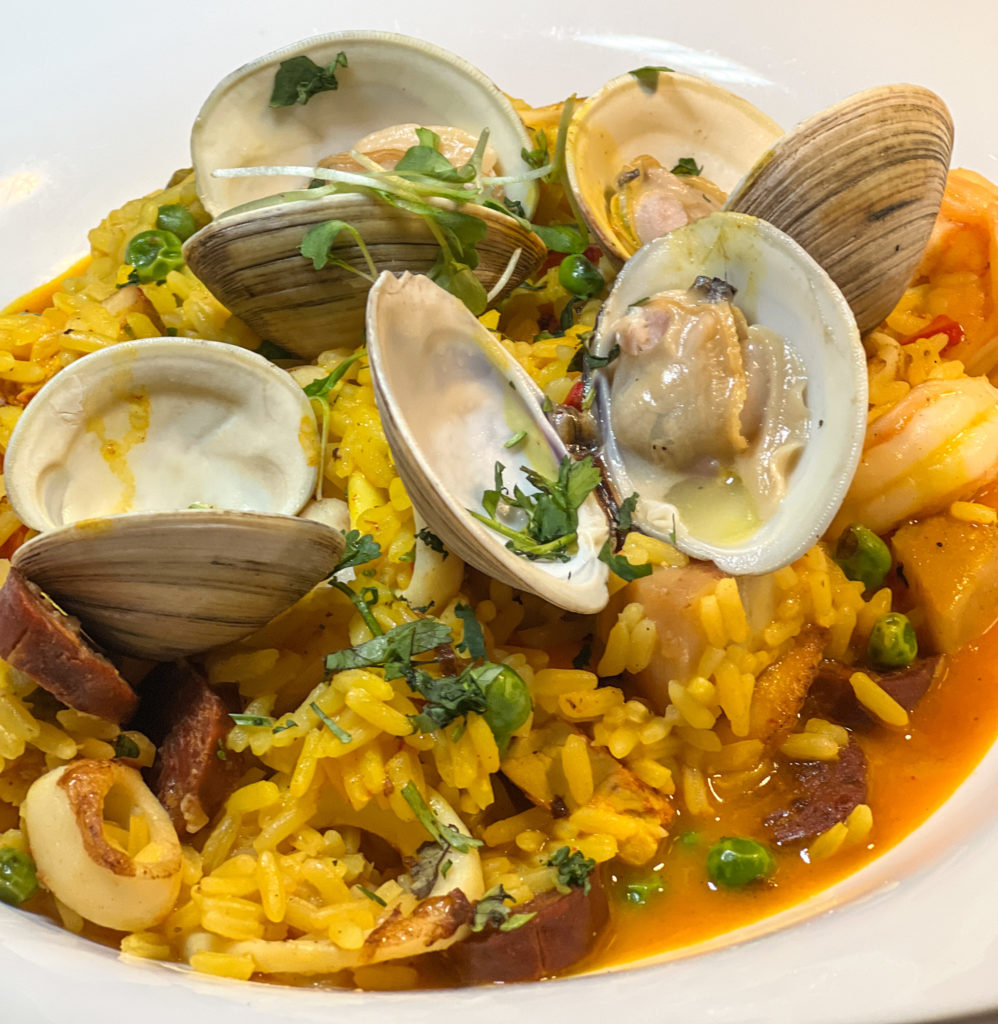 Sides are not to be ignored at Medi Terra. The caramelized carrots might not sound like much, but wow. This was easily one of our favorites of the night. There was so much flavor in this dish from the aromatic Moroccan spices and that sweet and smokey caramelized char on the baby carrots. I could have eaten an entire second plate of these!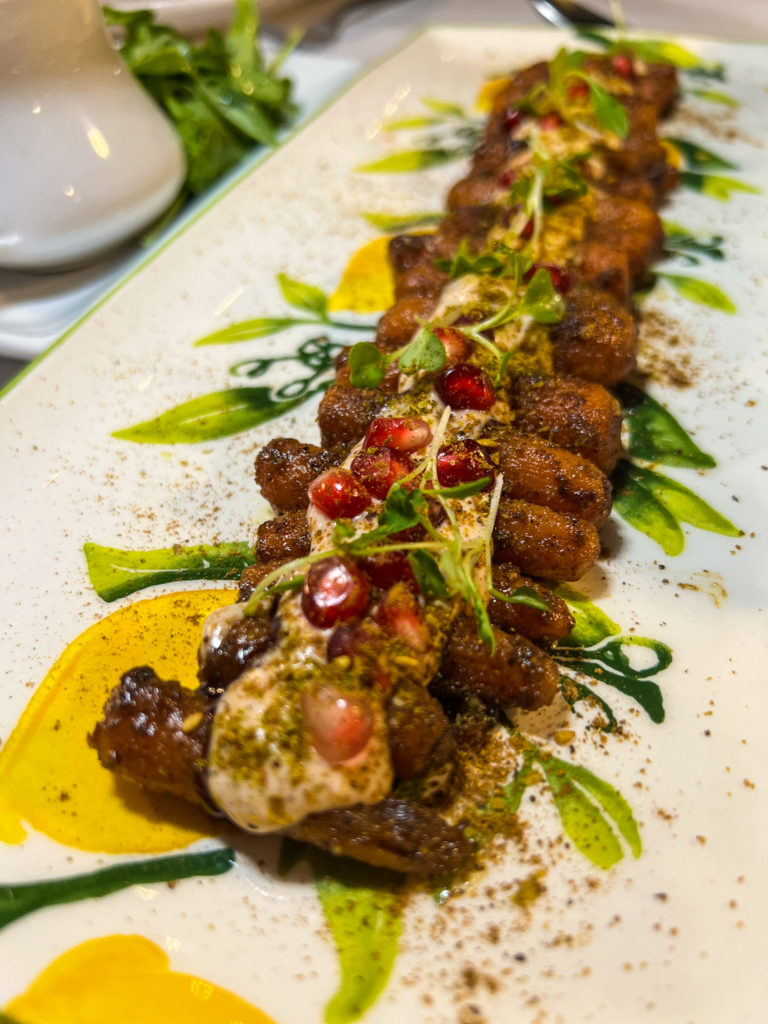 Make Your Reservation at Medi Terra
Medi Terra is located at 301 Via De Palmas, Suite #99, in Boca Raton. The restaurant is open Monday through Saturday for lunch from 12-3pm and dinner from 5-10pm. Check them out on Instagram and Facebook. Reservations are available via OpenTable.
Disclosure: I was invited to dine as a guest of Medi Terra in Boca Raton. As always, all opinions are 100% my own.