I never eat sandwiches. I don't remember the last time I took two pieces of bread, stuffed something between them and took a bite. Like, honest to God. Can…not…remember. But I love bread. Put a bread basket in the center of the dinner table and I'll go to town. Warm Italian bread right out of the oven, crusty sourdough, sweet rolls with all kinds of goodies tucked inside. But sandwiches? They don't appeal to me. I don't really know why my brain thinks this makes any sense.


However, I recently bought a pack of whole wheat pita bread because I wanted to make my own pita chips (which is super easy, kind of genius, saves money, AND saves calories). But there was leftover pita… What else could I make with it? I found inspiration from none other than this month's #WeekdaySupper theme: That's A Wrap! Basically, anything with a filling and something wrapped around it. And that's how I came up with these Mediterranean Pita Pockets!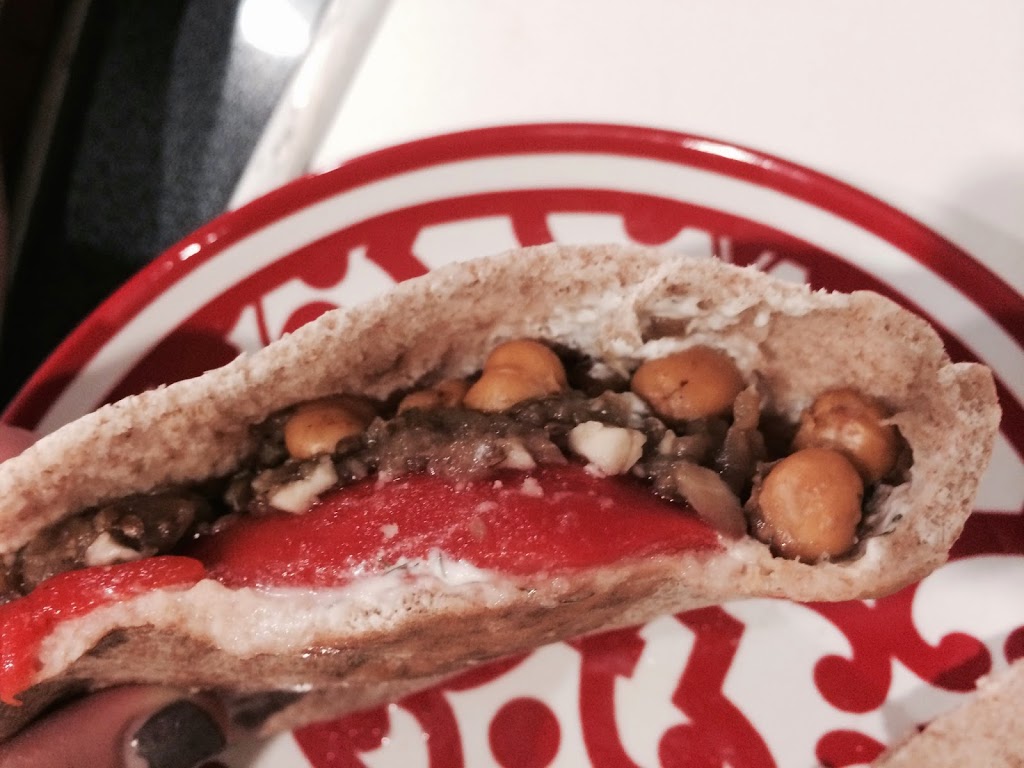 I roasted eggplant in the oven, scooped out the flesh and pureed it with garlic, lemon, salt and pepper to make a baba ghanoush-like spread. Then I tossed chickpeas with a little olive oil and roasted them in the oven too. I got some tzaztiki sauce and roasted red peppers and went to town stuffing pita pockets. First a layer of eggplant, then a few slices of roasted red peppers, followed by a generous scoop of tzaztiki and topped with crispy, crunchy chickpeas to round everything out texturally. The ingredients paired beautifully and I loved each element of flavor. Since this was kind of a last-minute-idea dinner, there were two things I didn't do that I would totally 100% do next time I make these Mediterranean Pita Pockets. Add Feta (I didn't have any in the house at the time) and grill it on my panini press.

Would you believe I actually ate a sandwich for dinner?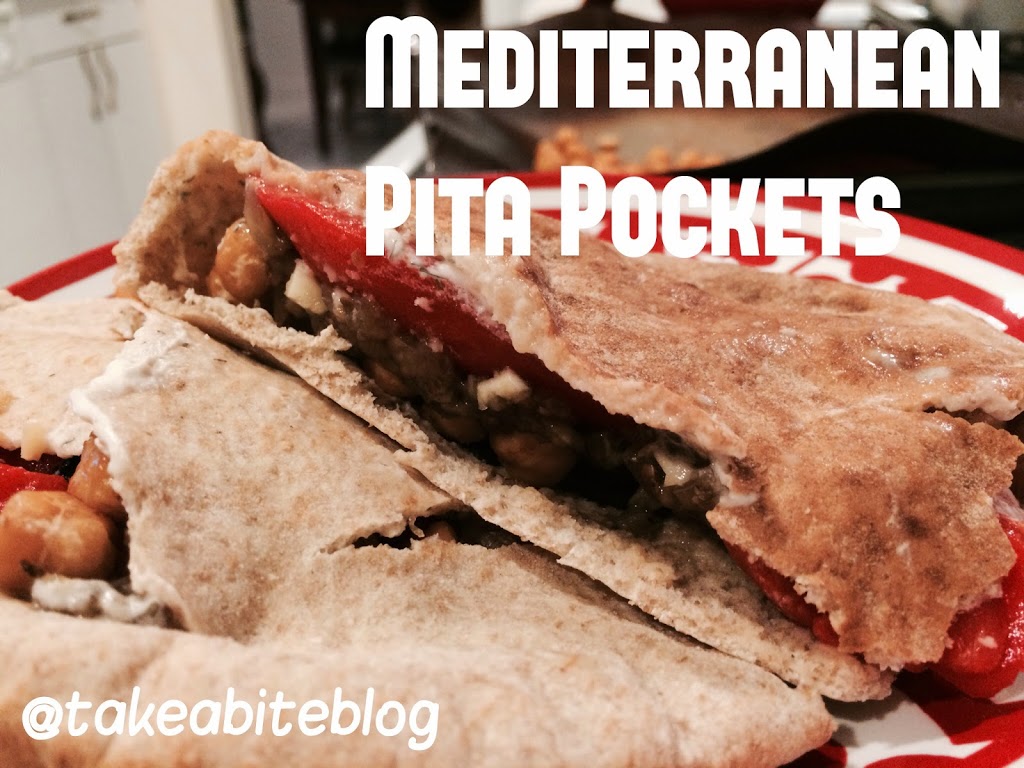 Mediterranean Pita Pockets1 whole wheat pita pocket, cut in half
1 medium sized eggplant
3-4 garlic cloves
juice of 1 lemon
salt and pepper
1/4 cup chickpeas, drained and rinsed
1 tbsp olive oil
tzaztiki sauce
roasted red pepper, sliced (the jarred kind works fine here)

Score the eggplant on all sides and broil on hi for 40 minutes, turning halfway through.

Toss chickpeas in olive oil and arrange on a baking sheet lined with parchment paper or a silicone baking mat. Set aside.

When the eggplant is done, remove and preheat the oven to 400 degrees. Cook chickpeas for 25-30 minutes or until desired crispiness is achieved.

Once the eggplant has cooled, scoop out the flesh and transfer to a colander to drain. Once most of the excess liquid has been drained, combine eggplant, garlic cloves, lemon, salt and pepper in a food processor and pulse until semi-smooth.

Now make your sandwich! Use as much or as little of each ingredient as you prefer. Spread a layer of eggplant inside the pita, followed by slices of roasted red pepper, scoop the tzaztiki sauce over the pepper, and top with chickpeas.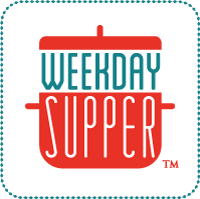 Need more #WeekdaySupper inspiration? Check out the rest of this week's menu: