Never miss a bite! Sign up here to receive new recipes and reviews straight to your inbox.
Meyer lemon infused olive oil gives this homemade hummus a unique and refreshing flavor perfect for a summer snack or appetizer.
Have you ever made your own hummus? Ever since I went on the Taste Atlantic Ave tour with Savor The City Culinary Tours and my made own hummus tableside at Taverna Opa, I've been wanting to try it at home.
Yes, you read that correctly — I have never made my own hummus before! I've made edamame "hummus" and plenty of other dips, but never hummus. This is baffling to me because I absolutely love hummus and usually have at least one can of chickpeas in my cabinet at all times. It's so super easy to whip up your own batch, it almost makes me cringe when I think of the $3-4 I spend on the Sabra brand (even though I love it and probably still will continue to buy it).
I always knew it was a simple dish to make, but I don't think I realized just how simple until the ingredients were placed on the table before me inside a mortar and pestle and I was instructed to pound away. So fun! Chickpeas, garlic, lemon juice, a little olive oil… That's it. Taverna Opa doesn't use tahini in their hummus just in case people have sesame allergies — pretty considerate of them. The lemon and garlic really shone through without the nutty tahini masking any of their flavors. Although I do love the nuttiness that tahini brings, I wasn't against the tahini-less idea.
Which brings me to making my own hummus. One of the other stops on that same Taste Atlantic Ave tour was The Ancient Olive, where I got to taste an incredible assortment of balsamic vinegars and olive oils, one of which was a meyer lemon infused oil. YUM! And that's how the idea for Meyer Lemon Hummus was born. Well, it was my good friend Denise's idea to use the Meyer lemon olive oil — I have to give her credit here. It was genius! So we threw chickpeas, lots of garlic, lemon juice, and this meyer lemon olive oil into the food processer and went to town. I would have used my mortar and pestle, but I was at Denise's house making this dish for a BBQ and alas, no mortar and pestle was to be found. Oh well. Food processor to the rescue! Speaking of which, I'm kind of in love with the KitchenAid 7-cup food processor and really wish I had my own!
It took us a few tries to really get this Meyer Lemon Hummus to the consistency we wanted (and we added a TEENSY bit of tahini to thicken it up), but the end result was absolutely perfect. We even made our own pita chips to serve along with it. However, if you don't want to go this extra inch and make homemade pita chips, Stacy's is the way to go, especially the multigrain — those are my favorite.
Hummus and pita, hummus and veggies, hummus and more hummus — however you choose to enjoy this Meyer Lemon Hummus is up to you, but beware…it's dangerously addicting!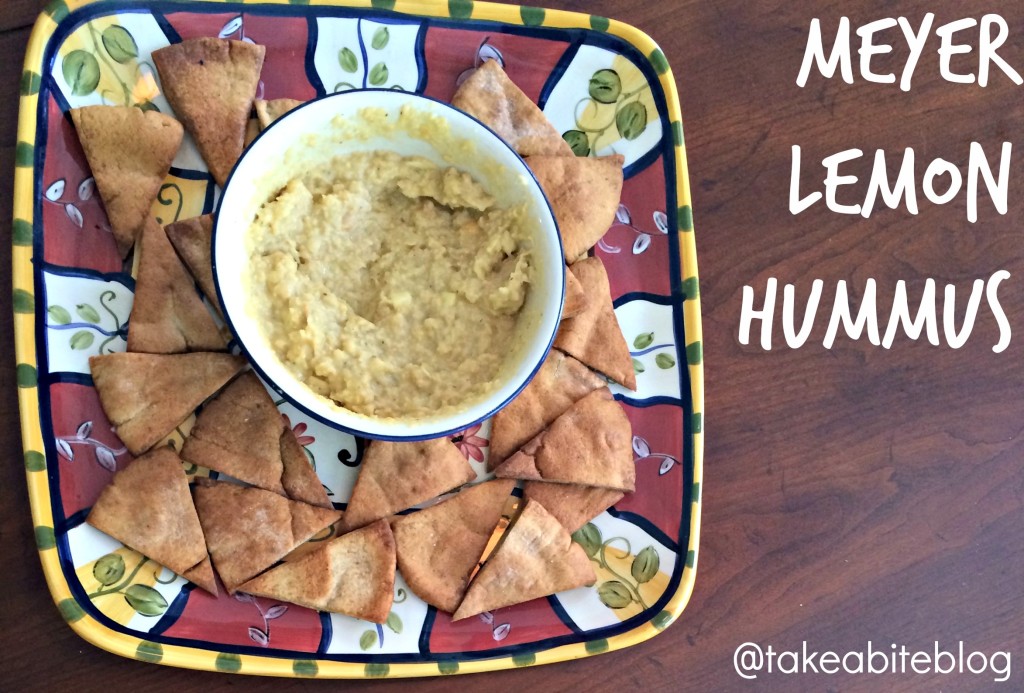 Disclaimer: This post contains Amazon Affiliate links to products I love to use. If you click through the link and purchase one of these items, I will receive a small percentage of the sale price. It's things like this that help me to continue bringing you treats like this one. Thank you in advance for helping out Take A Bite Out of Boca with your purchases through Amazon.
[yumprint-recipe id='3′]