Never miss a bite! Sign up here to receive new recipes and reviews straight to your inbox.
Disclosure: I was invited to dine as a guest of the restaurant. No monetary compensation has been received for this post. As always, all opinions are 100% my own.
With a promise of good sushi, a spacious and beautiful dining atmosphere, and a location not in the middle of the crazy South Beach hustle and bustle, Kona Grill in Miami has some pretty great appeal.
There are over 30 locations of this popular American grill and sushi bar all over the United States. I had the opportunity to dine at Kona Grill, located in Miami at the Dolphin Mall in Doral with my friends Tracy and Wayne from 2 Forks and A Cork. This was my first visit to the Doral area. When I think of Miami, I think of South Beach, Midtown, Wynwood, Brickell… But this was very different from my normal Miami outings, and it's always nice to try something new.
Speaking of trying something new, Kona Grill launched a yummy seasonal summer menu and I was very excited to check it out before it ends on September 4th. There are dishes available on the menu, all featuring global and  unique flavors that the restaurant is known for. On the menu you'll find grilled chicken and wild mushroom flatbread, Caprese salad, tuna mango sushi roll, Mauna Kea burger made with Kobe, brisket and beef and stuffed with pepper jack cheese, bacon and jalapeños, lemongrass crusted swordfish in a coconut curry sauce, and for dessert, salted caramel créme brûlée. Two cocktails round out the list — the tequila-laced Sun Kissed, made with coconut tequila, Grand Marnier, coconut water, Monin agave nectar and pineapple, and the super tropical Posh with peach vodka, coconut rum, cranberry, lemon and pineapple. These items are only available until next Sunday, September 4th so you may want to rethink dinner plans this week and head on down to Kona Grill.
The combination of coconut and pineapple screams summer and are perfect flavors to feature on a summer menu. I had the Sun Kissed and loved its subtle sweetness, refreshing taste, and toasted coconut rim! For those who lean toward sweeter drinks like the Bay/Sea Breeze, the Posh sounds like it'd be right up your alley!
Kona Grill has two kitchens referred to as hot and cold. The sushi bar is the "cold" kitchen and the "hot" kitchen boasts contemporary American dishes, some with an Asian twist. There's a large selection of sushi options including classic and specialty rolls, riceless rolls (called naruto), and other small plates from the sushi bar.  The "hot" kitchen has plenty of appetizers, salads, soups, main plates and sandwiches to please just about anyone. Because of its versatile menu, Kona Grill would be great for group-dining occasions. The best part? They even have vegan, vegetarian and gluten-free menus so literally everyone is taken care of.  Not only is the menu extra friendly, but the staff is too. Our waiter was always smiling, our water glasses always full, and our table always clean. It made for a very pleasurable dining experience.
We tried a little bit from each menu — hot, cold, and seasonal. Appetizers included the avocado egg rolls with honey-cilantro dipping sauce, lobster and tuna flatbread with avocado, red onion, tomato and citrus aioli, and the rainbow naruto with king crab & citrus aioli, tuna, whitefish, salmon, asparagus, sprouts, cucumber wrapper, chili lime spice, green onion and spicy yuzu ponzu. I know that sounds like a lot of ingredients in one roll, but it was so tasty. I absolutely love the cucumber-wrapped roll concept. It's so light and fresh, and with so many delicious things rolled up inside, it's a great starter app.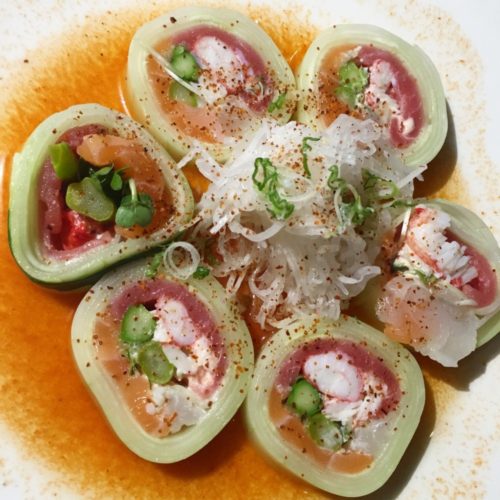 The avocado egg rolls were epic. The tempura batter was light and flakey and didn't affect the creamy texture of the avocado or its distinct flavor. And the dipping sauce? I could have drunk it straight from the dish, it was so good.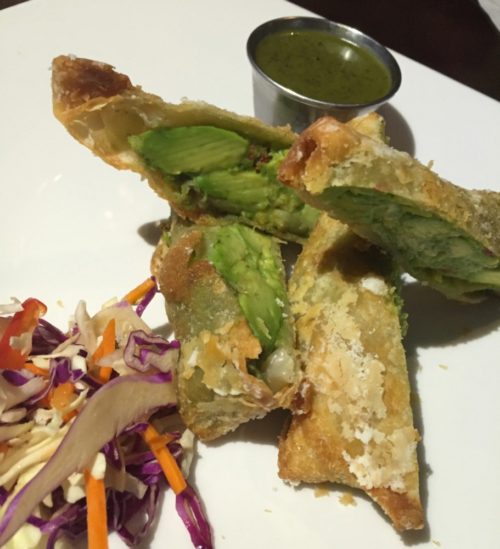 But the star appetizer for me was the flatbread. Chunks of juicy lobster, thick slices of sushi-grade tuna, thin slices of avocado and tomato, and a bright citrus aioli drizzled over top all piled high onto a thin bread very similar in taste and texture to pita or naan.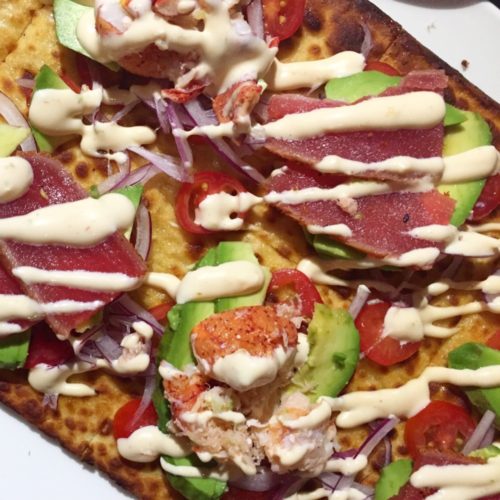 Our almost-full bellies were very happy with all of our appetizer choices. But now it was time for the main course. We hit up the seasonal menu for the lemongrass crusted swordfish with coconut curry sauce, white rice and a seasonal sautéed veggie mix of broccoli, mushrooms and onions. Another winning sauce from the Kona Grill team. A little spicy, a little sweet… White rice isn't my thing, but when smothered in that coconut curry sauce? I'm all in! The fish was cooked nicely and the crust was flavorful. For those not familiar with swordfish, it's a meatier fish — at first glance it looks like chicken or pork.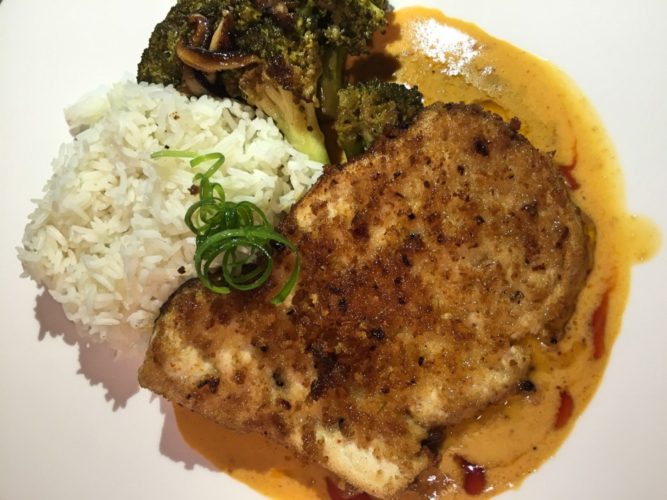 We also tried the pad thai with shrimp — a very classic dish to have available at an Asian-inspired restaurant. Our waiter warned us that it may be a little spicy because of the black bean chili sauce, which we were okay with. But we all felt that it was more sweet than spicy. It had that umami factor that kept me going back for another bite, but I would have liked the dish to have more of the typical pad thai ingredients: bean sprouts, egg, crushed peanuts — and some veggies in there would have been nice too!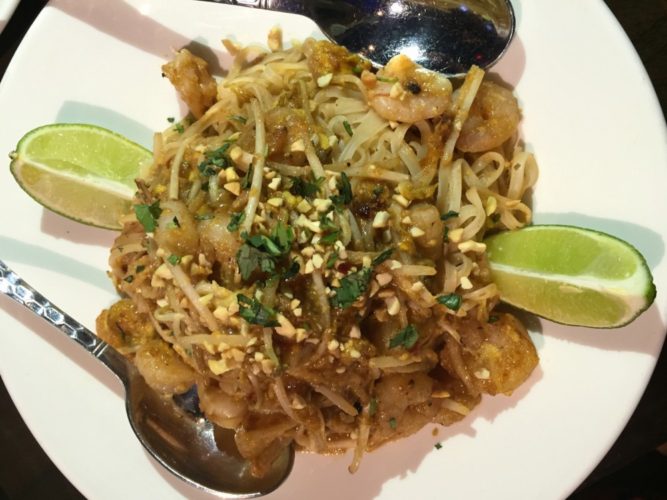 Our conclusion? Appetizers were the MVPs, entrees were second. But wait…there's still dessert! There were three of us — which means it was totally okay to order three different treats to try. Luckily, our sweet cravings were all very different. I ordered the 3 layer carrot-walnut cake with cream cheese frosting and caramel sauce, Tracy went for the butter cake with raspberry sauce, and Wayne held it down for all the chocoholics out there and had the enormous fudge brownie with chocolate, caramel and vanilla cream sauce. Chocolate lovers would dive head first into this this and savor every bite. The carrot cake was good, but there wasn't nearly enough frosting. As for the butter cake, the best part was the crispy, caramelized edges.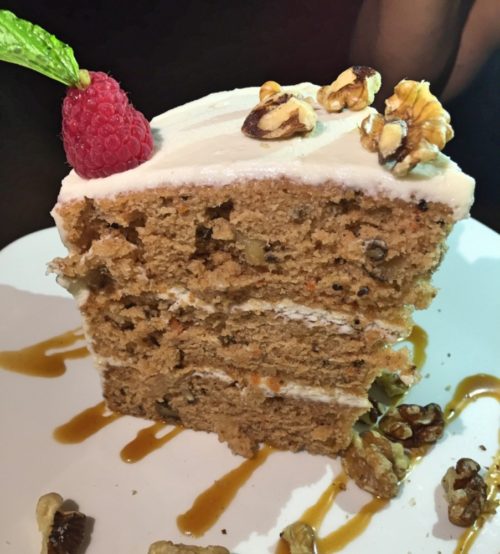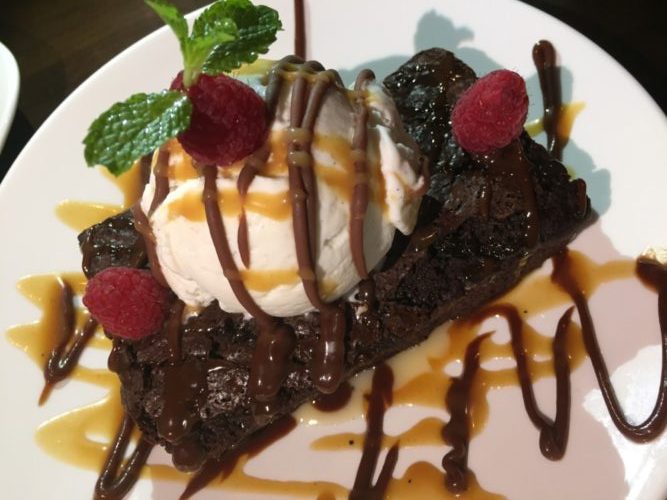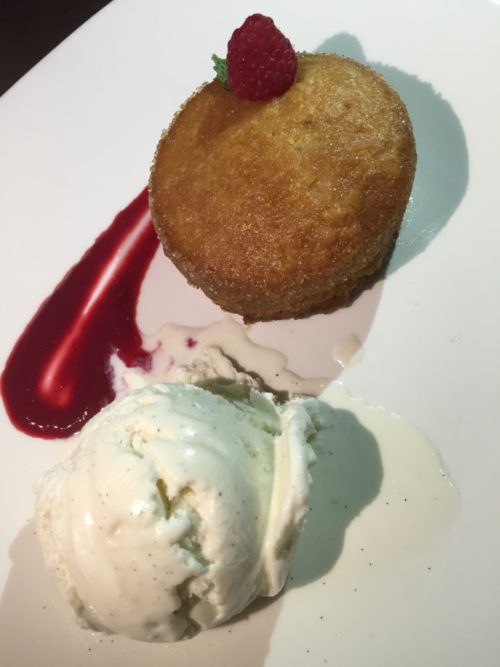 There was a whole lotta YUM going on at the table during dessert. All three choices were decadent and delicious in their own way. Three very different dishes, but all perfect for ending our night in a super satisfyingly sweet way.
Kona Grill has a great happy hour with select drinks and sushi rolls for half price Monday through Friday from 3-7pm. Reverse Happy Hour is Monday through Thursday from 9-11pm, and Friday-Saturday 11pm-1am, and there is ALL DAY Happy Hour on Sunday. There's also half price bottles of wine available on Wednesdays from open to close, and live entertainment Wednesday and Saturday nights inside at the lounge and on the outdoor patio.
Kona Grill is located at 11401 NW 12th Street, #R104 in Dolphin Mall in Miami.
PS: I forgot my DSLR camera for this dinner. I had to take all photos with my iPhone 6 and lighting was not very ideal!