Never miss a bite! Sign up here to receive new recipes and reviews straight to your inbox.
Disclosure: I was invited to dine as a guest of the casino and restaurants. No monetary compensation has been received for this post. As always, all opinions are 100% my own. 
If I had to choose a favorite section of Miami, it's probably Midtown. There are so many great restaurants and things to do, and you aren't bogged down by the craziness that comes along on the beach. During a recent weekend trip down that way, I had the opportunity to check out a restaurant I hadn't heard of before, but now very happy to know about — Novecento. This Argentinian bistro-style restaurant was founded back in 1991 in New York, and has since expanded into South Florida with four locations in Brickell, Key Biscayne, Aventura and the latest, Midtown.
Novecento's cuisine is a blend of Pan-Latin and Argentine flavors and the menu has a very wide variety of fare to choose from, plenty of which are easy to share with others — my favorite way to enjoy a meal! Each menu is location-specific, so keep in mind that my Midtown experience may be very different from your Brickell experience (although I'm sure it'd be just as incredible!)
Novecento selects a special red and white Wine of the Month for its guests and offers the bottles for half price on Tuesdays. For the month of November, the wines were Argento Reserva Cabernet Franc and Chardonnay from Mendoza, Argentina. The sultry Cabernet Franc was the perfect pairing for all of the delicious Argentinian-style food we'd be enjoying for the night, but before switching to red wine, I decided to give one of their signature cocktails a try. The Fragolini 900 was right up my alley — sparkling wine, St. Germain, mint, bitters infused sugar cube, and fresh strawberries. You know how much I love my bubbles and St. Germain! It was refreshingly sweet and a great way to start the evening.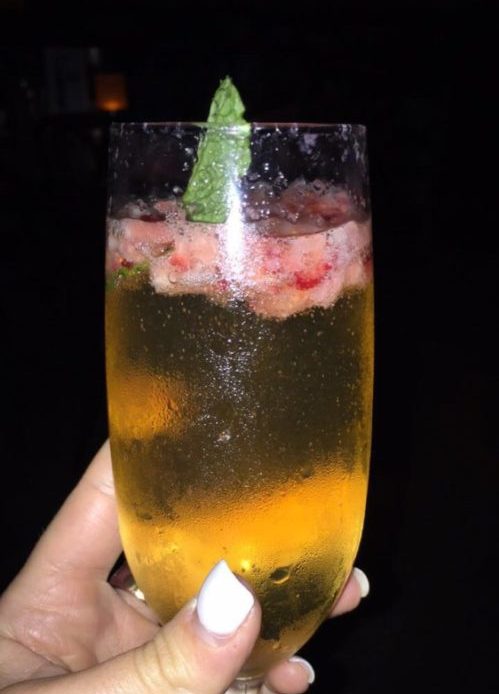 The first dish to catch my eye was the 'pulpo a la plancha,' grilled octopus with potato confit, paprika, aioli,  mache greens, and prosciutto, which, perfect for me, is placed off to the side of the plate and not mixed in with the rest of the dish. The octopus was so incredibly melt-in-your-mouth tender, yet still had that distinctive texture and char from the grill. The accompanying ingredients were well-balanced, super flavorful and all worked really well together. I'm sure the prosciutto really added a nice level of saltiness that I missed, but was still happy without!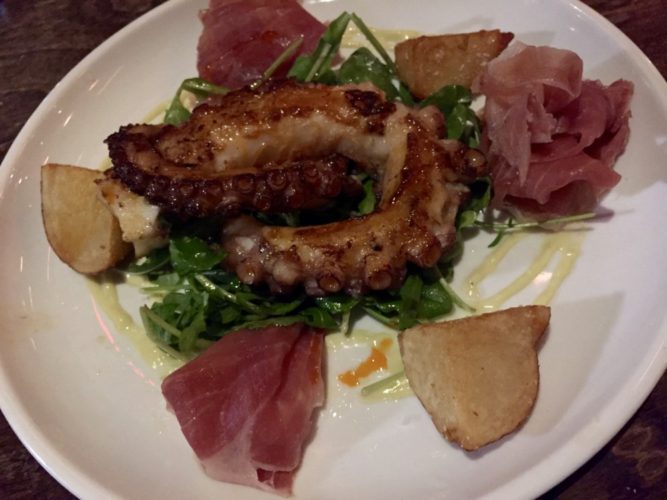 We also ordered the ceviche con tostones, fish marinated in lime juice and jalapeños, red peppers, avocado, and red onions, served with crispy round disks of green plantains — one of my favorite things to get at a Latin restaurant. The ceviche was bright and bursting with citrus, the fish was cooked beautifully, and the heat from the jalapeños wasn't too overpowering. Whether eaten by the forkful or loaded onto a piece of tostone, it was an absolutely delicious dish. This would be an ideal appetizer for sharing between two or three.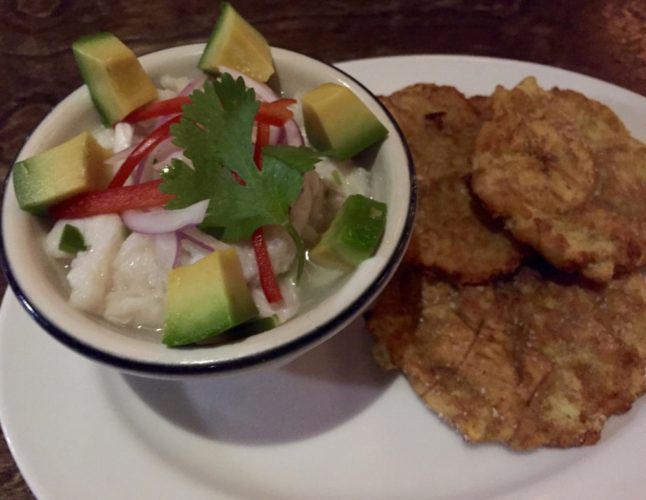 In an effort to keep things on the lighter side for our appetizer course, we ordered the grilled hearts of palm salad. At first glance, it sounded sort of boring. But when the plate hit the table, I took back that thought. It was gorgeous, and everything about the dish was so good I could not stop going back for more! I've never had grilled hearts of palm before, and I don't think I want to eat it any other way ever again. The flavor popped and mixed very well with thinly shaved rainbow carrots, avocado wedges, cherry tomatoes and watercress. The dressing was a "salsa golf," which we learned is basically the Argentinian version of Thousand Island…but this was much, much better than any Thousand Island I've ever had. Ever.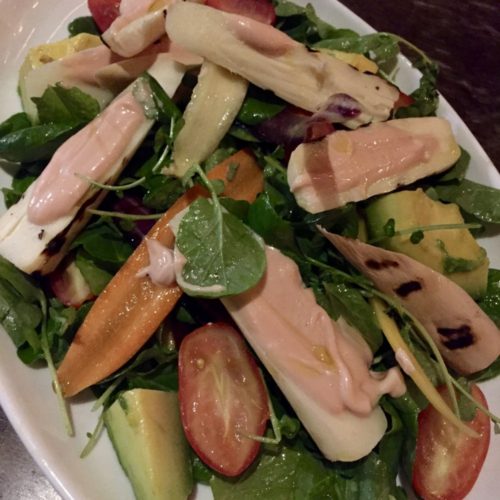 For our entree, we ordered the nightly special — Risotto Negro. Squid ink risotto loaded with so much seafood — mussels, squid, octopus and shrimp, all so perfectly cooked. The risotto was creamy but still had a nice bite to it. For those of you who flinch at the phrase squid ink, it really does not alter the flavor too much — it has a little bit of that umami flavor, and also lends a beautiful black color that makes for a nice presentation.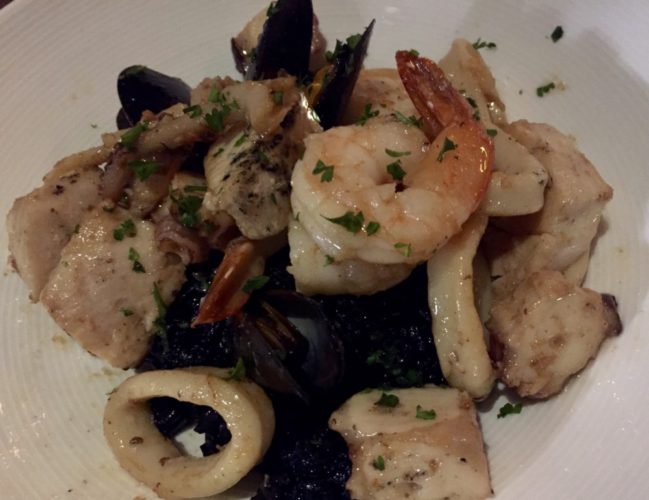 We also tried the pan-seared mahi mahi with lemon-caper sauce and sauteed spinach. Although very simple, it was a really well-cooked, delicious piece of fish. But we didn't let things get too boring on the plate. We ordered a side of the gorgonzola truffle fries. Do I even need to explain why? So. Good.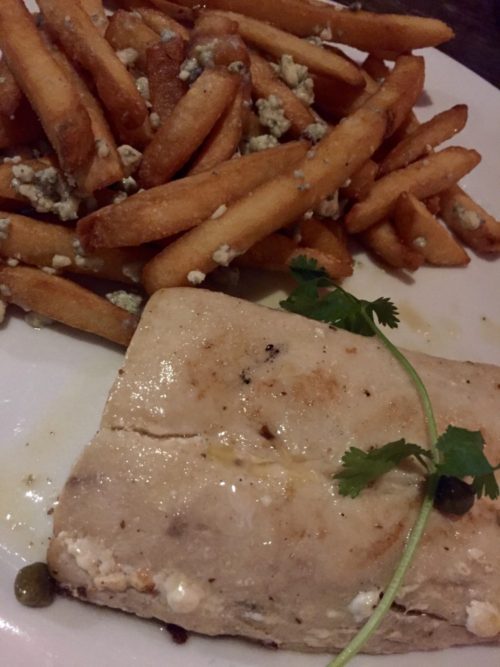 After a quick scan of the dessert menu, there was really only one thing we felt the need to splurge on — the warm chocolate lava cake with Belgian chocolate ganache. These molten lava cakes seem to be on everyone's menus lately. There's something about a pool of melted chocolate that just can't be resisted… It brings out the chocoholic in all of us!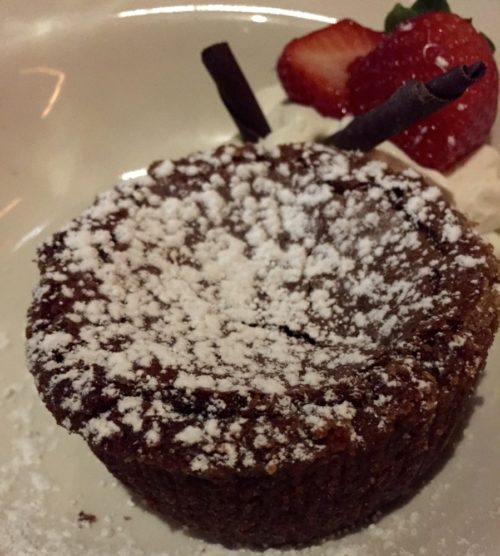 Novecento Midtown is open daily for lunch and dinner and brunch on the weekends. Specials include $10 burgers and happy hour-priced draft beer every Thursday until 9pm, $11 pasta dishes all day on Wednesday, and half price champagne on Thursdays.
Novecento Midtown is located at 3201 Buena Vista Blvd. in Miami.