Ok, so maybe it's not a brain chemistry thing – maybe it's just because everyone is involved in the same networks and organizations. Regardless, great minds do think alike and we food bloggers have great minds. Duh.
One of the most recent traditional recipes I've seen sprout up all over the blogs is the caprese salad – totally revamped. It's a simple group of ingredients that people absolutely love, so it makes it easy to think of inventive new ways to put them together. Like this Caprese Garlic Bread from Two Peas and Their Pod, Caprese Quinoa Cakes from Bake Your Day, Caprese Pasta Salad from Love and Olive Oil, and Grilled Caprese Pizza from Table for Two.
You know what else people like? Mini appetizers. They're cute, easy to grab, and let you feel less guilt when you indulge in a second (or third) helping.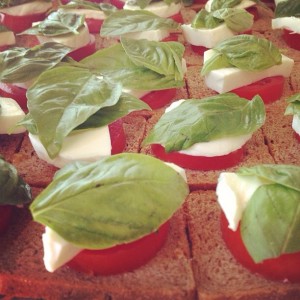 Mini Caprese Stacks
Makes 24

24 cocktail bread slices or baguette slices
6 Plum tomatoes, sliced about ½ inch thick
1-2 balls fresh mozzarella cheese, sliced about ½ inch thick
1 large bunch fresh basil leaves
Balsamic reduction

Line a large serving tray with the slices of bread. Stack with tomato, mozzarella and 2-3 basil leaves in that order. Drizzle with balsamic reduction. Serve and enjoy!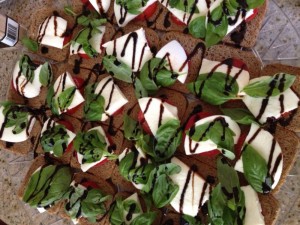 Posted with Blogsy