Never miss a bite! Sign up here to receive new recipes and reviews straight to your inbox
As you all know, I am very well versed in the Savor Our City Culinary Tours and have told you guys about almost every single one I've been on. These tours are a great way to become acquainted with the area's best restaurants — but I've discovered something beyond the food. PAINTING! Yes, the girl with no real artistic talent has been able to paint a scenic pond landscape, an adorable and chubby little owl, and the latest — the most beautiful still life image of a bouquet of flowers. Savor Our City has teamed up with Vino Van Gogh yet again for another fun night of food, wine and art.
These "mini" Pineapple Grove tours include three restaurant stops where we get to nosh on yummy signature dishes and sip on a perfectly paired wine selection. Normally, the monthly Pineapple Grove tour stops at four or five restaurants and lingers in Artist Alley for a while where guests can mingle with local artists and see their work up close. These tours happen on the third Thursday of every month — check out Savor Our City for details on upcoming tours.
This particular tour was exciting — we were heading to one of my favorite spots in Pineapple Grove, Brulé Bistro. I used to go to this restaurant frequently, and while I'll stop in every so often for a glass of wine, it's been a while since I've eaten there. I usually just drool over their Facebook photos. Chef Jay did an incredible job putting together two beautiful dishes for our group to try.
I'm getting ahead of myself. Let me back up a bit and start off with the first restaurant we went to. I know, I'm totally teasing you with that Brulé cliffhanger, but I promise…we will get there shortly. First up was Papa's Tapas, a regular on the Pineapple Grove tour and always a favorite! Papa's Tapas is a family-owned and operated Spanish tapas restaurant and they always go out of their way to give us a taste of their best dishes. Guests can choose from either the house-made red or white sangria. I've tried both, and like them pretty equally. The white is sweet and the red is bold — it just depends on your preference or mood. I was in the mood for bold flavor that night, so I went for the red.
To compliment our tasty fruit-filled glasses of sangria, we were served an assortment of tapas. Since we were a pretty big group, they arranged the table into a large square so everyone could see each other and talk. We usually sit at a long table and it's hard to have a conversation with anyone but the few people in your vicinity — everyone really liked having the opportunity to chat while we ate and drank.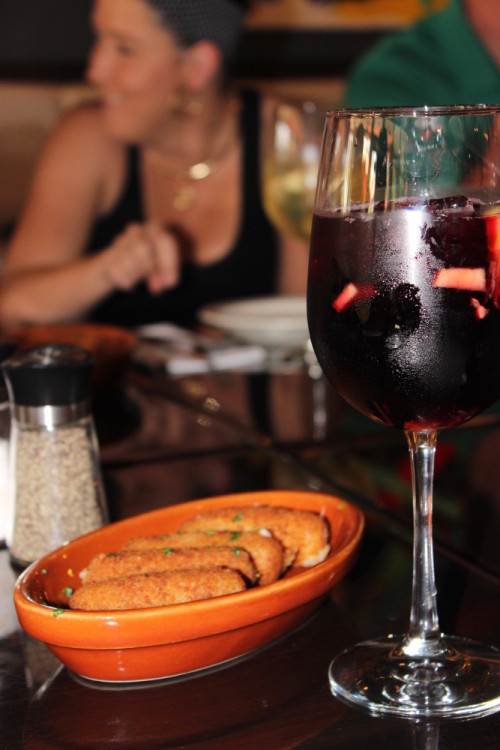 What did we eat, you ask? Ah…so many things!
Two kinds of croquetas — one with chicken and one with cheese. All that gooey delicious cheese oozing out of the crispy shells — it's no wonder everyone reached for seconds. Keeping with the cheese trend, we also had cheese quesadillas — a simple, super flavorful dish. It's all about the tortillas here. As long as they've got the right amount of char and the cheese is perfectly melted, you know it's going to be good.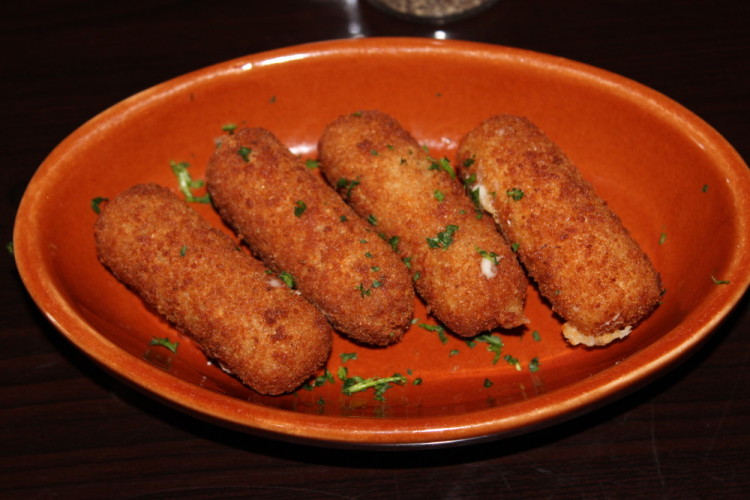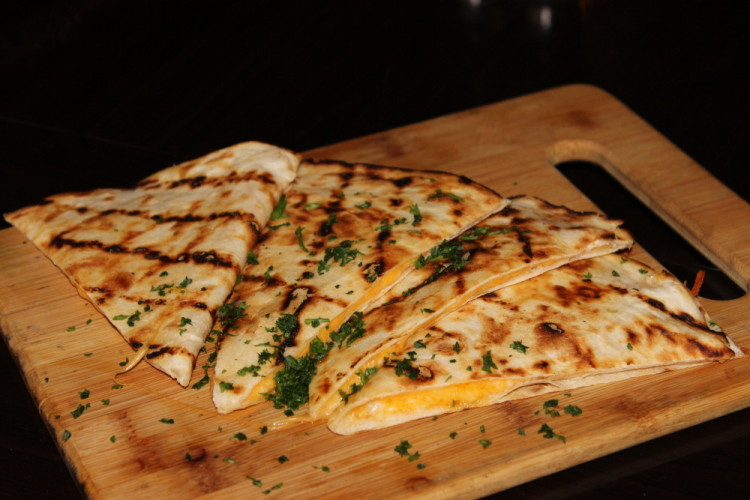 We also had the marinated and sautéed mushrooms — one of my favorite things at Papa's Tapas. I don't know how they pack so much flavor into those tiny little button 'shrooms, but they do a fantastic job!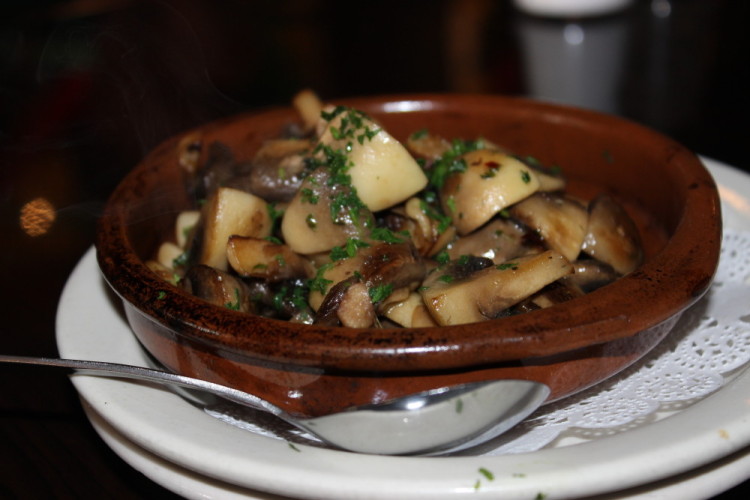 Wait…there's more. Next we were served grilled Naan flatbread with Serrano ham, cheese and pesto. These slices were snatched up within seconds of hitting the table! I did not try one, obviously, but the way everyone scarfed them down tells me they must have been delicious.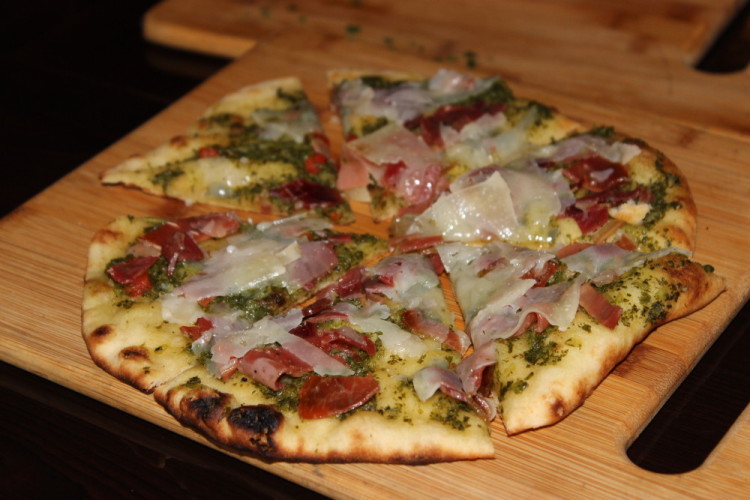 Ok, NOW we can talk more about Brulé. We were seated right smack in the center of the restaurant at the long high top table. Seated comfortably in the cushioned seats, we were welcomed with a glass of Prosecco. The atmosphere in Brulé is super chic and modern. The decor is as unique and tasteful as the food! Chef Jay whipped us up two fabulous dishes — the first was the Farmer's Salad Slider, a lettuce wrap filled with a blackened Brussels sprouts salad and local heirloom tomatoes and tarragon aioli. The colors were beautiful, and it tasted just as bright and fresh as it looked. The aioli lent the most perfect finishing touch right on top.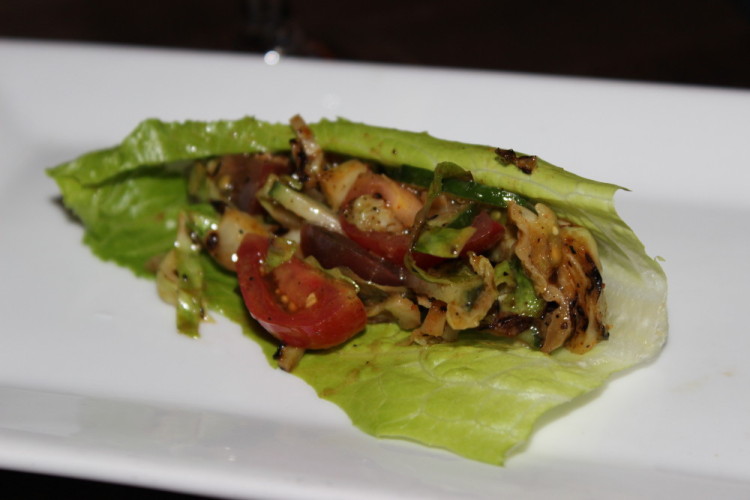 Next, each guest was served the ginger chicken meatball in a coconut broth with toasted almonds, toasted garlic breadcrumbs and micro cilantro. My dish came sans meatball and instead was filled with baby bok choy — one of my favorite veggies! The broth was very reminiscent of a curry dish, with just a little kick to it. I like a little bit of heat, but even for those who may not be able to tolerate too much of it, it was not too overwhelming.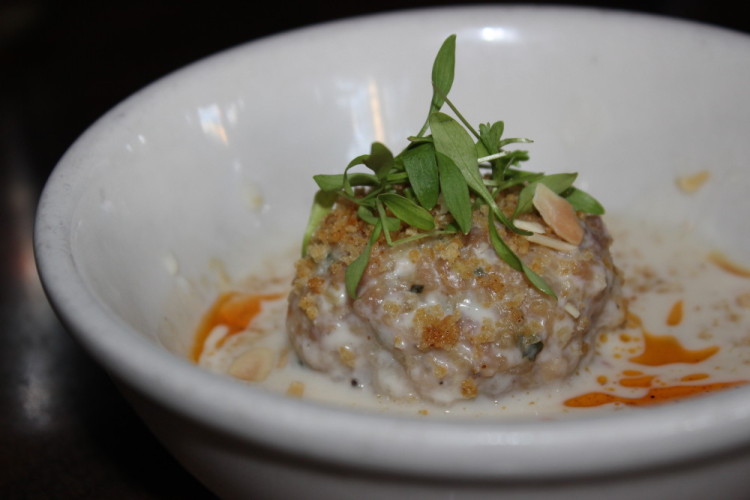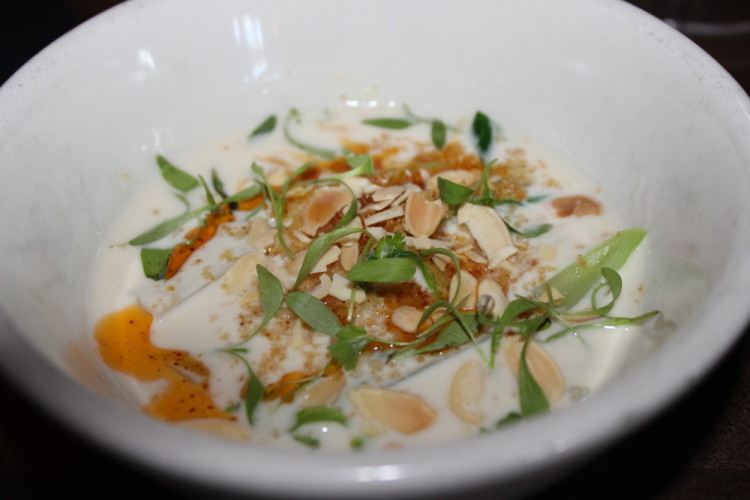 Our third and final stop was at Mastino Wood Fired Italian Kitchen and Bar, a staple restaurant on the Savor Our City tours. Mastino is known for its certified Neapolitan pizza, but it is home to one of the most incredible appetizers I have ever tasted, and one they always serve during the tour — the signature Eggplant Stack with crispy eggplant, fresh mozzarella, tomato, arugula, aged balsamic and extra virgin olive oil. My heart melts every time I bite into this stack of yumminess. The flavors, the textures — everything just works so well together. This is a must-have dish when you to go to Mastino, and if you are there on a Wednesday, it's half off!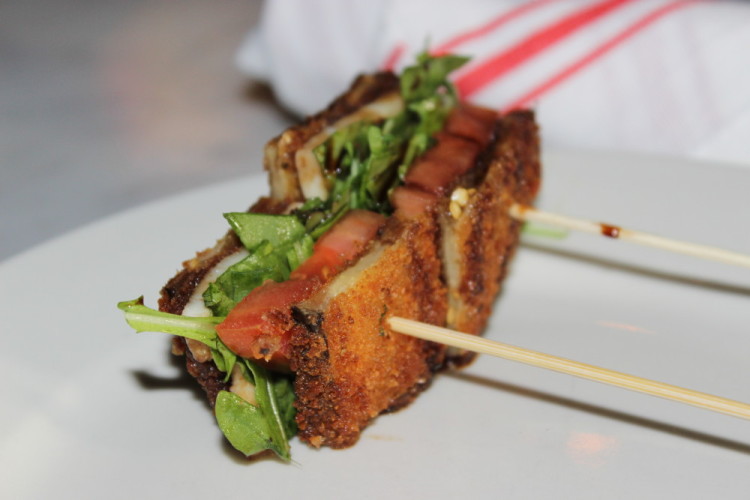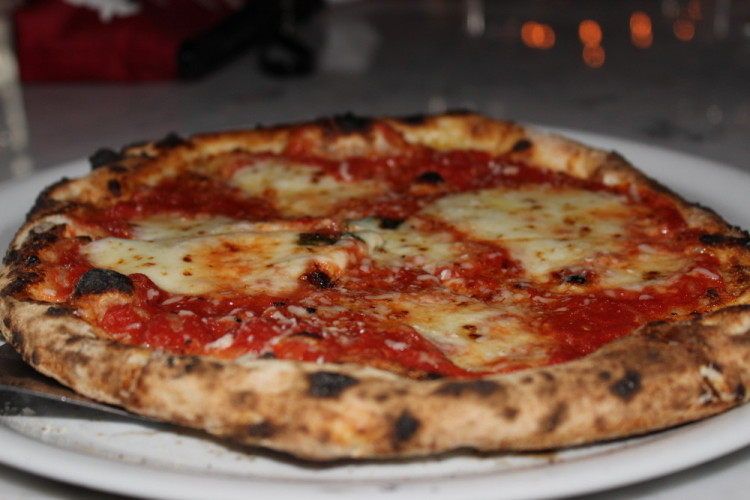 Although I'd be perfectly content with just stuffing my face with piece after piece of Eggplant Stack, it's hard to resist the gorgeous crispy wood fired pizza. The Margherita pizza came out to the table and we all dug right in. Mastino's General Manager, Sal, paired these two delicious dishes with a Chianti — one of my favorite red wines. It was exactly what we needed to stand up to the bold flavors of the pizza and eggplant.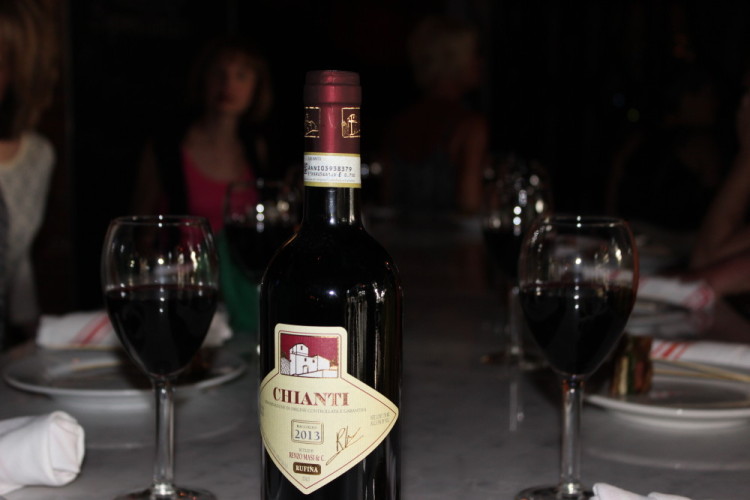 We were all feeling pretty full and happy at this point. It was time to walk over to Vino Van Gogh where we were greeted by the owner, Matt, and our painting instructor for the evening, Natalie. Our inspiration was a beautiful painting called "Fifty Shades of Grey." No, we weren't painting the "Red Room" or Christian Grey, for all you fans out there. The "fifty shades" here described the dark shaded background of two vases filled with red and purple flowers. I am absolutely IN LOVE with my end result and proudly display it on my bedroom wall. This one's a total keeper! For those of you not familiar with Vino Van Gogh, it's a super cool concept that brings people together for a fun night of painting with help from an artist who guides you through the steps. Seriously — anyone can paint if you put your mind to it, especially when you have professional help along the          way. Wine and beer are available for purchase — this can either help or hinder your artistic abilities, so proceed with caution!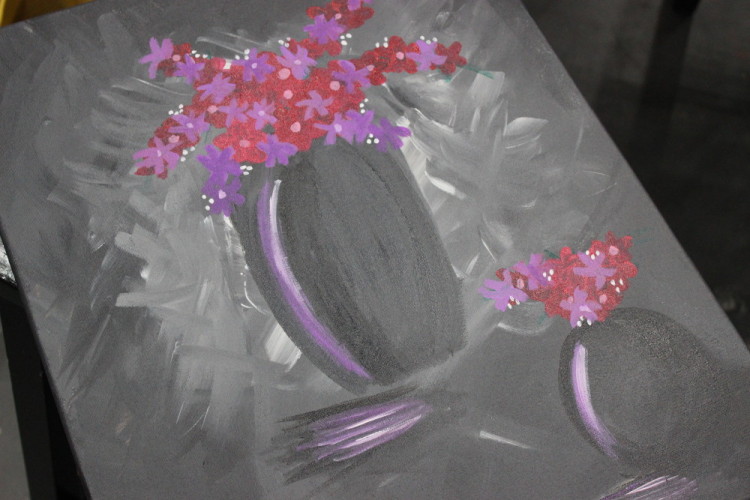 For a full schedule of upcoming Savor Our City Culinary Tours, please visit the website. You can also check out photos and find out more information on the Facebook page. I lead the tours every now and then, and would love to have some of my readers join me!