Sometimes I find it so hard to think up of things to make for #leftoversclub. First of all, it has to be something that will travel well. So that leaves out anything that could melt, anything that needs to be refrigerated, and anything that could fall apart. Cookies, cupcakes and quick breads are always favorites, Although I feel like those are shared pretty often, the are more than enough variations that the #leftoversclub members almost never repeat.

I was thrown another monkey wrench this month when my partner, Paula from The Low-Acid Kitchen, gave me even more restrictions on what I could send her! Oy! Since her blog focuses on heartburn-friendly recipes, I wasn't able to use any chocolate or citrus, no tomatoes, and it should be low-fat. At first I was like, Ugh!!! What am I going to make? But then I looked more into her blog, and you know what? Heartburn-friendly, low-acid recipes aren't so scary or limiting after all. Paula has yummy recipes on her site like this Creamy Cauliflower Sauce, Miso and Soba Noodle Soup, and Vegetarian Fried Rice. Her cooking is totally my style, so I know I will be trying out some of her delicious ideas!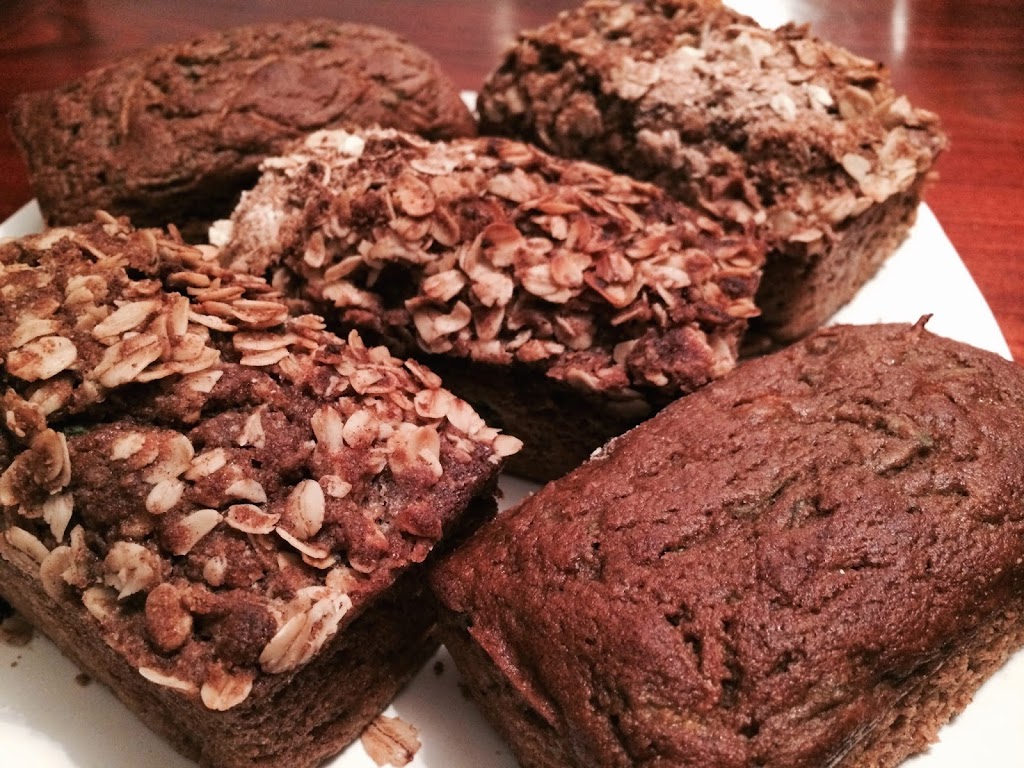 I stopped freaking out over what to make her, and decided on a low-fat and very healthy Zucchini and Carrot bread. I made mini loaves, two with a cinnamon crumb topping and two without just in case crumb topping isn't Paula's thing. But in all seriousness, crumb topping should be everyone's thing…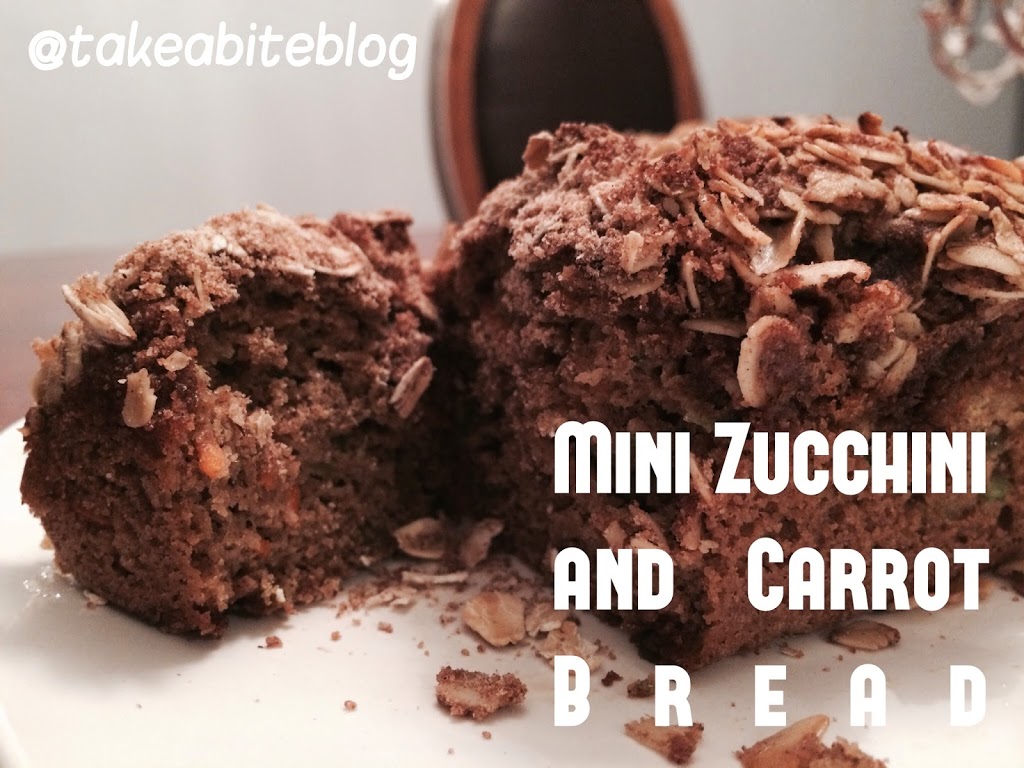 Mini Zucchini and Carrot Bread
Makes 5 mini loaves
adapted from Joyful Healthy Eat's Carrot Zucchini Bread

1 1/2 cups white whole wheat flour
2 tsp baking powder
1/2 tsp baking soda
2 tsp cinnamon
1/2 tsp nutmeg
2 eggs
1/2 cup unsweetened applesauce
1/2 cup dark brown sugar
1 tsp vanilla
1 medium zucchini, grated
1/2 cup shredded carrots

For the crumb topping
1/8 cup cold butter, cut into cubes
1/4 cup flour
1/2 cup rolled oats
1/4 cup dark brown sugar
3 tsp cinnamon

Preheat the oven to 350 degrees.

In a medium bowl, whisk together flour, baking powder, baking soda, cinnamon and nutmeg.

In a larger bowl, combine eggs, applesauce, sugar and vanilla. Stir in the zucchini and carrots. Add the dry ingredients and mix well.

In a small food processor, combine cold butter, flour, oats, sugar, and cinnamon. Pulse until combined.

Spray mini-loaf pan with cooking spray. Pour batter into the pan. Spoon the crumb topping over top of the batter. Bake for 25 minutes or until a toothpick comes out clean. Switch the oven settings to a low broil and continue to cook for another 2-3 minutes or until the crumb topping has browned a little.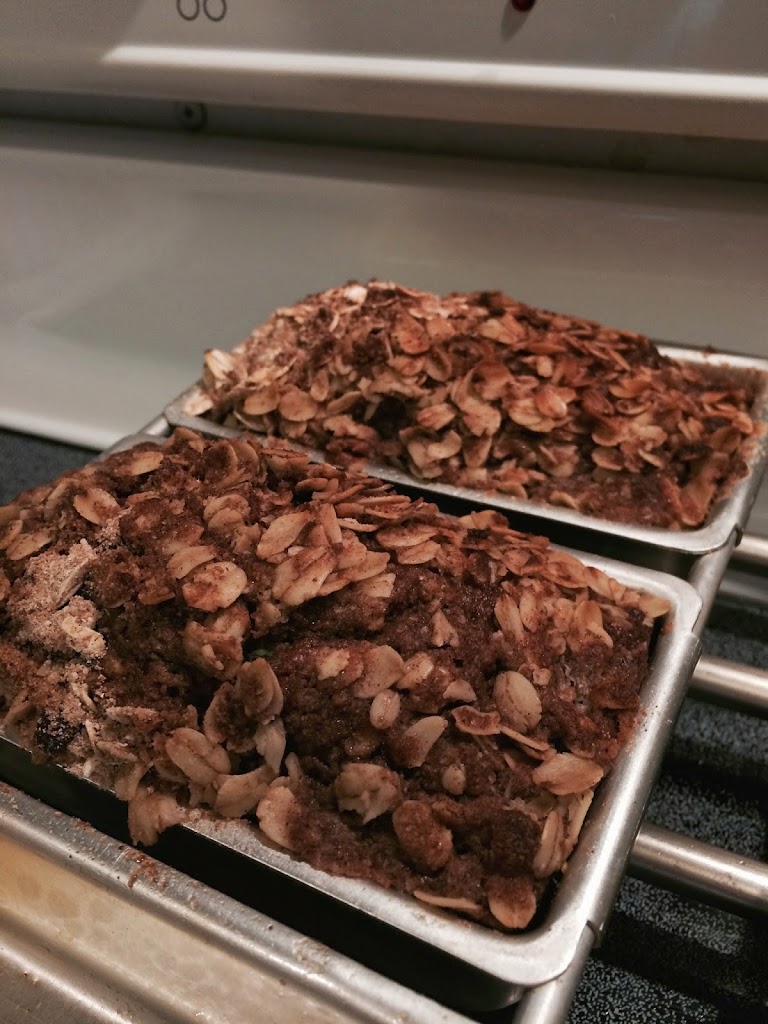 Don't miss out on all the delicious treats that flew all over the world this month for #leftoversclub. And if you want to join us next month, head on over to The Leftovers Club and sign up!