If you remember from my previous post about dining at Ziree Thai, I said I am not a fan of spicy foods. Well, this dish may have changed my mind! Thank you once again to Skinnytaste for this great recipe – Thai Chicken and Pineapple Stir Fry. Gina of Skinnytaste recommends using a pineapple and chili dipping sauce, but I couldn't find it, so I used a sweet chili dipping sauce instead.  The bottle said mild but wow, if that was mild I do not want to know what spicy tastes like! 
The secret to the taste behind this dish is definitely in the sauces used: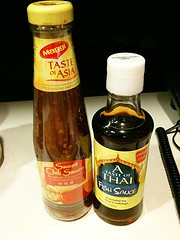 This was my first time cooking any kind of meat, so I was extra careful to make sure the chicken cooked long enough. I was afraid I may overcook it but it came out perfectly! My grandmother and I enjoyed a delicious meal together that resulted in us both becoming fans of spicy food!
The colors of this dish are almost as hot as the dish itself! I used a red, green and orange pepper. I love yellow peppers but alas, Publix was all out of them! So orange had to do. It really is a beautiful entree to look at, and eating it is even better.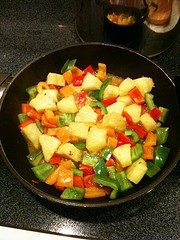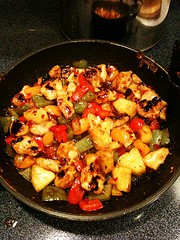 Don't the bright, vibrant colors just make you want to eat it right off of the screen?! As I was preparing the dish, I was really feeling the heat. Eating it even made me sweat a little! If you aren't fond of spicy dishes, try a different sauce. You should definitely use the Thai fish sauce with the chicken but when cooking the veggies you could probably use a sweet and sour sauce or something a little less spicy than chili and it'll still be just as delicious. The sweet flavor of the pineapple really complements the peppers and chili taste. 
Not a meat eater? Use tofu! Or if you prefer seafood, this would be great with shrimp or scallops. The best part about using an easy recipe is there is always room for your own personal interpretation of the dish. Improvisation is what makes cooking so much fun. There is no right or wrong when it comes to flavors, textures, colors, and temperatures in the kitchen. Use the ingredients you love and you're bound to eventually come up with something perfect!