Never miss a bite! Sign up here to receive new recipes and reviews straight to your inbox.
Disclosure: I was invited to dine as a guest of MoBu Fusion Cafe. No monetary compensation has been received for this post. As always, all opinions are 100% my own. 
NOTE: This restaurant has since closed.
Quality is key at new Boca Raton restaurant, MoBu Fusion Cafe. And not just in the ingredients used. The quality of the presentation, each and every team member, and the talent behind the food is immaculate. And I'm not exaggerating.
There's something about a restaurant with a good backstory that makes it so much more enjoyable to visit. It brings the restaurant to life, gives it a personality, and brings customers back for more. Executive Chef Monique Buchbinder (hence the name MoBu, the first two letters of her first and last name), earned her degree from the French Culinary Institute in NYC. She then worked at Nobu in Miami (yes, there is a little bit of irony in her restaurant's name) before deciding to leave the commercial restaurant world and dabble into private catering and hosting dinner parties in Manhattan, Naples and Miami. She began cooking for a man named Bruce who moved to South Florida from New York. Her talent in the kitchen was too good to keep all to himself, so when she expressed interest in opening her own restaurant, he was right there to back her up.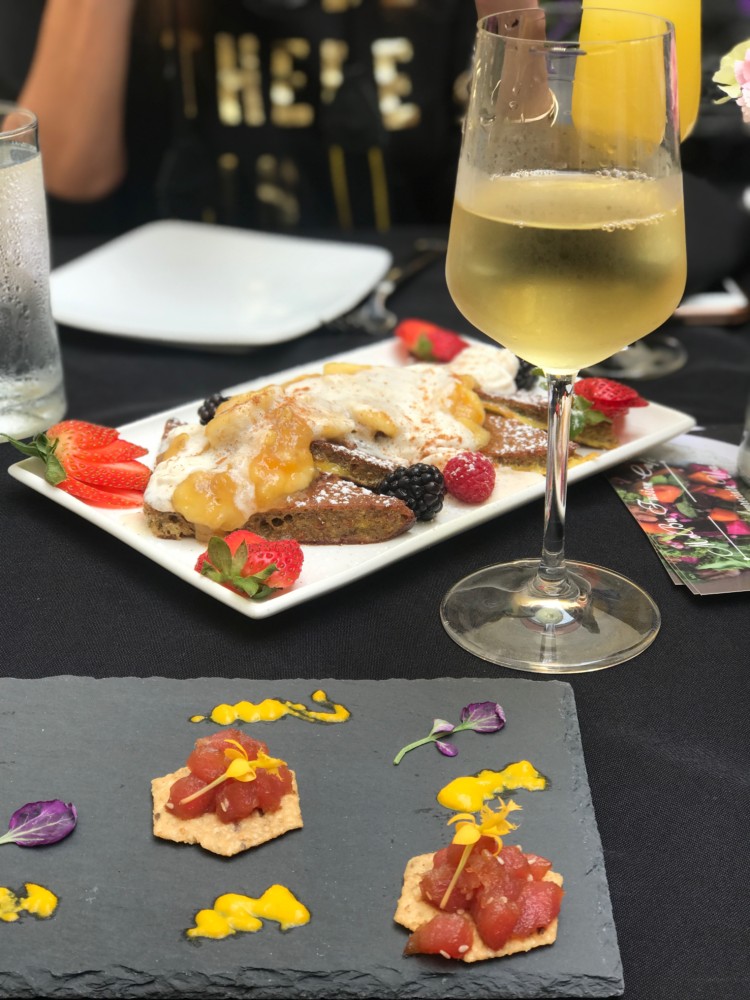 Bruce's daughter, Brooke, General Manager and Marketing Director, holds down the fort while Chef Monique makes magic in the kitchen. There is something incredibly unique and refreshing about the food Monique makes for her guests. Since she is well versed in cooking for individuals in their homes, she is able to cater to any and all dietary restrictions. She went above and beyond for me during my visit, making alterations to menu items to adhere to my allergies and make sure I was still getting just as wonderful an experience as the next guest — and I definitely did.
MoBu's menu is extremely user-friendly, with labels such as P (pescatarian), L (lactose-sensitive), V (vegan), O (organic), Ve (Vegetarian, and GC (gluten-conscious), which refers to the fact that some ingredients are sourced from suppliers that the restaurant cannot vouch for.
I've been to MoBu for both dinner and brunch, and sat outside in their adorable little patio area. Both times I was met with the most beautifully presented dishes with fresh ingredients, colorful (edible) decor, and flavor to boot. On both occasions, I had one dish in particular that stands out among the others and will probably be my go-to whenever I visit. Regularly on the menu as the Avocado Pepper Stack with roasted sweet peppers and a choice of lump crab or tuna, Chef Monique made mine with chayote squash instead of avocado since that is one of the ingredients I'm sensitive to. Chayote squash is a green root vegetable, with the look and texture much like that of a green apple. It has a very mild sweetness to it, and was a perfect stand-in for the avocado. I loved it with crab, but maybe one of these days I'll switch it up and try the tuna. (Side note: the dish is also served with a bacon onion jam).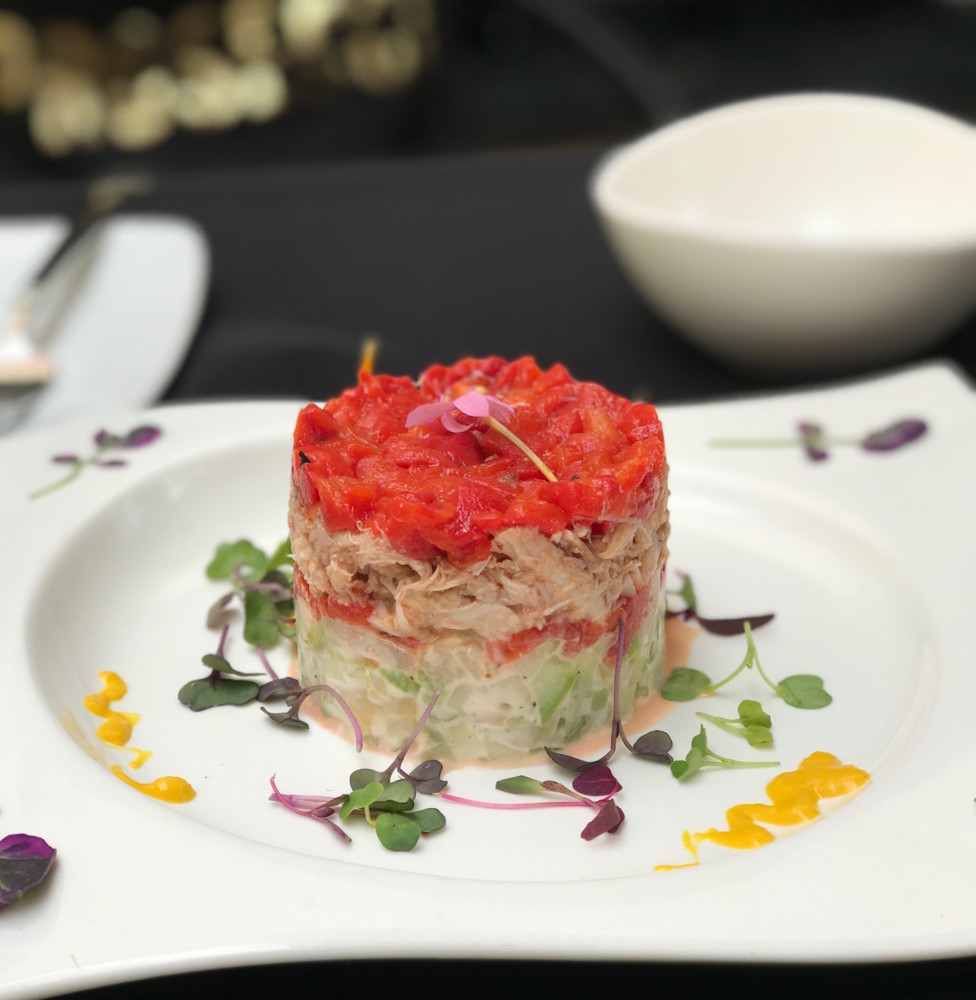 Another MoBu must-try is the blackened scallops. The regular menu option comes in a citrus-butter sauce with a potato galette, which their guests love, but Chef Monique kept things sweet and simple for me, searing them to perfection and topping with a mango salsa. These 10/20 scallops were gorgeous — beautifully plump and bigger than most.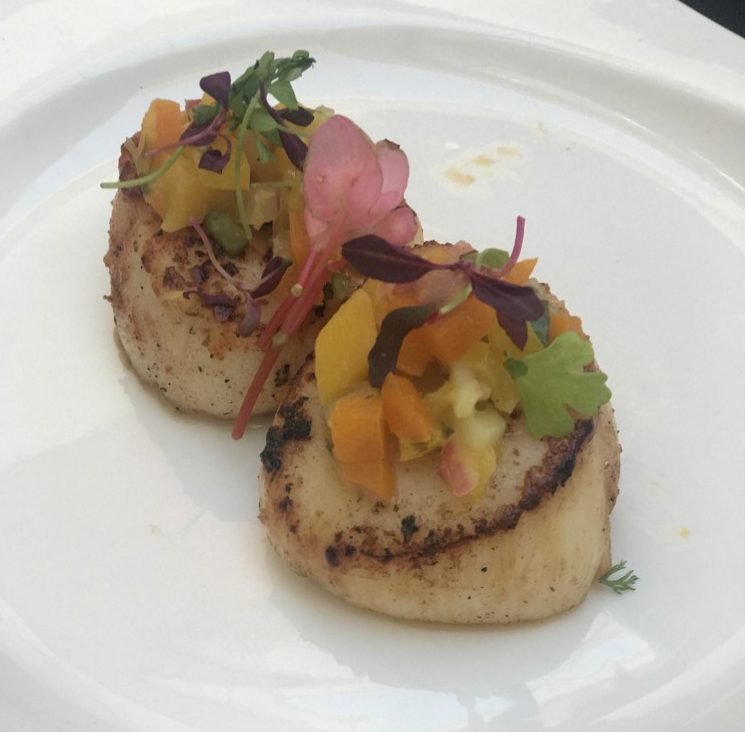 Just for kicks, Brooke brought over their organic roasted crab bisque so I could snap a photo of another one of Chef Monique's creations. Her attention to detail and passion for her craft is so obvious in her plating.
Speaking of soup, since I couldn't have the bisque, I was able to get a peek of the new spring menu soup, which will be available soon. It was very Asian-inspired, with a light, flavorful broth, shrimp, scallops, mushrooms and bok choy. This is definitely the kind of soup I'd crave on a cold, rainy day or whenever I'm in need of something warm and tasty to fill me up.
The seafood is abundant at MoBu Fusion Cafe, and there are lots of entrée options when it comes to fish. But once you've tried the crab-stuffed salmon, there's no going back. It's definitely a big-enough portion to share, but after tasting it, you may not want to. Chef Monique topped the salmon with more of that delicious mango salsa and beautiful microgreens, and served it on a bed of colorful arugula with roasted potatoes and bok choy. The crab stuffing is made with MoBu's gluten-conscious breadcrumbs, and the stuffing-to-salmon ratio was very balanced. There was a taste of crab in every bite I took of the salmon, which was seasoned and cooked just perfectly. I need to go back again soon for this!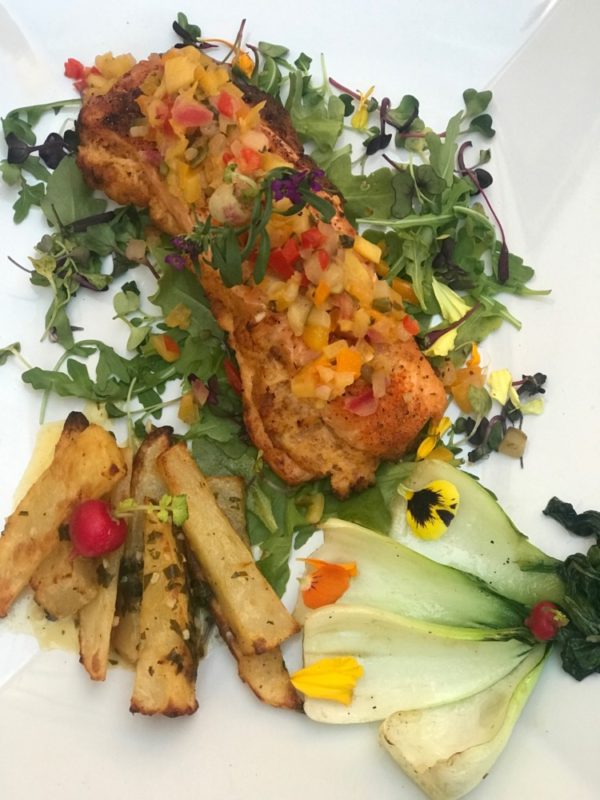 During my brunch visit, I had the tuna poke bowl with sushi-grade tuna loin, quinoa and brown rice, sesame seeds, avocado and cucumber. Although not a typical brunch menu item, I loved it! Poke bowls are a hot commodity right now, and I'm totally ok with it. MoBu's differs from others with its inclusion of quinoa and brown rice which I find much better, nutrition- and flavor-wise, than the traditional white rice bowls.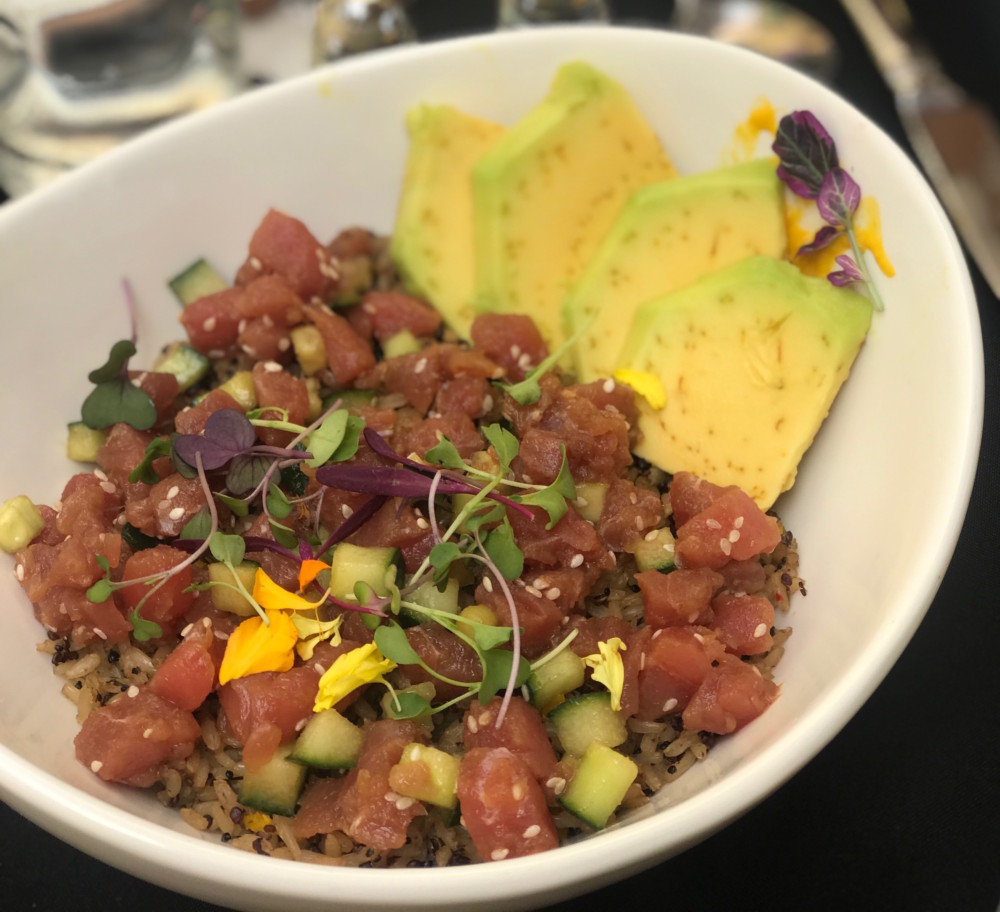 MoBu also offers three different kinds of eggs Benedicts, labeled "Friends with Benedicts on the menu — traditional with poached eggs and hollandaise sauce on an English muffin, or you can opt to have your eggs topped with lobster meat or lump crab cakes.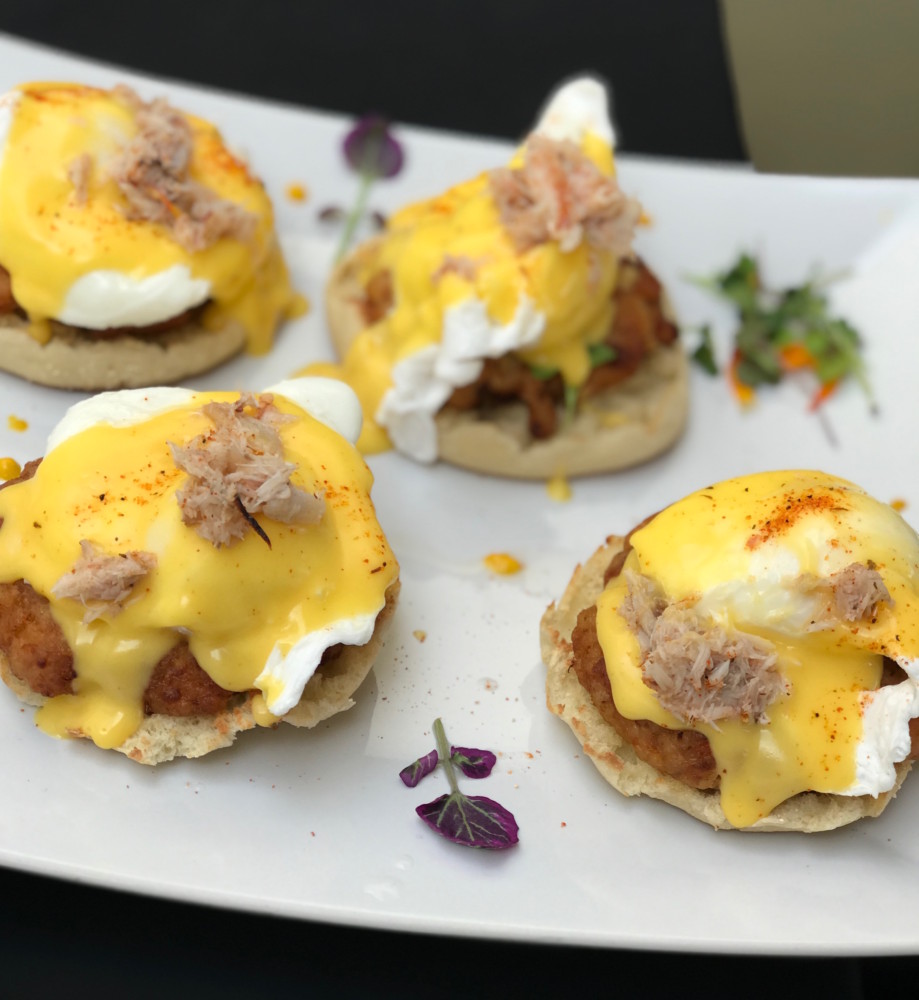 Satisfying those who are vegan and/or gluten-free when it comes to dessert can prove to be a tough feat, but Chef Monique takes the challenge and runs with it. She offers a gluten-conscious chocolate cake and the Bananarama, which consists of gluten-conscious banana bread, bananas foster, fresh cut bananas, and wine cream — and even better, it's sweetened with Medjool dates so those looking to cut out added sugars are also taken care of! The Bananarama is also available at brunch as 'Banana Bread French Toast.' Although I couldn't have it, Jill assured me it was a winner. She liked the fact that the bread was thin, so as to not overwhelm the rest of the ingredients and flavors, making a much lighter dish, contrary to most heavier French toast dishes.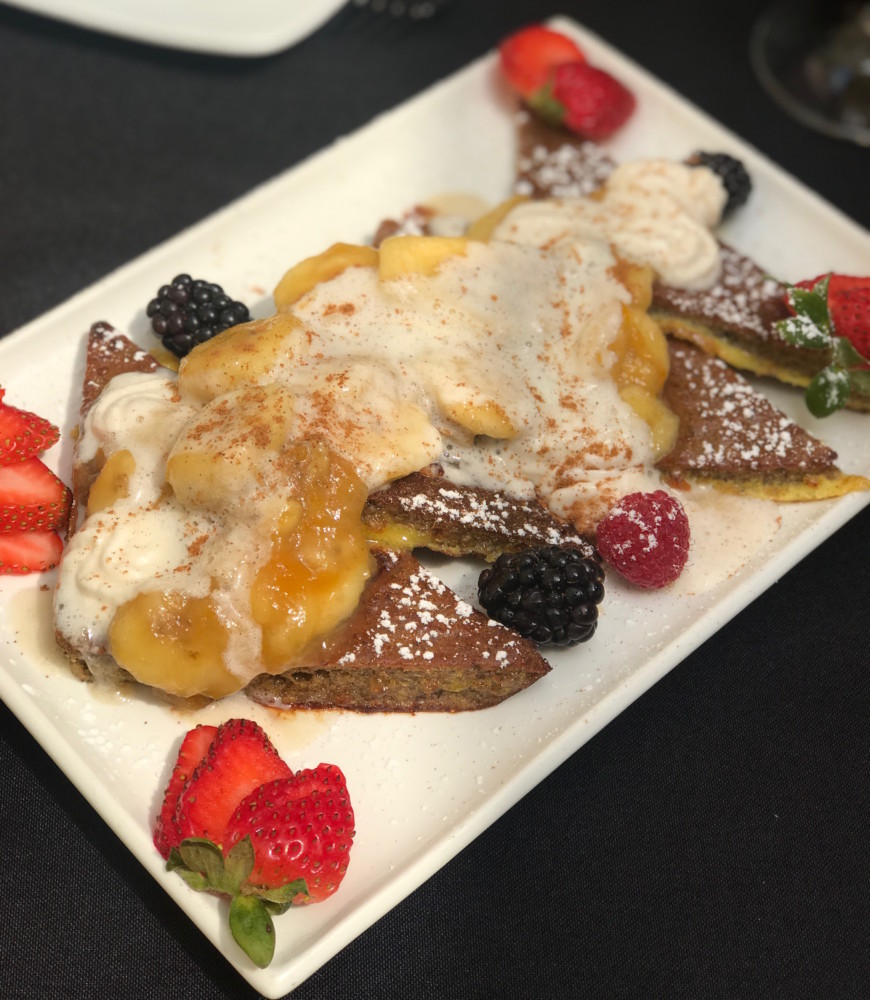 The Very Berry Sorbet is also good for low-sugar diets, as it has no added sugars or sweeteners aside from the natural sugar in the dates and fruit used — cherries, raspberries, blackberries, banana, strawberries and pineapple. Pineapple is a no-no for me, so Chef Monique left it out of the mix, and served the sorbet alongside riesling-poached pears, which were absolutely to die for. Can we please bring back poached pears? I know it's an old-world, traditional French dessert, but let's rally for a comeback. Done right, they are so good!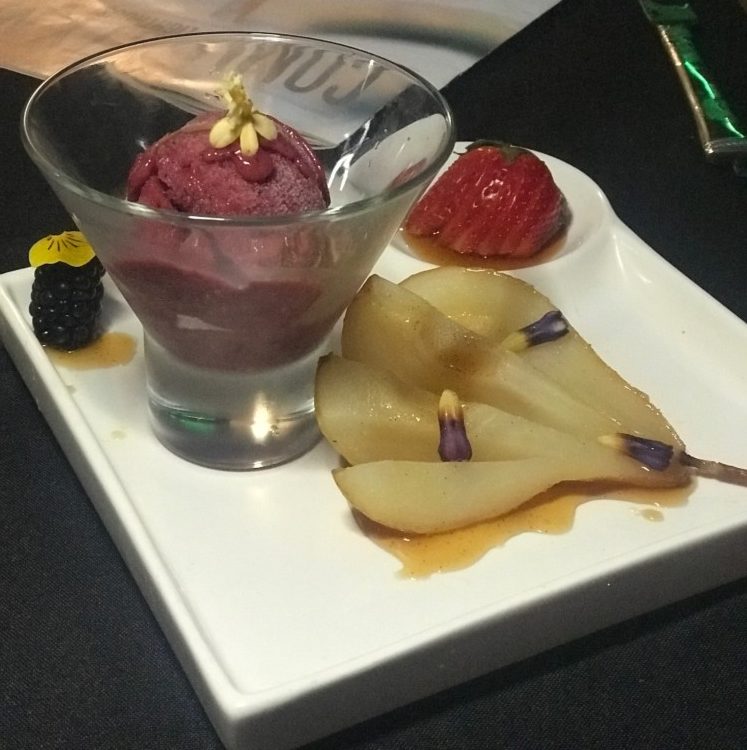 MoBu is a foodie haven, where each meal can be made different from the last, but the poise, presentation and preparation will never cease to amaze you. It's great for an intimate dinner date, girls' night out or even a small gathering on the patio — ideally on a Wednesday night when bottles of wine are half-priced!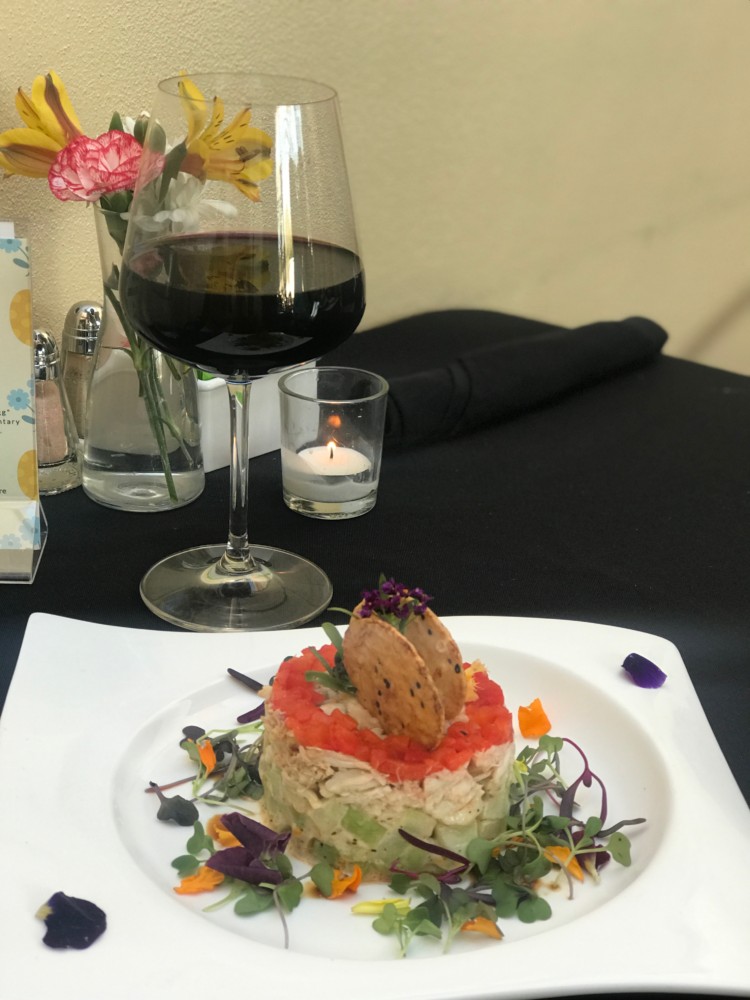 MoBu Fusion Cafe is located at 1159 South Federal Highway in Boca Raton. The restaurant is open Monday through Friday for lunch from 11am-3pm, and dinner from 5-9pm. Brunch is served Saturday and Sunday from 11am-3pm.