Mother-daughter relationships are interesting. When you're in middle and high school, you don't want anything to do with your mom. Then you go to college and you start to tolerate her more, mostly because you aren't living with her anymore. Then you graduate college and move out on your own, in my case many states away, and your relationship starts to flourish more. You become more like friends. I'm sure this isn't the case for everyone, but it seems to fit a lot of people I know. What's your take on it?
The point of this rambling is that my mom came to visit this week. She came by herself, leaving my dad and Bec to fend for themselves at home. I've always been a daddy's girl — my relationship with my father is extremely important to me (hi Dad!), but Mom? Sometimes it's rocky. But her visit was great. No fighting. She even visited the Centre with me and got to hang out with some of my friends out in Delray. She had a great time and was happy she got to see everyone she wanted to see and do all of the things she wanted to do. Despite the spurts of rain here and there throughout the week, she still got in some pool time and even got to go out on my uncle's boat. She bowled with my aunt's team, visited her best friend who also lives in Boca, got to spend time with the whole family, and enjoyed some delicious meals at places she's never been to before.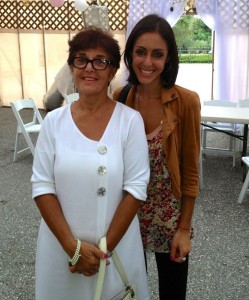 I didn't get to hang with her during the day while she was here — my time came after work, when it was time for dinner. Bubby chose where we'd go out to eat on Mom's first night here: Brio Tuscan Grille. It was pouring so we couldn't sit outside, which sucked, because that's what I like about Brio. The outdoor seating area is really nice, but the weather was definitely not alfresco-dining-friendly.
We got a bottle of Moscato and split a bowl of the lobster bisque as our appetizer. The waiter was nice enough to have them split the bowl in the kitchen so we didn't look like idiots spooning our soup out of the same dish. This worked out perfectly, since bisque is such a rich and creamy type of soup, eating a whole bowl would be entirely too filling. It was very good — although there will never be a better bowl than the crab bisque at The Crab Trap back home.
Instead of each of us ordering our own meal, we ordered two entrees and split them. We decided to get one seafood and one chicken dish. Our seafood pick was the spicy jumbo shrimp with orzo, grilled asparagus, zucchini, and tomatoes tossed in a lemon vinaigrette. There were 6 pieces of shrimp, perfect to divvy up between the three of us. For the chicken dish, we got the chicken pomodoro, angel hair pasta with grilled chicken, tomatoes, pine nuts, basil, Parmesan and pesto drizzle. Freshly grated parmesan covered the pasta dish (my request — I love my parmesan!). Both dishes were really good and we all agreed this was the perfect way to order dinner; no food was wasted and none of us was uncomfortably full afterward. This is a plus — we wanted to leave room for dessert! 🙂 Mom and Bub shared a piece of the "Torta Di Cioccolata," which is basically a chocolate lava cake. I wasn't in a chocolate mood but I still had a tiny taste. It was okay… I liked my dessert choice a whole lot better. There are a bunch of those small shot-glass style desserts. I got the berry cheesecake with raspberries, blueberries and strawberries. I haven't had good cheesecake in so long and this definitely hit the spot. While we were there, I signed up for the MyBrio rewards membership so now I get all these fun deals and specials. Guess I'll be going back there again soon!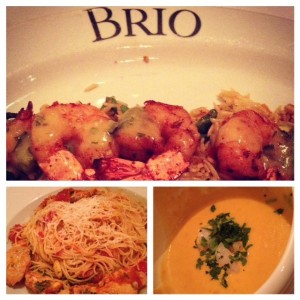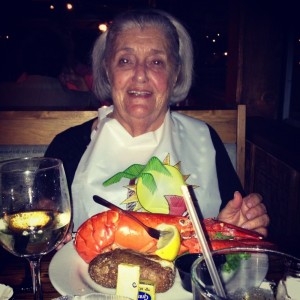 Instead of dining out opn Tuesday night, we had a home-cooked meal at Aunt Patty's and got to spend some good family time together. Wednesday night we headed over to Deerfield Beach to Two Georges at The Cove. This is a great restaurant right on the water with an absolutely gorgeous view. It's cool if you have a boat — you can pull right on up, dock, and eat out on the deck. It was very humid again, and eating outside would have been uncomfortable, so we sat by the window where we could at least see outside. Bubby was really happy to see they had their lobster special going on and she immediately ordered hers because there were only 2 left! It's a really sweet deal actually; for $15.99 you get a quarter pound steamed lobster, coleslaw, potato and a drink. Bub looked so cute in her lobster bib, I had to take a picture! Mom got the baked sea bass and I got the blackened dolphin with avocado salsa (pictured below). Both came with a baked potato and a blend of julienne cut zucchini, squash and carrots. Deee-lish. That avocado salsa was really good. I put some of it on my potato (I don't like sour cream or any of the other stuff people put on baked potatoes) and that was a pretty different, but tasty, combination.
Thursday was a fun night. First I took Mom to the Centre to a lecture called Weekly Inspiration. The topic was perfect for her first Kabbalah experience — it was all about Kabbalistic teachings and building a sense of community with others in order to really get the most out of your studies. A balance of knowledge and faith are the two most important aspects of learning and understanding Kabbalah. I was happy to see how receptive she was to everything and everyone she met.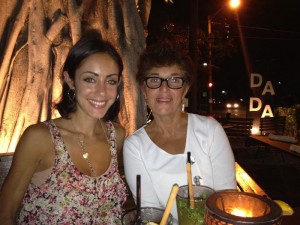 Afterward, we went over to DaDa in Delray Beach. Tyler and Lauren met up with us and we got dinner and drinks and had a real good time. Their mojitos are so good. It took us all forever to decide on which one we wanted. I think we passed around the drink menu five times before any of us made a final decision. I got raspberry, Mom got peach, Lauren got a traditional mint, and Tyler got mango. We were all really indecisive about everything night. Deciding what we wanted to eat took even longer. The menu there is so different and unique it's hard to make up your mind! Finally, about some serious debate and discussion, Tyler got the kale caesar, Lauren got the vegetarian flatbread, and Mom and I got two dishes to share: the vegetarian flatbread and endive salad. THEN the waiter came and told us there was only one flatbread left! So after all that trying to decide between the flatbread or the butternut squash ravioli, Lauren switched to the ravioli. Not a bad choice, since the ravioli is an awesome dish there. However, had we known how huge the flatbread is, we could have just split it 3-ways. It was soooo good, but definitely could have easily been shared between the 4 of us. It had a walnut pesto spread, stone fruit, sun dried tomatoes anddd… there was more to it, I know! Ah, oh well. The endive salad was really good too — something very different. I'm glad we got it. It had English stilton, endive, candied walnuts and a fig mustada. It was fun to hang out with my good friends and Mom at a great place on a beautiful night. We finally got to eat outside! Good thing the weather was nice because eating outside is one of the best things about Dada.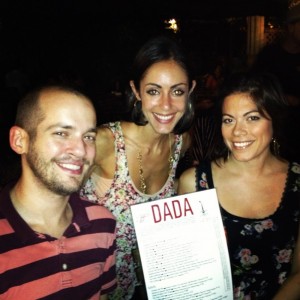 Aside from Brio, Two George's and Dada for dinners, Mom went to a few really great places in the area for lunch. Cafe Luna Rosa, Henry's, and Cosa Duci — somewhere I've never been but reeeally want to go. They make something different every day and you have to check their website to see what they're serving! Italian, everything homemade, breakfast and lunch and a bakery. Yeah, I've gotta get over there sometime. It will definitely be somewhere to go when Mom comes back with Dad and Rebecca.