Never miss a bite! Sign up here to receive new recipes and reviews straight to your inbox.
NOTE: This restaurant has since closed.
Disclosure: I was invited to dine as a guest of Monkitail. No monetary compensation has been received for this post. As always, all opinions are 100% my own. 
Renowned chef and restaurateur, Michael Schulson, has opened his seventh restaurant inside The Diplomat Beach Resort in Hollywood. Monkitail, named 2017's Best New Restaurant by Sun Sentinel, brings modern Japanese cuisine to the resort, featuring shareable small plates, sushi and more.
It's safe to say that I ended 2017 with a bang — an absolutely delicious, super flavorful, can't-wait-to-go-back-for-more bang. The bar was set high as I walked in to Monkitail just days before 2017 closed its door. The restaurant had just been named 2017's Best New Restaurant by the Sun Sentinel, and the experiences I've had at other Michael Schulson restaurants have all been incredibly memorable (e.g., DoubleKnot, Independence Beer Garden and Harp & Crown in Philadelphia; and Izakaya at the Borgata in Atlantic City), so my expectations were up there. It's with great excitement that I tell you that my insanely high expectations were met — and then some. Monkitail will go down in history as my favorite meal of 2017, for a number of reasons.
The location. The Diplomat Resort is hands down my favorite place in the Hollywood/Hallandale Beach area. I mean, I guess I don't really know many other places to go down that way, but with The Diplomat and its ten food and drink concepts, gorgeous lobby and mesmerizing beachfront setting, I wouldn't go anywhere else anyway.
The restaurant's atmosphere. The dim lights and cozy booth seating are ideal for date night, but there's also an inviting, comfortable vibe that makes it appropriate for family dinners and girls' night out. There's quite a difference between The Diplomat's bright, colorful, tropical-esque lobby and Monkitail's dark decor that give it the ability to stand out as a unique, creative concept.
The staff. Our server, Carlos, was personable and attentive right from the moment we sat down. He wouldn't rest until he knew we were having the best experience possible — and he did a great job at making sure we were. It's a true testament to a restaurant's FOH and BOH staff when a guest has multiple dietary restrictions, that Monkitail did an amazing job at getting everything right. Now that I have to practice a dairy-, gluten- and egg-free diet, dining out isn't going to be easy — but at Monkitail I had no problems whatsoever. Carlos even made sure to bring out a separate dish filled with gluten-free soy sauce.
The menu. I would have put this first, but I'm sort of going in order… First we got to the resort, then we saw the restaurant, then we met our server, and now we're getting to the good stuff — the food! The menu at Monkitail is kind of overwhelming. It's huge, with a variety of appetizers and small plates, meat and seafood, sushi and sashimi, and robatayaki options. Your best bet is to go with the Chef's Tasting Menu. At $65 per person, including 10 selections from the menu (one from each section) and one dessert, it's not a bad deal and definitely helps to narrow down your choices. There's a reason why Monkitail was named 2017's Best New Restaurant… I'll get more into that in a minute.
Lastly, the dessert. I've basically gone vegan for the time being (but still eating seafood), so dessert is a difficult one. Monkitail proved to me that veganism does not have to mean deprivation in any way. One bite of the vegan chocolate mousse made with silken tofu, and I became a true believer. I would never have known it was vegan if Carlos didn't tell me. The smooth, creamy, rich chocolate mousse had a similar texture, mouthfeel and taste that you'd find in dairy mousse — but it was smoother, creamier, richer and dare I say, chocolatier than those I've had in the past. Tofu in dessert? I am definitely a fan.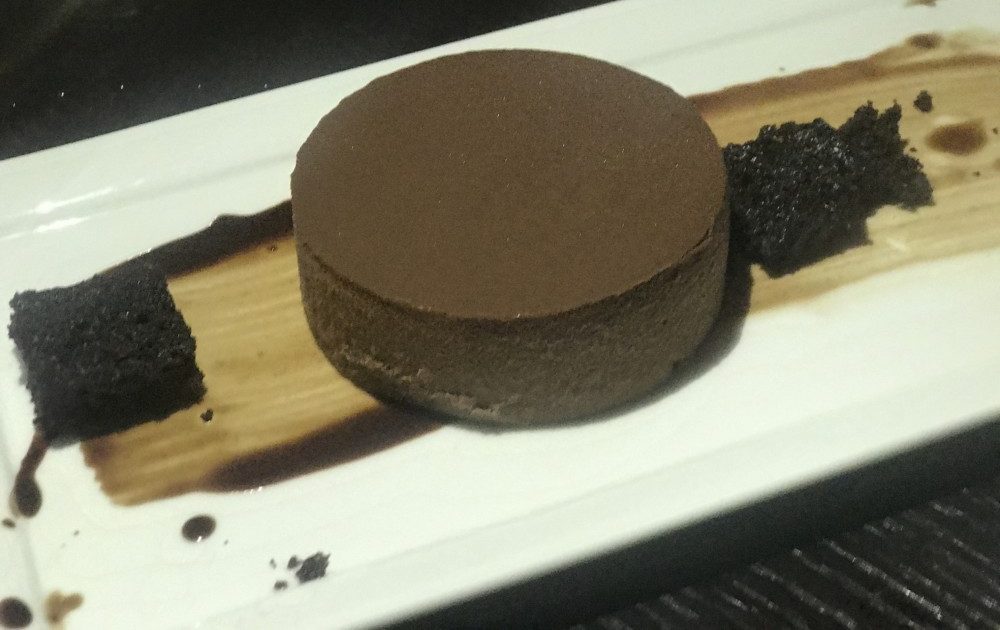 Anyway… Let's start at the very beginning (brownie points if you leave a comment telling me what show and song that line is from). My Monkitail experience began with a tasting of sake, something I didn't think I would like, and I was totally right. Sake is not my thing. However, if you are a fan, there are a ton of options available by the bottle, and a few by the glass. I'll stick to wine, thanks. Monkitail not only won my heart with its food, but also with its wine list. As a huge fan of Sancerre, I was happy to see both a white and rose variety available. My sister, Rebecca, was visiting for the week and lucky her, got to experience this dinner along with me and Destiny. She's a cocktail kind of girl, so she decided to try the Grilled Peach Mojito — a chilled, refreshing drink that totally reminds me of something you'd take outside and sip on while lounging at The Diplomat's pool.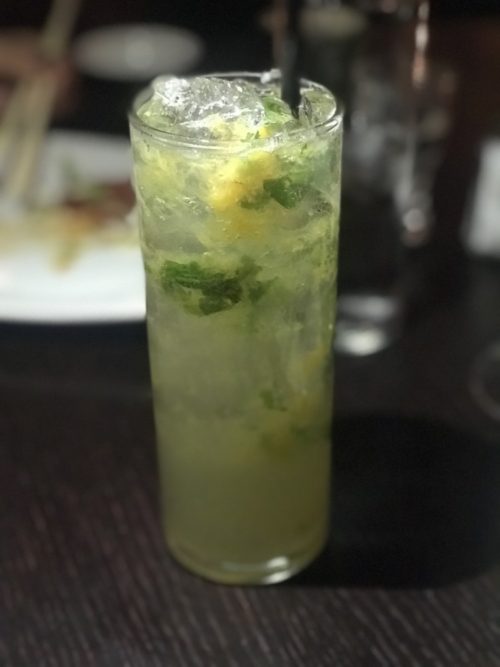 Carlos went ahead and did the ordering for us. Thank goodness, because I honestly could have ordered everything on the menu if someone let me. He started us off with the tuna, a poke-style dish with avocado, chili oil and rice pearls. Once I took a bite, my chopsticks never left my fingers. The flavor of this dish was so robust, so bold, so party-in-my-mouth, I never wanted it to end. It was so good that when a runner mistakenly brought us a second serving, we did not turn it away.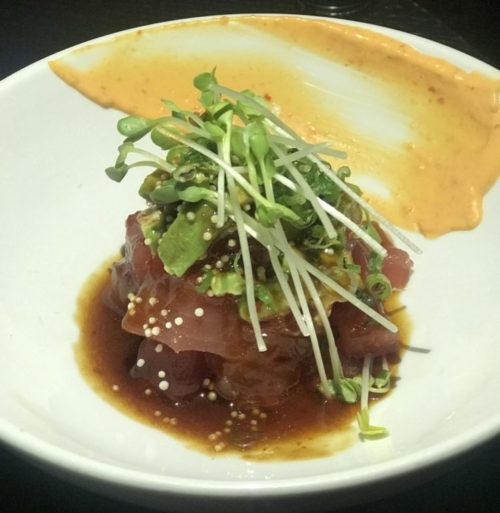 While we were salivating over the tuna, a few other dishes hit the table. Keep in mind that an Izakaya-style restaurant is  very much like Spanish tapas — dishes come out as they are ready, most are small and intended to be shared. Next we were served the Albacore tuna with scallion, onion ponzu and radish; the edamame dumplings with sake, scallion and truffle (the only thing all night I couldn't taste, but my sister and Destiny had to have it); and salmon tataki with endive, asparagus, dill and honey dijon. The two seafood dishes I tried were unlike anything I've had before. The onion ponzu would thankfully make an appearance again later in the night — it was such a unique flavor pairing, with an almost jam-like texture. It complimented the albacore tuna extremely well and made for a beautiful bite of food. The salmon reminded me of lox or nova, and its surrounding ingredients really helped to elevate its flavor.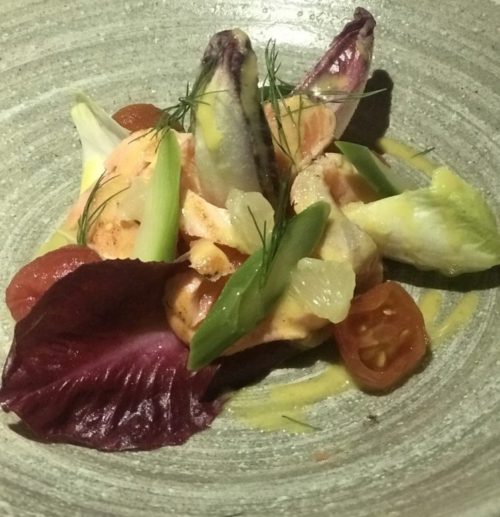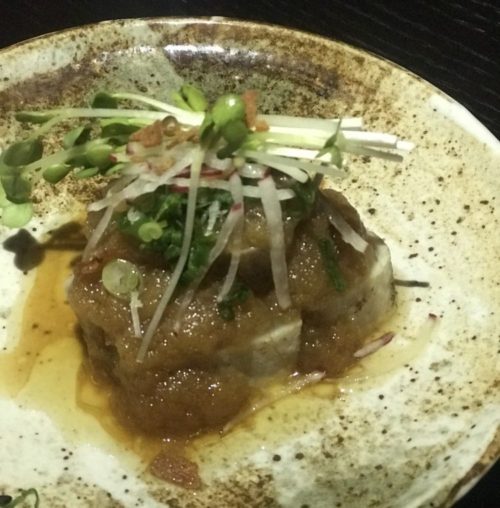 To brighten things up for a moment, we were served the hearts of palm salad with yuzu, scallion and radish. The flavors popped right off the plate and into our mouths. The hint of citrus had a beautiful way of bringing life to the dish. It was a nice palate cleanser as we prepared ourselves (and our stomachs) for the next eight million courses. I'm exaggerating… sort of.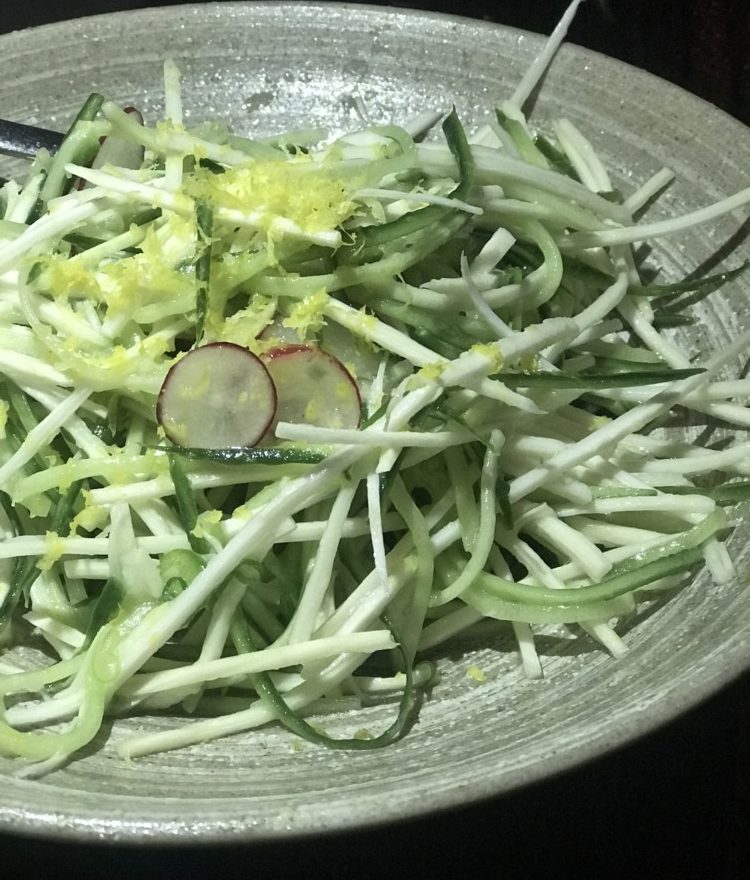 It was time to meet the robatayaki grill. You can choose from a variety of vegetables, seafood, pork, meat, chicken or game — all skewered and grilled to perfection in this Japanese style of cooking, similar to barbecuing. We had the scallops, octopus and truffle shiitake mushrooms — all super tasty in their own right, but the three of us collectively agreed that the scallops were the best. The sear was just right, and the inside was juicy and tender. The essence of truffle smacked us in the face as soon as we picked up a mushroom skewer — and that is never a bad thing. The mushrooms were cooked well, and seasoned beautifully. I wouldn't have minded having an entire bowl of these as a side dish. The flavor on the octopus was great, and for a small tapas dish, there were quite a few pieces for us to split. Monkitail makes sure to bring out its tapas dishes so that everyone at the table is able to enjoy his or her fair share. In our case, there were three of us, so three skewers of each item were brought out. I wish every restaurant worked this way — I can't tell you how many times I've fought over the last piece of something, or have to cut something in half that really shouldn't be cut in half. Ugh.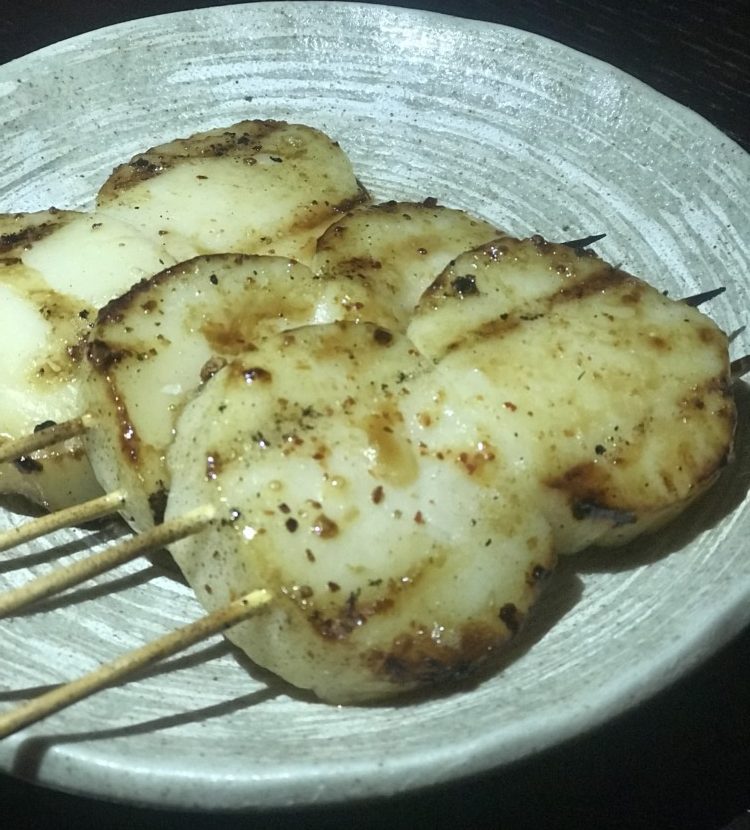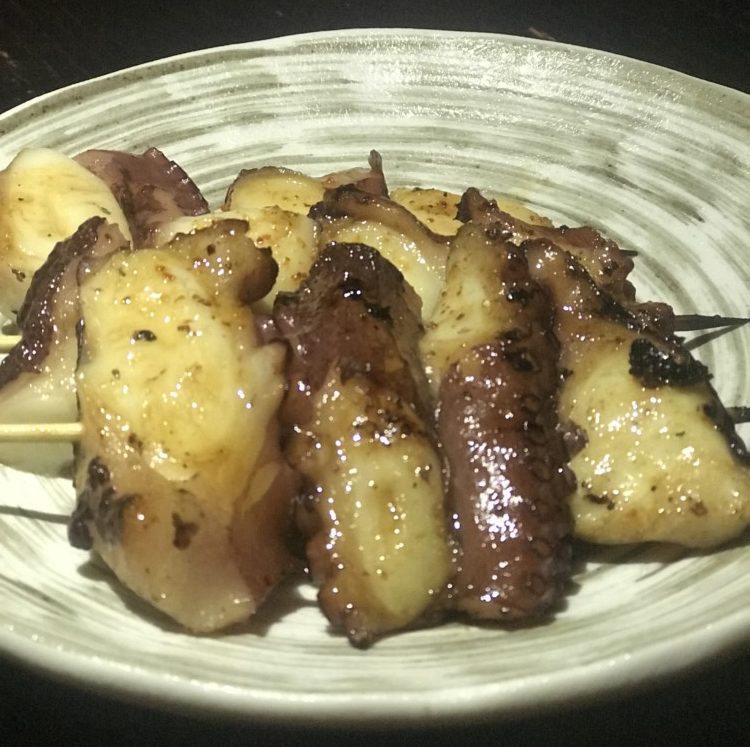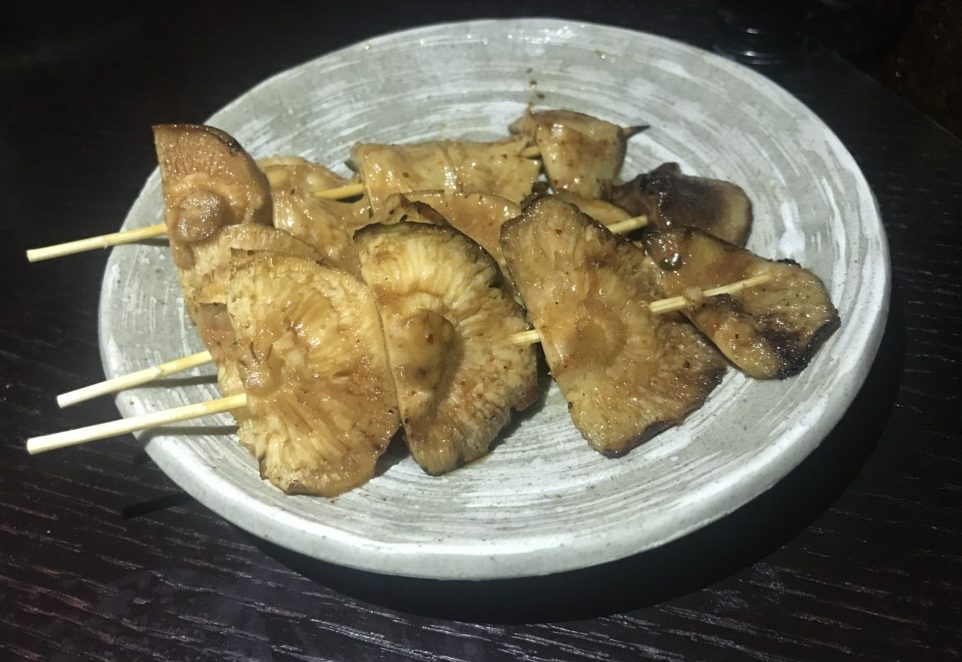 I couldn't leave Monkitail without tasting some of the sushi, so I put in a request with Carlos. Not surprisingly, he went above and beyond. First, the blue crab and eel rolls, then the house vegetable roll wrapped in cucumber, and then a gorgeous display of sashimi featuring pieces of king salmon, unagi (eel), red snapper, toro (tuna belly) and tuna. Dishes like these make my heart happy and so full. There is nothing more me than a plate full of fresh, flavorful seafood, and Monkitail hit the nail on the head when it came to quality product. Again, not surprised.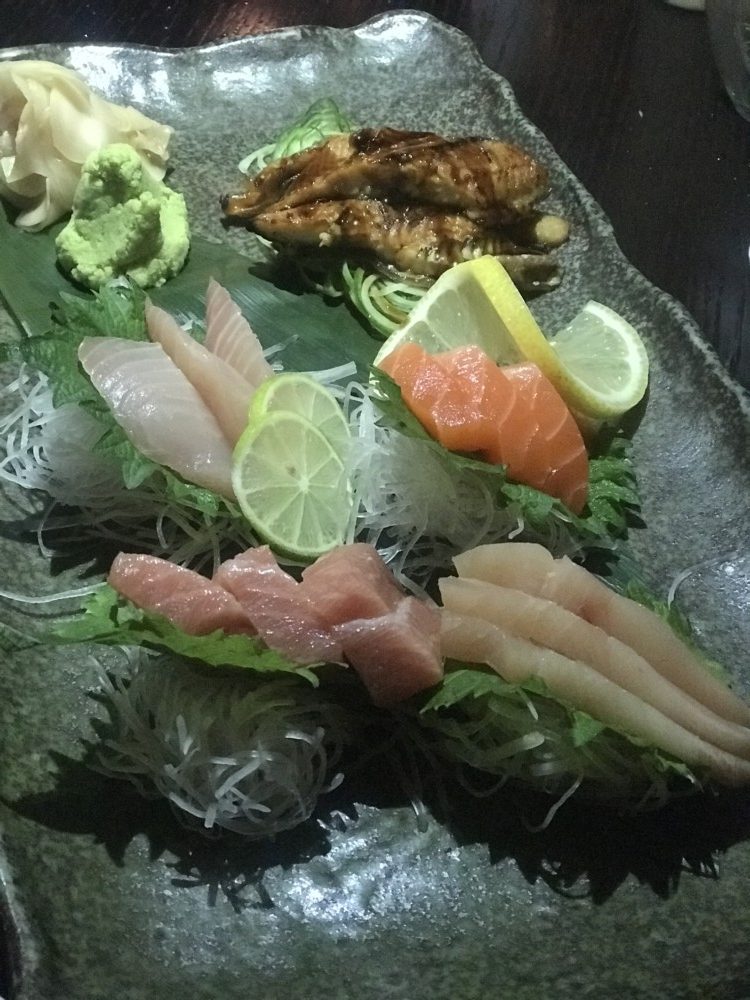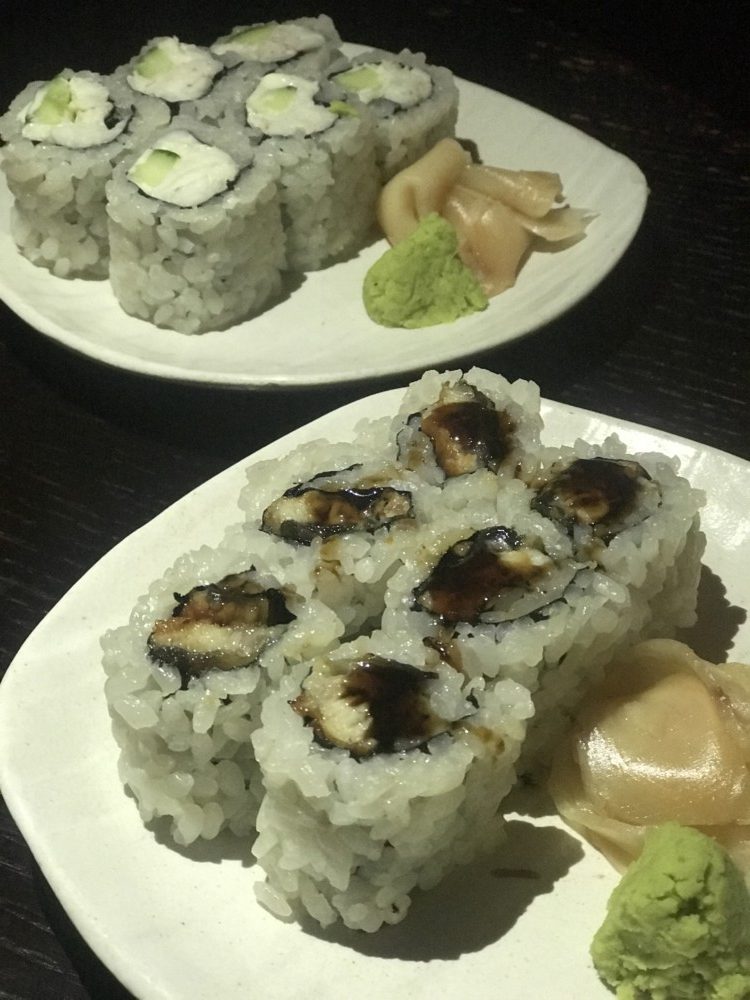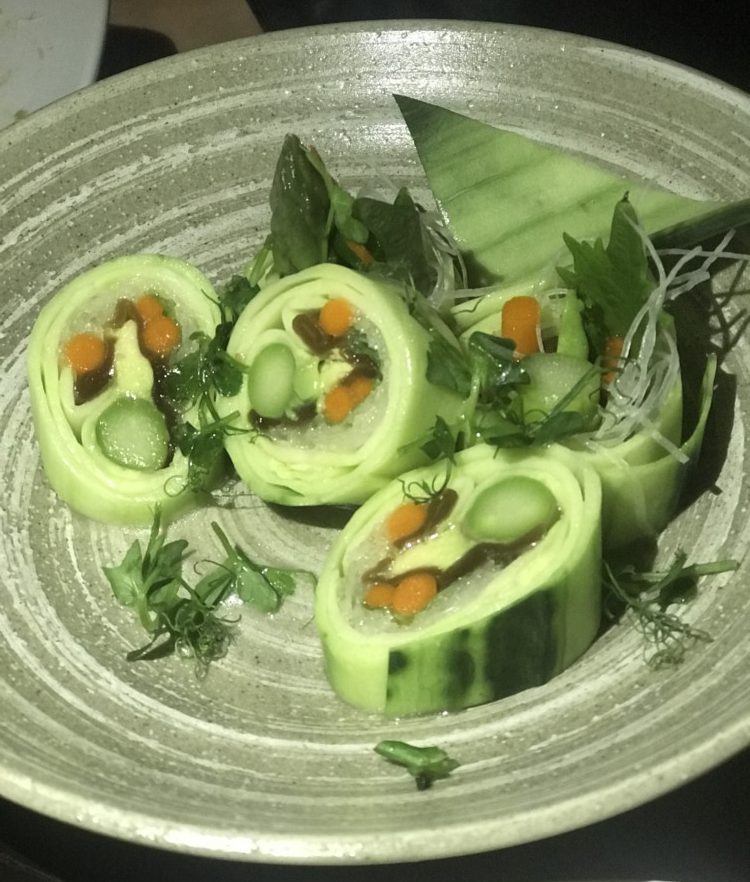 Did you think we were finished? Honestly, we sort of did. But then we were proven wrong as broiled sea bass, complete with a truffle soy sauce and pea shoots, was placed right under our noses — which inevitably smelled the intense aroma of truffle and led us to waste no time digging in. There is something so comforting about sea bass. Its buttery nature, how it simply melts in your mouth and slides down your throat, and its ability to mesh well with almost any flavor profile. I especially like it when paired with Asian influences, like we had here, with the truffle as a welcome addition. Accompanying the dish was a side of crispy Brussels sprouts, mixed with puffed rice, scallions and fish sauce. I'm a sucker for a good bowl of Brussels, and loved the salty component.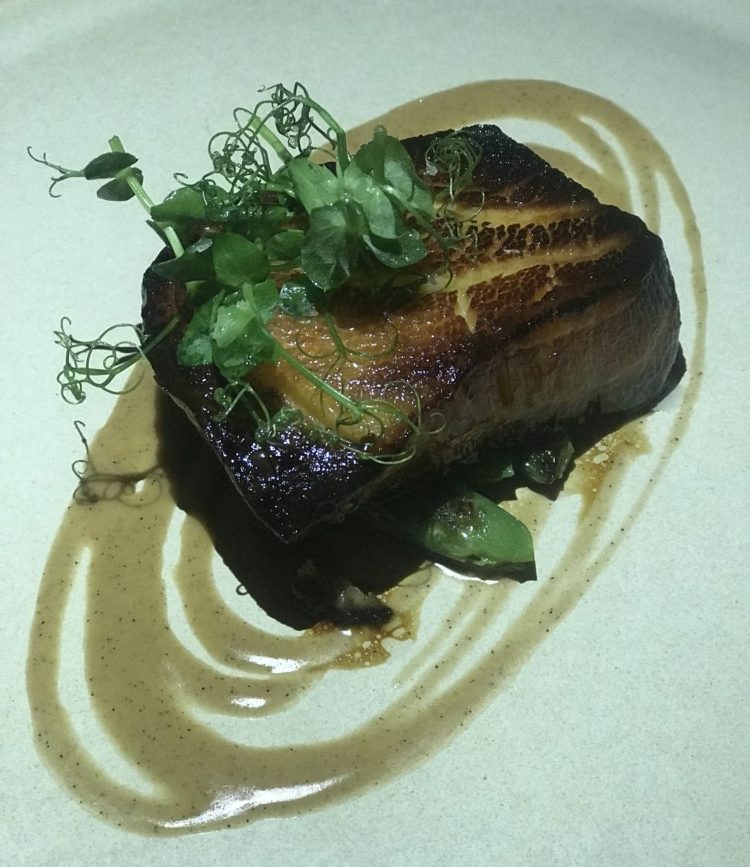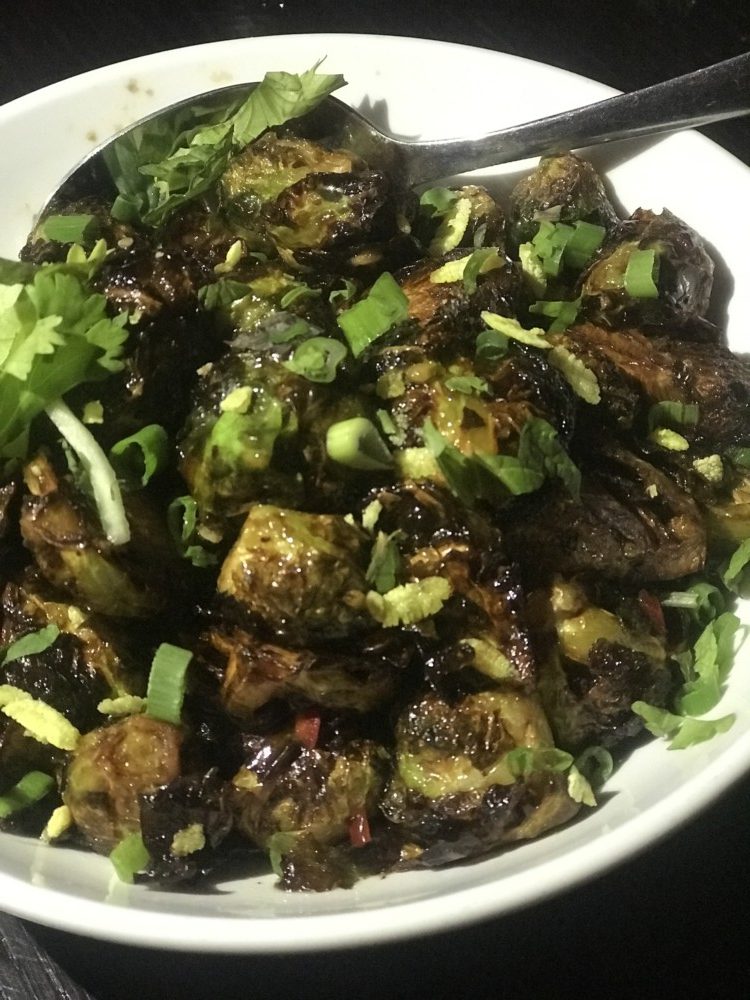 Carlos wasn't done with us just yet… There was one more savory dish before the dessert round. Japanese scallops with more of that delicious onion ponzu (told you it was coming back!) and jalapeno. At this point, we had had salmon two ways, eel two ways, tuna four ways, and now scallops two ways. These scallops, although cooked differently and with a bit more of a pronounced sear, were just as tasty as the ones that came before. I definitely was full, but I was full of really good food.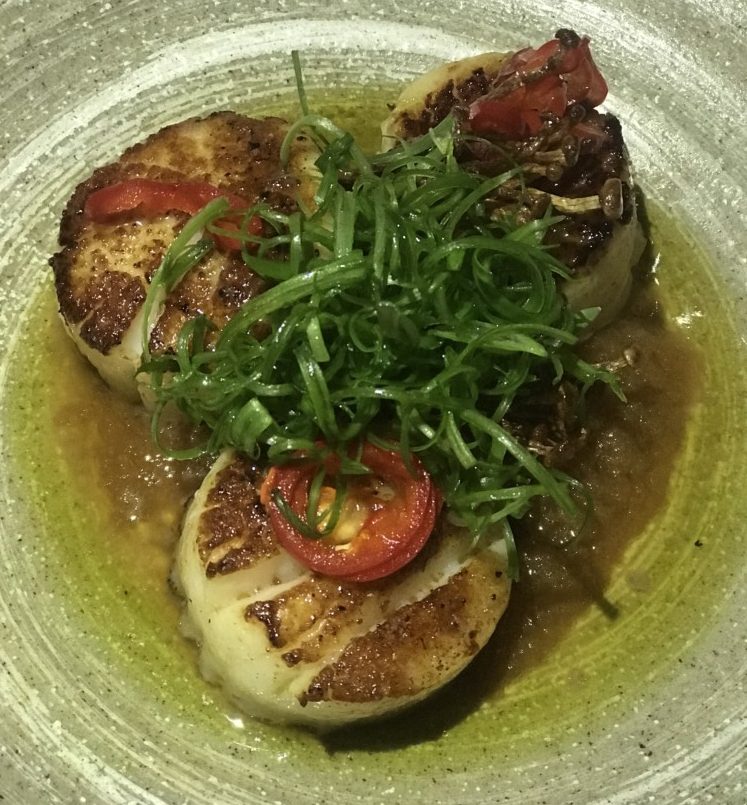 You already know how impressed I was with the dessert. The vegan chocolate mousse was hands down one of the best desserts I've ever had, and without an ounce of dairy! Rebecca and Destiny were also treated to ice cream sushi, wrapped in a graham cracker "roll" and sprinkled with toffee, a dark chocolate dipping sauce provided on the side to mimic the soy sauce that comes with sushi. The desserts were just as playful and creative as they were delectable.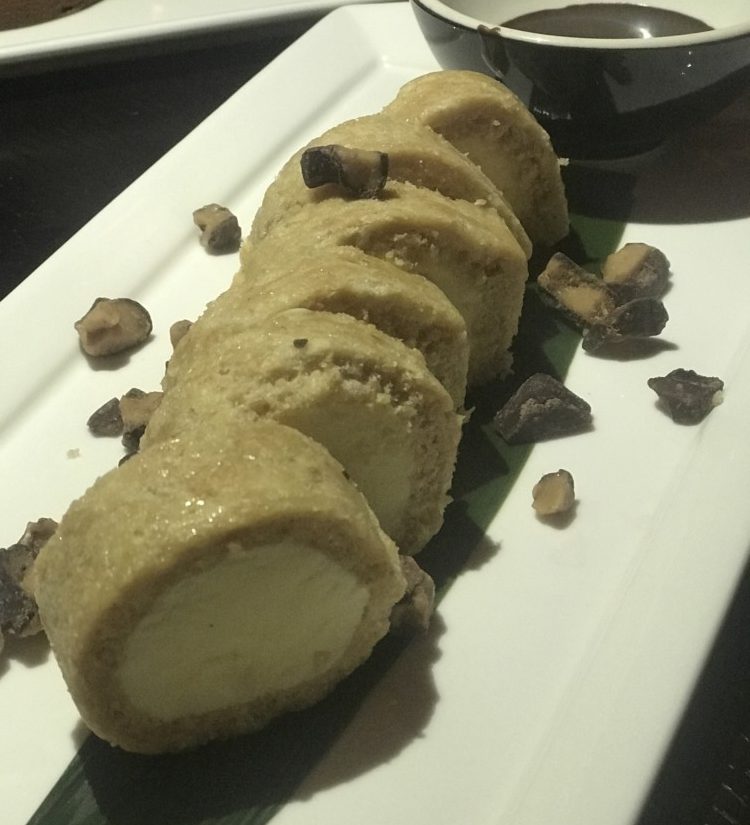 Monkitail is open for dinner Wednesday, Thursday and Sunday from 6-11pm, and Friday and Saturday from 6pm-12am. Their adjoining cocktail bar, Noku, is open Thursday through Sunday from 9pm-2am (all guests must be 21+ to enter). Monkitail is located at 3555 South Ocean Drive in Hollywood, FL.