Never miss a bite! Sign up here to receive new recipes and reviews straight to your inbox.
If you're from the South Florida area, you may hear Moran's and think of the restaurant in Lake Worth that was popular for it's make-your-own-burger-bar. But that's not the case anymore… Moran's has had a little bit of a face-lift since then, now specializing in more traditional Italian fare with wood fired pizzas and appetizers like Sicilian Meatballs and Tuscan Caprese Salad. I recently was invited to Moran's with my fave dining partner, Denise, and we had quite an interesting experience.
Before I continue, you should know that the story behind Moran's Italian Bistro & Brick Oven is a unique one. The owner, Dr. Robert Moran, is also an addiction specialist and the owner of the Wellington Retreat, a psychiatric and addictions treatment center. Moran's is his way of giving back to a community of people living in recovery, looking for well-respected jobs and striving to be surrounded by positive, supportive people. A lot of companies don't hire people in recovery, but Moran's provides jobs for those currently going through transitional living situations and gives them a safe place to go to work without worrying about negative influences from others. As you may have guessed, this means Moran's is 100% alcohol-free.
Because of this, the staff realizes they are not going to get much of a dinner crowd. But it's a price Dr. Moran is willing to pay in order to stay true to his beliefs. Lunch hour is most popular, especially with so many surrounding businesses in the area. Moran's keeps up its nightlife by offering local recovery groups somewhere to hang out. Friday nights is Open Mic Night, starting at 8 pm and going on until whenever the last performer has gone.
Denise and I were a little taken aback when we walked into the restaurant and there was not one other diner there. This has never been the case at any of the other places we review, but under the circumstances, we could understand. Despite an uncomfortable beginning (empty restaurants often put up a red flag), we looked over the menu and were pretty pleased with what we saw.
Our eyes immediately gravitated toward the Roasted Beet Salad — there was no hesitation in ordering it. A beautiful plate full of endive, candied walnuts, red onion, gorgonzola cheese, and of course roasted beets was placed in front of us and we dug in. Our favorite part about the salad was the sweet, crunchy candied walnuts and the creamy gorgonzola cheese. Yum! My only complaint was the size and amount of red onion. I can't digest red onion, so I steer clear of it in any dish, but I do know that red onion has a very strong flavor and can easily overpower other ingredients. There was way too much of it in this salad, and I can imagine that it would totally take away from the other components of the salad — which are way too delicious to outshine.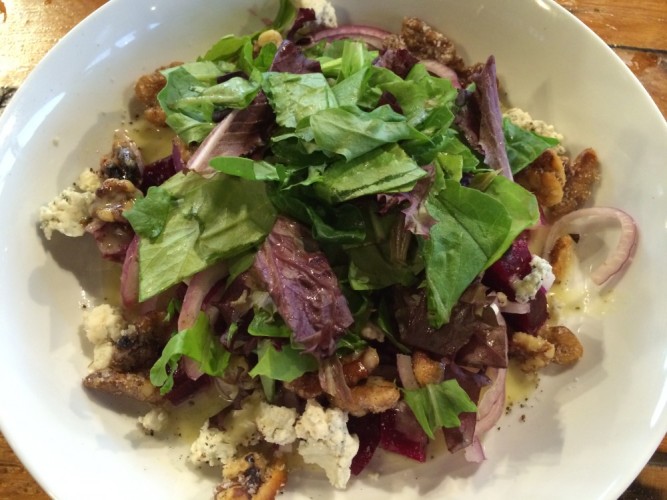 Denise wanted to try another appetizer — the Shrimp Scampi Toast. I could have gone without this. I tried a bite, but wasn't too thrilled. The garlic bread reminded me of Texas Toast and there were peas. Blech. Denise enjoyed it though and said that it did live it up to a similar dish she'd had at another restaurant awhile back.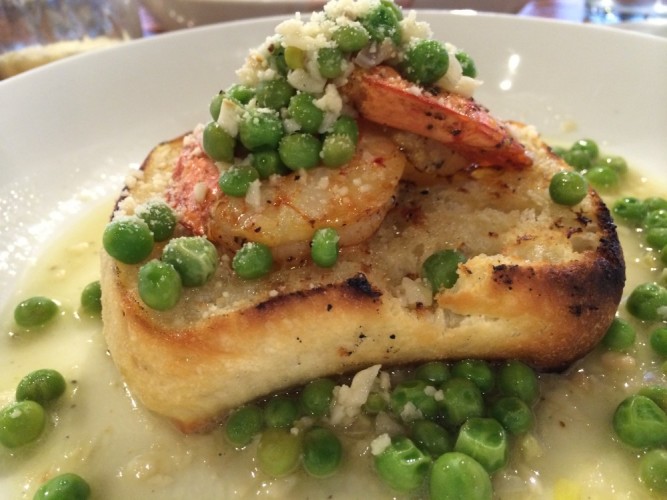 Moran's used to be known for its burgers, but now it's known for its wood fired pizzas, so you know that's what we had to order. We sampled two of the pizzas. I would call them flatbreads because of the thin, crispy crust — which I absolutely loved, by the way. I've always been a fan of a crispier crust rather than a real doughy one. The Veggie Pizza was made with a wheat crust and topped with zucchini, squash, onions, artichoke pesto, and an arugula salad. Just by the sound of that description, I'm sure you already know that I was a huge fan of this pizza. There was a beautiful caramelization on all of the vegetables and there was a bright, peppery flavor from the arugula on top. Definitely a winner in my book!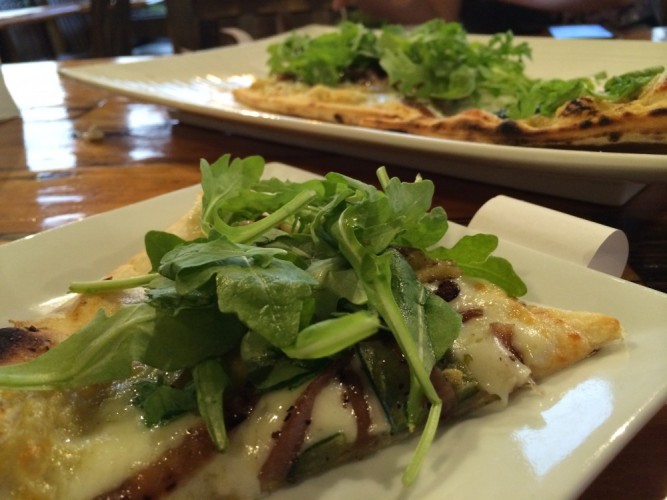 Two words that Denise and I can't say no to are Mushrooms and Truffle. So yeah, when we saw the Truffle Mushroom Pizza, there was no denying the fact that we'd be ordering that one too. Gooey truffle-laden cheese and wild mushrooms completely covered the crispy crust and melted off the sides. I've had a lot of truffle mushroom pizzas in my life and this one is definitely up there as one of the best.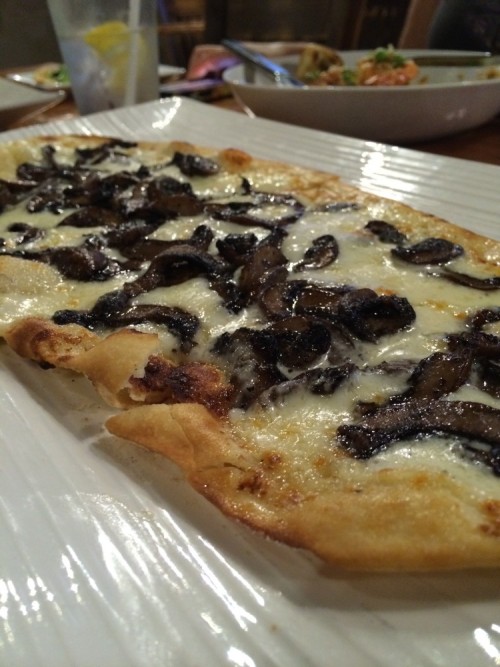 I want to swim in a pool full of truffles and eat my way to the top.
Did anyone just envision the Donald Duck cartoon character Scrooge McDuck swimming in a pool full of gold coins?
I hope so. Oy. Thinking about truffles is making me crazy!
Moran's might not be your first choice for a night out, but it definitely would make for a yummy lunch or take-out if you're in the mood for pizza. It is worth checking out! Aside from the two we tried, there are four more choices including the classic Margarita and a cheesy calzone.
Moran's is located at 2107 10th Ave N, Lake Worth, FL33461, USA.
Disclaimer: I was invited to dine as a guest of the restaurant. No other compensation was received for this review. As always, all opinions are 100% my own.